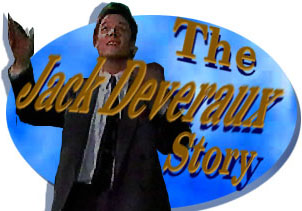 oldEpisode Four-hundred-fifty-one:
Jack Asks Julie to Give Him
His Own Op-Ed Column.
---
[Air date late October 1992]
SCENE ONE: IT IS THE DAY OF THE BIG ART SHOW IN SALEM. JULIE HAS ORGANIZING IT AND JACK DROPS BY TO SEE JULIE WITH ABIGAIL IN A BABY CARRIER ON HIS CHEST.

JULIE: Jack, I've only got five minutes.

JACK: Well I'll make this simple. You've given me the green light to write from my home now all I require is a column to write from it.

JULIE: A column?

JACK: Yes, preferably from the Op-Ed page.

JULIE: Yes dear, I know where a column goes. I just can't imagine that that's what you really want to do.

JACK: Why wouldn't I want to do that?

JULIE: You are a hard news reporter. I mean you're out there in the field. That's where the action is.

JACK: Well if I'm not where the action is, I can always just make it up on my computer.

JULIE: I can scarcely imagine that.

JACK: Well whether you can imagine it or not, I've done it on many an occasion. I can do it again. What's more it will make it much easier with my new stay at home status.

JULIE: Oh I get it. This is all about little Abby.

JACK: This is about a lot of things one of which is my being the primary caretaker of this child at this moment which necessitates that I have to consider her in all my career obligations. I can't think any other way.

JULIE: What type of column did you have in mind?

JACK: You leave that up me. You make sure there's a column. I'll make sure it's the talk of the town.

JULIE: Okay Jack, I'll give you your shot.

JACK: Good. You won't be sorry.

JULIE: You make sure I'm not sorry. (To Abby) I'll see you again little darling. (To Jack) And you, I'll see you this evening.

JULIE WALKS AWAY.

JACK: Yes. Just like I told you. I got my column back. That's first up in getting my paper back. Now the only question is.... what do I write about.

THERE IS A LOUD SUCKING SOUND COMING FROM ABBY. JACK LOOKS DOWN AND SHE'S AND SUCKING HARD ON HIS SHIRT.
---
SCENE TWO: MEANWHILE JENNIFER IS HAVING LUNCH WITH CARLY. CARLY TELLS JENNIFER THAT OUT OF THE BLUE, LAWRENCE GAVE HER BACK ALL HER FAMILY'S MONEY THAT FRANCOIS USED AS A BARGAINING TOOL TO GET LAWRENCE TO DIVORCE JENNIFER. JENNIFER IS SURPRISED THAT CARLY TOOK IT BACK BUT CARLY SAYS SHE IS GOING TO USE IT FOR THE MED VAN AND THE HOSPITAL. JENNIFER TELLS CARLY TO BE VERY CAREFUL.
---
SCENE THREE: LATER THAT NIGHT, JACK, LOOKING EXTREMELY HANDSOME IN HIS TUX, AND JENNIFER ATTEND THE CHARITY ART EXHIBITION WITH THE REST OF SALEM.

ALICE: (To Jennifer) My dear.

JENNIFER: How are you?

JACK: Here, here.

MAGGIE: The whole family.

MICKEY: You did a good job on this tonight.

TOM: I should say so.

ALICE: Maggie it's really wonderful.

MAGGIE: Oh thank-you Alice. I'm so glad you all approve.

JACK: Yes, it's quite the known news worthy event. If you'll excuse me, I need to make a phone call.

JENNIFER: Are you going to check on Abby?

JACK: Yes, as a matter of fact I am. I've left her alone for over an hour now and I want to make sure that Jo is not crushing her mind with making her watch those game shows.

JENNIFER: She's fine.

ALICE: There goes the world's most conscientious father.

JENNIFER: I know grandma. He's wonderful and he's really trying. He's really trying.
---
SCENE FOUR: A SHORT TIME LATER, JACK COMES BACK FROM CALLING JO.

JACK: Excuse me, excuse me.

JENNIFER: Hi, how is Abigail? Is Jo okay?

JACK: Everything is better than we could expect. The child's been asleep since we left.

JENNIFER: Are you kidding? That's wonderful.

JACK: Yes, especially when you consider the alternative. She could be suffering from separation anxiety.

JENNIFER: You mean like you?

JACK: I'll just pretend I didn't hear that. Now if you'll excuse me, I'm going to do some research on my column.

JENNIFER: You know what Jack, I wanted to talk you about that.

JACK: About my column?

JENNIFER: Yeah. I know how excited you are about all of this but is this really what you want?

JACK: Why wouldn't it be what I want?

JENNIFER: I know you. Now I know how much you love writing. I know how much it means to you. You can't just give it up. You love it.

JACK: Perhaps I love you and the child even more. Did you consider that?

JENNIFER LOOKS SURPRISED AND JACK IS UPSET THAT SHE HAD NEVER CONSIDERED THAT POSSIBILITY.

JACK: Maybe not. (Beat) Then again there's no reason to think I'm going to turn into Mother Teresa. You know me well enough to know that whenever I give something I always something more in return. JENNIFER: Well that's good because I never wanted to be married to a nun.

JACK: Believe me, you're not.

JENNIFER: I meant what I said. I don't want you to be anything except what you are.

JACK: Yes.

JENNIFER: And you know what, this.... all of this is going to work.

JACK: What do you mean it's....

JENNIFER: Everything. I mean your job, my job, and Abigail and our new house. Everything's going to be fine. You'll see.

SHE GIVES HIM A BIG HUG AND HE IS WORRIED BECAUSE IT IS OBVIOUS THAT SHE WANTS IT TO WORK BUT IS NOT SURE THAT IT WILL.

JENNIFER: Everything's going to be great.

JACK: Absolutely. It will be great.

THEY ARE INTERRUPTED BY A PHOTOGRAPHER.

PHOTOGRAPHER: Mrs. Deveraux. Can I get shot for our TV section. It will be great publicity for your show. (To Jack) Would you mind pal?

JACK: Absolutely. I'll leave you now.

JENNIFER: Oh no, no. This is my husband Jack Deveraux. He's writing a new column for The Spectator so you should probably just take a picture of both of us.

PHOTOGRAPHER: Whatever you say. Great, thank-you

JACK IS OBVIOUSLY UPSET THAT THE REPORT HAD NO INTEREST IN HIM WHATSOEVER.
---
[Air date early November 1992]
SCENE ONE: IT IS THE SAME NIGHT. JACK IS READING THE PROGRAM.

JACK: Well if I'm going to write my first column for The Spectator I better get on the stick, huh.

JENNIFER: Do you have any ideas?

JACK: There's the obvious one. An interview with the man of the hour, Mr. Roger Lombard.

JENNIFER: Well it's obvious but necessary Jack.

JACK: Not much gold there. I guess it says it right here in the bio.

JENNIFER: Well what does it say?

JACK: Former dock worker, now hired as an apprentice to New York artist.

JENNIFER: You know his wife works for Roman.

JACK: Not that that isn't news but it's not here in the bio.

JENNIFER: Well she does and I think there's a story here Jack.

JACK: You do?

JENNIFER: Yes. I mean here's a man who's lived in Salem practically all of his life and nobody knew that we had a genius on our hands.

JACK: A genius on our hands, huh.

JENNIFER: Yes and I mean who actually discovered him?

JACK: I don't know. Why don't you go and ask?

JENNIFER: It's your story. Why don't you ask him? Come on.

JACK: No, no, no. You ask and I'll write.

JENNIFER DRAGS JACK OVER TO SEE LOMBARD AND HIS WIFE.
---
SCENE TWO: JACK AND JENNIFER HAVE GONE OVER TO TALK THE LOMBARDS.

JENNIFER: Hi.

JACK GETS RIGHT INTO IT.

JACK: How does one go from dock worker to celebrity artist in the time of a month?

LOMBARD: Well there was a stop off at an alcohol rehabilitation clinic. Ah that's not really a big secret.

JACK: You've cured yourself now?

LOMBARD: Well I'm recovering.

JACK: Well how does it feel to be the man of the night?

LOMBARD: Good. It feels damn good.

JACK: Good. Well.... who deserves the credit for all this.... goodness?

LOMBARD: Dr. Evans.

JACK: Dr. Marlena Evans. Very interesting.

LOMBARD: I'd pretty much hit rock bottom. She helped me get back on my feet again and she brought me back.... well to all this.

MRS. LOMBARD: That's right. We owe everything to Marlena.

JENNIFER: Jack, may I?

JACK: Please go ahead.

JENNIFER: Mr. Lombard.

LOMBARD: Roger, please.

JENNIFER: Roger. Because of your recent success, how has it affected your personal relationship?

JULIE INTERRUPTS.

JULIE: And how is it affecting Mrs. Lombard? I mean if you don't mind my putting my oar in.
---
SCENE THREE: AT THE ART GALLERY OPENING, JACK, AND JENNIFER AND JULIE, ARE TALKING TO THE LOMBARDS.

JENNIFER: No, no. Actually that's an excellent question Julie.

JACK: Ah Mrs. Lombard, how does life in the limelight affect you? You do work for Marlena's husband Roman, don't you?

MRS. LOMBARD: Yes and I'm happy for Roger.

JACK: Hmmm.

MRS. LOMBARD: Whatever makes him happy, makes me happy.

JACK: Still you must hate to give up your job and go off to New York.

MRS. LOMBARD: Oh I'm.... I'm not going right away but maybe I'll be joining Roger later. (Beat) Oh I sure would love a dance. Can I talk you into one?

LOMBARD: Oh sure. Excuse us.

MRS. LOMBARD: Excuse me.

JULIE: Mighty slim pickens there. I somehow don't think you're going to get your Pulitzer Prize column out of that interview.

JULIE WALKS OFF.

JACK: No, but an interesting little human drama none the less. Roger may be enjoying himself this evening but Mrs. Lombard hates it.

JENNIFER: How about you?

JACK: How about me, what?

JENNIFER: How do you like it?

JACK GIVES JENNIFER A LOOK.
---
SCENE FOUR: LATER ON, LISANNE BEGINS TO TAUNT VIVIEN WITH THE NEWS THAT SHE IS LOOKING FOR LAWRENCE AND CARLY'S SON. VIV GETS SCARED AND MAKES A PHONE CALL TO QUIET THINGS DOWN WITH NICHOLAS. JACK IS ABOUT TO CALL JO AGAIN AND OVERHEARS THE LAST PART OF VIVIEN'S CALL AND HE GETS A BIT SUSPICIOUS ABOUT WHAT SHE'S UP TO.

---

SCENE FIVE: LATER THAT NIGHT, VIVIEN GOES BACK TO LAWRENCE'S HOUSE. LISANNE IS ALREADY THERE AND THEY START TO FIGHT. IN THE MIDDLE OF THE BRAWL, NIKKY COMES DOWNSTAIRS AND GETS SCARED. HE PICKS UP A STATUE OF A CAT AND HITS LISANNE ON THE HEAD AND KILLS HER.
[Transcribed by Carol Vaughan
added material by Sally A. Wilson]
---
---