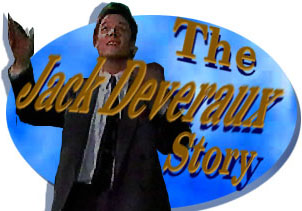 oldEpisode Four-hundred-fifty-six:
Abby's Christening. Afterwards,
Jack and Jennifer Try to Spend
Some Quiet Time Alone
---
[Air date mid-November 1992]
SCENE ONE: EVERYONE IS STILL WAITING FOR CARLY TO ARRIVE. JACK GRABS THE CAMERA FROM JULIE.

JACK: We'll be here for a couple more minutes waiting, so why not?

JULIE: Jack, Jack you've probably shot fifty roles already.

JACK: Well there's plenty more roles where this came from and after all she's very photogenic as is her mother and her grand.... her great grandmother. Mrs. Horton?

ALICE: Yes Jack.

JACK: You're being called for over here.

ALICE: Oh, if Abigail wants me, she can have me.

JENNIFER: There grandma.

ALICE: You know perfectly well dear, you don't have to ask twice. Oh my baby. Are you going to take a picture?

JACK: Yes, why not.
---
SCENE TWO: AT THE AIRPORT, LAWRENCE TELLS CARLY THAT IT WAS VIVIEN WHO TOLD HIM THAT NICKY WAS THEIRS BUT SHE STILL REFUSES TO BELIEVE HIM.
---
SCENE THREE: AT THE CHURCH, JACK IS GETTING FED UP WAITING. HE IS SITTING ON A PEW HOLDING ABBY AND TALKING TO JO.

JACK: It's getting Late!

JENNIFER HAS A TALK WITH BILL ABOUT HIM HAVING TO GO BACK TO CHICAGO BUT THEN SHE NOTICES THAT JACK IS GETTING IMPATIENT.

JENNIFER: You know daddy, I should really get back to Jack.

BILL: He's going to make a wonderful father, honey.

JENNIFER: Yeah, he's already a better mother than I am.

BILL LAUGHS AND JENNIFER SITS NEXT TO JACK.

JENNIFER: Hi, how's she doing?

JACK: Well she was sleeping up until to a moment ago.

JENNIFER: Hi sweetie, you love being in your daddy's arms, don't you?

JACK: Heh. (Whispering) Look I know that it's been rather stressful for you of late but I want you to remember one thing. There's not many people who can claim to work in their chosen field and have a new life come to them at the same time.

JENNIFER: Do you think we're good enough parents to look after such a special baby?

JACK: I wouldn't really worry about that. Think about what Isabella said. It kind of sums it all up. Just do the best that you can do and hope they don't judge you too harshly for it.

ABBY LAUGHS AT JACK.

JENNIFER: Well Abby thought that was very funny. Are you smiling at your daddy? Is that funny?

THE MINISTER WALKS OVER.

MINISTER: There is nothing that I would rather do than visit with good friends. Dear friends, but unfortunately we have another christening scheduled and obviously I can't miss it. I am sorry Jennifer

JACK IS VERY FRUSTRATED ABOUT CARLY AND JENNIFER IS DISAPPOINTED.

TOM: Perhaps if we give Carly just ten more minutes?

ALICE: Oh yes, I'm sure she'll be here by that time.

MINISTER: Alice, I could never refuse you anything. Okay ten minutes it is.

BO COMES BACK IN THE CHURCH.

BO: No answer. I called and no answer.

JENNIFER: Well we have ten minutes. If Carly's not here, then we're going to have to start without her.
---
SCENE FOUR: CARLY IS STILL AT THE AIRPORT WITH LAWRENCE. LAWRENCE SWEARS HE IS NOT LYING TO HER NOW BUT CARLY CANNOT BE CONVINCED THAT VIVIEN WOULD HATE HER THAT MUCH TO KEEP HER SON FROM HER. CARLY LEAVES.
---
SCENE FIVE: SHE ARRIVES AT THE CHURCH JUST AS THEY ARE ABOUT TO START WITHOUT HER.

BO: Is Vivien okay? Did she have another heart attack?

CARLY: No.

JENNIFER: Oh one minute to spare.

CARLY: I'm sorry.

JENNIFER: Oh that's okay. You couldn't help it. It's all right.

MINISTER: Are we all together now?

JENNIFER: Yes, yes, everyone's here.

JACK: All right, let's get this show on the road.

MINISTER: Parents stand just over here.

JACK: Yes.

MINISTER: And the godparents over there.

JACK: (To Jennifer)

Here, you.... please.

JACK HANDS ABBY TO JENNIFER.

MINISTER: Dearly beloved, baptism is an outward and visible sign of the grace of the lord Jesus Christ.

ABBY STARTS TO GURGLE LOUDLY AND JACK SIGHS. JENNIFER GIVES ABBY A BOTTLE TO KEEP HER QUIET.

MINISTER: Through which grace we become partakers of his righteousness and heirs of life eternal. Now those receiving this sacrament are thereby marked as Christian disciples and initiated into the fellowship of Christ's holy church. Our lord has expressly given to little children a place among the people of god which holy privilege must not be denied to them. Now remember the words of the lord Jesus Christ, how he said, let the children come to me. Do not hinder to them for to these belong the kingdom of god. (To Jack and Jennifer) Now do you in presenting this child for holy baptism, confess your faith in the lord and savior Jesus Christ?

JENNIFER: Yes we do.

JACK JUST NODS. JENNIFER HANDS THE BABY TO THE MINISTER BUT CONTINUES TO HOLD THE BOTTLE FOR ABBY.

MINISTER: What name do you give this child?

JACK: Abigail Johanna.

MINISTER: Abigail Johanna, I baptize thee in the name of the father and of the son and of the holy spirit. Amen.

JENNIFER: Amen.

MINISTER: Brethren, of this household of faith, I commend to your love and care Abigail Johanna whom we this day recognize as a member of the family of god. Would the godparents like to say few words?

BO: I would.

MINISTER: Please.

BO: I'm trying to sort out how I feel right now. In my line of work I get a constant reminder everyday of what's wrong with the world. But when I look into that sweet face, see I think that's why god gives us children. To remind us that he hasn't given up on us quite yet.

CARLY: I was just standing there thinking about what Jack and Jennifer might be feeling today. Holding your own baby in your arms and having created her, having her be a part of you. Part of all that came before you and all that will come after. And there's no really no love like that love between a parent and a child. There are really no words to describe it. And I'm sure that's what you're feeling today. And like Bo said, I am just so proud and honored to be a part of Abby's life.

CARLY TAKES ABBY FROM JENNIFER.

CARLY: Oh you sweet girl. Let me introduce you to your family, love. This is Abigail Johanna Deveraux.

THE FAMILY ALL SIGHS TOGETHER.

MINISTER: Mr. Deveraux?

JACK: Yes sir.

MINISTER: We have come to the closing prayer. Would you like to give it?

JACK: Ah no, no, I really haven't prepared anything.

JENNIFER: Oh go on Jack. Just say.... just say anything. Go on.

JACK STEPS FORWARD.

JACK: Ah, well I.... I'm not usually speechless at this point. It's rather a new experience for me as it is for our daughter but.... ah, to be surrounded by so many kind and caring people.... a great thanks in particular to you Bo for coming today in spite of everything that happening with your family.... thank you. Thank you to everyone actually for.... for giving our child such a great start in her life. Jennifer and I both thank you. And.... ah, I determine to be the best...the best father and the best husband that I possibly can be.

JACK AND JENNIFER EXCHANGE A LOOK OF DEEP LOVE.

JENNIFER: Amen.

FAMILY: Amen.

ABBY HICCUPS.

JACK: Well it seems like a cue. I better get on with it.

THE FAMILY ALL LAUGHS AND STANDS UP TO CONGRATULATE JACK AND JENNIFER.

JULIE: Oh it was so beautiful.

JO: Definitely a two hankie ceremony.
---
SCENE SIX: AFTER THE CEREMONY, JACK AND JENNIFER GO HOME EXHAUSTED.

JENNIFER: I told you she'd fall asleep in the car.

JACK: Yes.

JACK COMES IN CARRYING ABBY IN A BABY CARRY CRIB.

JACK: Well thank you for getting me through this whole ordeal. You know I know this whole thing was not about us but I kept finding myself in the church looking over at you and thinking.... how much I love and need you.

JENNIFER: Well I love you too Jack.

JACK: You do?

JENNIFER: Of course I do. What kind of question is that?

JACK: I don't know. I just think that I'm not really the man you fell in love with originally. At least I'm not the bread winner.

JENNIFER: Well that doesn't matter but I thought that you said you wanted to be the bread maker for a while. I mean if that's not okay Jack, we'll change everything.

JACK: No, no, it's quite all right for the time being. Ah she's still asleep. Let's....

JENNIFER: Shall we put her in her crib?

JACK: Ah, no, that might wake her. Why don't we just put her over here near the computer so she'll sleep.

JENNIFER: Are you sure?

JACK: Absolutely. Yes she sleeps over here quite a bit while I'm working.

JENNIFER: Oh it looks like you're right. I mean she's sleeping pretty good.

JACK: Yes, and now this is our opportunity to get a little rest and relaxation.

JENNIFER: Rest and relaxation! What is that?

JACK: It's a chance to.... kick back and put your feet up.

THEY BOTH COLLAPSE ONTO THE SOFA AND PUT THEIR FEET UP.
---
SCENE SEVEN: JUST AS THEY ARE ABOUT TO RELAX, THE PHONE RINGS.

JACK: You did leave the machine on?

JENNIFER: No I didn't. I better get it before Abby wakes up. Oh I hope it's not Malcolm. I hope it's not Malcolm.

SHE PICKS UP THE PHONE.

JENNIFER: Hello. (Beat) Hi Malcolm, how are you?

JACK: Tell him you're about to go to dinner.

JENNIFER: You know what, I was just about to sit down to dinner right now.

JACK: And your Veal Scaloppini is getting cold.

JENNIFER: Well we're having a meeting tomorrow. Can't we just wait until then?

JACK STANDS UP TO PROTEST.

JENNIFER: (Beat) All right. If it's that important, that's fine.

JACK WAVES HIS HANDS ABOUT SIGNALING NO.

JACK: It's not!

JENNIFER: No my husband doesn't mind at all.

JACK THROWS HIS HANDS IN THE AIR AND WALKS AWAY.

JACK: No, he can wait.
---
SCENE EIGHT: A SHORT WHILE LATER, JACK IS WORKING AT HIS COMPUTER WHILE JENNIFER IS HOLDING ABBY AND TALKING TO MALCOLM ON THE PHONE.

JENNIFER: Okay here's my idea. Women who work out of the house and take care of their kids. (Beat) Well I know it's been done before but we'll just do it better. (Beat) How? We'll get very interesting guests, yes. (Beat) Well it's very easy.

JACK CHECKS HIS WATCH. HE IS FED UP.

JENNIFER: The possibilities are endless Malcolm. Look, look, it is topical. (Beat) Topical, relatable. It's perfect. I'm telling you right now it's perfect.

JACK SHAKES HIS HEAD AND STANDS UP.

JACK: Let me take the child. You're going to upset her stomach with all this topical, perfect.... here come on.

JENNIFER: Okay.

JACK TAKES ABBY.

JENNIFER: Okay look, if we don't get the ratings, I'll take the hit, okay. Look I'm telling you, right now, every woman I talk to, all they talk about is juggling kids and their career.

JACK TAKES ABBY UPSTAIRS. HE IS REALLY SICK OF JENNIFER WORKING NIGHT AND DAY.
---
SCENE NINE: AFTER PUTTING ABBY TO BED, HE COMES BACK DOWNSTAIRS AND TAKES THE PHONE FROM JENNIFER AND SPEAKS TO MALCOLM HIMSELF.

JACK: Excuse me but can you talk about something more interesting than television all the time? Why don't you read a book or perhaps a.... newspaper?

JACK HANGS UP.

JENNIFER: Perhaps you offended him?

JACK: I don't think so. He only listens to himself, I'm sure.

THE PHONE RINGS AGAIN AND JACK PICKS IT UP.

JACK: Hello. (Beat) Malcolm, no, no, I'm very sorry about that. (Beat) No, but the truth is my wife does need to get to dinner. Yes, so perhaps she can talk to you tomorrow. (Beat) No, no, no. I don't think you're a very surfacey type of person although reading is a wonderful thing. (Beat) Yes she'll talk to you tomorrow. (Beat) Yes, no you're terrific. She tells me that all the time. Goodbye.

JACK HANGS UP AND JENNIFER IS SMILING AT JACK'S REMARKS.

JACK: Is he?

JENNIFER: Is he what?

JACK: Terrific.

JENNIFER: No, he's a creep.

JACK SHRUGS.

JENNIFER: But he's good at what he does. He doesn't give up. But we were talking about wardrobe and sets and.... JACK: I thought you were used to this sort of thing from New York.

JENNIFER: No, Calliope handled all of that. Now I know exactly what she was going through.

JACK: Well I'm sure you can handle it as well.

JENNIFER: Yeah, I'm scared.

JACK: You're scared?

JENNIFER: My face is going to be out there in front of millions of people.

JACK: Yes. Hopefully tens of millions of people.

JENNIFER: Thanks.

JACK: I don't understand where all this is suddenly coming from.

JENNIFER: I just.... I want you to be proud of me.

JACK: I am proud of you.

JENNIFER: I want Abby to be proud of me.

JACK: I'm sure she'll be proud of you too when she understands what she's watching.

JENNIFER: Our life is going to change a lot Jack. I mean earlier you said that you weren't the man that I fell in love with but.... I mean I might turn into the woman that you didn't fall in love with either.

JACK SHRUGS. HE IS THINKING DEEPLY ABOUT THAT.

JENNIFER: I mean this whole job is going to be a big change. It's a whole new career.

JACK: Well that's just it. It's a big change. A whole new career. Things change, sometimes for the better, sometimes.... just for the different. But.... so we didn't expect for you to have less time for myself and our child. That's all right. (Beat) Things change.

JACK (CONT.): (Beat) But one thing that's never changed is the fact that you're.... you're the only girl who's ever stolen my heart. And it doesn't matter how much success you have or I have.... I don't think that's ever going to change.

THEY LOOK IN EACH OTHER'S EYES AND KISS.
[Transcribed by Carol Vaughan
added material by Sally A. Wilson]
---
---