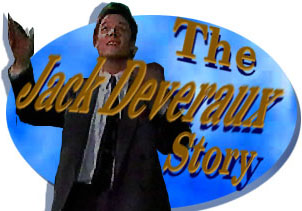 oldEpisode Four-hundred-fifty-seven: Jo
Has Been Secretly Helping Jack with the
Housekeeping and Cooking; Meanwhile,
It Is the Day of Jennifer's First Show.
---
[Air date late November, 1992]
SCENE ONE: IT IS THE MORNING OF JENNIFER'S FIRST SHOW AND JACK IS IRONING WHILE JENNIFER GETS READY.

JENNIFER: Jack, where is my brown jacket that goes with these pants I was supposed to pick up from the cleaners? Did you?

JACK: Let me tell you something.

JENNIFER: What?

JACK: Between the baptism and the Bradys yesterday, neither of us got to the cleaners.

JENNIFER: Oh that's great. That's just great!

JACK: Not that there's anything to worry about. I'm sure.... I'm sure it's right here. It's right.... here it is.

JENNIFER: I don't believe this. I just don't believe this.

JACK: Look.

JACK DRAGS THE JACKET OUT OF THE LAUNDRY BASKET. IT IS ALL CREASED AND WRINKLED.

JACK: It's.... it's, it's, it's fine, see. Right there.

JENNIFER: It's not fine. It has some strained carrots on the collar Jack. Oh what am I going to do. This looks horrible. It's never going to work. It's been in the laundry basket....

ABBY STARTS TO CRY.

JENNIFER: I'll get the baby.

JACK: No, no, no. You stay here and get ready to go. I'll get the baby.

JENNIFER: How am I going to do this? How am I going to do this? How am I going to manage a career if I can't even manage my own house?

JACK GOES UPSTAIRS TO SETTLE ABBY WHILE JENNIFER TRIES TO SPONGE OFF THE CARROTS.
---
SCENE TWO: A SHORT TIME LATER, JACK COMES DOWN STAIRS AFTER PUTTING ABBY TO BED.

JACK: All right, I think I finally got her down to sleep.

JENNIFER: I think I finally got this stain out. What do you think? How does it look?

JACK LOOKS AT IT AND IS NOT AT ALL SURE IT LOOKS OKAY. HE BRUSHES AT THE STAIN WITH HIS FINGERS.

JACK: It looks... it looks great, just great.

JENNIFER: Okay, all right. Jack I hate to leave you with all of this mess but you know Malcolm.

JACK: Yes, yes.

JENNIFER: You know how he is.

JACK: Yes, I believe we were introduced yesterday on the phone. I'll be just fine. Don't worry about me.

JENNIFER: If I wasn't late already, I mean it's just that if Abby starts crying I'll never be able to leave. I mean you know how I am when she starts crying. I mean it triggers all of that working mother's guilt.

JACK: Yes, perhaps you can make that the next topic on your talk show. Not the guilt part mind you. The mother part. You're a wonderful mother.

JENNIFER: I'm a wonderful wife too, huh?

JACK: Huh, huh.

JENNIFER: I gave you microwave hot dogs for dinner and potato chips. I guess that makes you really feel loved.

JACK: Believe me, I don't need hot dogs to feel loved.

JENNIFER: No but you do need me to be sensitive to your feelings. Not make you feel like you're responsible for me keeping it together.

JACK: Listen, don't feel responsible for that.

JENNIFER: But you know what, that's what I do. That's what I do. I make you feel that way Jack. I make you feel like you have to find my shoes, you have to make sure there are no food stains on my clothes, like you.... like it's your job to make me feel completely committed to my career and that when I walk out of this door I can't feel guilty about leaving my child while I go to work and try and click with my producer.

JACK: Let me tell you something, in the slimy, sleazy world of television, clicking with your producer is nothing to be sneezed at.

JENNIFER: I know that. I know. It's just....

JACK: Good.

JENNIFER: When I look at Abby and I hold her in my arms it makes all of this seem completely meaningless.

JACK: I understand you feeling that way.

JENNIFER: But we can't afford to give in to those feelings, can we?

JACK: No, we can't.

JENNIFER: Okay, I'll stop at the market after work.

JACK: No, no, no. You just go to work and concentrate on that. I will go to the market.

JENNIFER: Jack, how are you going to go to the market, take care of Abby, clean up this mess, write your column, do all of this without going completely crazy?

JACK: Don't worry about any of that. I will do it in my own way, in my own fashion.

JENNIFER: I love you.

JACK: And I love you. Now go to work.

JENNIFER: Are you sure?

JACK: I am absolutely sure. That is part of our agreement.

JENNIFER: Okay, take my brush.

JACK: You go to work. Work on your television show. Take care of everything. Follow your dreams and go.

JENNIFER: Kiss Abby for me. Tell her I said hello. Tell her I'll call her later.

JACK: Absolutely. I've got everything here under control. Go, go, go, go, go.

SHE LEAVES AND HE SHUTS THE DOOR AND SIGHS. HE WALKS BACK TO THE IRONING BOARD.

JACK: What the hell am I doing. I don't have to iron anything anyway.
---
SCENE THREE: A SHORT TIME LATER, JO DROPS BY TO SEE ABBY.

JO: Good son, you're home. Where's the baby? Ooooh, my goodness. Oh she's awake, isn't she?

SHE RUSHES STRAIGHT PAST JACK AND PICKS UP ABBY FROM HER CRIB.

JO: Would you give your grandma a great big hug. Would you do that?

JACK: She's awake now.

JO: She hasn't had her fix today. Not her little Abby fix. She sure does love to cuddle, doesn't she?

JACK: Maybe I can get you some crackers and soda water!

JO: Oh don't fuss over me. Looks like you've got enough worries of your own around here.

JACK: Oh please, don't tell me about worries or messes. Everything's under control.

JO: (To Abby) You're getting as pretty as your mommy. Did you know that? You're as pretty as your mommy.

JACK COMES OUT OF THE KITCHEN WITH A CAN OF SODA.

JACK: This is all we seem to have.

JO: Oh that will be fine.

JACK: She just went to sleep just a minute ago. That's why this is all a mess.

JO: Oh.

JACK: Perhaps in the future when she grows up a little bit and can amuse herself, I'll have time to take care of everything else. I'm not complaining mind you. I just....

JO: Jack, you're falling apart, aren't you?

JACK: No, I'm not falling apart. (Beat) I'm not! It's just that there is no way that you can clean a house, clean a child, handle two jobs, iron and everything else. There's just no way you can do it. You can't.

JO: Yes there is. I've done it. I'll tell you how.

JO SETS ABOUT GETTING JACK ORGANIZED.

JO: Son, I'm going to put these toys in this box.

JACK: I defer to your expertise. Put them wherever the hell you want to.

JO: Okay. Oh, what about this? What do you want me to do with this?

JO PICKS UP THE MANUSCRIPT THAT JACK FOUND AND HE GRABS IT FROM HER.

JACK: I'll take that thank you very much.

JO: Jack, son, you have got to relax.

JACK: There is no time to relax. Do you understand? There are more things to get cleaned up before Jennifer gets home. I got to get everything tidy for the.... the children's things here. I've got to get the grocery list....

JO: Jack, Jack!

JACK: I do....

JO: You cannot do everything at once. You've got to go by a schedule, okay.

JACK: Yes.

JO: Now let's say, Monday, you do the ironing.

JACK: Ironing.

JO: Tuesday, you do the marketing.

JACK: Marketing.

JO: Wednesday, you clean the house.

JACK: Clean the house.

JO: That leaves Thursday and Friday for you to work on your column and Jennifer's show.

JACK: Oh, I'm sure the child's going to sit there quietly while I type for two days.

JO: I don't think she'll mind too much. You know I've decided that I'm going to change my school schedule. I'm just going to take night classes. That way I'll have more time to spend with Abby and you can go out and earn a living.

JACK: Look I.... I.... I....

JO: Jack, listen, it will just be between us. Nobody else has to know.

JACK: Not Jennifer?

JO: Not Jennifer, nobody. What do you say? Deal?

JACK: For free?

JO LAUGHS.

JO: For free, of course.
---
SCENE FOUR: DOWN AT THE STUDIO, JENNIFER IS ARGUING WITH MALCOLM ABOUT THE TOPICS OF HER UPCOMING SHOWS. HE WANTS TO GO THE SENSATIONAL ROUTE WHILE HE WANTS HER TO BE TOUGH AND DEAL WITH TOUGH TOPICS WITH NO HEART.
---
SCENE FIVE: FRUSTRATED ABOUT HOW HER PRODUCER WANTS HER TO HANDLE THE SHOW, JENNIFER DECIDES TO CALL JACK.

JENNIFER: Jack I don't know what he wants. He wants me to.... he wants me to go after the guests. He wants me to make them squirm.

JACK: You make him squirm. You tell him if you aren't yourself, it's not your show. Tell him that.

JENNIFER: I would like to tell him that but he gets me so rattled you know. And I think about you at home with Abby and that big mess and here I am talking to this jerk wondering why I'm not home with my daughter.

JACK: First of all there is no mess. Everything here is spic and span and taken care of. Your child is just fine. I've figured out a way to handle everything.

JENNIFER: Well that makes me feel better.

JACK: Good, good. Now I want you to go back in there and tell.... what's his name?

JENNIFER: Malcolm.

JACK: Tell Mal-content, that if he doesn't want to run the show the way you want it run, you'll find another line producer. Do you understand me?

JENNIFER: I can't do that. I can't go up....

JACK: You do it. Listen, this is me telling you. You do it. All right.

JENNIFER: Well I'll try....

MALCOLM CALLS OUT FOR JENNIFER TO COME TO HIS OFFICE.

JENNIFER: I gotta go. Malcolm wants to see me. I love you. Bye.

JACK: You do it!

JENNIFER HANGS UP.
[Transcribed by Carol Vaughan
added material by Sally A. Wilson]
---
---