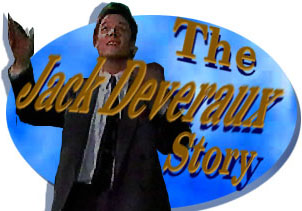 oldEpisode Four-hundred-fifty-eight : Julie
Comes over for Dinner. Jack Has
Found a Manuscript Left by a Previous
Tenant. He Is Debating What to Do with It.
---
[Air date mid-November 1992]
SCENE ONE: LATER THAT EVENING AND JENNIFER HAS JUST ARRIVED HOME AFTER HER FIRST DAY WORKING ON THE SHOW. THE LIVING ROOM IS IMMACULATE AND THE TABLE IS SET FOR A ROMANTIC DINNER FOR TWO.

JENNIFER: Jack, I'm home. (Beat) Oh my god. Jack what on earth happened here?

JACK: Good, you're home. Well take a load off. Give me all these things. It's time for you just to sit down and relax and just leave everything to me.

SHE KEEPS LOOKING AROUND THE ROOM.

JACK: And I'll just.... is something wrong?

JENNIFER: Huh? No, no, what could be wrong? Everything's perfect. Absolutely perfect.

JENNIFER IS VERY DEPRESSED TO SEE THE HOUSE IN SUCH GOOD ORDER WITHOUT HER HELP. JACK GETS THE BABY AND HANDS HER HIS SCHEDULE ALL WRITTEN OUT.

JACK: Here's the feeding and nappy schedules.

JENNIFER: How in the world did you come up with all of this Jack?

JACK: Well it's really quite simple when you put your mind to it?

THE DOORBELL RINGS.

JENNIFER: Who's that? Did we invite anybody over for dinner?

JACK: Ah.... no. Not really. It seems your cousin Julie showed up a little early. She's going to help us redecorate the entire house.

JENNIFER: We're not ready to redecorate Jack.

JACK: I realize I was a little concerned about our budget before but it's time for us to move to the forefronts of this town. I'm as ready as I'll ever be.
---
SCENE TWO: ACK OPENS THE DOOR TO JULIE.

JACK: Please come in.

JULIE: Hi Jack. Jennifer. (To Abby) Oh, oh, you little custard cup. You sweet little cousin you. How are you this evening?

JACK: I see you brought the samples.

JULIE: Oh yes, as per your request Jack.

JACK: Well let's get started then.

JULIE: All righty. I suppose you all know the first thing you must plan on when you plan a redo is to pick a new color scheme.

JACK: All right Jennifer. What color would you like?

JENNIFER: Well I don't know. I mean I really haven't had a chance to think about all of this yet.

JULIE: Well all right. Well let me tell you that what you have here is an American craftsman house. How dreary. I think the first thing we should do is strip the woodwork down to its natural color, then choose a beautiful color for the walls. Perhaps porcelain to set off your skin. Then splashes of color in all of the artwork.

JACK: Perfect.

JENNIFER: Jack.

JACK: Now as far as the artwork on the walls goes, I'll defer to your excellent taste.

JENNIFER: Jack.

JACK: Now, when we talk about the reconstruction.

JENNIFER: Jack.

JACK: I see us opening this entire wall out. Taking it way down.

JENNIFER: Jack.

JACK: Maybe a chandelier or two over a party atmosphe....

JENNIFER: Jack Deveraux!

JACK: I'm sorry. Is there a problem with the plans thus far?

JENNIFER: Yes. Our budget.

JACK: Oh there's no need to worry about that.

JENNIFER: Jack, my show doesn't even go on the air till Thanksgiving. We have no idea how it's going to do.

JACK: Oh please, by Thanksgiving it will be a big hit and you'll be a bigger hit. Besides we have my job which brings to mind. The rough draft of my column.

JULIE: Oh yes. "All It Takes is a Little Organization." I like that.

JACK: Yes.

JULIE: And obviously from all this, you know whereof you speak Jack.

THE BELL ON THE OVEN RINGS.

JACK: Dinner seems to be ready. Why don't you stay and have dinner and we talk about all this. I'm sure we have plenty.

JULIE: Oh I'd be delighted. I'm always intrigued by home cooking.

JENNIFER: What did you fix for dinner?

JACK: Um, always a good question. Why don't I get it out of the oven and see if it's not burned.

HE RUNS TO THE KITCHEN.

JULIE: And he can cook too? Is there no end to that boy's talents?

JENNIFER: Well you wouldn't think so, would you?
---
SCENE THREE: JACK COMES OUT IF THE KITCHEN HOLDING A CASSEROLE DISH.

JACK: Here. Dinner is....

HE PUTS THE LID BACK ON THE DISH.

JACK: Green tuna noodle casserole.

JENNIFER RAISES HER EYEBROWS. THE THREE OF THEM SIT DOWN TO DINNER.

JULIE: This green tuna.... well it's olive drab, really.... casserole's delicious Jack.

JACK: You really think so?

JULIE: And may I have your recipe?

JACK: Oh it's an old family punish.... recipe, yes. But I don't know it really. I tell you I think it's time to clear the palate with some dessert. Allow me clear the table.

JENNIFER: Yes, allow me to help.

JACK: Oh, no, no, no. It's.... I'll do it.

JENNIFER: Oh no, please I want to help you.

JACK: Oh no, you mustn't help me.

JENNIFER: I want to.

JACK: Jennifer, you.... you know.

THEY BOTH WALK INTO THE KITCHEN.

JENNIFER: Okay, what gives Jack?

JACK: What do you mean, what gives?

JENNIFER: You hate Jo's green noodle casserole.

JACK: I'll tell you something. I've had this stuff foisted on me so many times, I know its ingredients by heart. Not to worry though. I'm going to take some cooking classes and learn how to make something real.

JENNIFER: Well I'm afraid that you're going to have a nervous breakdown if you don't slow down.

JACK: Do I look like someone having a nervous breakdown?

JENNIFER: No but everybody else would.

JACK: I'm not everybody else. Now....

JACK TURNS AROUND AND PICKS UP A PIE FOR DESSERT.

JENNIFER: A pie! You baked a pie!

JACK: Ah yes, a cherry pie.

JENNIFER: I can't bake a cherry pie!

JACK: Well I'll give you lessons sometime. Now if you go outside and talk to Julie, I can stay here and serve it.

JENNIFER: I want to do it.

JACK: No, no, no.

JENNIFER: It's the least I can do Jack.

JACK: Allow me. No, the least you can do is....

JENNIFER: I want to serve the pie!

JULIE: Is anything wrong here?

JENNIFER: No, I'm going to slice the pie for dessert and Jack and you are going to visit.

JENNIFER PUSHES JACK OUT OF THE KITCHEN.
---
SCENE FOUR: BACK AT THE TABLE, JACK HAS SOMETHING TO ASK JULIE.

JACK: Ah, actually I'm glad that we have this time together to talk. There's something I'd like to bring up. I realize I wanted to come back to the paper with the same starting wage as everybody else.

JULIE: Right.

JACK: But things change and so have I. I'd like a raise.

JULIE: Jack, you just started with that column.

JACK: But you already like what I brought to you.

JULIE: It doesn't matter what I like. What matters is what the readers like and building a readership takes time. Now, when I'm assured that oodles and oodles of people are buying The Spectator just because of your column, that's when you get a raise.

JACK: How exactly do you expect me to pay for all these wonderful new renovations on the house?

JULIE: Well Jennifer's going to be making good money, isn't she?

JACK: We can't just use Jennifer's money.

JULIE: Why not?

JACK: I have my male pride you know.

JULIE: Jack, this is the end of the 20th century.

JACK: Call me old fashioned.

JULIE: I'd call you a Neanderthal.

JACK: All right, call me whatever you like. The fact remains that I wear the pants in this family, metaphorically speaking of course. But as long as I do wear the pants in this family, I will be the one to provide for the family....

JACK GLANCES DOWN AT THE MANUSCRIPT HE FOUND AND RUNS HIS FINGERS OVER THE TITLE.

JACK: .... however I can.
---
SCENE FIVE: JULIE LEAVES AFTER DESSERT. JACK GETS BACK TO THE MANUSCRIPT.

JACK: Ah, Jennifer, you're.... you're not coming down anymore tonight? I mean you don't need anything, do you?

JENNIFER: Jack are you calling me? I'm brushing my teeth. I can't hear you.

JACK: Oh it's nothing important. I'll be up in a couple of minutes. No need to come down. It's not important.

JACK SITS DOWN ON THE COUCH TO READ THROUGH THE MANUSCRIPT.

JACK: Stolen Moments. The young doctor looked at her, his eyes clearly saying something his words could not. The rules didn't matter. Society didn't matter or family. He wanted her. And in that moment as her eyes met his, she knew beyond question she wanted him too. Garbage. Absolute garb.... OOOOOH!

JENNIFER WALKS UP BEHIND HIM HOLDING ABBY.

JENNIFER: What are you reading

? JACK: Garbage. Just.... a.... some terrible, terrible notes I was taking for my column.

JENNIFER: Oh boy. (To Abby) Hi honey.

JACK: Excuse me. I thought I had an understanding with this child that she was supposed to stay in bed for the rest of the night.

JENNIFER: Well, after I got out of the shower, I walked to our bedroom and I passed by the nursery and guess who's awake?

JACK: But she promised me that she was going to stay in bed.

JENNIFER: Only you would make a one month old promise to stay in bed all night.

JACK: Well we can't hold her to ordinary standards, can we?

JENNIFER: Absolutely not. Ordinary went out the window a long time ago.

JACK: Yes. Along with our dinner. You're still angry about that?

JENNIFER: No Jack, I was never angry. I was just tired and frustrated and.... but then when I looked at Abby she made it all seem so pointless. Are you mad at me?

JACK: Me, mad at you? No, no why?

JENNIFER: Well I really should have let her stay in her crib and go to sleep but when I walked in there she was lying there with her eyes open like she was waiting for me.

JACK: Well I can understand that. Why wouldn't she be waiting for you after she had to spend the day with yours truly.

JENNIFER: Jack you are wonderful with her and you know it.

JACK: Thank you. I'll accept that compliment. And be on my.... tell me something. What do you think of romance novels?

JENNIFER: Well what brought that up?

JACK: Nothing, I was just.... thinking about them. You know they're trash. Absolute trash. I mean they're the shallow bottom of the literary heap. I was reading in an article that these Jackie Collins, Danielle Steele genre, they can crank these things out in a week to ten days, publish them and make.... just disgusting amounts of money.

JENNIFER: Yes I've heard that too and it's so funny you mention that because Malcolm and I were talking and we were thinking of doing a show on that. But why.... why did you bring this up?

JACK: No reason. Just making idle conversation. I think I'll have some tea.

JENNIFER: Some tea?

JACK: Yes. A little cup of tea always helps me to think when I'm looking over my.... my notes.

JACK GOES INTO THE KITCHEN.

JENNIFER: Your daddy is very silly, huh. Yes.
[Transcribed by Carol Vaughan
added material by Sally A. Wilson]
---
---