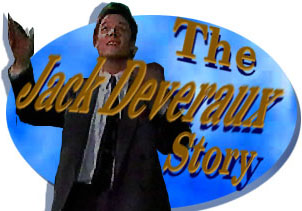 oldEpisode Four-hundred-fity-nine: Jack
Argues with Jennifer's Jerk Producer.
Going over a List of Possible Guests
for the Show, He Sees Something
Which Gives Him an Idea.
---
[Air date late November 1992]
SCENE ONE: JACK IS CLEARING UP SOME DIRTY PLATES LEFT ON HIS DESK WHEN JENNIFER COMES DOWNSTAIRS.

JACK: The child's asleep?

JENNIFER: Yes, finally, except I had to play the theme from my show about fifteen times.

JACK: That's rather telling when it's most effective in putting children to sleep. But at least it works.

JENNIFER: It's the only thing that works. But now I'll never be able to escape my job.

JACK: Well.... perhaps you can tonight.

JACK WALKS OVER BEHIND HER AS SHE SITS ON THE SOFA.

JACK: Why don't you just close your eyes and we'll see if I can take you away somewhere.

HE LIFTS HER HAIR BACK AND BEGINS TO MASSAGE HER TEMPLES.

JENNIFER: Where are you going to take me?

JACK: Well, once you've closed your eyes, we'll see where you'd like to go.

JENNIFER: I would like to go to a deserted island and be in a hot springs bath.

JACK: Well perhaps you'll settle for the bath upstairs.

JENNIFER: Yes, I'll settle for that. Come on let's go.

JACK: All right, that can be arranged.

JENNIFER: Come on, I'll race you.

THE DOORBELL RINGS.
---
SCENE TWO: JUST AS JACK AND JENNIFER WERE TRYING TO RELAX, THEY WERE INTERRUPTED.

JENNIFER: Oh, who is that?

JACK: Don't worry it's probably.... from some idiot coming in the middle of the night. I'll get rid of them.

JACK OPENS THE DOOR AND IT IS MALCOLM, JENNIFER'S PRODUCER.

MALCOLM: Jackie boy, where's our star? Oh there she is.

MALCOLM IS TAKING OFF HIS COAT.

JENNIFER: Malcolm, what are you doing here?

MALCOLM: What else? I'm here to work.

JENNIFER: Tonight?

MALCOLM: All night, if need be. Let's get to it.

JACK FROWNS AND JENNIFER SHAKES HER HEAD AS MALCOLM SETTLES

IN TO WORK.JENNIFER SITS DOWN NEXT TO HIM.

MALCOLM: Now these are some of the topics that I think we should do. We need to look them over and pick one out for your first show.

JENNIFER: On the first show I thought we decided it was going to be about family values, remember.

MALCOLM: Yeah I know but I've been thinking and we need something better. A real grabber, you know.

JACK IS WANDERING ABOUT THE ROOM AND HE ROLLS HIS EYES AT MALCOLM 'S COMMENTS. JENNIFER READS MALCOLM'S SUGGESTIONS.

JENNIFER: Ex-wives who stalk their husbands, nude window washers, cannibal's favorite recipes? You want to do this on a Thanksgiving show, Malcolm?

MALCOLM: It ought to spice up everybody's dinner, huh.

JENNIFER: These are sick. I will not do them.

MALCOLM: You don't really have a choice baby.


JENNIFER LOOKS ACROSS AT JACK.

JENNIFER: I don't care what they want. They are sick.

MALCOLM: It's what gets ratings.

JENNIFER: I don't care.

MALCOLM: Well you had better care or this little show of yours is going to end up in the ratings trash heap.

JENNIFER: Really? Trash is a good word for it.

MALCOLM: Oh I forgot. The Ms. Ferraro Award. Ms. Integrity.

JENNIFER: That's right and I'm very proud of that.

MALCOLM: Well you want to know what the audience thinks of it? Zippo! Look the airwaves are maxed out on talk shows honey. If we want anybody to tune in we have to give them what they want and this is it.

JENNIFER: No, this is not what they want. This is what sicko producers like you want, Malcolm. MALCOLM: Yeah, well there's a lot of sickos like me out there.

JENNIFER: Maybe you're right. You know I think that you are absolutely right. Maybe this is what some people want. But you know what, I'm not the person to give it to them. I really wouldn't be able to do it justice.

MALCOLM: Oh, sure you could.

JENNIFER: No really Malcolm, I wouldn't. I'm much better with a positive real approach.

MALCOLM: Huh, huh. Oh you mean like shows on motherhood and raising a family and taking care of a family.

JENNIFER: Yes, yes, that's exactly what I'm talking about. Real people, real issues. We talk to people about how they are maintaining a normal life in the difficult times that we are facing.

MALCOLM: Fine.

JENNIFER: Great, great, then we have nothing....

MALCOLM: You just get yourself a little camcorder and go down in your basement and find some cable access station and call it Mom's World.

JENNIFER: Malcolm, you are not understanding what I'm....

MALCOLM: Look this is showbiz. It is time to get off the mommy track and get real.

JACK WALKS OVER WITH A CUP OF COFFEE AS ABBY BEGINS TO CRY.

JENNIFER: Oh Abby.

JACK: No, I'll.... listen I'll get it and....

JENNIFER: No I'll get it. It's time for me to get it.

MALCOLM: Hey, let Mr. Mom here do it. Remember what I told you, it's time to get that kid on a bottle.

JACK IS INSULTED AND HURT. JENNIFER TURNS BACK TO MALCOLM.

MALCOLM: You listen to me Malcolm, all right. You might be able to advise me on what to do with this show but don't tell me how to run my life!

SHE RUNS UPSTAIRS AND MALCOLM TURNS TO JACK.

MALCOLM: You and I have to talk about that wife of yours.

JACK: Yes sir, I believe we do.
---
SCENE THREE: WITH JENNIFER OUT OF THE ROOM, JACK FINALLY TELLS MALCOLM WHAT HE THINKS OF THE WHOLE SITUATION.

JACK: Jennifer has never let the station make her broadcast papers to be filled with untruths and exploitation so she will not compromise herself by broadcasting yours. And another thing, when you talk to, with or about my wife, you will not use the words honey, baby, sweetheart or dearest. Is that understood?

MALCOLM: You through?

JACK: I certainly hope so.

MALCOLM: Good, because that's exactly what you're going to be if you don't put a lid on it.

JACK: I beg your pardon.

MALCOLM: Face it Jack. We don't need you. We only hired you on as a researcher because you were the star's husband. We threw you a bone to keep you busy.

JACK: Sir, I am a writer, first and foremost. Not only that, I used to publish a newspaper at one time.

MALCOLM: Yeah and now you don't. Maybe it's time for a little reality check here, huh?

JACK: Now you wait a minute.

MALCOLM: No you wait a minute. You have caused enough trouble already. You know, the people at network were not real happy when you pretended to be her agent and started making waves.

JACK: I wanted to move the starting date back and they agreed.

MALCOLM: Right. But you made some enemies pal. So you just keep your demands to yourself from now on, okay. This is Jennifer's cute little behind on the line here. Not yours!

JACK IS INSULTED BUT IS ALSO CAUGHT IN A DIFFICULT POSITION AND KNOWS THAT JENNIFER REALLY WANTS THIS SHOW. HE AND MALCOLM ARE STILL EYEBALLING EACH OTHER WHEN SHE COMES BACK DOWNSTAIRS.

JENNIFER: Okay, Abby is fed and she's asleep so let's get back to what we were discussing. (Beat) Jack, what's wrong? Is everything all right?

JACK IS TRYING TO HIDE HIS HURT AND ANGER.

JACK: Everything couldn't be better. It couldn't be better!

HE WALKS OUT TO THE KITCHEN.
---
SCENE FOUR: LATER ON WHEN MALCOLM HAS LEFT, JACK TALKS TO JENNIFER.

JACK: Looking at Malcolm's ideas a second time.... they're really not that bad.

JENNIFER: These ideas are sleaze and you know it Jack.

JACK: It really doesn't matter what I know. I'm just the.... researcher.

JENNIFER: Wait a minute, you are much more than that to me and you know. Jack I depend on you for all of your advice.

JACK: Well my advice first and foremost is for you to do the best at everything you do, for yourself.

JENNIFER SENSES SOMETHING IS VERY WRONG.

JENNIFER: Well it doesn't seem that I'm doing a very good job of that anymore.

JACK: I think it would be best if you went upstairs and got some sleep. You've got a big day tomorrow.

JENNIFER: That's right. I've got to get back in the ring with Malcolm.

JACK: Yes, you certainly have to do that.

HE WALKS OVER TO HER. HE IS DETERMINED THAT SHE WILL NEVER KNOW ABOUT HIS CONVERSATION WITH MALCOLM.

JACK: And it's for that reason that I want you to go upstairs and get some sleep.

JENNIFER: I love you.

JACK: I love you.

HE KISSES HER AND HOLDS HER TIGHT.

JENNIFER: Okay, goodnight.

JACK: Do your best.

SHE GOES UPSTAIRS AND JACK PICKS UP THE LIST OF IDEAS THAT MALCOM HAS FOR THE SHOW. HE READS EACH ONE THEN SCREWS UP THE PAGE AND READS THE NEXT ONE.

JACK: Pet owners who claim pets can talk to extra-terrestrials. (Beat) People who die and live to tell about it. (Beat) Laymen who.... laymen who make millions writing bestsellers at home.

THAT ONE MAKES JACK STOP AND THINK.

JACK: Question.... is it truly possible to turn a sow's ear into a silk purse? (Beat) Answer.... with a bit of work.... no a lot of work.... you could turn this into something interesting.
[Transcribed by Carol Vaughan
added material by Sally A. Wilson]
---
---