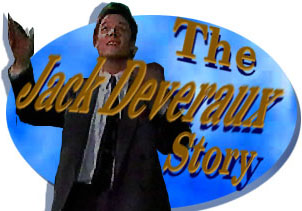 oldEpisode Four-hundred-sixty: Jack and
JenniferArgue, Because He Will not
Help Her with Her Show; Her Producer
Has Threatened Jack not to Get Involved.
---
[Air late November 1992]
SCENE ONE: JENNIFER IS GETTING READY FOR WORK WHEN JACK COMES OUT OF THE KITCHEN SHAKING A CEREAL BOX.

JACK: It's gone.

JENNIFER: Did you say something, Jack?

JACK: Yes, the cereal, it's no more.

JENNIFER: I know, it's gone. I ate it. I finished it all. I was very nervous. You know how I eat when I'm nervous.

JACK: There's nothing to be nervous about.

JENNIFER: Jack, I have a television show debuting tomorrow. I have a producer who's idea of quality programming is a cross between yellow journalism and pornography.

JACK: I take it you're going to have a run in with Malcolm today.

JENNIFER: Oh you bet I am. There is no way that the subject of my first show is going to be sleazy suggestions like his. It is going to be family values whether he likes it or not.

JACK LOOKS A BIT CONCERNED.

JACK: Whatever you say.

JENNIFER: Wait a minute, I don't believe you.

JACK: You don't believe what?

JENNIFER: Well you're just walking out of the room when I need your support.

JACK: I.... I thought we'd had this out last night. When it comes to your professional life, you're on your own. Excuse me.

HE STARTS TO WALK AWAY LEAVING HER CONFUSED.

JENNIFER: So now I'm on my own. Is this a new attitude? I thought that we were doing this together. I really want your help.

JACK: I know that and I appreciate it but I am not an expert in your field. It's like they say in your business. It's your gig.

JENNIFER: Oh so I see, okay. So you're just abandoning me, is that it?

JACK: I am not abandoning you. I will help you. If you need help with research, I am right there to do it. That's my job. But I will not be sticking in my two cents in here and there and everywhere else. Otherwise there are people out there who would say that I'm interfering.

JENNIFER: I know what people you are talking about. I don't care about those people.

JACK: They're....

JENNIFER: Look forget it. I don't have time to argue about this. I have to get Abby to the doctor.

JACK: You don't have.... I can do that. I can take Abby to the doctor.

JENNIFER: No, no thank you, all right. Maybe you don't want to be involved with my career but that doesn't mean I don't want to be involved with our child.

JACK: I....

JENNIFER RUNS UPSTAIRS.

JACK: DAMN!
---
SCENE TWO: JENNIFER HAS TAKEN ABBY TO THE HOSPITAL FOR HER REGULAR CHECK-UP. ALICE IS THERE AND SHE NOTICES THAT JENNIFER IS TENSE. JENNIFER TELLS HER THAT MALCOLM WANTS TO CHANGE THE SHOW INTO A SLEAZY TALK SHOW AND THAT JACK IS NOT BACKING HER UP. JENNIFER IS NOT SURE THAT TAKING THE SHOW WAS THE BEST DECISION. ALICE REASSURES HER THAT SHE AND JACK WILL WORK THINGS OUT.
---
SCENE THREE: BACK AT HOME, JO IS THERE TO HELP JACK.

JO: Jack, you seem a little down in the dumps. Is anything wrong?

JACK: No, nothing's wrong. I'm just mulling over my situation. Stuck in a house in a world full of off-to-work machismo.

JO: Well what is this sudden inferiority complex?

JACK: It's not an inferiority complex. I'm just thinking over that run-in I had with Malcolm. I mean Jennifer's line producer tells me I have to get out of her professional life otherwise the network will get angry.

JO: Well I hope you told them to stick it in his ear.

JACK: I couldn't.

JO: What?

JACK: I couldn't. I wanted to but some of things he said made sense and on top of that I'd already overstepped my boundaries when I.... when I forced the show to hold off their opening week.

JO: Jack you got your way. You helped Jennifer out. You did what any strong man would do for his wife.

JACK: Well somehow I don't feel very strong or manly at the moment.

JO: Jack, now you listen to me. Now it takes a very big man to do what you're doing. Standing in the wings while Jennifer is in the limelight. Son I'm very proud of you.

SHE HOLDS HIS CHIN IN HER HAND.

JACK: Well I'm glad that you're proud of me but I won't be proud of myself until I'm back on top and it's going to take a lot of money to do that.

JO: Why do you keep talking about money? Stop talking about money.

JACK: I will. (Beat) I will when I.... have it again.

HE GLANCES DOWN AT THE DESK WHERE HE HAS THE MANUSCRIPT HE FOUND.
---
SCENE FOUR: A LITTLE LATER, JO HAS TIDIED UP AND IS SITTING ON THE COUCH READING HER LATEST ROMANCE NOVEL. SHE IS SIGHING AS SHE READS.

JACK: All finished down here?

JO: Oh Jack, listen I just did a load of laundry and I was taking a little break and I couldn't put this book down.

JACK: Well perhaps I could help you.

HE TAKES THE BOOK FROM HER AND READS THE TITLE.

JACK: Love's Bitter Harvest.

JO: Tiffany Townsend's latest.

JACK: You read.... I mean I didn't know that you read this sort of thing.

JO: What do you think I do at night?

JACK: Come to think of it, I've never really thought about it.

JO: I read at least one book a week. All best sellers.

JACK: Well I suppose that makes you a connoisseur of this sort of thing.

JO: No.

JACK: No, no, be honest. Go ahead, you can talk about it. I bet you know good pulp from bad pulp.

JO: Well, actually it's not hard to write a good story but really the more successful ones have a lot of intrigue and romance.

JACK: Ah, potboilers, huh. I bet they don't make much.

JO: Are you kidding? Don't you read the newspaper. There's a ex-lawyer that just made four million dollars for a mystery and that lady that writes the Hollywood novels about all the stars just got a thirty five million dollar advance. Thirty five million dollar.

JACK: Thirty five million?

JO: Thirty five million. (Beat) Well I better go. I don't want Jennifer to know what we're up to.

JACK: Yeah, why don't you take this with you?

JO: Oh thank you, okay.

JACK: Yes and thank you again. (Beat) And there's a bag of trash on the front porch if you....

JO: Oh, okay.

JACK: Thank you.

JO LEAVES AND JACK GETS ON THE PHONE.

JACK: All right. Little miss stolen moments. Lesley Morgan. Hello, hello, Apex Reality. Yes I'm trying to find a previous tenant in my home. Her name is Lesley Morgan. (Beat) Oh you do, you do. Good, good, good, good. Perhaps you can tell me.... (Beat) You're guess is as good as mine. Well thank you very much. Well good.

HE HEARS JENNIFER AT THE DOOR AND HIDES THE MANUSCRIPT.

JACK: Ah, you're back. Well how did the check-up go?

JENNIFER: It was great. Abby passed with flying colors.

JACK: Huh, huh. Huh, huh.

JENNIFER: I'm going to just put her down for a nap and then I have to go meet with Malcolm.

JACK: You're still angry with me?

JENNIFER: I just don't think that we really have anything to talk about.

JACK: Oh I think we do. You don't understand. It's not that I don't want us to be able to work together in our professional lives but at this time I don't think that it's healthy that we do.

JENNIFER: Why not?

JACK: Because.... because we are not going to grow individually if we do. I know that I need to develop my career, get back on top, maybe make.... make a little bit of money....

JENNIFER: I don't understand you. This need you have to prove your masculinity is completely beyond me.

JACK IS ANGRY AT THOSE WORDS.

JENNIFER: You'll be very happy to know that the doctor said Abby is big enough so she can start going to the studio with me.

JACK: She can?

JENNIFER: Yes.

JACK: I mean....

JENNIFER: So you can stay home and you can concentrate on your own work and I can spend plenty of time with Abby.

JACK: Well it's not that I'm....

JENNIFER RUNS UPSTAIRS.

JACK: ....happy.
---
SCENE FIVE: JACK GETS OUT THE MANUSCRIPT AND SITS DOWN AT THE COMPUTER.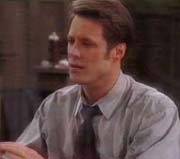 JACK: But.... Love's Stolen Moments. (Beat) "It was a dark and stormy night...."

HE CRINGES AS HE READS THAT FIRST LINE AND THEN TRIES TO THINK OF A BETTER ONE.

JACK: "It was a dark and stormy.... The rain came down after the day ended."

HE CONTINUES TO RECREATE THE MANUSCRIPT.

JACK: "It was autumn in New York.... it was spring in New Haven."

THERE IS A KNOCK AT THE DOOR.

JACK: Ah, just a minute, let me.... oh, oh, oh.

HE HIDES THE MANUSCRIPT AND CLEARS THE COMPUTER SCREEN.

JACK: Yes.... yes, store and save.

JENNIFER: Jack, that's Malcolm. I have a meeting. Do you mind?

JACK: Ah, no, I.... why should I mind?

JENNIFER OPENS THE DOOR AND MALCOLM COMES IN WITH ANOTHER GUY.

JACK: Gentlemen.

JACK ACKNOWLEDGES THEM AND THEN WALKS UPSTAIRS. HE HIDES ON THE STAIRS AND HEARS JENNIFER REJECT EVERY TOPIC THAT MALCOLM HAS SUGGESTED. HE RELUCTANTLY GOES WITH HER DECISION. THEY BOTH LEAVE AND JENNIFER IS CONFUSED ABOUT WHY THEY AGREED SO READILY. OUTSIDE, MALCOLM TELLS JEFFREY THAT HE ONLY AGREED WITH JENNIFER TO KEEP HER HAPPY BUT HE IS GOING WITH HIS STORIES ANYWAY.
---
SCENE SIX: JACK COMES BACK DOWNSTAIRS.

JACK: You see you did it. You got to Malcolm. You talked to him. You made him see your point of view and I didn't have to do anything at all.

JENNIFER: Yeah, I know. I still can't believe that he's letting me.

JACK: Huh, huh.

JENNIFER: I just have to make sure that he's not sorry he's letting me.

JACK: I have every confidence in you.

JENNIFER: Well that means a lot to me because I really respect your opinion.

JACK IS VERY HAPPY ABOUT THAT.

JACK: Oh.

JENNIFER: I respect your opinion so much that I would like to run some ideas by you for future shows.

JACK IS NOT HAPPY ABOUT THAT.

JACK: I thought we'd been through this. Didn't we agree that it's better if we all work within our own spheres?

JENNIFER IS ANNOYED.

JACK: I thought we did.

SHE SITS ON THE COUCH AND HE SITS AT THE COMPUTER BOTH AT AN IMPASSE.
[Transcribed by Carol Vaughan
added material by Sally A. Wilson]
---
---