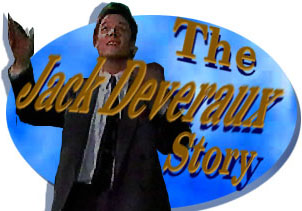 oldEpisode Four-hundred-sixty-one :
Angry by How Jennifer's Producer Is
Ruinning her Show, Jack Fires Him and
Takes over. After the Show Everyone Heads
over to the Brady Pub for a Thanksgiving Dinner
---
[Air late November, 1992]
SCENE ONE: JACK IS AT THE COMPUTER WORKING ON THE MANUSCRIPT.

JACK: You know I'm really doing this Lesley Morgan a big favor just trying to rewrite this and publish it. As bad as it is I think every writer likes to see their work published instead of gathering dust. (Beat) What the hell, she's probably dead and buried many years. And even if she's not, she can't hold it against me. I'm not making money off it. Not yet at any rate.

JENNIFER COMES RUNNING DOWNSTAIRS AND JACK HIDES THE MANUSCRIPT.

JENNIFER: Right, Abby's been fed and changed. If she gets hungry, the bottle's in the refrigerator. If she gets hungry in an hour, there's a bottle of water. Just give her the water.

JACK: Wait a minute, wait a minute. You shouldn't be thinking about this at all. You need to concentrate on launching the best show in the annals of television.

JENNIFER: Well sure if I can find the right outfit to wear.

JACK: I thought the outfits were provided by the studio.

JENNIFER: Yeah but what if I don't choose the right outfit? What if I choose an outfit that everybody hates?

JACK: You don't have to worry about anything you wear. You'll look lovely. Just think, you are going to be America's next sweetheart.

JENNIFER: Oh I hope Malcolm agrees with you.

JACK: Who cares what M.... (sigh).... it doesn't matter what Malcolm thinks. I mean he obviously came around to your way of thinking. It only proves that once again good taste wins out over tabloid journalism.

JENNIFER: I know. I still can't believe it's true. I don't have time to think about it. You take this.

JACK: Yes.

JENNIFER: And I'm going to go.

JACK: Ah, yes. Goodbye.

JENNIFER: Oh Jack, do you think that you and Abby could come to the studio early?

JACK: Ah, actually I.... I think we'll just watch the show from here.

JENNIFER: Why?

JACK: Well I thought it better not to.... not to.... interfere. Just know that we'll be here rooting for you like pigs in search of truffels.

JENNIFER: Oh, well that makes me feel much better. Goodbye.

JACK: Goodbye.
---
SCENE TWO: JENNIFER ARRIVES AT THE STUDIO. SHE CHOOSES A DEEP PINK SUIT. MALCOLM IS PUTTING ON LARGE PINK EARRINGS.

JENNIFER: Malcolm, I'm telling you right now. I won't wear these.

MALCOLM: I gave in on the topic for you. The least you can do is wear a little jewelry that has some pizzazz.

JENNIFER: These are hideous, I'm telling you.

DIRECTOR: Sixty seconds to air.

JENNIFER: Oh my gosh.

MALCOLM: By the way I made a few changes in today's script.

JENNIFER: You what?

MALCOLM: Don't worry. Everything's on the cue cards. The rest will take care of itself.

JENNIFER: What kind of changes did you make, Malcolm?

MALCOLM: Minor. The topic is still motherhood in the 90s. The guests are all the same. It's just that some of the questions you'll be asking are a little different. Sharper, more focused

. JENNIFER: How could you do this to me at the last minute? Tell me that

. DIRECTOR: Thirty seconds to air.

MALCOLM: It's my job to make sure we get good ratings. (Beat) I've got a new sports car to pay for. Listen you just read what's on the cue cards and we'll make TV history.

JENNIFER: But Malcolm you don't un....

MALCOLM: Uh, uh, uh.

HE KISSES HER FOREHEAD.

MALCOLM (CONT.): Set those airwaves on fire.

JENNIFER GLARES AT HIM AS SHE IS COUNTED IN.

JENNIFER: Why to do I feel like the one who's about to get burned?

SHE PULLS OFF THE HORRIBLE PINK EARRINGS.
---
SCENE THREE: THE SHOW GOES TO AIR AND EVERYBODY IN SALEM TUNES IN.
---
SCENE FOUR: JENNIFER READS THE CUE CARDS AND FINDS THAT MALCOLM HAS TWISTED THE WORDS SO THAT IT LOOKS LIKE SHE IS DOING INTERVIEWS WITH MOTHERS WHO MIGHT GET RICH SELLING THEIR CHILDREN. SHE TRIES TO REFUTE THE LEAD-IN BUT AGAIN AND AGAIN SHE GETS CAUGHT UP WITH MALCOLM'S CUE CARDS. THE SHOW SOUNDS LIKE A TRASHY TALK SHOW.
---
SCENE FIVE: JACK IS WATCHING WITH JO AND HE QUOTES ONE OF HER PHRASES.

JACK: Getting it on! That certainly doesn't sound like Jennifer.

JO: No, it doesn't.

JACK: Yes, well let's hear some more.

THE FIRST WOMAN INTERVIEWED IS A SURROGATE MOTHER AND SHE IS IMMEDIATELY UPSET AND GOES OFF AT JENNIFER ON AIR.

JACK TURNS OFF THE TV.

JACK: I think we've seen enough. I realize I said that I was not going to get involved with this. I was not going to intrude but my survival instincts tell me that I am needed on that set.

HE GRABS HIS JACKET.

JACK: Ah Jo, I think you better get the child ready to meet us at Brady's Pub.

JO: Now listen.

JACK: Jennifer needs a drink after all this.

JO: Don't do anything you're going to regret later Jack.

JACK: (Beat) Never!
---
SCENE SIX: RUNS OUT THE DOOR. THE SHOW BREAKS FOR A COMMERCIAL AND MALCOLM AND JENNIFER ARGUE ABOUT WHAT HE IS DONE AND WHAT IS ABOUT TO HAPPEN. JACK ARRIVES IN THE MIDDLE OF THE ARGUMENT.

JACK: I'm sorry. I was watching TV at home. What's happened to your show?

JENNIFER: Oh it's just Malcolm pulling another fast one, that's all.

MALCOLM: Listen, this is the topic you wanted.

JENNIFER: Aside from putting all those horrible things on the cue cards, he wants to spring the biological mother on this girl that's never even met her before. I told him no. I'm not doing it.

JACK: Absolutely. It's your show. You ought to do it your way.

MALCOLM: Listen Jack, I told you to stay out this and when I tell you to jump sweetheart, you better jump!

JACK: I think you ought ignore him. It's your show. Do it your way.

MALCOLM: Over my dead body.

JACK: Hey, you better be careful. This is a union set. Somebody could take you at your word.

DIRECTOR: Thirty seconds to air.

JACK: Listen I.... I think.... I think that the birth mother and Malcolm aren't going to be a problem at all, really.

MALCOLM: Look will you get out of here?

JACK: Look you have less than 15 seconds now until your show is going to be a flop. What are you going to do Jennifer? I think you ought to sit right down and be yourself. That's what people really want to see.

MALCOLM: You can't do this.

JACK: I'm afraid I already have.

MALCOLM: You want to produce this show? Well fine, it's going down the drain anyway.

MALCOLM REMOVES HIS HEAD SET AND HANDS IT TO JACK ALONG WITH HIS NOTES.

MALCOLM: Go for it Jackie boy. I quit!

JACK IS SURPRISED BUT HE FITS THE HEAD SET AND SPEAKS INTO THE MIKE TO THE CONTROL ROOM.

JACK: I.... did you hear that? Your producer just quit. Yeah, throw the bum out of here. No, no, no. I'm right here. I'll run it. I can control the talent. (Beat) Jennifer, it's your show. Do it your way.

JENNIFER: All right.

JACK: Go for it. Let's go.

DIRECTOR: In five, four, three, two....
---
SCENE SEVEN: JENNIFER GOES BACK ON AIR AND DOES IT HER WAY WITH JACK RUNNING THE SHOW. CARLY AND BO COME BY TO WATCH HER TAPE. JENNIFER FINISHES HER SEGMENT.

JACK: Cut!

DIRECTOR: Clear.

JACK: Okay everybody clear. That was it. We did it. Oh we did it.

JENNIFER: How was it?

JACK: You were great.

JENNIFER: Really?

JACK: Yes, you were just....

JENNIFER: Was it really?

JACK: Yes! Absolutely.

JENNIFER: Was I okay?

CARLY: Yes and so were you. You looked good Jack.

JACK: Thank you.

BO: Jack, you should have fired that producer a long time ago.

JENNIFER: Oh I'm so glad you got rid of Malcolm.

JACK: It was just letting you be yourself, that's all

. JENNIFER: Oh, and I love you for it. Thank you so much. Oooooh I'm so glad that's over. BO: Speaking of over, are we done here, so that we can go have Thanksgiving? Yes?

JENNIFER: Yes, yes, let's get out of here. Just let me get my things all right. I'll just be a minute.

JACK: Yes.
---
SCENE EIGHT: WHILE LATER THEY ARRIVE AT BRADY'S PUB WHERE BILLIE IS HELPING TO SERVE FOOD.

JENNIFER: Ooooh, hi Billie.

JACK: That looks good. I need a beer.

SHAWN: Hi everybody. Look who just walked in, eh.

EVERYBODY IN THE PUB INCLUDING JACK APPLAUDS JENNIFER.

JENNIFER: I couldn't have done it without Jack, I'm telling you right now.

JACK: No, no, no, no, no. I had nothing....

JENNIFER: I couldn't have done it.

JACK: No!

ALICE: And here is your number one fan.

ALICE HANDS ABBY TO JENNIFER.

JENNIFER: Yes.

JENNIFER TURNS TO JACK.

JENNIFER: Well I guess that will be the last applause I get for a while.

JACK: Don't say that. That could jinx you.

JENNIFER: Maybe Malcolm was right. I mean maybe the audience is going to hate the second half. JACK: Only people with half a brain would like the first half. The people with a whole brain would like the second half, your part.

JENNIFER: I hope you're right.

PHILIP: May I congratulate the hostess with the mostess. I don't know if you remember me. I'm Philip.

JENNIFER: Yes.

PHILIP: You lit up the screen. She was absolutely unbelievable.

JACK: Well!

JENNIFER: I don't know how. You know the producer quite halfway through the show. I never could have got through it without Jack.

THANKSGIVING DINNER PROCEEDS WITH EVERYBODY IN SALEM.
[Transcribed by Carol Vaughan
added material by Sally A. Wilson]
---
---