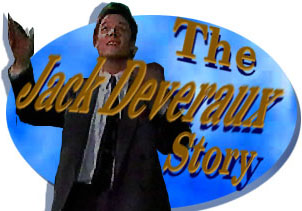 oldEpisode Four-hundred-sixty-two :
Jennifer's Show Gets Bad Reviews
That Night Jack Starts to Work on
Writing a Novel, Hoping to Get
Rich and Buy Back
The Specator
.
---
[Air date late November, 1992]
SCENE ONE: IT IS LATER IN THE DAY AND JACK AND JENNIFER ARE WAITING AT THE BRADY PUB FOR THE NEWSPAPER REVIEWS OF HER SHOW. JULIE HAS BEEN TRYING TO GET THROUGH TO THE SPECTATOR ON THE PHONE.

JENNIFER: Jack, she should have got through by now. The Spectator goes to press in an hour.

JACK: I'm sure the critic just couldn't come up with enough adjectives.

JENNIFER: Yeah but what kind of adjectives.

JULIE: They gave you a rave review.

JACK: I knew it, I knew it

JENNIFER: Really? What did they say about the show?

JULIE: Oh he loved you and thought you were terrific.

JACK: Huh, huh.

JENNIFER: No, what about the format, the show. What did he say about it?

JULIE: Oh well, he had some misgivings.

JENNIFER: I knew it, I knew it. He said that he liked me because I'm your cousin and it's your paper.

JULIE: Oh Jennifer!

JENNIFER: The truth is that he hated it. He hated every minute of it.
---
SCENE TWO: JULIE GIVES THEM THE FULL REVIEW AND JENNIFER IS UPSET.

JENNIFER: No wonder I had to pry every word the reviewer said out of Julie. He thought my show is a bomb, Jack.

JACK: You know I think we heard different critiques. What I heard him say is that you showed good taste, honesty and sincerity.

JENNIFER: He said that the show was all over the place, that it had a rocky start and it shifted gears halfway through.

JACK: Well you did shift gears. You went from.... from.... from.... from senseless to sincerity, you went from.... from exploitation to ah, being.... put on a happy face here. Here comes your favorite grandpa.

TOM: Well here's our star.

ALICE: You were wonderful. But then you are always wonderful. And she looked so pretty, didn't she Tom?

TOM: Oh yes.

JENNIFER: Well I'm really glad that somebody liked it.

JENNIFER LOOKS DEPRESSED.

JACK: If you'll excuse us. I think Jennifer's suffering from PBS.

TOM: Oh? What's that?

JACK: Ah.... post broadcast syndrome. It's a television trauma thing. Ah.... we have.... Jo has the child out in the car and she's really exhausted. I think we should go.

ALICE: All right darling, you run along. But remember I want to talk to you tomorrow about the show because I think you shouldn't get....

TOM: Later Alice. Goodnight sweetheart.

JENNIFER: Goodbye grandpa.

TOM: You run along.

JENNIFER: Thanks. Goodbye.

JACK: Good night.

JACK AND JENNIFER LEAVE.
---
SCENE THREE: JACK AND JENNIFER ARE NOW HOME, AND CONTINUE THEIR CONVERSATION .

JENNIFER: Well I'm really glad that Abby doesn't realize her mother just became the biggest flop in television history.

JACK: I think you tend to look at the dark side of things a little too much lately.

JENNIFER: I don't think so Jack, not this time. I don't think so.

JACK: Jennifer, Malcolm pulled a fast one on you but I pulled a faster one on him. And because of your fast foot work and quick thinking you were able to snatch victory from the jaws of catastrophe. Now the important thing to remember is that the TV critic didn't say anything about you personally. I mean nothing in a negative way. So everything else can be fixed.

JENNIFER: Thank you. Thank you for being so supportive and lying so convincingly.

JACK: I do not lie. I tell the truth in a creative way. Now believe me, everything is going to be just fine. Scout's honor.

JACK MAKES THE SCOUT SALUTE.


JENNIFER: Jack you were never a scout!

THE CONVERSATION CONTINUES.

JENNIFER: Jack I need your help. Okay not just with Abby but with the show. If there's going to be a show I need you help.

JACK IS PACING UP AND DOWN IN FRONT OF JENNIFER.

JACK: Of course there's going to be a show. I'm just not necessarily the person that's going to be helping you with it. JENNIFER: You were wonderful this afternoon, you know it.

JACK: I know I was wonderful but that was a one shot deal. You need someone who's going to be there nine to five or later if that's the case. Someone you can trust. Someone who can really produce.

JENNIFER: Oh there's no such person. I'm telling you right now, they don't exist.

JACK: Of course they are. They're out there. It's just a matter of finding him or her.

JENNIFER: Finding him? I don't have any time to find a new producer. I have to get ready for the next show. Unless they cancel me.

JACK: Don't even think that. Don't even think that word.

JENNIFER: It's a big possibility Jack.

JACK: All right, I will do it. Not produce. I will help you find a whole list of candidates. I know they're out there in Salem somewhere. I will beat the bushes and I will come up with a whole list of them.

JENNIFER: Well that would be wonderful if you could do that.

JACK: Well just remember that I will find the candidates but you have to pick the right one.

JENNIFER: Okay, now I'm beginning to feel better.

JACK: Good, good.

JENNIFER: I think together we can do this. I really do. I think we can do this Jack.

SHE GIVES HIM A HUG. JACK DOES NOT LOOK SO SURE.
---
SCENE FOUR: A SHORT WHILE LATER, SOME FLOWERS ARRIVE FOR JENNIFER.

JACK: There.

MESSENGER: Happy Thanksgiving.

JACK: Yes.

THE MESSENGER PUTS OUT HIS HAND FOR A TIP AND JACK SLAPS IT.

JACK: Happy Thanksgiving to you too.

MESSENGER: Thanks.

JACK: Yeah, Thanks Thanksgiving.

JACK SHUTS THE DOOR AND ON THE GUY.

JENNIFER: Oh Jack, you didn't have to do this. This is so extravagant. This wasn't necessary at all. Oh they're beautiful.

JACK: Well....

JENNIFER READS THE CARD.

JENNIFER: "To my own Jennifer Rose, the most wonderful flower of them all. You were wonderful today and made me the proudest father alive. Dad."

JACK: Well it only illustrates my point. Everyone thought that you were wonderful today.

JENNIFER: Jack this show is important to us. I mean to our future, especially Abby's. And I know I over reacted to the reviewer but you don't understand how much competition there is out there. You have to be better than good.

JACK: And you are better than good. You're.... you're ten times better than good. You're.... you're perfect for what you're doing.

JENNIFER: I feel like I'm gambling with your career and your life. And I don't want to fail. I don't want to let you down.

JACK: You are not letting me down. As a matter of fact I have never gotten so much out of anything as I have out of this house. Just learning to.... to.... to.... just to take care of it and be a good housekeeper. You know now I think of it I think you might even want to hire me out some day.

JENNIFER: I know how much you miss writing and how much you miss the newspaper. Jack your column is the best going in that Spectator and I'm telling you right now that if Lawrence wasn't trying to get his hands on it still....

JACK: Of if Julie hadn't gotten her hands on it. But then again Julie is having enough trouble keeping her hands on it the way things are going these days.

JENNIFER: I want you to have that newspaper again. It's yours.

JACK: I.... I appreciate your sentiments. It's nice to know you feel that way too.

JENNIFER: You know someday everybody is going to appreciate your talent as much as I do.

JACK: (Beat) I can't tell you how it makes me feel to hear you say that. (Beat) But in the meantime I want you to feel assured I'm here, the child's here, the house is here and everything's taken care of. You have nothing to worry about.

HE GIVES HER A HUG.

JACK: I'll get that paper back. (Beat) Someday.
---
SCENE FIVE: JACK HAS ARRANGED THE FLOWERS IN A VASE.

JENNIFER: Oh Jack, they look beautiful.

JACK: Oh, I'm glad you think so. I'm just getting them all arranged here just as representative of your triumph today. She's asleep?

JENNIFER: Oh yeah, Abby'll be asleep until morning now.

JACK: You notice how she's been responding to my voice these days. It's nothing short of incredible.

JENNIFER: I think it's pretty incredible how you respond to her voice.

JACK: Well it's important to respond to people.

JENNIFER: I don't think you understand how much she and I appreciate that.

JACK: Well I appreciate your appreciation. But you can show it me by running off to bed. I know that you're tired.

JENNIFER: Well I am very tired so why don't we both call it a day?

JACK: You know I'm going to be right behind you. I just have a couple of things I need to do down here first.

JENNIFER: Oh Jack, don't do laundry. I want to take a shower. Don't run the washing machine.

JACK: I will not do laundry. You have my word on that.

JENNIFER: Okay.

JACK: That will be done tomorrow.

JENNIFER: All right. Thank you so much for being here for me Jack.

JACK: It's my pleasure.

JENNIFER: Good night.

JACK: Good night I'll see you in a bit.

JENNIFER GOES UPSTAIRS AND JACK SITS DOWN AT HIS COMPUTER AND GETS OUT THE MANUSCRIPT.

JACK: That does it. I better get this thing up and running if it kills me. If it takes all night.
[Transcribed by Carol Vaughan
added material by Sally A. Wilson]
---
---