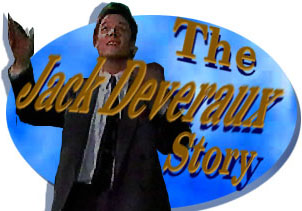 oldEpisode Four-hundred-sixty-four :
Jack Tries to Get
His
Novel Published.
---
[Air date early December, 1992]
SCENE ONE: A FEW DAYS LATER AND JACK IS CHECKING ON HIS MANUSCRIPT.

JACK: Hello, this is Miranda Miller's secretary. I'm calling to confirm your receipt of Ms Miller's new novel. It was expressed mail to you yesterday. (Beat) Ah, excuse me but what is her novel doing sitting on your desk? I mean Mr. Harrington should be reading it and at least.... (Beat) I tell you it should at least be sitting on his desk. (Beat) What are you talking about, several months? (Beat) Let me tell you something right now, if he doesn't have the time to read right away he's going to miss out on the chance to make a fortune publishing it.

THERE IS A KNOCK AT THE DOOR.

JACK: You tell him that.

JACK HANGS UP.

JACK: Damn.

HE ANSWERS THE DOOR AND IT IS A MESSENGER.

JACK: Yes.

MESSENGER: Hi, I have a delivery for Jennifer Deveraux.

JACK: Aaaah.

MESSENGER: Is she in?

JACK: No, she's not here right now. I'll just take it.

MESSENGER: All right.

JACK: And I'm the secretary. I'm not really authorized to tip.

MESSENGER: Merry Christmas.

JACK: Yes.

JACK SHUTS THE DOOR AND OPENS THE ENVELOPE AS JENNIFER COMES DOWNSTAIRS.
---
SCENE TWO: TO PROTECT HER FEELINGS, JACK DOES NOT WANT JENNIFER TO KNOW THAT THE MESSANGER DROPPED BY WITH HER RATINGS.

JACK: Right. Oh, she's already asleep?

JACK HIDES THE ENVELOPE FROM JENNIFER.

JENNIFER: Yes, she's asleep. I saw the messenger's car pull up. He brought the ratings, didn't he?

JACK: Um, well as a matter of fact he did. But before I give them to you....

JENNIFER: No Jack, there is no sense in putting it off. If it's bad news I want to know right away.

JACK HANDS JENNIFER THE ENVELOPE.

JACK: What are they?

JENNIFER: Mediocre.

JACK: Well what does mediocre mean? Is that good or bad? What?

JENNIFER: It's not good and it's not bad. The network won't be pouring champagne but they won't be canceling us either.

JACK: Well that's good. (Beat) Isn't that good?

JENNIFER: I don't know. I guess I.... I sort of was hoping that the ratings would be terrible and I would lose my job.

JACK: Why would you want that?

JENNIFER: Because then I could stay home with Abby. And I wouldn't feel like I was being pulled in two different directions.

JACK: Look there is nothing to feel guilty about here.

JENNIFER: I don't know what I'm feeling. I mean where are the guidelines to tell you whether or not a mother with a new baby should work outside the home. I mean everybody is willing to give you advice but whose advice do you take? And then there's the financial aspect of it Jack. Whether I like it or not, we need the money.

JACK: Well you've certainly said a mouthful there but one thing you didn't take into account is yourself.

JENNIFER: Myself?

JACK: Yes, you. What do you in your heart of hearts want to do? What will make you happy?

JENNIFER: Being with Abby has made me happier than I've ever been.

JACK: Well that's a given. I mean the fact is that you're a mother now and that's wonderful. But you're also a good reporter who loves her work.

JENNIFER: No, that's past tense. I was a reporter and I was an anchor woman which believe me was wonderful because I didn't have to conform to everybody's ideas of what a talk show host should be. But those days are over because my spot at WTGB has been filled.

JENNIFER RUNS UPSTAIRS. JACK PULLS HIS MANUSCRIPT OUT OF THE DRAWER.

JACK: Great.

JACK SITS DOWN AT THE COMPUTER TO DO RESEARCH FOR HER SHOW AS JENNIFER COMES DOWN WITH ABBY.

JENNIFER: All right Jack, Abby and I are on our way to the studio. I have a meeting with Philip.

JACK: If you have a producer's meeting, perhaps I should just keep her here with me.

JENNIFER: No, I need to keep Abby with me as much as possible, okay. I need her to be with me. And besides, it looks like you have a lot of research to do.

JACK: Well I do have a lot of research to do but I.... but I can take a break if I have to.

JENNIFER: No, the point is you don't have to. I want to take every opportunity to take advantage of this time of having Abby with me. She needs to feel that her mother is there for her especially a baby as little as Abby. And I really miss her when I leave her behind.

JACK: Well when you put it that way I really can't argue.

JENNIFER: Well thank you for understanding because I'm telling you right now Jack, Abby really puts everything in perspective for me. I mean mediocre ratings mean nothing when I look at her sweet little face.

JACK: Well that's good you've got over your mediocre ratings trauma. Now you have nothing to worry about. From here on in everything is going to start looking up for the Deverauxs.

JENNIFER: Well I don't know if I like the sound of that. You're not getting involved in the stock market again are you Jack?

JACK: I beg your pardon. I think you know me better than that. You have to remember, I am a man who has learned from his mistakes.

JENNIFER: Well I sure hope so. Goodbye. Say bye daddy.... by daddy.

JENNIFER LEAVES.

JACK: Yes, I have learned from my mistakes. I will no longer be making money from the stockmarket. I will be making money with words.

JACK PRINTS OUT ANOTHER COPY OF HIS MANUSCRIPT.
---
SCENE THREE: JACK HAS GONE OUT AND JUST RETURNED TO FIND JO AT THE HOUSE.

JACK: All right, I got those mailed now.... what is taking so long here? Listen I have a quota of forty-five scripts to get out a day. If you get going, Jennifer is going to be back soon and we won't....

JO: Jack I am practically crippled as it is, all right. And it was not my idea to send out a copy of your novel to every major publisher in North America. For crying out loud.

JACK IS PUTTING MORE MANUSCRIPTS IN ENVELOPES AS JO SPEAKS.

JACK: Another one.

JO: Son, son, you've got to understand something. It's not going to be that easy selling your first novel.

JACK: I don't care if it's easy or not. I will do it. I have to.

JO: This means a lot to you doesn't it?

JACK: Of course it means a lot to me. It's important.

JO: For the money?

JACK: No, not for the money. I'm just trying to provide for my new family. Make sure that if Jennifer doesn't want to have to work in the future she won't in the future. Make sure I can be providing a secure future for my child as well.

JO: Okay, okay, okay, I'm going as fast as I can.

JACK: Good.

JO HEARS A NOISE AT THE DOOR.

JO: Jack.

THEY BOTH LOOK AT THE DOOR.

JO: Oh gosh. I got to get out of here.

JACK: Oh.

JO: I got to get out of here quick. I got to get out of here. I'll see tomorrow.

JACK: She's coming up the driveway. Good.

JO: Okay.

JACK: Soak your hands.

JO: Okay, I'll soak my hands.

JACK PILES UP ALL THE PAPER AND HIDES IT IN THE DESK AS JO HURRIES OUT THE BACK DOOR.

JENNIFER: Hello there. Well how was your morning?

JACK LOOKS UP WITH A HALF SMILE ON HIS FACE. JENNIFER PUTS ABBY TO BED.
---
SCENE FOUR: A SHORT TIME LATER, JENNIFER COMES BACK DOWNSTAIRS.

JACK: Is she down for another nap?

JENNIFER: Yes. Not a minute too soon. Abby had quite a morning.

JENNIFER RUBS JACK'S SHOULDERS.

JACK: Yes, well judging from your mood I think you did too.

JENNIFER: I had a wonderful production meeting.

JACK: Good.

JENNIFER: But that is not my best news Jack. Let me just tell you that Abby did something remarkable today.

JACK LOOKS UP FROM THE COMPUTER.

JENNIFER: She watched me and followed me with her eyes. Can you believe that?

JACK: She did?

JENNIFER: Yes, she did. I'm standing there, I'm talking to Philip, she's in her infant seat. I walk away a few steps. She turned her head and watched me.

JACK: Well she's a little young for that isn't she?

JENNIFER: I'll tell you what she is. She is very smart for her age.

JACK: Well.... well that's a given but I'm sorry I missed that.

JENNIFER: That's okay because as much time as you spend with Abby I'm sure you'll be there for her next big milestone.

JACK: Yes well I certainly hope so.

JENNIFER: I'll just clean this up.

SHE BEGINS TO TIDY JACK'S DESK.

JENNIFER: What's this? Double Day Publishing, Random House, Simon and Schuster. Why do you have a list of book publishers?

JACK: Ah, well I guess you caught. The truth of the matter is I'm trying to come up with a surprise. A couple of new guests for your show. I was hoping to get someone from the world of publishing.

JENNIFER: That's right we talked about that. We talked about having a best selling author on the show.

JACK: Yes.

JENNIFER: Wouldn't that be great Jack?

JACK: Yes.

JENNIFER: I mean I can imagine all the wonderful stories a person like that could tell. Couldn't you?

JACK: Yes I certainly could. I could.
[Transcribed by Carol Vaughan
added material by Sally A. Wilson]
---
---