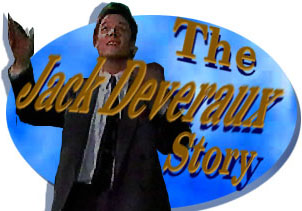 oldEpisode Four-hundred-seven:
Jo Begrudgingly Helps Jack with
His Plot to Publish the Novel.
Later, Jack Has a Surprise
for Jennifer and Baby Abby.
---
[Air date mid-December, 1992]
SCENE ONE: IT IS A FEW DAYS LATER AND JACK IS HOME WAITING FOR JO. HE HEARS THE DOORBELL AND RUNS TO OPEN IT.

JO: Mail call.

JACK: SSSSHHHH. I thought you were coming at six.

SHE WALKS IN CARRYING A BOX OF MAIL.

JO: I was going to but I had to sort out all your mail and I had to fix your dinner and....

JACK: Please, Jennifer is upstairs.

JO: You told me she was working late.

JACK: She came home early for once.

JACK STARTS UNLOADING THE BOX OF MAIL.

JO: Well listen there's a lot of mail from your publishers. Practically everyone on your list.

JACK: This is not mail. This is my manuscript returned unopened, unread, rejected.

JO: Oh.

JACK HEARS JENNIFER ON THE STAIRS AND IMMEDIATELY PUTS THE ENVELOPES AND DINNER BACK IN THE BOX.
---
SCENE TWO: JENNIFER COMES IN AND JACK AND JO TRIED TO HIDE FROM HER WHAT THEY HAVE BEEN DOING.

JENNIFER: Jack? Oh Jo. I thought I heard voices down here. What are you two talking about?

JACK FOLDS HIS ARMS AND LOOKS SUSPICIOUS.

JO: Um.

JENNIFER: Well isn't anyone going to answer me?

JACK: Ah.... certainly. Jo was just coming by to visit. Weren't you?

JO: Oh absolutely. That's absolutely right.

JENNIFER: Oh. What's that smell?

JACK: Smell? Ah excuse me.

JENNIFER WALKS PAST JACK. HE PICKS UP THE BOX CONTAINING THE DINNER THAT JO COOKED AND PUTS IT ON THE FLOOR.

JENNIFER: Yes, the smell. I didn't smell it before.

JO: You know, it's probably my perfume.

JENNIFER: No, it's smells.... it smells like onions.

JACK: Onions? Well imagine that.

JENNIFER: Oh well it's not important. Jack I wanted to show you this before. This is a run down of next week's shows and we wanted you to start doing research on publishing.

JACK: Publishing? Really?

JENNIFER: Yes, they finally approved my idea of doing a show about hot new writers. You know, how they find them, what they're looking for. And on the second page is a list of the guests on the panel.

JACK: Sophie David, Marvin Hammel, Ted Bordon, Suzanna Cooper, Paul Hayward.

JENNIFER: The biggest names in the publishing business, Jack.

JACK: Well that should be.... quite a show.

JENNIFER: Well thank you. I think so too. Now if you don't mind, I need to go see Carly. I need to bring her a few more things for the wedding. She's staying at the Salem Inn tonight so we're going to just get dressed there tomorrow. That's it. Goodbye.

SHE KISSES JACK AND HANDS HIM ABBY.

JENNIFER: Here, you be good for daddy.

JACK: Ah, yes, I'm sure that she will.

JENNIFER: See you later.

JACK: Certainly. Drive carefully.

JENNIFER: Bye Jo.

JACK: Drive carefully.

JENNIFER: Bye.

JENNIFER LEAVES AND JACK SETTLES ABBY IN HER BASSINET.

JACK: Jo, get me the list. (Beat) Get me the list, quick, the list.

JO: Okay.

JACK: I want to see those names on that list again.

JACK READS DOWN THE LIST OF NAMES THAT JENNIFER GAVE HIM.

JACK: You saw their names?

JO: Yes, yes, I did and everyone of those names is somebody that you've sent a book to.

JACK: And everyone of them is someone who returned them. I'm making up a second list. Everyone who returned it gets something from me. A letter bomb. Maybe....

JO: Well just don't mess around with Suzanna Cooper, all right.

JACK: What's the matter with Suzanna Cooper?

JO: Nothing's the matter with her. For starters, excuse me please.

JO SEARCHES THROUGH THE MAIL BOX AND FINDS AN ENVELOPE.

JO: She sent you this and think it's good news.

JACK: Why do you say that? She also called. She's coming to Salem and she wants to meet you.

JACK RIPS OPEN THE ENVELOPE.


JACK: Hmmm, well I might.... no she does not want to meet me.

JO: She was very adamant about it. She said that....

JACK: No, she said, and I quote, I can't wait to meet with your client, Miranda Miller.

JO: Well that's you.

JACK: That is not me. That is my alias. My nom de plume. Miranda Miller does not exist. Non-existent writers do not meet with publishers.

JO: Well if you're not going to meet with her how are you going to sell her your book.

JACK: I don't know, I don't know, I don't know. But I tell you this, if she's the only publisher in North America who wants to read this book and meet.... then I'll be damned if I'll let her out of my grip. Not without a hell of a fight.
---
SCENE THERE: JENNIFER ARRIVES AT THE SALEM INN TO HELP CARLY GET READY FOR THE WEDDING. SHE BRINGS CHAMPAGNE AND THEY HAVE A TOAST TO THE BRIDE TO BE.
---
SCENE FOUR: MEANWHILE, JO AND JACK GO TO THE MALL WITH ABBY.

JO: Now you're going to need clothes. Now your budget's awfully tight since you bought this mustache and glasses.

JACK: I'll tell you something, if I'm ever going to convince this publisher that Miranda Miller is indeed real or that I am indeed J. Johnson, the agent of the said Ms Miller, I've got to look the part in which case bargain basement obviously false mustaches are out. Other questions.

JO: Well you still only got $20 for clothes.

JACK: Then I'll go to a thrift shop and get a tweed jacket with patches on the sleeves. Something shabby yet genteel. Traditional yet jaunty. Very.... very literary. Something very professional. That's J. Johnson right there.

JO: Honey, why don't you just go to this lady, tell her that you're J. Johnson, see if you can work something out. Why do you have to wear a disguise?

JACK: Believe me, there is nothing I would rather do. Unfortunately Jennifer is going to have this woman on her show. Now what if they sitting in her office together and she sees a picture of me or worse, what if somebody in this chatty little town happens to see us talking together it goes back to Jennifer?

JO: Well I never thought of that. Boy things are getting more complicated by the minute, aren't they? JACK: They certainly are.

JO: By the second.

JACK: What do you mean by that?

JO: Take a look around.

JENNIFER: Hi there.

JO: Hi.

JACK: You're here.... Jennifer.

JENNIFER: Yes I thought I'd do a little Christmas shopping....

JACK: Yes.

SHE KISSES JACK.

JENNIFER: .... before I went home. What are you two up to?

JACK: Um.... shopping.

JO: Shopping.

JACK: Just shopping.

JENNIFER: Well what did you get at.... Christie's House of Hair?

JO: What?

JENNIFER: That bag you're carrying.

JO: Oh, aaah....

JACK: Christie's House of Hair is where you wanted to go to get the little.... the hair.... hair.... aaaah.... the little things that go around your hair. You said that they would make tremendous stocking stuffers.

JO: Yes and I got some ribbons and combs and brushes for people that are.... into hair.

JACK: Yes, well that covers your whole family to a tee. And speaking of hair, where are you headed?

JENNIFER: Well I was going to go to the book store but now that Abby's here I think I'm going to take her to see Santa Claus.

JO: Oh.

JENNIFER: You want to come?

JACK: Aaaah....

JENNIFER: It will be fun.

JACK: .... ah, I'll be right behind you. Just a moment.

JENNIFER: All right. Here we go. You want to go see Santa clause. Here we go.

JENNIFER WALKS OFF PUSHING THE STROLLER.

JO: Bye sweetie.
---
SCENE FIVE: AFTER JENNIFER IS GONE JACK TURNS TO JO.

JACK: I've come to a decision.

JO: I know. You're going to buy a genteel but shabby jacket tomorrow when you're alone by yourself.

JACK: No, no, no, no. I'm going to deep six the whole thing. I'm going to tell Jennifer the truth. I'm just going to get a refund on the mustache.

JO: Jack I don't understand you. Not five minutes ago you were doing anything you can to keep the truth from Jennifer at any cost.

JACK: Well that was five minutes ago and I didn't find myself standing in front of wife and child lying through my teeth.

JO: Well they don't know you're lying through your teeth.

JACK: That's just the point. I don't want them to find out. They think I'm reformed. They think I'm playing the game by the rules.

JO: Okay, so that does mean you're going to tell Jennifer about the book?

JACK: Yes.

JO: Suzanna Cooper?

JACK: Yes.

JO: Miranda Miller?

JACK: Yes.... yes.

JO: J. Johnson?

JACK: Yes.

JO: Well what if she doesn't want to work with somebody that she thinks is dishonest?

JACK: Dishonest?

JO: Dishonest.

JACK: Well if that's the way she wants to play it, that's the way it's going to be.

JO: Son, I know what you're doing is the right thing. I know it is. But I'm so afraid you're going to lose a lot of money.

JACK: Just.... don't think about the money.

JO: I can't.

JACK: Think about this. There are some things that are more important than money.

JACK WALKS OFF AND CALLS BACK TO JO.

JACK: Come on, time's awasting. You've got the hair, come here.

JO: All right, I'm coming.

JACK: Come on.
---
SCENE SIX: LATER, JACK IS WALKING UP THE MALL AND SEES JENNIFER WITH ABBY LOOKING AT A TALL BEAUTIFUL CHRISTMAS TREE.

HE LISTENS TO HER CONVERSATION WITH THE TREE SELLER.

MAN: Hi, would you like this tree?

JENNIFER: Oh no, this is really beautiful, thanks, but I'm going to take this one right here.

SHE WALKS OVER TO A SMALL SCRAWNY TREE.

MAN: Okay, that will be $10.

JENNIFER: Okay, I have a ten. There you go.

MAN: Okay, Can I take it to your car for you?

JENNIFER: Yes, it's the white one over there.

MAN: Thank you.

JENNIFER: Okay Abby, we've got our first Christmas tree and we're going to take it home and decorate it. Yeah, are you ready, huh? This is going to be a lot of fun.

JACK WALKS OVER TO JENNIFER.

JACK: Jennifer.

JENNIFER: Hi.

JACK: I thought you were going to be hanging out around Santaland?

JENNIFER: Well I was going to but it got real crowded and then I saw all these trees and I thought why wait until the last minute.

JACK: So you went ahead and got one?

JENNIFER: Yes. It's beautiful Jack. He's bringing it to the car right now. I'm going to go open the trunk so why don't you meet me at home?

JACK: Yes.

JENNIFER: Bye.

SHE GIVES HIM A QUICK KISS ON THE CHEEK AND LEAVES. JACK LOOKS OVER AT THE LARGE BEAUTIFUL TREE THAT JENNIFER HAD BEEN ADMIRING.

MAN: Can I help you sir?

JACK: Ah, no, I....

JACK LOOKS REALLY UPSET.

JACK: You know now that you mention it, maybe you can help me.
---
SCENE SEVEN: JACK AND JENNIFER HAVE ARRIED HOME, JENNIFER WANTS TO KNOW WHY JACK WILL NOT BRING IN THE TREE FROM HER CAR.

JENNIFER: Why do you insist on leaving the tree outside?

JACK: I don't want it to suffer by comparison.

JENNIFER: With what?

JACK: With.... with that.

HE TURNS JENNIFER AROUND AND THE LARGE BEAUTIFUL TREE IS IN THE LIVING ROOM.

JENNIFER: Oh my gosh.

JACK: I saw you talking to the man at the tree lot and it looked like you wanted it so I got it. I had him come over here and set it up. It's not bad. What do you think?

JENNIFER: Oh no, it's not bad, Jack. It's gorgeous. But I mean it must have cost a fortune.

JACK: Well I mean it's just a tree. It's not a Rolls Royce.

JENNIFER: I know but remember we were going to start economizing. I mean we don't know what's going to happen with my show and I'm only making scale unless they pick us up Jack.

JACK: Let's not worry about scale or economizing. Let's just.... let's just think about Christmas. We can't cut corners at Christmas.

JACK AND JENNIFER TOGETHER: Not this Christmas.

JENNIFER: No. Especially our first Christmas with Abby. She's going to be so excited when she sees those lights on that tree Jack. She's going to light up like a Christmas tree. What do you think, huh?

JENNIFER GIVES ABBY A BIG SQUEEZE. JACK CAN SEE THAT JENNIFER IS SO EXCITED.

JACK: Just like her mother.

JENNIFER: Now I know I'm a little sappy around the holidays but I get like a kid at Christmas. I can't help it.

JACK: Actually I find that very endearing.

JACK WALKS OVER AND KISSES HER GENTLY ON THE CHEEK THEN RESTS HIS FACE AGAINST HERS AND THEN KISSES THE OTHER CHEEK.

JACK (CONT.): Very endearing.

JACK HOLDS HER TIGHT AND KISSES HER AGAIN.

JENNIFER: Hey, there's a baby down there.

SHE SMILES AT HIM.

JENNIFER: Are you ready to go to bed?

JACK: Yes.

JENNIFER: I'll meet you upstairs.

JACK: I'll put her to bed.

JENNIFER HANDS ABBY TO JACK AND GOES UPSTAIRS. JACK WALKS OVER TO THE TREE WITH ABBY.

JACK: I think that does it. I don't care what I have to do or who I have to do it to. (Beat) I will sell that book and I will get my Spectator back.... for you. I give you my word I will never.... I will never be this poor or vulnerable again.
[Transcribed by Carol Vaughan
added material by Sally A. Wilson]
---
---