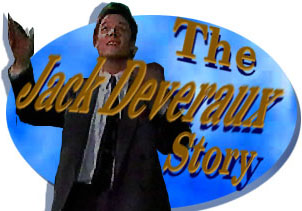 oldEpisode Four-hundred-seventy:
Christmas Eve 1992: The Hortons
Gather Together; Jack Gets Bad
News about his Novel. Later, Tom
Asks Jack to Read the Christmas Story.
---
[Air date Christmas Eve, 1992]
SCENE ONE: JACK AND JENNIFER GO OVER TO ALICE'S WITH ABBY.

JENNIFER: Merry Christmas!

ALICE: Merry Christmas. Merry Christmas Abigail. Oh look at you. You're loaded down. That's marvelous.

JACK IS CARRYING A STACK OF CHRISTMAS PRESENTS.

JACK: Yes, yes.

ALICE: Well darling, just put them under the tree. Excuse me but I have to baste that turkey.

JENNIFER: Okay.

ALICE RUNS OFF.

JACK: Yes.

JENNIFER: Jack, just put those under the tree.

JACK: Put them under the tree.

AS JACK PUTS DOWN THE PRESENTS, JENNIFER ADMIRES THE TREE.

JENNIFER: Oh boy! You know it never seems like Christmas until I come here.

JACK: Yes. You still.... you still believe in Santa Claus don't you?

JENNIFER: Well yes, of course I do. You know we are so lucky Jack.

JACK: Well I can say we are lucky to have gotten through this year. But overall I'd say that everything has turned out all right.

JENNIFER: Oh yeah. I mean everything's turned out more than all right. I mean I think about Carly and losing Bo and losing Nicky. This should have been such a happy time for them Jack.

JACK: Yes it should. But on the bright side, for us, it is the best Christmas so far. And it will only get better.

JENNIFER SMILES UP AT JACK AS HE BENDS OVER AND KISSES HER.
---
SCENE TWO: TOM AND ALICE JOIN THEM IN THE LIVING ROOM AND THEY ALL ADMIRE AND FUSS OVER ABBY.

JENNIFER: She just loves to be with her family.

TOM: And her family loves her being here, especially tonight.

ALICE: She's looking at me.

JO WALKS IN LOADED WITH PRESENTS.

JO: Did you know that your front door was unlocked? Anybody could just walk right in.

ALICE: And you did!

JO: I did!

ALICE: Merry Christmas Jo.

JO: Merry Christmas Alice. Oh Jack, would you take these packages?

JACK: Ah, hmmm.

JO: One is from Justin and Adrienne for Abigail.

JACK: Oh I suppose that explains the preoccupation with catalogs these past few weeks.

JO: Heheheh.

JENNIFER: Jo, thank you so much for that beautiful stocking that you hung up for Abby.

JO: Oh, you're welcome.

JENNIFER: Thank you so much.

JO: Ah, let me check out that package with the green bow, please.

SHE WALKS OVER TO THE TREE WHERE JACK IS ARRANGING THE GIFTS.

JO: Thank you.

JACK: I think you outdid yourself in the gift department this year.

JO: And why not? It's your baby's first Christmas and your first novel.

JACK: Please let's just not jinx the thing. I've spent the better part of the day trying to get hold of Suzanna Cooper just to find out what's going on.

JO: And you keep trying.

JACK: And she has not....

JO: You keep trying. You keep trying until you get her. Because this year son, she is your Santa Claus.

ALICE INTERRUPTS THEM.

ALICE: Jo, darling, will you help me get that great beast of a turkey on the platter?

JO: Oh sure.

JO AND ALICE GO INTO THE KITCHEN.
---
SCENE THREE: JACK IS STILL IN THE LIVINGROOM WITH TOM; HE IS NERVOUS ABOUT THE NOVEL AND WANTS AN OPPURTUNITY TO TALK WITH SUZANNA COOPER.

JACK: Ah, if you'll excuse me doctor, I need.... I need to make a phone call.

TOM: Certainly Jack, go ahead.

JACK GOES INTO THE FOYER TO USE PHONE. HE PICKS UP THE NORMAL PHONE AND PUTS IT BACK DONE LOUDLY SO THAT IT APPEARS HE'S USING IT. INSTEAD HE GETS OUT HIS CELL PHONE AND BEGINS TO DIAL JUST AS THE DOORBELL RINGS.

JACK: Damn, damn.

HE OPENS THE DOOR. IT IS JULIE AND BILL.

JULIE: Merry Christmas.

BILL: Merry Christmas.

JULIE: Look who I picked up at the airport?

BILL: Well now I couldn't miss my grand-daughter's first Christmas, could I?

JACK: No, no, no. Come in.

JULIE: Thank you Jack.

BILL: Oh boy.

THEY COME IN ALSO LOADED WITH GIFTS.

JACK: Ah, actually I need to run upstairs to make a phone call. I'll get your suitcase.

BILL: Oh no thanks Jack. I tell you what though, if you wouldn't mind, put these under the tree for me, will you?

JACK: Ah....

JULIE: Oh yes and will you put these here for me too. Now one of these is breakable and I can't remember which one but you'll take care of it won't you noney bun? Thank you.

THEY BOTH LOAD JACK UP WITH THE GIFTS.

JACK: Ah.... yes.

JACK GOES INTO THE LIVING ROOM.

BILL: Well that son-in-law of mine is....

THEY HEAR ALL THE PRESENTS TUMBLE ONTO THE FLOOR.

BILL: .... is almost turning into a model son-in-law isn't he?

JULIE: I tell you, moving into your house has given him a whole new perspective on marriage. He's really settling down.

BILL: Well who knows, maybe the jinx is finally broken on that place. You haven't said anything, have you?

JULIE: Not a word. Not a whisper to either one of them.

BILL: Good.

JULIE: My lips are sealed forever more Uncle Bill. (Beat) Come on in.

THEY BOTH GO INTO THE LIVING ROOM.

JULIE: Look who's here.

JENNIFER: Daddy.

BILL: Helloooo!

JULIE: Merry Christmas grandpa.

JENNIFER: Merry Christmas. You made it. Here you are baby.

BILL ADMIRES ABBY.

JENNIFER: Hi grandpa.

BILL SAYS HELLO TO TOM.

BILL: Well where are Roman and Marlena? We looked and only their porch lights were on.

JENNIFER: Well maybe they'll be here later. But grandpa has a surprise for us all, I'll have you know. And he's going to explain it at dinner.

TOM JUST NODS.
---
SCENE FOUR: LITTLE WHILE LATER, JACK ASK JULIE TO COME OUT TO THE FOYER TO TALK.

JULIE: What's up?

JACK: I just wanted to find out when you're going to start re-decorating my house?

JULIE: Oh I thought you and Jennifer wanted to wait.

JACK: No, no, no, no waiting. Let's just go whole steam ahead. And remember, everything custom, nothing ready-made.

JULIE: Yes Jack. Well I'll see what Jennifer wants.

JACK: You know what Jennifer wants. You know the colors, the shapes, the sizes, the wallpaper, everything. Just remember, spare no expense and there will a check waiting for you on the first of the year.

JULIE: Jack, darling, don't you realize, once you order the wallpaper, the material, the furniture, these things cannot be returned. You sure you want to plunge in like that?

JACK: Absolutely.

JULIE TOUCHES JACK'S TIE.

JULIE: All right.

SHE WALKS BACK INSIDE AND JACK THINKS OVER WHAT HE JUST SAID.

JACK: Absolutely.

HE TAKES OUT HIS CELL PHONE AGAIN.

JACK: Suzanna, don't you cry for me. Just be home.

HE DIALS THE NUMBER AND WAITS. THE PHONE IS ENGAGED.

JACK: Damn, damn.

HE PUTS THE PHONE AWAY.

JO: Hey, what are you doing out here?

JACK: Ah, nothing. Just wasting time so far.

JO: Heheh.

JACK: Ah, but since you're here....

JACK LOOKS AROUND TO MAKE SURE NOBODY IS AROUND.

JACK: .... this is for you.

HE HANDS HER A SMALL RED BOX.

JACK: It's.... not much of course but it's given with tremendous gratitude.

JO: Oh Jack. You know the diamond brooch and earrings you gave me were so beautiful. You know I put them in a safe deposit box when I went away for a while. It doesn't mean I don't cherish them.

SHE OPENS THE BOX AND TAKES OUT A GOLD LOCKET ENGRAVED "NO 1 GRANDMA."

JO: Oh Jack.

JACK: It's not really my style. Um.... it's something Jennifer picked out.

JO: You don't have to explain. You don't have to explain.

JACK: If.... if I had the....

JO: I know what you're trying to say.

JACK: You do.

JO: Yes I do. You know this is the sweetest present you've ever given me.

JACK DOES NOT QUITE BELIEVE HER.

JO: I know I wasn't an ideal mother but now that you've got a child of your own maybe you'll understand if you can't give her the very very best maybe you'd look for somebody who could. I don't know. (Beat) "No. 1 Grandma."

JACK: I don't think you have anything to regret.

JO SLOWLY LOOKS UP AT HIM AND HER EYES FILL WITH TEARS. SHE PUTS HER ARMS AROUND HIM.

JO: Oh Jack, merry Christmas, merry Christmas.

JACK: Merry Christmas.


THEY ARE HOLDING EACH OTHER AS JENNIFER COMES DOWNSTAIRS.

JENNIFER: Oh you gave it to her didn't you, Jack? I knew you wouldn't be able to wait.

JACK: Well.... she wanted to....

JO LAUGHS.

JO: Yes he did and I love it. "Number 1 Grandma." I'll try to deserve the title.

JENNIFER: I'm so glad. I'm so glad you like it. Here lets go back inside with everyone.

JO: Okay.
---
SCENE FIVE: JENNIFER GOES BACK INTO THE LIVING ROOM AND JACK MAKES A COMMENT TO JO AS THEY FOLLOW.

JACK: It shouldn't turn your head at all you know.

JULIE: Can I get a picture of everybody? Jack this way. Smile.

ALICE: Now I see that our guest of honor is awake.

TOM: And it's time for our party to really begin.

JENNIFER: Oh really.

MICKEY COMES IN CARRYING A LARGE BOX.

MICKEY: Okay, here we are everybody.

JULIE: Oh, the ornaments.

MICKEY: What do you say this year we go alphabetically, huh.

ATHE HORTONS, JACK, JENNIFER, ABBY, AND JO ARE ALL IN THE LIVINGROOM.

JULIE: Well grandma has to be first. Always first.

ALICE: Not this year. Abigail is first.

BILL: You're right mom.

ALICE WALKS OVER TO THE TREE TO MAKE SURE ALL THE ORNAMENTS FOR ABSENT FAMILY ARE ON THE TREE.

ALICE: Now, are all of our absent ones on the tree. You know this is sort of a spiritual reunion for me. Are they all there Tom?

TOM: Well there's Tommy, Addie, Marie, Sandy and Jessica.

BILL: There's Mike, Jeremy and.... Laura.

MICKEY: There's Steven.

MAGGIE: And Melissa and Sarah.

JULIE: Scottie, David and.... Doug.... and Hope.

ALICE: And Bo and Shawn Douglas.... and all the children and the grandchildren and the great grandchildren.

ALICE HUGS JENNIFER AND ABBY.

ALICE: Aren't we fortunate? They may be scattered all over the world but once, this time of the year, they are all right here in our living room and we're all together.

JO WHISPERS TO JACK.

JO: I didn't know there were so many Hortons.

JACK: Yes, it's rather intimidating but.... ah, apparently if you get your name on a ball, you're in for life.

JO: What a lovely thought. Oh!

TOM: And now, for all those present.

JULIE AND BILL PICK UP THEIR ORNAMENTS AND GO OVER TO THE TREE.

BILL: You go.

JULIE: All right.

JULIE PLACES HER ORNAMENT NEXT TO DOUG'S AND BILL PUTS HIS NEXT TO LAURA'S. MICKEY AND MAGGIE GO NEST AND PLACE THEIRS NEAR MELISSA AND SARAH'S. JENNIFER IS HOLDING ABBY AND SHE WALKS OVER TO THE TREE. JENNIFER IS CARRYING HER ORNAMENT AND JACK HAS HIS AND ABBY'S. JENNIFER PUTS HERS ON AND THEN LOOKS TO JACK.

JENNIFER: Where's yours?

HE HANGS HIS RIGHT UNDER JENNIFER'S. JACK THEN HOLDS ABIGAIL'S UP AND LOOKS ACROSS AT JO AND OFFERS IT TO HER.

JO: Thank you.

JO IS MOVED AND EXCITED AND SHE WALKS OVER AND HELPS JENNIFER THE PLACES ABBY'S ORNAMENT ON THE TREE, AS JACK WATCHES.

TOM AND ALICE ARE NEXT AND THEY PUT THEIRS ON NEXT TO EACH OTHER.

TOM: Well wherever our loved ones are, may God bring them all safely home to us. (Beat) Now we are going to go on a little pilgrimage.

ALICE: Where Tom?

JENNIFER: We are?

EVERYBODY IS MYSTIFIED.

JACK: I don't know anything at all.

JO TAKES JACK'S HAND AND THEY ALL FOLLOW TOM. TOM TAKES THEM ALL TO THE HOSPITAL CHAPEL WHERE JOHN, MARLENA AND SOME OF THE BRADYS ARE WAITING ALSO.

JACK: Ah, why don't you sit down? I need to make a phone call.

JENNIFER: Oh Jack, don't be too long.

JACK: I won't. It's just that I really need to do this.

JENNIFER: Okay.

JACK: Excuse me.
---
SCENE SIX: JACK GOES BACK OUT AND CALLS SUZANNA COOPER AGAIN ON HIS CELL PHONE.

JACK: Yes, Ms Cooper. This is J. Johnson. I just wanted to thank you for really making Miranda Miller's holiday.

SUZANNA: Thanks. I wish I felt the same way.

JACK: What do you mean? What's the matter?

SUZANNA: I just got fired and all my projects got canceled.

JACK: No!

SUZANNA: Oh don't worry. It happens all the time but that throws Miranda's book right out the window unless you convince my replacement that it's worth publishing.

JACK: But.... but it already....

SUZANNA: I'm sorry. The book has great possibilities. Don't give up on it. Merry Christmas.

SHE HANGS UP AND JACK LOOKS SICK.

JACK: Yes, merry Christmas, indeed.

HE WALKS BACK INSIDE AND TAKES A SEAT NEXT TO JENNIFER.
---
SCENE SIX: THE MINISTER WALKS UP TO THE ROSTRUM.

MINISTER: Hello, I'm Gabriel Bordon, the new hospital chaplain. I suppose we ought to start this with a prayer or maybe a Christmas hymn. The question is which one.

TOM: (Whisper) Hark the Herald Angels Sing.

MINISTER: Oh yes. Hark the Herald Angels Sing.

THEY ALL STAND AND BEGIN TO SING. JACK LOOKS DOWN AT JENNIFER WITH ABBY AND THEN SIGHS IN PAIN AND WORRY ABOUT THE BOOK CANCELLATION.

HE SINGS A FEW WORDS WHEN JENNIFER LOOKS AT HIM. AFTER THE HYMN, THE MINISTER TALKS TO THEM ALL.

MINISTER: We hear tonight from the hospital staff. You who work so closely with life and death on a daily basis know what hope there is in each new life born. And what eternal harmony welcomes those who depart. Tonight we celebrate a life that touched the world....

AS HE IS SPEAKING, A WOMAN COMES IN AND SIGNALS HIM TO COME OUTSIDE.

TOM: Obviously somebody needs you more than we do Reverend Bordon.

MINISTER: I think I know who it is. I'm sorry but I must be going. You all have a very merry Christmas.

HE GIVES TOM A HUG BEFORE LEAVING AND PATS JACK ON THE SHOULDER.

TOM: I'm sure you'll all agree that I made a fine choice in our new chaplain.

JULIE: Very nice.

TOM: I'd like to close this service with my favorite story, read by a young man whose come to be very dear to me. My new grandson-in-law, Jack.

JACK IS SURPRISED.

TOM: Jack. Jack if you would?

JACK: No! No really I couldn't.

JENNIFER: Yes you could. Jack, come on, you can do anything. Go on.

TOM: Come on Jack, come on.

JACK RELUCTANTLY STANDS UP AND WALKS TO THE ROSTRUM. HE CLEARS HIS THROAT THEN BEGINS.

JACK: "And it came to pass in those days, there went out a decree from Caesar Augustus that all the world should be taxed and all went to be taxed. Everyone into his own city. And Joseph also went up from Galilee out of the city of Nazareth into Judeah onto the city of David which is called Bethlehem. Because he was of the house and lineage of David. To be taxed with Mary his espoused wife being great with child....

HE GLANCES ACROSS AT JENNIFER.

JACK (CONT.): "And so it was that while they were there, the days were accomplished that she should be delivered. And she brought forth her first born son and wrapped him in swaddling clothes and laid him in a manger because there was.... no room for them at the inn. (Beat) And there were in the same country, shepherds abiding in the field keeping watch over their flock by night. And lo, the angel of the lord came upon them and the glory of the lord shone around them and they were so afraid. And the angel said unto them, "Fear not, for behold I bring you good tidings of great joy which shall be to all people. For unto you is born this day in the city of David, a savior, which is Christ the Lord. And this shall be a sign unto you. You shall find the babe wrapped in swaddling clothes, lying in a manger. And suddenly there was with the angel a multitude of the heavenly host, praising god and saying...." (Jack sniffs) "....Glory to God on the highest and on earth.... peace.... and goodwill toward men."

JACK HAS ALMOST EVERYBODY ABOUT TO CRY.

JACK (CONT.) : Merry Christmas and.... peace and goodwill to all.

AS JACK STEPS DOWN, TOM GIVES HIM A HUG. THEN MAGGIE TAKES HIS HAND. HE IS HAPPY BUT EMBARRASSED AS HE TAKES HIS SEAT AGAIN NEXT TO JENNIFER, WHO LOOKS AT HIM WITH GREAT LOVE AND PRIDE, AND ABBY.
[Transcribed by Carol Vaughan
added material by Sally A. Wilson]
---
---