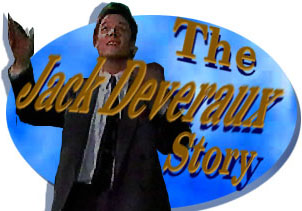 oldEpisode Four-hundred-seventy-two :
New Years Eve 1992: The Bank Refuses
Jack a Loan. Jennifer Suggests Her Father,
Causing Jack to Further Wonder about
Her Faith in Him. At Julie's New Year's
Eve Party Jack Confronts Victor.
---
[Air date late Decemeber, 1992]
SCENE ONE: IT IS THE NEW YEARS EVE DAY AND JACK IS BUSY AT HIS DESK IN THE LIVINGROOM.

JENNIFER: Have you had any lunch yet?

JACK: No, no, I've been too busy trying to fill out these loan applications.

JENNIFER: If you'd like me to read over them, I'd be glad to.

JACK: No, no, that.... that really won't be necessary. Thank you very much though. I mean you made it more than clear that you thought my attempts to buy The Spectator back from Julie before Victor took them over was laughably quixotic.

JENNIFER: Jack, I don't think you're crazy for trying. I admire your determination. I just don't understand how someone in your position can raise that kind of money.

JACK: By going to a bank and getting a loan, that's how.

JENNIFER: All right, if the bank wouldn't lend you the money to buy this house, why are they going to lend you ten times as much to buy a newspaper Jack?

JACK: Thank you for once again reminding me that without your father's pity money we'd be homeless.

JENNIFER: Wait a minute, that is not what I meant.

JACK: It doesn't matter. It doesn't matter what you meant because you're not going to have to put up with my failures for much longer anyway, are you?

JENNIFER: What is that supposed to mean? What are you saying?

JACK: Simply this! If I can get The Spectator back on my own terms, you're free to leave. Both of you.

JENNIFER IS CONFUSED.
---
SCENE TWO: FRUSTARED THAT HE MAY LOSE THE PAPER, HURT BY WHAT HE BELIEVES TO BE JENNIFER'S LACK OF CONFIDENCE IN HIM, AND DISGUSTED BY BY HIMSELF, BELIEVING THAT HE IS A FAVOR, JACK HAS JUST TOLD JENNIFER THAT HE IF FAILS IN GETTING THE MONEY SHE CAN LEAVE HIM. JENNIFER IS SHOCKED.

JENNIFER: How can you say that? How can you think that Abby and I would leave you Jack?

JACK: You obviously have no confidence in me. You illustrated that perfectly with Julie yesterday.

JENNIFER: You cannot hold me responsible for how I acted yesterday, all right. I was in shock when Julie said that she was going to sell the newspaper to Victor and you came up with your offer of seventy-five thousand dollars as a binder. We don't have that kind of money.

JACK: And I can't get hold of that kind of money. That's what you're saying.

JENNIFER: That is not true, all right. You have a lot to be proud of. You take care of this house, you take care of Abby, me, my job, everything Jack.

JACK: One thing I can't do. I can't get my dream back. And you know what that is. That's to get The Spectator back in my own hands. That's my dream. That's what I want and I'm this close to getting it. You don't seem to understand that point.

JENNIFER: I do understand.

JACK: But you don't think I can do it.

JENNIFER: Look if you want the newspaper back, go for it. I'll help you. I'll do whatever I can to help you get the newspaper back.

JACK: You don't have to do anything. You just have to wish me luck at the bank, that's all.

JENNIFER: I'm going to do better than that. You know what, I'm going to call my father. You don't need to waste your time with bankers because I can call my father. He'll lend you the money. It's that easy Jack. JACK: No, no, you don't understand. I don't want to go down that road again. I don't want anymore help from your family.

JENNIFER: Jack, they're your family now too.

JACK: That's not.... my point is I have to do this on my own. I have to win on my own. If I don't win on my own, I'm not winning at all.

JENNIFER: All right, all right. Do it the way you want. Just know that Abby and I are pulling for you, okay. And I know that your proposal will knock the stuffing out of some of those stuffed shirts.

JACK: It certainly will. (Beat) I.... I used some of your.... your business paper. That gift from Philip, from the office.

JENNIFER: He gave me enough of that paper to last years Jack. It's fine. Come on. Have you got everything you need?

JACK: Yes, I.... I believe I do.

JENNIFER: Good luck.

JACK: Thank you. I...thank you for going along with this.

JENNIFER: I love you. And I want you to be happy.

JACK: I want you to be happy too.

HE KISSES HER AND LEAVES.
---
SCENE THREE: JENNIFER RUNS STRAIGHT INSIDE AND CALLS HER FATHER AND ASKS TO MEET WITH HIM ABOUT JACK.
---
SCENE FOUR: LATER SHE MEETS ALICE AT THE MALL AND TELLS HER THAT JACK IS GOING TO BUY THE SPECTATOR BACK FROM JULIE. ALICE IS HAPPY BUT CONCERNED ABOUT WHERE JACK IS GOING TO GET THAT KIND OF MONEY. JENNIFER SAYS THAT HE IS MEETING WITH BANKERS NOW BUT IF THAT FAILS, SHE HAS SPOKEN TO HER FATHER AND HE SAID THAT HE WILL LEND JACK THE MONEY IF HE ASKS. ALICE TELLS HER THAT JACK'S PRIDE IS LEGENDARY AND THAT IF HE FINDS OUT HE WILL BE HURT AND ANGRY. JENNIFER ASSURES ALICE THAT THERE IS NO WAY JACK WILL EVER FIND OUT THAT SHE SPOKE TO HER FATHER.
---
SCENE FIVE: MEANWHILE BILLIE REED, DRUG ADDICT SISTER OF AUSTIN REED, HAS BEEN GIVEN $100,000 TO MIND FOR A GANGSTER FRIEND OF HERS. SHE DECIDES IT IS TOO MUCH MONEY TO LEAVE LYING AROUND SO SHE HIDES IT IN THE ROOF OF A BARN NEAR THE EDGE OF TOWN.
---
SCENE SIX: JENNIFER GETS HOME AFTER DARK AND THERE ARE NO LIGHTS ON.

JENNIFER: Oh I guess daddy went out.

SHE TURNS ON THE LIGHT AND JACK IS SITTING ON THE COUCH WITH HIS HEAD IN HIS HANDS.

JENNIFER: Jack?

HE CANNOT LOOK AT HER.

JACK: Every bank in Salem. Every loan officer in Salem. They all agree that The Spectator is a tremendous investment.... in someone else's hands.

HE SIGHS AND SLAMS HIS BRIEFCASE SHUT.

JACK: Well such is the way that dreams end. Not with a bang but a whimper.

HE STILL CANNOT LOOK AT HER.

JENNIFER: Well you just can't give up Jack. Do you realize that? You haven't even talked to my dad yet.

JACK: I'm not going to talk to your dad!

JENNIFER: Why? Why don't you give him a chance. My father is not going to put any money into a bad investment, all right. If he thinks that you're too high a risk, that's it. That's the end of it. I mean what have you got to lose at this point.

JACK: (Sigh) If I even suspect that there is one iota of nepotism.... one.

JENNIFER: Jack, my father cares for you. He doesn't care for you enough to put money into losing ventures. So just go to him. Just see what he says. Just talk to him.

JACK: (Beat) All right. Maybe I will.
---
SCENE SEVEN: LATER JACK, JENNIFER AND CARLY ARRIVE AT WINGS FOR THE BIG SALEM NEW YEARS EVE PARTY. IT'S OBVIOUS THAT NEITHER JACK NOR CARLY WANTS TO BE THERE BUT JENNIFER DRAGS THEM IN. JENNIFER IS WEARING A BLACK SEQUINED DRESS AND JACK IS A IN A BLACK TUX.

JENNIFER: Here we are. For you and you.

JACK: For me.

JENNIFER HANDS CARLY AND JACK A GLASS OF CHAMPAGNE EACH.

CARLY: I can't believe you talked me into this.

JACK: I believe being strong armed into this is closer to the mark.

JENNIFER: Now both of you, why don't we forget about all the bad stuff right now and let's just have a good time, okay. Come on.

JACK LOOKS UP AND SEES SOMETHING WHICH INTERESTS HIM.

JACK: Ah, yes and to start off why don't you go get some party hats for yourself. I'll be here just for a moment.

JENNIFER: That's a good idea. Come on Carly, lets get some party hats.

THEY BOTH LEAVE.
---
SCENE EIGHT: AT JULIE'S NEW YEAR'S EVE PARTY JACK SPOTS VICTOR TALKING TO JULIE. JACK GOES OVER TO VICTOR, HE TRYING TO CONVINCE JULIE TO SELL THE PAPER IMMEDIATELY.

JACK: Victor.

JULIE: Jack.

JACK: Don't allow him to convince you that it's time to sell Julie. I'm about to come into a lot of money.

JULIE: Really Jack?

JACK: Really.

VICTOR: Well we don't want to keep Julie waiting too long Jack.

JACK: Don't worry Victor, I won't keep Julie waiting. Not at all.

JULIE: Well more power to you darling, but frankly this evening I don't want to discuss business. I want to enjoy New Years Eve with my friends.

JULIE WALKS OFF LEAVING JACK AND VICTOR EYEING EACH OTHER.
---
SCENE NINE: JULIE REALIZES THAT IT IS ALMOST MIDNIGHT AND COUNTS DOWN FOR EVERYONE.
[Transcribed by Carol Vaughan
added material by Sally A. Wilson]
---
---