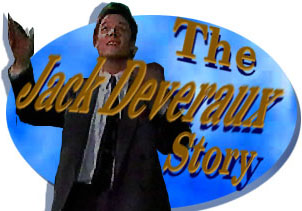 oldEpisode Four-hundred-seventy-three: Jack
Meets with Bill to Discuss a Loan; While There,
He Discovers That Jennifer Was Behind Her
Father Agreeing to the Loan; Jack Is Furious
and Deeply Hurt at Her Lack of Confidence.
---
[Air date early January, 1993]
SCENE ONE: JACK AND JENNIFER ARE WALKING THROUGH THE MALL WITH ABBY IN THE STROLLER.

JENNIFER: You know Jack when I think about what Carly is going through it makes me realize how lucky I am.

JACK REALLY COULD NOT CARE LESS ABOUT CARLY.

JACK: Huh, huh. Huh, huh.

JENNIFER: Why are you smiling like that?

JACK: I'm just thinking about my newspaper. I'm getting it back today, you now.

JENNIFER: Jack, you haven't met with my dad yet.

JACK: Oh please. As soon as he takes a look at my proposal he's going to realize it's a done deal. I mean it's going to smack him right in the face. Common sense. He's going to sign right along the dotted line.

JENNIFER LIFTS ABBY OUT OF THE STROLLER.

JENNIFER: Are you okay?

JACK: Okay! I'm good. The proposal's good, the day is good. I smell victory in the air.

JENNIFER: That's because you are a winner. You always were and always will be Jack.

JACK: Absolutely. Your father is going to come to the same conclusion of course.

JENNIFER: Of course he will. Your proposal is terrific.

JACK: Huh, uh. When I go walking in there he's not going to see some poor relation with his hand held out. He's going to see a businessman with potential investment.

JENNIFER: That's right and you're going to walk out of there the publisher of The Spectator.

JACK: Absolutely. Nothing's going to stop me. Not this time.

JENNIFER: Just call me as soon as the meeting's over okay.

JACK: Yes, I'll call you at home.

JENNIFER: Okay. Oh I won't be at home. I'll be with....

JACK: Carly.

JACK SEEMS FED UP WITH ALL THIS CARLY BUSINESS.

JENNIFER: Yes so let me give you her number. I've got one of those pads, another one that Philip gave me for Christmas. (Beat) I could have swore.... I don't have one.

JACK: Don't trouble yourself. I'll just keep trying you at home.

JENNIFER: That's perfect.

JACK: Good.

JENNIFER: Okay.

JACK: Well I'll take leave of you. You just go.... you go shopping. Both of you. You just buy whatever you want. We can afford it, believe me. It's good.... victory!

JACK WALKS OFF TO SEE BILL.

JENNIFER: Yes, victory because of mommy. Okay we've got to make on phone call before we shop anymore Abby. We've got to call your grandpa and we are going to talk to your grandpa about your daddy because we are going to make things work for daddy. We are going to make him very very happy.
---
SCENE TWO: A SHORT TIME LATER, JENNIFER CALLS BILL.

BILL: Hello.

JENNIFER: Dad hi, it's me. Jack's on his way over.

BILL: I'm ready for him.

JENNIFER: I just wanted to remind you not to tell him that I talked to you, okay.
---
SCENE THREE: JENNIFER GETS HOME A BIT LATER AND IS ABOUT TO PUT ABBY IN HER CRIB WHEN SHE HEARS THE DOORBELL. IT IS CARLY, JENNIFER IS SURPRISED AS SHE WAS GOING TO GO TO SEE HER LATER. JENNIFER UNPACKS HER SHOPPING AND SHE'S BOUGHT A GALLON OF ROCKY ROAD CRUNCH ICE CREAM. CARLY REMEMBERS THAT THEY ONLY ATE THAT WHEN THEY WERE DEPRESSED. THEY EACH GET A SPOON AND START EATING STRAIGHT OUT OF THE TUB. JENNIFER TELLS CARLY THAT JACK HAS A MEETING WITH HER FATHER BUT SHE IS REALLY NERVOUS ABOUT IT ALL.
---
SCENE FOUR: OVER AT ALICE'S, JACK IS ARRANGING PAPERS ON THE KITCHEN TABLE.

JACK: Now I have everything arranged according to topic and grouping. There is a graph and a chart for each. Now if you see right here....

BILL: Jack, you're sure you wouldn't like something to eat?

JACK: No thank you.

BILL: Mom left us these fresh donuts.

JACK: No.... thank you. We have a lot of ground to cover here, if you'll excuse me. I realize that at first glance this seems like a rather risky investment.

BILL: Why would you say that Jack?

JACK: Well knowing my history and my less than spectacular showing with my own money, you have to understand one thing. I learn from my mistakes and that's why I can assure you that your money will not be lost.

JACK (CONT.): Your seventy-five thousand dollars will go exactly where it's supposed to go and do what it's supposed to do. Get The Spectator back on its feet and then return you a handsome profit.

BILL: Well that sounds good to me.

JACK: Now I can assure you that the rest of the funding will be coming along in a couple of days. It's your money, the seventy-five thousand dollars binder, that I need right now. Now if you'll excuse me, I need to itemize for you why your seventy-five thousand dollars is sounder as an investment than sitting in the bank.

BILL SITS DOWN AT THE KITCHEN TABLE WHERE JACK HAS ALL HIS FINANCIAL PAPERS ARRANGED.

JACK: Now here we have revenues from our advertising. You see right here....

JACK GOES ON TO GIVE BILL A DETAILED EXPLANATION.
---
SCENE FIVE: JACK HAS JUST EXPLAINED HIS IDEAS ABOUT THE PAPER.

BILL: I'm impressed.

JACK: Of course, it's not all written in stone.

JACK HANDS BILL THE LAST FINANCIAL REPORT.

BILL: Huh, huh. But where and when you get the rest of the funding is, I assume.

JACK: Well I do have a lot of options.

BILL: Well according to this sub-clause, if you don't come up with all of the money within ten working days, my seventy-five thousand dollars is forfeited.

JACK: Yes! Yes, yes, but you see that's our strong card. If I can go to these potential investors and show them that you took this chance with your seventy-five thousand dollars within a ten day period, well looking at you, the kind of successful businessman that you are.... they are going to realize that this is a done deal. They are going to open their check books right away. That's the whole point. But you don't have to worry about that. That's not your concern. The point is here. Do the numbers add up? Is this good business sense? I say it is. This is a good investment, don't you agree?

BILL IS SILENT FOR A FEW SECONDS.

BILL: I, ah.... I do indeed.

JACK TRIES TO HIDE HIS RELIEF AS BILL STANDS UP AND EXTENDS HIS HAND TO JACK.

BILL: You've got yourself a deal Jack.

JACK: Good! That's very good. You will not.... you will not regret this. You won't regret this one bit. I'm going to call Jennifer right now. I told her I was going to call her as soon as everything was done.

BILL: Oh, give her my love.

JACK PICKS UP THE PHONE AND LOOKS DOWN AT THE PHONE TABLE. JENNIFER'S PERSONAL NOTE PAD GIVEN TO HER BY PHILIP IS LYING THERE. IT IS THE ONE SHE COULD NOT FIND IN HER BAG EARLIER THAT MORNING WHEN SHE WAS WITH JACK.

JACK: It's her note pad.

BILL: Did you say something Jack?

JACK SLOWLY REALIZES WHAT HAS HAPPENED.
---
SCENE SIX: MEANWHILE BACK AT THE HOUSE, JENNIFER AND CARLY ARE WELL INTO A LARGE TUB OF ICE CREAM.

JENNIFER: It was all so simple, wasn't it?

CARLY: Oh I miss simple.

JENNIFER: We used to go to school, come home, study, talk on the phone for ten minutes.

CARLY: Hahahahah.

JENNIFER: I talked on the phone for two hours, you studied. You were so smart. I envied you so much.

CARLY: What, you were so accessible and so unaffected. I thought that maybe if I hung out with you long enough that I'd end up to be that way. I guess it didn't work, huh.

JENNIFER: No it didn't work at all but that's so wrong because I wanted so badly to be friends with you.

CARLY: Oh come on.

JENNIFER: It's true. I used to say, look at that girl. She has strength and she has guts. You had this generosity. I mean you weren't just happy being the smartest one in the class. You wanted to make sure that everyone did just as well as you.

CARLY: Come on, do you really see it that way?

JENNIFER: Yes, I did. I was just too cool to say anything. But I was in awe of you. I wanted to be you when I grew up.

CARLY: Well you better be happy you didn't get your wish.

JENNIFER: You know what?

CARLY: What?

JENNIFER: I'm hogging all this ice cream. You have to have some.

CARLY: I'm eating.

JENNIFER: I'm hogging it all.

SHE FEEDS CARLY ANOTHER BIG SPOONFUL.

JENNIFER: You realize how naive we were?

CARLY: What?

JENNIFER: We were. We thought when we grew up that everything would just fall into place. That we would marry these perfect men, we would have these wonderful children and we'd just go to the seaside together.

CARLY: Oh yes, the lovely version of life.

JENNIFER: We're not that far off you know. We did find the perfect men, right?

CARLY: Hmmm, right.

JENNIFER: Now all we have to do is find the seaside.

CARLY: I thought your seaside was in pretty good shape.

JENNIFER: It is. It is and I'm very lucky and I should be grateful.

CARLY: Jennifer, what's wrong? What's wrong?

JENNIFER: It's Jack. He's just.... he's really not happy right now. Everything has to be this way and that way. His dreams have to come true or he's not going to be happy with himself. And I stand there with this ridiculous grin on my face trying to make him feel good. Trying to boost his spirits.

CARLY: It doesn't work?

JENNIFER: Uh, uh. I just end up getting angry and upset because he hasn't even noticed that I've been supporting him. Oh boy this doesn't sound good. I am talking about little problems and you and Bo aren't even together. That's not very sensitive of me.

CARLY: No, no, you're a wonderful friend, come on. Just because you and Jack are together doesn't mean you can't complain or want things to be better.

JENNIFER: Maybe love doesn't conquer all.

CARLY: No, don't do this to me. Come on. Bo and I love each other so it has to work out and it will.

JENNIFER: I like the sound of that.

CARLY: Look we love each other so I have to believe we are going to get our seaside and we're going to live happily ever after. And you and Jack with this beautiful love you have and this beautiful baby, you're going to be blissfully happy. I think that's something we really have to believe, you know.

JENNIFER: Yeah, I think we do.

IT IS TIME FOR CARLY TO LEAVE AND JENNIFER HELPS HER ON WITH HER COAT.

CARLY: So you'll call me if you hear from Jack?

JENNIFER: Yes. Yes I will immediately. Remember six o'clock, the gym. Meet me there.

CARLY: Hahah. It's a date. You got it.

JENNIFER: Carly, do you really think I'm doing the right thing, paving the way for Jack with my dad without him knowing?

CARLY: Oh Jennifer, stop beating yourself up. You want to help your husband. It's not a crime.

JENNIFER: You're right. You're absolutely right and everything will be perfect as my dad doesn't tell him and as long as Jack never finds out.
---
SCENE SEVEN JACK AT ALICE'S HOUSE, JACK SLOWLY PUTS DOWN THE PHONE.

BILL: Jack, are you okay?

JACK: I'm fine. I'm just fine.

BILL: Well aren't you going to call Jennifer?

JACK: No, no. I think I'll just talk to her at home.

BILL: Well I guess the only thing left to do is have the papers drawn up, uh. I'll.... I'll call Mickey first thing in the morning.

JACK IS GATHERING UP ALL HIS FINANCIAL STATEMENTS.

JACK: Are you sure about that?

BILL: Sure?

JACK: Yes, are you sure? Are you sure you really want to do this? I mean it is a lot of money and you came to this decision rather quickly.

BILL: Well it's a good deal. I'd be a fool to pass it up.

JACK LOOKS CAREFULLY AT BILL.

BILL: Jack, come on, smile.

JACK GIVES A VERY CYNICAL HALF SMILE.
---
SCENE EIGHT: BACK AT HOME, CARLY LEAVES AND WISHES JENNIFER GOOD LUCK WITH JACK JUST AS JACK ARRIVES HOME.
[Transcribed by Carol Vaughan
added material by Sally A. Wilson]
---
---