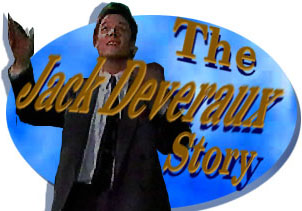 oldEpisode Four-hundred-seventy-four :
Jack Confronts Jennifer. Later, He
Has an Agrument with Victor about
How Victor Wants to Operate the Paper.
---
[Air date early-January, 1993]
SCENE ONE: JENNIFER RUNS INSIDE WHEN SHE SEES JACK PULL UP AND SHE GETS A CELEBRATION DINNER READY WITH CANDLES AND WINE. THE PHONE RINGS.

JENNIFER: Hello.

BILL: Oh hi Jennifer, it's your dad.

JENNIFER: Oh hi dad, it's so funny. Jack's just pulling up now. Did he sell you on lending him the money to buy back the paper?

BILL: Ah, yeah but listen....

JENNIFER: Oh dad thank you so much. Now you didn't let him know that you and I talked right?

BILL: No, except that....

JENNIFER: Oh you don't know how much this means to me dad. I appreciate it so much but I gotta go. He's coming in. Happy New Year. I love you, bye.

SHE QUICKLY HANGS UP AND JACK OPENS THE DOOR.

JENNIFER: Hi, so how did it go with my dad?

JACK TURNS TO HER WITH A LOOK OF DISGUST.

JENNIFER: Jack? Is everything all right?
---
SCENE TWO: JACK HAS JUST RETURNED HIM, TERRIBLY ANGRY AND MOST OF ALL HURT BY WHAT HE BELIEVES WAS JENNIFER'S LACK OF CONFIDENCE IN HIM.

JACK: Everything's fine. Just fine.

JENNIFER: So did my dad decide to lend you the money to buy back The Spectator?

JACK: He said he liked the idea. But I think he loved the idea.

JENNIFER: So that just goes to prove Jack that those bankers don't know a good deal when they see one.

JACK: Have you been to your grandparents lately?

JENNIFER: Ah no, I haven't been there since Christmas Day actually. Was my dad upset that I haven't been spending more time with him?

JACK LOOKS AT JENNIFER WITH A LOOK THAT SAYS HE KNOWS SHE IS LYING.

JACK: No, no, actually he wasn't.

JENNIFER: Well you know that now you two are practically business partners we're going to have to go out and celebrate, don't you think?

JACK SLAMS DOWN SOME PAPERS.

JENNIFER: But not tonight because tonight we're going to have our own private celebration. Just you and me.

SHE TRIES TO CUDDLE UP TO HIM AND GIVES HIM A QUICK KISS. JACK HOLDS UP HER NOTE PAD THAT HE FOUND AT ALICE'S.

JENNIFER: Well are we going to celebrate or are you going to jot down ideas of how to get The Spectator around again all night?

JACK: I found this pad in your grandparent's kitchen.

JENNIFER: Oh so that's where I left this.

JACK: Philip didn't give you any of those pads until the day after Christmas. You haven't seen or been to your grandparent's since Christmas Day.

JENNIFER TURNS AWAY AND LOOKS SICK.

JACK: You went to your father. You talked him into helping me, didn't you?

JENNIFER LOOKS ASHAMED.

JACK: Why did you lie to me?

JENNIFER: I.... I didn't lie. I talked to my dad before you told me not to talk to him.

JACK: Why did you talk to your dad before I even went to the bankers?

JENNIFER: Jack, I was trying to help you.

JACK: Why did you think that I would screw this whole thing up before I even started?

JENNIFER: Look, I talked to my father but you were the one who convinced him. You were the one who sold him on the whole idea.

JACK: I've heard this whole thing before. Harper used to talk to me like this. He'd say, Jack, you didn't get this job because I'm your father, because I'm a US senator, because the man who hired you is a close friend of mine who I owe a couple of favors....

JENNIFER: It is not like that at all Jack.

JACK: No it's not. There's one big difference. You're pulling the strings instead of Harper.

JENNIFER: Why is that so terrible?

JACK: You don't even understand, do you?

JENNIFER: Jack I love you. I am going to do everything I can....

JACK: THAT IS NOT ENOUGH! That is not enough! You have.... you've got to believe! You have to believe in me. You have to think that I can accomplish anything by any means necessary. But I can see that deep down you don't. Deep down you think I'm not going to accomplish anything unless you or the Horton family help.

JACK FEELS AND LOOKS TOTALLY BETRAYED.

JENNIFER: I am so sorry.

JACK: So am I.

JACK RUNS UPSTAIRS.
---
SCENE THREE: MEANWHILE BILL MEETS THE HORTONS AT WINGS AND TELLS JULIE THAT HE'S AGREED TO LEND JACK THE MONEY BUT HE WISHES THAT JACK WOULD WORK UP A LITTLE MORE ENTHUSIASM.
---
SCENE FOUR: WHEN JACK COMES BACK DOWNSTAIRS, JENNIFER IS READING THE PROPOSAL.

JENNIFER: You know I was just reading through this proposal and I can tell that you really put a lot of hard work into this Jack.

JACK: It really didn't make any difference. I only needed to be the.... son-in-law.

JENNIFER: That is not true. Seventy-five thousand dollars is a lot of money. My father would never give it to you unless he had confidence in you.

JACK: Which is just saying a lot more for him than my own wife.

JENNIFER: Jack I admit. I made a mistake. What more do you want me to do?

JACK: There's nothing that you can do. You can't change the way that you feel.

JENNIFER: You know you keep telling me how I feel. You have no idea how I feel.

JACK: I most certainly do! I can see it in you face. I can see it in your eyes. Your eyes don't lie. You don't have confidence in me anymore. You don't have the kind of confidence you used to have. I used to see something. The kind of confidence I never felt from anyone else. Never! (Beat)

JACK (CONT.): Now I know that I lost a lot of that when I lost all our money. I don't blame you. I'm the one who did it. I pulled the rug out from under us. I knew it would be a long road back. I knew that it would be long time before you had confidence in me again. But I thought that you would.... someday. I thought maybe even today I could make up for the mistakes. I could make up for everything. (Beat) But I can see right now.... just looking in those eyes, that you're never going to be proud of me again. Never.

HE PICKS UP HIS COAT AND WALKS TO THE DOOR.

JENNIFER: Jack where are you going?

JACK: Out!

HE SLAMS THE DOOR AS HE LEAVES.

JENNIFER: Jack wait a minute. Jack!

HE KEEPS GOING. JENNIFER IS VERY UPSET AND WORRIED AND SHE PICKS UP ABBY FOR COMFORT.

JENNIFER: Oh Abby, sometimes it's really hard being a grown up. You try to do the right thing and you think that you're helping. I don't think I was helping your daddy. I was trying to avoid him getting hurt and I think I ended up hurting him even more. I was trying to make him happy and I think I broke his heart. You know I do trust him and I do love him so much. I just have to figure out a way to prove it to him. I have to figure out a way to prove to him how much I love him.
---
SCENE FIVE: MEANWHILE JACK IS AT THE BAR AT WINGS ON HIS SECOND MARTINI.

JULIE: Hey Jack, congratulations. I understand that Uncle Bill is going to lend you the money to buy the newspaper.

JACK: You can save the congrats. I'm not taking it.

JULIE: Why? Why aren't you taking the money?

JACK: Because the name is Deveraux not Horton.

JULIE: Because the money is coming from.... from Jennifer's father?

JACK: It makes a big difference.

JULIE: Come on Jack. I know your proud. You're a proud man and I've heard it before but please, please don't let it stop you from trying to get the paper back.

JACK: Who said anything about it stopping me? I'm getting the money from another source.

JULIE: Oh really! You've got one?

JACK: No I haven't got one but I am working on it as we speak, please.

JULIE SIGHS AND LEAVES JACK ALONE. VICTOR OVERHEARS THEIR CONVERSATION AND PRESSURES JULIE TO MAKE A DECISION BEFORE 15 JANUARY WHICH IS THE DEADLINE. JULIE ASSURES VICTOR THAT SHE WILL NOT DECIDE EARLIER. JACK TAKES A TABLE AND DOWNS ANOTHER FEW MARTINIS BEFORE VICTOR DECIDES TO COME OVER AND TALK TO HIM.

VICTOR: Hello Jack.

JACK: Victor.

VICTOR: I understand you're having trouble securing financing for the paper.

JACK: Well adversity brings experience and experience brings wisdom. I believe that's an old Greek proverb.

VICTOR: And the mail man brings a lot of bills the first of the month. That's a modern Greek proverb. Listen Jack I know how difficult it is for a young couple trying to get started to make ends meet. So don't worry. I'll see to it you have a job on The Spectator after Titan Publishing takes over.

JACK: Titan.... Publishing.

VICTOR: My publishing company.

JACK: Perhaps you didn't understand me the first time I told you this. It's better not to count your pages before they're printed. I will get my financing and I will get my Spectator back. So my advice to you is this. Find your own small company and put your money into that.

JACK SWIGS DOWN THE LAST OF HIS MARTINI.

JACK: Good day!

JACK STORMS OUT OF WINGS. HE ARRIVES HOME AND RELUCTANTLY OPENS THE DOOR JUST AS JENNIFER IS BLOWING OUT THE CANDLES. HE GIVES HER A LOOK.

JENNIFER: Why don't you sit down Jack? Please just let me explain.

JACK: No! No, no, I'm really.... beat.

JENNIFER: I really believed that I was helping you.

HE JUST LOOKS AT HER.

JENNIFER: I thought you said that we should never go to bed angry.

JACK: I'm not angry.

JENNIFER: Huh, okay, then why don't we just go to bed.

JACK: I'll be sleeping in the guest room tonight.

HE WALKS STRAIGHT UPSTAIRS.

JENNIFER SITS DOWN ON THE COUCH AND IS REALLY FRIGHTENED ABOUT WHAT SHE IS DONE.
[Transcribed by Carol Vaughan
added material by Sally A. Wilson]
---
---