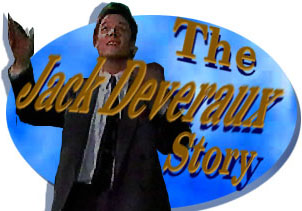 oldEpisode Four-hundred-seventy-five: Jack
Receives Further Humiliation When He
Is Turned Down Again by the Banks;
Then Is Unable to Pay for the Furniture
That He Purchased to Surprise Jennifer.
---
[Air date early January, 1993]
SCENE ONE: IT IS THE NEXT MORNING AND JENNIFER IS DRESSED FOR WORK BUT JACK IS NOT THERE. SHE CALLS JULIE AND ASKS IF SHE HAS SEEN JACK THIS MORNING. WHILE SHE'S ON THE PHONE, JACK WALKS IN THE FRONT DOOR.
---
SCENE TWO: JACK HAS FINALLY RETURNED HOME AFTER BEING GONE.

JACK: Checking up on me?

JENNIFER: You're home. What happened? Did you forget your wallet or something. I mean surely you didn't come back to be with me.

JACK: I suppose I should have let you know where I was going this morning.

JENNIFER: Yes, I suppose you should have. I'm going to check on Abby.

JACK: No! No, no, no. Not until I tell you where I went. I went back to see some bankers. I wanted to show them that my proposal did have some good ideas. Unfortunately, they were more interested in showing me the door.

JENNIFER: Well I'm really sorry. I guess you're just going to give up then, right.

JACK: I know I'm not going to get the money for The Spectator if that's what you mean. Speaking of money.

JENNIFER: What?

JACK: We're going to have on hell of a light bill at the end of the month if you plan to keep the light on every night all night.

JENNIFER: I couldn't go to sleep without you next to me so I stayed up and read. (Beat) How did you know I was up all night?

JACK: Well I.... you.... you know that the guest room door doesn't quite close. I could see.... um.... through the door I could see the light coming from your.... from our room.

SHE JUST LOOKS AT HIM.

JACK: I couldn't sleep either.

JENNIFER: Why didn't you come back to me? I was waiting for you. Why didn't you come to bed with me?

HE LOOKS AT HER AND THE ANGER IS STILL THERE.

JACK: I'm sorry. I really.... I don't have an answer for you. I just couldn't.... I couldn't come to sleep with you last night.

HE BEGINS TO GET OUT SOME PAPERS FOR WORK AND SHE GRABS THEM FROM HIM.

JENNIFER: Give me this. We cannot do this anymore, all right. We have to talk.

JACK SIGHS.

JENNIFER: All right. I hurt you and I'm sorry, okay. I never should have presumed to help you. I was trying to make you happy.

JACK: You think that I cannot succeed on my own.

JENNIFER: Who can succeed in this world on his own? Could I do my show without your help? I don't think I can.

JACK: It's not.... it's not the same. It's not the same.

JENNIFER: What do you mean, it's not the same. When you bought The Spectator, didn't you buy it with your family's money?

JACK SIGHS.

JENNIFER: I mean it was your trust fund Jack but you didn't earn it. It was given to you. So why can't you take this loan from my father that you're going to pay back with interest.

JACK: No! No, I....

JENNIFER: Do you know what I was doing till 5 o'clock this morning running up our electric bill? I was reading your proposal. That proposal is incredible. And you know what I thought. I thought if Jack could just put his pride to the side and believe in himself he could be running the best newspaper in the country. Do you realize that you are capable of doing that?

JACK: It's a moot point now don't you think? It doesn't matter what I can and cannot do. This is only so much pie in the sky.

HE THROWS THE PROPOSAL ACROSS THE ROOM.

JENNIFER: My father was interested in your proposal. That's the reason he wants to give you the loan. You can succeed on your own. Why don't you give yourself that chance Jack? (Beat) Jack just think about it. Think.... don't think what it would do for you and for us. Think about Salem. Think how Salem would be energized if The Spectator thrives. How can you pass up an opportunity like this?

JACK: I know what I can do with The Spectator and I know I can turn it around and I know I can energize Salem. But I would not be doing it on my own.

JENNIFER: You would be doing it on your own. What does it matter where the money comes from. Whether if it's the bank, my father or the man on the moon. What matters is what you do with the newspaper. Can you at least think about that?

JACK: Yes I can think about that. Yes I can.

JENNIFER LOOKS SOMEWHAT RELIEVED.

JENNIFER: Well I'm going to go and maybe then by the time I get back you'll have made a decision.

JACK: Where're you going to go?

JENNIFER: I have a meeting and you know what, I'll wake up Abby and I'll take her with me and then you'll have time to think by yourself.

JACK: No, no, no, no, no. Don't.... don't take her away. I think I'll think better if she's here with me. JENNIFER: You're such a good father. And I'm very proud of you just for that.

SHE SLOWLY MOVES FOWARDS HIM AND THEY KISS TENTATIVELY. HE SLOWLY PUTS HIS ARMS AROUND HER AND THEY HOLD EACH OTHER.

JENNIFER: Why do I get the feeling maybe you're not so angry at me anymore?

JACK: It's difficult to be angry with you for any great length of time.

HE IS ALMOST IN TEARS.

JENNIFER: I really love you Jack.

JACK: I love you too.

HIS VOICE BREAKS AS HE SPEAKS.

JENNIFER: So maybe tonight I'll sleep better.

JACK: Then again maybe you won't.

JENNIFER: I think I can handle that.

JACK: Okay.

JENNIFER: I got to go. I'll see you later okay.

JACK: Good. Don't be long.

JENNIFER LEAVES.

JACK: Don't be long.
---
SCENE THREE: JACK WALKS OVER AND PICKS UP THE PROPOSAL.

JACK: All right.

HE SITS AT THE COMPUTER AND AS HE BEGINS TO TYPE THE DOORBELL RINGS.

JACK: Ah Jennifer. Do you need something? Can I....

HE OPENS THE DOOR AND THERE ARE TWO MEN STANDING THERE HOLDING FURNITURE.

MAN 1: We got a delivery for Deveraux. We got a truck load of furniture Mr. Deveraux. Where to do you want it?

JACK IS SURPRISED AND SCARED WHEN HE REMEMBERS ALL THE STUFF HE TOLD JULIE TO ORDER. THE MEN BRING IN TONS OF STUFF AND LEAVE IT ALL OVER THE HOUSE.

MAN 1: Okay sir, this order is COD and we're going to have to get a check before we go.

JO WALKS IN IN THE MIDDLE OF IT.

JO: Jack, Jack, when did you order all of this?

JACK: I'll tell you when I ordered it. Before I found out that Miranda Miller's book was a bust. Before I found out that the publisher got fired and my book ended up in the slush pile. That's when. I can't believe I didn't tell these guys to cancel. Excuse me, excuse me sir. There's been a little misunderstanding here. You see all of these things are the wrong color. I don't like them so they have to go back.

MAN 2: No returns on custom-made merchandise sir.

JACK: You don't understand. All this custom made furniture doesn't match....

THE FIRST GUY WALKS IN WITH A BOX AND JACK LOOKS AT IT.

JACK: .... the custom made wallpaper.

JO: Jack, son, wait, let me help you.

JACK: No, no.

JO: Please, please. I'll take out my IRA, I'll sell some of my own furniture.

JACK: No, no. Please believe me. I will handle everything, all right. I will handle

EVERYTHING. ONE GUY THROWS A CUSHION IN THE DOOR AND IT HITS JACK.

JACK: Everything.

JACK DECIDES TO TRY AND MAKE A DEAL WITH THE FURNITURE GUYS.

JACK: Let's make a deal. I will pay the $200 now and I'll pay you the rest of it at.... some later date to be announced.

MAN 1: Payment in full. That's what the invoice says sir.

JACK: I know that's what the invoice says but look you're a reasonable man. I can see that in your eyes. I'm sure that we.... I'm sure....

JENNIFER WALKS IN THE DOOR.
---
SCENE FOUR: JENNIFER HAS JUST RETURNED HOME, AND JACK HAD WISHED TO SURPRISE HER WITHT HE FUTURE, AND THEN HAD NOT WANTED TO TROUBLE HER THAT THEY ARE UNABLE TO PAY FOR THE FURNITURE, HE IS HURT AND EMBARRASSED.

JACK: Jennifer.

JENNIFER: Jack.... what's going on? Where did all this furniture come from?

JACK: I'll tell you where it came from. I.... I ordered it at a time when I thought I could afford it but between that time and this some things happened that I didn't think would happen and now I can't.... I can't pay for it.

JENNIFER: Jack this stuff is beautiful. I'll pay for it.

JACK: No. NO!

JENNIFER: Excuse us, will you.

JACK: No.

JENNIFER: Jack, listen to me all right. I've been putting money aside each week out of my pay check all right. And this furniture is perfect. I want to pay for it. Please let me.

JACK IS UPSET THAT ONCE AGAIN HE IS IN OVER HIS HEAD.

JENNIFER: Please?

JACK: No, no.

MAN 1: Come on people, are we going to get together on this.

ABBY STARTS TO CRY.

JENNIFER: Oh Abby.

JO: I'll.... I'll check on Abby.

JENNIFER: Thanks Jo. Jack what difference does it make?

JACK: Jennifer.

JENNIFER: Just let me have the invoice, all right. I'm going to write the check. You do what you want with it, okay. Here you go. You decide.

JENNIFER GOES UPSTAIRS TO SEE ABBY LEAVING JACK LOOKING AT THE CHECK. JACK IS ASHAMED AND EMBARRASSED AS HE HANDS THE GUY THE CHECK.

JACK: Here. (Beat) I know what you're all thinking. The little woman's the bread winner in the family.

MAN 1: Lucky you.

THEY WALK OUT AND JACK CONTEMPLATES HIS LIFE.

JACK: Yeah, lucky me.

HE HAS NEVER FELT SO DEGRADED IN HIS LIFE.
---
SCENE FIVE: JENNIFER COMES BACK DOWNSTAIRS.

JENNIFER: This furniture is just great. I love it. I mean I think this couch looks beautiful in here and it's very comfortable. It's a very comfortable couch. And that lamp was made for this room. Really it's beautiful.

JACK WANDERS AROUND LOOKING AT THE PRICE TAGS.

JENNIFER: Jack, don't be upset. You wanted to make me feel loved and you did. I know that's why you bought all this stuff.

JACK: And so what if I couldn't pay for it, huh?

JENNIFER: We paid for it. Everything I have is yours. Don't you realize that?

JACK: You have a remarkable talent. You know that don't you?

JENNIFER: What are you talking about?

JACK: A remarkable talent for making people feel better, more important. But....

JENNIFER: But not you. Not the person I care most about.

JACK TURNS AWAY FROM HER.

JENNIFER: The person that I want to make feel more important than anyone in this world, just never does. I wish I knew why Jack. I really wish I knew why.

JACK KEEPS LOOKING AWAY FROM HER AND IS JUST AS UPSET THAT SHE DOES NOT UNDERSTAND WHY. SHE TRIES TO GET CLOSE TO HIM AND HE BRUSHES HER ASIDE.

JACK: No, it's starting all over again.

JENNIFER: What, what are you talking about? What is starting all over again?

JACK: This feeling. This feeling that I am becoming a failure.

JACK IS ALMOST IN A PANIC.

JENNIFER: Jack, look we have been through this before, all right. You can never be a failure to me. The only thing that makes me unhappy is when you don't believe in yourself.

JACK: Well you have my apologies for making you feel unhappy.

JENNIFER: I don't want you to be sorry. I want you to stop. I want you to realize what a wonderful person you are. Can't you do that?

JACK: I do, I do. I realize everyday. I.... today I tried very hard to realize that. I mean.... then this happened.... and it just made me realize all over again what a failure I have become.

JENNIFER: Why do you do this just when I think that we are getting somewhere? Just when I think we are finally actually communicating with each other, you do this. You say the same things over and over and.... why can't I get through to you?

JACK LOOKS AT HER AND KNOWS SHE WILL NEVER UNDERSTAND HIM PROPERLY.

JACK: I need some air.

HE PICKS UP HIS COAT AND STOPS AT THE DOOR TO LOOK BACK AT HER. HE KNOWS SHE IS UPSET AND WANTS HIM TO STAY BUT HE WALKS OUT ON HER.

OUTSIDE HE PAUSES AND WIPES THE TEARS FROM HIS EYES AND NOSE THEN HE LEAVES.
[Transcribed by Carol Vaughan
added material by Sally A. Wilson]
---
---