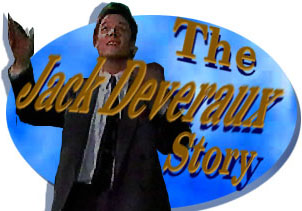 oldEpisode Four-hundred-eighty: Jack,
Jennifer, and Celebrate That He Has
Got His Back the Paper. Jack Has
a Special Question for Jennifer.
---
[Air date mid-January, 1993]
SCENE ONE: THE NEXT DAY AND BILLIE REED IS FEELING VERY SCARED AND DEPRESSED. SHE WENT TO THE BARN WHERE SHE HID THE MONEY BELONGING TO HER EX-CON FRIEND AND IT IS GONE.
---
SCENE TWO: BACK AT THE DEVERAUX'S JACK IS THINKING ABOUT MONEY.

JACK: Let's see. Seventy-five thousand dollars for the binder on The Spectator. Let's say a conservative estimate.... ah twenty thousand dollars to restore this old place. That leaves two thousand five hundred dollars to.... to play with. Do we take a Caribbean cruise or.... buy the wife a new diamond ring.

JENNIFER OVERHEARS THE LAST PART.

JENNIFER: Buy the wife a new diamond ring? I'll take it.

JACK: Good morning.

JENNIFER: Good morning. What is this all about? What are all these calculations here?

JACK: Ah, nothing really. I was just thinking what I am going to do when I turn The Spectator around and make it the most widely distributed newspaper in the country.

JENNIFER: Well that's good. I'm glad you're not setting your sights too high.

JACK: No, no not at all. Now if you'll excuse me, I'll take the child and you can hurry up and get ready.

JENNIFER: Well what's the rush? I don't have any place to go.

JACK: You call going to breakfast with yours truly not having any place to go?

JENNIFER: I forgot. We're going to breakfast. I completely forgot.

JACK: That's all right, all right. Don't worry about it. Just hurry up. The sitter's coming any minute.

JENNIFER: What do you mean, the sitter? I thought Jo was going to take care of Abby.

JACK: No, no, she was hung up with mid-terms and you know while you're at it, why don't you.... why don't you pick out something very.... very upscale, very impressive. From now on, I mean I know it's only Brady's Pub but I want us to go out in public and have people see us and feel this.... this aura of.... of power, of money, of upward mobility if you will. From now on....

JENNIFER: You can't be serious Jack.

JACK: I am absolutely serious. I'm not just talking about diamond rings and cruises. I'm talking about the big time. I'm talking about houses, cars, yachts, islands. If you think about it, you will have it. Think big Jennifer. Think big.

JENNIFER: All right, think about this Jack. Think....

JACK: I know, I know, I know. Don't think about anything or don't make promises that you can't keep. But I will keep this promise. That's a promise.

JENNIFER: Okay, okay if this is the way you want to think.... big, that's fine. That's absolutely fine but I want you to know one thing. You don't have to prove anything to us because Abby and I love you right now and we are very proud of you because you are a very kind and strong and honorable man.

JACK: Ah, I wouldn't exactly say honorable.

JENNIFER: I know, I know what you would call yourself but I'm telling you right now, you're a nice guy whether you like it or not.

JACK: Oh please.

JENNIFER: Yes and you always end up doing the right thing. I'll be back in a minute.

JENNIFER RUNS UPSTAIRS TO GET DRESSED. DOWNSTAIRS JACK IS CRINGING A LITTLE OVER THE WORDS SHE USED TO DESCRIBE HIM. HE LOOKS DOWN AT ABBY WHO IS STARING UP AT HIM. [NOTE: IT WAS AT THIS TIME THAT JOY GARRETT [JOY] BECAME SERIOUSLY ILL AND SHORTLY DIED. IF I REMEMBER CORRECTLY SOME OF THE SCENES THAT HAVE JACK TALKING TO ABBY WERE MEANT TO BE BETWEEN HIM AND JO.]

JACK: What are you looking at? I'm doing the right thing. Of course I'm going to do the right thing. I always do the right thing.

HE SITS DOWN AND PUTS ABBY ON THE DESK IN FRONT OF HIM WHILE HE TALKS TO HER.

JACK: Let me tell you something. Between you and me, in a perfect world I would have gone to the police in a heartbeat and told them all about that hundred thousand dollars that some idiot left in a barn. In a perfect world. But this is not a perfect world and you need to learn that now. In this world Victor Kiriakis could steal the newspaper right out from under me. In this world you need a lot of money to keep the barbarians from The Spectator's gate and that's exactly what I'm doing and I'm not about to feel ambivalent about this in any moral kind of way. I'm going to feel good about spending the money. I'm going to feel damn good about it.
---
SCENE THREE: JACK AND JENNIFER GO TO BRADY'S PUB FOR BREAKFAST WHERE THEY RUN INTO PHILIP. HE IS JUST FINISHED A CONVERSATION WITH BILLIE WHERE SHE TOLD HIM ABOUT THE MISSING MONEY. JACK IS NOT HAPPY TO SEE PHILIP BECAUSE HE ENCOURAGED JENNIFER TO TAKE A STAND OVER CHILD CARE AND GOT HER FIRED AS A RESULT.

JACK: Well if it isn't Mr. J Escariot Esq. the man who's got backstabbing down to a fine art.

JENNIFER: Jack, don't start.

JACK: You remember him.

PHILIP: I don't blame you Jack.

JACK: Oh you don't blame me. That's very magnanimous of you you realize especially because I'm not the one who got you the job. It was Jennifer who....

JENNIFER: Jack.

JACK: .... got you the job. If it weren't for Jennifer....

JENNIFER: Jack it was not Philip's fault. It was mine. I was the one who issued the ultimatum.

JACK: But did Mr. Blacksheep stand up to the network. No he just said, baa baa baa baa, yes sir, yes sir, three bags full. And we all know what those bags were full of, don't we.

PHILIP: I feel terrible about this Jennifer. I wish things could have turned out differently. I really do.

JENNIFER: I know you do Philip. I'm sorry too.

JACK: Huh, huh.

JENNIFER: Let's just forget it now.

PHILIP: Well I better get going. Excuse me.

JACK: Yes. I don't want you to be late for any more brass kissing sessions.

JENNIFER: Will you stop. Now why did you do that? You know it wasn't Philip's fault.

JACK: Why? Because the man's a producer and you have to talk to them that way all the time. That's the only kind of language they understand because ultimately they're the only ones who really make the money. You know that.

JENNIFER: Will you stop.

BILLIE: Oh, oh. Everybody in the parking lot watch your cars. Mr. demolition derby is behind the wheel.

BILLIE THEN WALKS OUT.

JACK: Now if we can ignore the local color we can still have a wonderful and very special breakfast. That's what I want.

JENNIFER: Why?

JACK: Why? I'll tell you why. Because I've had it up to here with all these people doing these things to you and making you unhappy. I want you to be happy.

JENNIFER: Jack, if you think I'm unhappy, you're wrong. Losing my job I think was the best thing that could have ever happened to me.

JACK: You're not serious.

JENNIFER: Yes I am. I mean you're going to be spending a lot of time at the newspaper. Now it's my turn to stay home and take care of Abby.

JACK: Oh you are serious.

JENNIFER: Yes and I'm looking forward to it. You have turned our house into a dream home and I want to relax and enjoy it.

JACK: Huh, huh. Well I say that you.... you're going to end up feeling at loose ends there.

JENNIFER: Really? If I do, I will deal with it.

JACK: You won't have to deal with it.

JENNIFER: What?

JACK: I said you won't have to deal with it because I have the solution.

JENNIFER: The solution to what?

JACK: The solution to your being at loose ends. The solution to you needing a point of view every day. To being objective about something. To be able to give commentaries on things.

JENNIFER: What in the world are you talking about?

JACK: I'm talking about your positive outlook on life. You have an over abundance of it and I need it at The Spectator. I'm asking you to come back to work for me.

JACK AND JENNIFER FINISH BREAKFAST AND GO HOME.
---
SCENE FOUR: JACK AND JENNIFER ARE BACK AT THEIR PLACE.

JACK: Has the sitter gone?

JENNIFER: Yes, she told me to say goodbye to you.

JACK: Yes, goodbye and good riddance. You did see that sub-standard job of baby diapering that she did?

JENNIFER: Jack, it wasn't that bad.

JACK: No, no, like pneumonia's not that bad. You know that's what happens the cold air rushes up and the cold wet diaper drips down.

JENNIFER: She also ate the rest of the Christmas candy. Can you believe it?

JACK: Well better her thighs than yours.

JENNIFER: OH!

JACK: That's it. From here on in, she is out. If you want a regular baby-sitter it's going to be Jo or no one at all.

JENNIFER: All right, that's fine. I feel much safer Abby being with Jo anyway Jack.

JACK: Good, good. That works out all the way around. You can come back to work for me. Jo can come here and baby-sit and that makes her happy. And I know you want to make her happy. It's a perfect arrangement.

JENNIFER: Jack this is a big decision. I need time to think about it.

JACK: We.... well I know that. I'm not pressuring you, believe me. If I pressured you, you'd know it.

JENNIFER: Oh really.

JACK: Yes.

HE TAKES HER FACE IN HIS HANDS AND LOOKS IN HER EYES.

JENNIFER: I do love you for asking, you know that.

JACK: Well, you're welcome.

HE LEANS DOWN AND KISSES HER JUST AS SOMEBODY KNOCKS AT THE DOOR.

JENNIFER: Oh, the door.

JACK: Probably some baby-sitter looking for some diapers. Wet ones.
---
SCENE FIVE: JACK LAUGHS AS HE GOES TO OPEN THE DOOR. HE IS SURPRISED TO SEE THAT IT IS JULIE [NOTE: THIS WAS ANOTHER SAD SCENE, THIS WAS ONE OF THE LAST SCENES BETWEEN JULIE (SUSAN HAYES) AND JACK, IT HAD BEEN ANNOUCED THAT SHE HAD UNCERMONIOUSLY BEEN LET GO; THE RUMORS ON THE NET AT THE TIME WAS BECAUSE OF AGEISM].

JACK: Julie?

JULIE: Hello my darlings. Is it too early in the day to break out a bottle of champagne? Yes of course it's too early in the day but later on today maybe you'll be my guests at Wings. Yes my guests, the two of you. No, wait, I can't.... I can't join you but I still want you to come to Wings and be my guests and order anything in the world that you like. Do you like patŘ de fois gras? Oh what the hell, have the whole frog. Hahahahah.

JENNIFER: Julie what is this all about? What are you talking about?

JULIE: The letters have finally been drawn up. The papers are ready and you Jack have nothing to do but sign them and then you, Mr. Deveraux, you are on your way to owning The Spectator again.

JENNIFER: Oh Jack, that's wonderful.

JACK: It really is happening, isn't it? It's happening. It's happening.

JENNIFER HUGS JACK.

JULIE: All you have to do is come up with the rest of the down payment. Jack darling, I think this calls for a speech. Speech.

JENNIFER: Yes it does. Come on make a speech.

JACK: Well this.... I'm really not in the speech making mode but ah, Julie, I am grateful for this. I mean in spite of everything that's passed between us I know that deep down you've always been in my corner. And I think I can speak for Jennifer and say that we.... we've appreciated your friendship and your love and support more than we can ever express.

JULIE: Thank you Jack.

JACK: And when it comes to The Spectator, I.... I will put my heart body and soul into this and aside from the well being of me and mine this will be my number one priority from here on in. End of speech.

JENNIFER: I love you. I love you so much.

JULIE: Well my dear boy, for one who doesn't make speeches too often that was one to make the mascara run.

JENNIFER: This is a great day for us.

JACK: Yeah.

JENNIFER NOTICES THAT JACK SEEMS A BIT DEPRESSED.

JENNIFER: What's the matter? What's wrong?

JACK: Well it's nothing. It's.... well it's you know.... well Julie did say we can't just forget the reality here. I do have to come up with the rest of the money in a couple of months.

JULIE: Oh yes or else you forfeit the seventy-five thousand dollar fee.

JULIE LEAVES AND JENNIFER GOES UPSTAIRS LEAVING JACK SITTING ALONE AGAIN WITH ABBY. HE STARTS TO TELL HER MORE ABOUT HIMSELF AND HIS LIFE.

JACK: Good god it's good to be rich again. That's something you have to learn all about. You have to learn about going to the right schools, meeting the right people, wearing the right clothes, doing the right.... doing the right thing which incidentally does not include going to the police allowing them to tie up all that money for sixty days while they try to find some ridiculous person who left all that money in a barn. A person who probably doesn't even exist. It doesn't allow for Victor Kiriakis to come along and take the paper away from me which would leave me out on my keister. You and your mother. (Beat) You know something.... I have done some things in my life that I never want you to know about. But this is not one of them. This is about the future. Our future.... your future. So don't you worry. It's going to work out. Everything's going to work out just fine.

HE KISSES HER FOREHEAD.
[Transcribed by Carol Vaughan
added material by Sally A. Wilson]
---
---