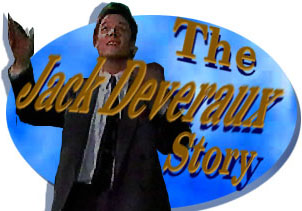 oldEpisode Four-hundred-eighty-three:
Jack and Jennifer Have Dinner at Wings,
but Jack Is to Meet the Owner of the
Money, Who Is to Wear a Red Carnation,
not Knowing That the Person Is Billie Reed.
---
[Air date early February, 1993]
SCENE ONE: JACK AND JENNIFER ARE AT WINGS FOR DINNER. THERE IS A JAZZ BAND PLAYING BUT JENNIFER IS VERY DISTRACTED.

JENNIFER: Jack listen to this band. They are so wonderful.

JACK: Hmmmm.

JENNIFER: Look at the crowd they're bringing in.

JACK: Hmmmm.

JENNIFER: Jack!

JACK: Huh?

JENNIFER: The band. Look at the crowd they're bringing in. They're wonderful.

JACK: Yes, yes, they're really packing them in.

JENNIFER: Are you okay? You seem very nervous.

JACK: Nervous? I'm not nervous at all. (Beat) Then again, I was just thinking that Jo wasn't available and we have that new baby-sitter. Do you think she's all right?

JENNIFER: Yeah well of course, I mean.... .maybe I should call her. Or do you think I'm being overprotective and I shouldn't call her.

JACK: No, no, I think you should call. There is nothing wrong with being a little protective.

JENNIFER: Okay.

JACK: All right.

JENNIFER: You know what, just watch my purse.

JACK: Absolutely. In this neighborhood, of course. (Beat) Of course.

JACK LEAVES JENNIFER'S PURSE ON THE TABLE.
---
SCENE TWO: JACK HAS WANDERED OVER TOWARDS THE BAR JUST AS HE SEES MAGGIE.

JACK: Oh, oh, Maggie, Maggie.

MAGGIE: Oh Jack, what can I get for you?

JACK: I have a question for you. Have you seen anyone circling around here wearing a red carnation?

MAGGIE: I beg your pardon.

JACK: A.... a red carnation. A boutonniere or perhaps a red wrist corsage.

MAGGIE: Not that I know of. Why?

JACK: Oh it's nothing really. I just saw an ad run in the paper today. The Spectator. And it said something about meeting somebody here tonight wearing a red carnation.

MAGGIE: Oh in the personals. Really, that's so sweet.

JACK: Yes, sweet, yes.

MAGGIE: So it looks like the personal column that you added is starting to bring people together.

JACK: Yes, we certainly hope so.

MAGGIE: Excuse me Jack.

MAGGIE GETS BACK TO WORK.

JACK: Yes it better bring people together as long as my contact read my ad.
---
SCENE THREE: AT THE NEXT TABLE, BILLIE IS SITTING WITH AUSTIN AND ASKING HIM IF HE GOT A SPECTATOR TODAY. HE ASKS HER WHY AND SHE SAID SHE LIKES READING THE PERSONALS.
---
SCENE FOUR: JACK AND JENNIFER CONTINUE THEIR DINNER WHEN VERN AND JO COME OVER.

VERN: Hey, good evening. How are you doing?

JACK: What is this?

VERN: What do you mean, what's this? I'm having a date with your mother.

JACK: A date!

JENNIFER: I think that is wonderful. And Jo, you look beautiful.

VERN: Oh, tell me about it.

JO GIGGLES.

JO: Oh, thank you.

VERN: Hey listen, this music sounds great. How about whisking you out to the dance floor, eh Josephine?

JO: What, now?

VERN: Well yeah. This is one of my favorite songs.

JACK: Ah, Jennifer, I think it would be better if you went with Vern. He's feeling a little frisky.

JENNIFER: I'm sure he'd rather dance with Jo.

JACK GLARES AT JENNIFER.

JO: Oh, I only like to dance on a full stomach actually. So go ahead.

VERN: Well I guess it's up to you Mrs. Deveraux.

JENNIFER: If you insist. Excuse us.

VERN TAKES JENNIFER TO DANCE AND JO SITS DOWN WITH JACK.

JACK: You just stay here with me.

JO: Sure.

MAGGIE: Jo, your table's ready.

JO: Oh okay.

JACK: I'll go with you.
---
SCENE FIVE: JO SITS AT HER TABLE AND JACK SITS WITH HER.

JACK: I can only dance on a full stomach?

JO: It's the best I could do on short notice. So Jack why do you want me alone?

JACK: I just wanted to know if you saw anyone coming in. Someone wearing a red carnation.

JO: No, why?

JACK: The person who had the money up in that barn. I answered the ad.

JO: Now you'll be arrested for taking $100,000 out of that barn.

JACK: I did not. I'm not going to have anything happen to me. First of all it's not $100,000. It's ninety-seven five. Second of all, I didn't steal that money. I didn't take it. I found it.

JO: What does this have to do with a red carnation?

JACK: I'll tell you what it has to do. I answered that ad. I said I will meet you here tonight at Wings. Please wear a red carnation.

JO PULLS A FACE.

JACK: A trifle unimaginative perhaps but it does well in a pinch. Unfortunately, I'm afraid they may not have seen the ad. I haven't seen hide nor hair of anyone wearing red.

SUDDENLY JACK NOTICES A MAN WALKING PAST WEARING A RED CARNATION.

JACK: My god, that's him. How did I miss him? Wish me luck.

HE STANDS UP.

JO: Good luck but be careful.

JACK: Yes, yes.
---
SCENE SIX: JACK HEADS OVER TO SEE THE GUY WITH THE RED CARNATION. HE SIDLES UP NEXT TO HIM AND PUTS ON A VERY FRIENDLY AND ADMIRING SMILE.

THE GUY IS PUZZLED AND JACK RAISES HIS EYEBROWS AGAIN AND GRINS AS HE LEANS AGAINST THE GUY.

GUY: Can I help you?

JACK: Well I couldn't help noticing that.... red carnation in your lapel.

GUY: Oh.

JACK: I also happen to know why you're wearing it.

GUY: You do, huh?

JACK: Oh yes. (Beat) In the barn? (Beat) The money in the barn.

GUY: Listen, I don't know what you think I'm supporting but here's $10. Now....

GO AWAY! JACK GRABS THE MONEY WITH A HALF GRIN.

JACK: Yes.... yes.

JACK IS WALKING BACK TO HIS TABLE WHEN BILLIE BUMPS INTO HIM, HURTING HIS BACK.

JACK: OOOOOOUCH!

BILLIE: I am so sick of running into you, I can't even tell you.

JACK: Ditto.

BILLIE: You don't walk any better than you drive.

JACK: Heheheheh. Sounds rather odd coming from you. Somebody who doesn't know the first thing about paying attention.

BILLIE: Oh that's what you said when you backed into my car.

JACK: I just have one little question for you.

BILLIE: Yes.

JACK: It came to my attention that you cashed my check. No big surprise. But I was just wondering. Did you spend it on a new bumper because it's obvious you didn't spend it on a new dress?

BILLIE: Get out of my way.

JACK: Oh it will be my pleasure. Just keep an eye out and don't bump into anyone else.

SHE WALKS AWAY TO SEE MAGGIE AND ASKS HER IF SHE HAS A SPECTATOR SHE CAN LOOK AT. JACK SITS BACK DOWN WITH JO.

JACK: I was mortified when I realized that that man thought I was soliciting donations.

JO: Well you're $10 richer.

JACK: That's beside the point. My whole point of being here tonight was to meet the person who had the money up in that barn. I felt if my luck was going to hold out, maybe there was more money where that came from.

JO: And maybe that person didn't read the Personals today.

JACK: In which case my luck has not held out and it's time to go.

JO: Oh stick around a while longer. Maybe your luck will hold out.
---
SCENE SEVEN: MEANWHILE BILLIE RUNS OUT TO BUY A COPY OF THE SPECTATOR. JENNIFER COMES BACK TO THE TABLE AFTER DANCING WITH VERN. THE NEW HOST OF HER SHOW COMES IN AND JENNIFER POLITELY WAVES TO HER WHILE JACK IS STILL DISTRACTED.

JENNIFER: Jack, can we go home? I'm really tired.

JACK: Huh? Home?

JENNIFER: Yeah.

JACK: No.... no. We haven't had enough.... fun yet.

JENNIFER: Fun?

JENNIFER LOOKS PUZZLED. JENNIFER WALKS OVER TO TALK TO PHILIP.

JENNIFER: When Sandra walked in, that was our cue to leave.

PHILIP: Yes, she has the way of sucking up air in the room.

JACK: Yes, I'm sure she does. If you'll excuse us.

HE PUTS HIS ARM AROUND JENNIFER AND PUSHES HER TO LEAVE.

JENNIFER: See you soon.

JACK: Yes, let's go.

AS THEY WALK OUT, HE SEES BILLIE.

JACK: Look out, bad dress alert.

BILLIE: Oh SHUT UP!

JACK: Yes.

JACK AND JENNIFER LEAVE.
---
SCENE EIGHT: BILLIE THEN ASKS DAVE IF ANYBODY WAS LOOKING FOR A RED CARNATION. SHE IS HOLDING A RED ROSE.

DAVE: That isn't a red carnation.
[Transcribed by Carol Vaughan
added material by Sally A. Wilson]
---
---