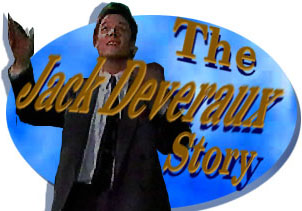 oldEpisode Four-hundred-eighty-four:
Jack Continues to Try and Discover
Who Killed Lisanne. Jack Finds
Another Message in the Want Ads.
---
[Air date early February, 1993]
SCENE ONE: IT IS THE NEXT DAY AND JACK IS STILL AT HOME ON THE PHONE TO A REPORTER. JO IS IRONING.

JACK: Terry or whatever your name is. You're a beat reporter. Beat reporters cover the beat and this beat is concerned with Lisanne Gardner's case. I want to know.... listen I want to know where all this information is coming from. Yeah.... what does it have to do with the Alamiains. Everything about is the information true? Everything. Can you.... I.... I've got to go. Listen, you call me later. Give it to me. Thanks.

HE HANGS UP AND TURNS TO JO.

JACK: You can't do this. You've got to go.

JO: Why?

JACK: Look, there's no....

JO: Why? Why can't we just say I'm here visiting?

JACK: Like yesterday, the day before and the day before that? I don't think so. Everyday she's noticed there's more chores done. If she sees you anywhere near this, she's going to put two and two together and realize that you've been doing all the work here.

JO: Well....

JACK: Listen, you can't stay. You've got to go. There's no time. Quick.

JO GRABS HER BAG AS JACK TRIES TO PUSH HER OUT THE DOOR.

JO: All right. I'll get my coat.

JACK: No, no, no, there's no time. She's coming in right now. I'll get it to you later. Stay in the kitchen. Stay in the kitchen. Stay...in the kitchen.

JO: All right.

JACK: Stay in the kitchen.
---
SCENE TWO: JACK HIDES JO, BECAUSE HE DOES NOT WANT JENNIFER TO KNOW THAT JO HAS BEEN HELPING HIM WITH THE HOUSE WORK. JACK WALKS OVER AND OPENS THE FRONT DOOR FOR JENNIFER.

JACK: Hi

JENNIFER: Hi. I'm sorry I'm late. I know that you need to get back to the office and I tried to call. You have been on the phone for over an hour.

JACK: Yes, I most certainly have. I've been working on the Lisanne Gardner story. You know, trying to get to the bottom of the whole thing. You know this Sandra Stevens may have gotten the ball rolling but I tell you something. I am going to scoop her. I am going to scoop her like she's never been scooped before. I'm going to get all the information on this case and get it out to the people long before it ever shows up on her show.

JENNIFER: What do you mean, you're going to scoop Sandra Stevens? What do you know about Lisanne Gardner's death?

JACK: Nothing. Nothing yet anyway. I'm going to get Terry Fletcher on this.

JENNIFER: Terry Fletcher's your best reporter Jack.

JACK: After yours truly, of course. But I'm too busy running down new money for the newspaper so I have to rely on Terry to run down the facts for my story. But with a little bit of luck we're going to have the name and the face of the person who killed Lisanne Gardner on the front page of today's paper.

JENNIFER: Jack you can't do that.

JACK: Why not? Why can't I do that?

JENNIFER: Because. Because you don't.... you don't know for sure that Lisanne Gardner was murdered.

JACK: Well Bo Brady certainly thinks she was murdered and I think that's good enough for me. And if Sandra Stevens can report....

JENNIFER: Sandra Stevens is only interested in making a name for herself Jack. She doesn't care about facts, all right and she doesn't care about the truth. And she doesn't care who she hurts from this story.

JACK: The only person being hurt by this story is Lawrence Alamain. I didn't really imagine that that would upset you too much.

JENNIFER: No, that doesn't upset me. But it does upset me that Carly is being hurt by this.

JACK: Carly is a part of this story whether she likes it or not. Now for myself, I will not make her a focus of my story. But you have to understand one thing. If Sandra Stevens has made this a hot story in Salem again, as a responsible journalist I cannot ignore it.

JENNIFER: You don't have one fact. You don't have any facts at all.

JACK: I will get the facts and when I get them I will scoop her. I will scoop everyone. And if I continue to scoop everyone in this town, the circulation of The Spectator will just go up and I will be able to convince all these people with money that an investment in The Spectator is a good investment and I think you want that as much as I do.

JENNIFER: Yes. Yes of course I do. Let me see your story that you've been working on all morning. You've been ironing too?

JACK: Yes, yes. You know, it's the wonder of the cordless phone. (Beat) Ah you really weren't gone that long. You didn't show me what you bought.

HE PICKS UP HER SHOPPING BAG.

JENNIFER: I.... I just bought some sheets. They were on sale.

JACK: Sale? Let me tell you something. When I get The Spectator fully under my control, you'll never have to worry about sales again. Never again. Why don't you take these upstairs. I'm sure you want to check that the patterns match the decor.

JENNIFER HEADS TO THE LAUNDRY ROOM.

JACK: Ah, upstairs. Why are you going in there?

JENNIFER: Well I want to wash them first. I don't want to put them on the bed.

JACK: You can't go in there.

JENNIFER: Why not? (Beat) Why don't you want me to go into the kitchen, Jack?

JACK: Why? Because I'm not about to have you take new sheets and wash them in the kitchen sink. That's why.

JENNIFER: I was going to wash them in the washing machine but I have to walk through the kitchen to get to the basement, remember.

JACK: Precisely. That's exactly my point. I can't have you.... walking through the freshly waxed floor of the kitchen to get down to the basement.

JENNIFER: You waxed the floor?

JACK: I sure did. Absolutely. (Beat) So why don't you let me take this and when the floor dries, I will do the washing. In the meantime, there's a little girl who's been sleeping all morning and I'm sure she'll be glad to see you.

JENNIFER: I can't let you do that. After all the work you've done, I can't let you wash the sheets.

JACK: It's no problem. It's no problem whatsoever.

JENNIFER: Look Jack, when I was working in the television show you were taking care of Abby and all of the chores. Now I'm not working on the talk show anymore and you are running the newspaper, you are still taking care of Abby and all of the chores.

JACK: It is my pleasure. It helps me think. It helps me feel good. I mean I think while I work. So I want you to go upstairs. Take a load off. Relax and sit with your daughter.

JENNIFER: Jack, I....

JACK: Don't worry about a thing. I've got everything taken care of down here.
---
SCENE THREE: JO COMES OUT OF THE KITCHEN ONCE JENNIFER IS UPSTAIRS.

JO: Jack, this is getting out of hand.

JACK: You're telling me.

JO: It's time to tell Jennifer that I've been helping you clean this house and look after Abigail.

JACK: Eventually. Perhaps eventually.

JO: What are you waiting for? You're back running the paper again. What more do you have to prove to Jennifer?

JACK: I am not going to have her feel trapped here at home, the way I did. I know how that feels. And I'm not running the newspaper yet. Not yet. But when I do....

JO: Do you really believe that Jennifer won't love you if you are not really Captain Marvel?

JACK: Heh. Thank you for the comic book psycho therapy but it's really not necessary. You know if you don't want to help me I understand completely. You can go on your merry way. I will handle all this myself, just fine, thank you.

JO: Oh, oh, like you were before when you were just writing a column. Now you're running an entire newspaper. Look.... where are the sheets? I'll just wash them.

JACK: Ah.... I.... they're there. (Beat) Let me tell you something, when I get The Spectator back on track, in full control, everything will work out. Everything. All of this. As a matter of fact right now I have a meeting with the Vice President of the First Bank of Salem.

JO: What about.... what about that person who left all that money in the barn? I mean his ad in the Personals said there was more where that came from. Now maybe if he knows The Spectator is a good investment, he might lend you more money.

JACK: Huh, it's a bit of a change of point of view since last week. It's amazing what you go through just to get out of washing and cleaning. But it really doesn't matter, you understand. That person never answered my ad so I'm going to assume that the whole thing was a hoax.

JO: Well maybe that person didn't see your ad or maybe he didn't read it in time to buy a red carnation and get to Wings before you left.

JACK: Look, this whole thing isn't even worth discussing. It's all over you understand. I'm going to get your coat. And I'm going to drive you back by your house. I have to go to work anyway. I tell you something, I did the best that I could. I answered that ad. He never answered back. So who knows? Maybe it's all for the best. Why would I try to go after it again? Who knows what would happen if I did.
---
SCENE FOUR: INSTEAD OF GETTING DROPPED OFF, JO COMES WITH JACK TO THE SPECTATOR. VERN CANNOT HELP HIMSELF.

JACK: Look I don't have time to talk to you right now. I'm very bus....

VERN: Hey Jo, you are looking particularly lovely today.

JO: Oh thank you Vern.

JACK: Vern?

VERN: Oh you too Jack. I mean hello. Oh hell, you look lovely too Jack.

JACK: Just put an end to this please. We're a little busy. If you'll excuse us Jo.

HE DRAGS VERN AWAY.

JACK: Vern, all right, what do you have on Lisanne Gardner?

VERN: Well the police are still looking for a lead.

JACK: Good, good. When they get one we're going to have one. I want you to hold something in this afternoon's edition. I'm going to scoop everybody. I'm going to get something about this Lisanne Gardner in today's paper.

VERN: Okay Jack.

JACK GOES TO WORK AND VERN GOES BACK TO TALK TO JO. JACK LISTENS FOR A SHORT TIME TO VERN AND JO DISCUSS THE VEGETARIAN RESTAURANT WHERE THEY ARE GOING TO HAVE DINNER THEN HE INTERRUPTS.

JACK: VERN!

VERN: Hey don't knock till you've tried it.

JACK: I'm not....

JO: You know I should have you and Jennifer over one night for the vegetarian version of my green noodle casserole.

JACK IS GETTING RATHER JEALOUS.

JACK: We'll be busy!

JO: Uh, but.... you don't even know which night I'm talking about.

JACK: It doesn't matter. Every night that you're talking about I'm going to be busy. I'll be busy every night from here on out working on this paper and....

HE PICKS UP THE LATEST EDITION AND LOOKS AT IT.

VERN: Something wrong?

JACK: Um, no.... nothing's wrong. Except for the fact that you are still standing here and I told you to get to work.

VERN: Oh lighten up Jack. See you later Jo.

JO: Bye Vern.

VERN GOES BACK TO WORK.

JO: Jack, what is your problem?

JACK: Nothing, it's....

JO: Let me see that.

SHE TAKES THE PAPER.

JO: Red carnation. Sorry, couldn't get there in time. Set new time and place. Will be waiting. Well?

JACK: Well, what?

JO: Are you going to reply?

JACK: No, I'm going to pretend I never saw this and so are you.

JO: It is your obligation to find out whose money you took.

JACK: My obligation is to me and mine. And that includes everybody who works here and that includes your friend Vern. Now what would happen to everybody here if I allowed this person to try to get their money back?

JO: The same thing that will happen if you don't get that money from somewhere. And right now. This mysterious person is the best shot you've got.

JACK: You seem to forget that I've got a very important meeting with a Vice President of a bank this afternoon. In just a few minutes.... .

VERN: Jack, the receptionist forgot to give you this phone message.

JACK: Thank you. Now he's a messenger boy.

JACK READS THE NOTE AND THEN SCREWS IT UP.

JO: What's wrong?

JACK: Nothing's wrong. It's obviously a very busy day at the bank today. The Vice President had to cancel our meeting.

VERN: I could have predicted that.

JACK: What is that supposed to mean Vern?

VERN: Well....

JACK: What do you mean? Come on, out with it.

VERN: There's a rumor that Victor Kiriakis has sent a word out to the financial community. He has his sights set on The Spectator.

JACK: Well that's not news. I mean everybody knows that Victor has been after The Spectator for some time. But the fact remains that Julie sold the option for The Spectator to me.

VERN: Yes. But now that he's pulling Titan Publishing into

Salem he's going after us Jack. And he's scaring away anyone who's even thinking of helping you keep the paper.

JACK LOOKS UPSET AND SOMEWHAT DEFEATED AS HE LOOKS AT JO.

JO: Don't let Victor Kiriakis scare you Jack.

JACK: Victor Kiriakis does not scare me. He's just trying an old business trick. I mean you float these rumors about a big takeover. You keep your opposition off side and you move in. I can beat him at his own game. Trust me.

JO: But if he's bullying bankers and investors to stay away from you.... what are you going to do?

JACK: I have other options.

JO: Are you going to answer the ad?

JACK: Please.... just

HE PICKS UP THE PHONE AND DIALS.

JACK: Classifieds, please. Yes I want to place an ad. Today's paper. "To box 7030. Red carnation. Meet me tonight at the pier. 8 PM sharp."

HE PUTS DOWN THE PHONE AND LOOKS VERY SERIOUSLY AT JO.
[Transcribed by Carol Vaughan
added material by Sally A. Wilson]
---
---