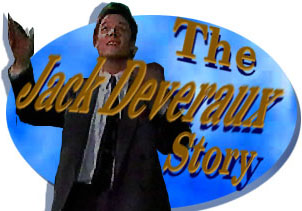 oldEpisode Four-hundred-eighty-seven: Jack
Tries to Stall Billie about the Money;
If He Does not Get It She Tells Him
That She Will Get It from Jennifer.
---
[Air date mid-February 1993]
SCENE ONE: AT THE HOUSE, BILLIE BARGES IN THE FRONT DOOR CALLING FOR JENNIFER.

BILLIE: MRS. DEVERAUX! Where is she? Where is she?

JO: Ah, wait, wait.

JACK: What's going on out here? Oh Billie Reed. Is there something I can do for you?

BILLIE: You bet there is. Where's your wife?

SHE HEARS A CAR LEAVING AND THINKS IT IS JENNIFER.

JACK: Ah, well....

BILLIE RUNS OUT THE DOOR.

BILLIE: MRS. DEVERAUX!

JACK: Oh I'm sorry. You missed her.

BILLIE: Well I'm not going to miss her next time.

JACK: That's if there is a next time. Well if you don't mind, I'm really....

BILLIE: Yes I do mind.

SHE WALKS STRAIGHT PAST HIM INSIDE.

BILLIE: When is she coming back?

JACK: Frankly I don't know. She may not be back for quite some time.

BILLIE: Well where did she go?

JACK: I don't know that either.

BILLIE: I bet Mrs. Johnson knows, don't you Mrs. Johnson?

JACK: Ah the baby! Ah, did you hear that Jo? The baby's crying upstairs. The baby.

JO: It is?

JACK: Yes, it is. Can you, maybe?

JO: Oh yes, I'll take care of it. It's very nice to meet you Miss Reed.

JACK: Thank you.

JO RUNS UPSTAIRS.

JACK: THANK YOU! Well now that there's just the two of us, perhaps we could talk about this like gentlemen and gentle ladies.

BILLIE: Hmmm.

JACK: This is what I propose. I will be prepared to pay your friend's money back when he gets back from Las Vegas.

BILLIE: Well that could be anytime now.

JACK: Ah, well do you think that he would consider a.... down payment?

BILLIE: You know what, a down payment would buy you a couple of broken ankles rather than a couple of broken knees. Now I want my money and I want it now!

JACK: You can't have your money and I don't have anything to give you now.

BILLIE: All right, fine.

JACK: Fine.

BILLIE: Fine.

JACK: Good. I'm glad we finally understand each other. Now we....

HE TURNS AROUND AND SHE HAS SAT DOWN ON THE SOFA LIKE SHE IS NEVER GOING TO MOVE.

JACK: Excuse me. What are you doing?

BILLIE: I'm waiting for your wife to come back.

JACK: Could we please just leave my wife out of this? Please. I think....

BILLIE: I've seen your wife on her show. I know she's a very honest woman and she's a Horton. And Hortons pay their debts.

JACK: I would like to make this perfectly clear. Jennifer has no money. There is no Horton money to give. And yes she is honest. And if you go to her, this is what she will do. She will go to the police and you will find yourself down at police headquarters explaining to the them about your associates.

BILLIE: I think when she hears my story she will be really understanding and she will help me.
BILLIE PICKS UP THE PAPER AND BEGINS TO READ IT WHILE JACK PACES UP AND DOWN WONDERING WHAT TO DO NEXT.
---
SCENE TWO: AT THE STUDIO, JENNIFER TELLS PHILIP THAT SANDRA TRIED TO CONVINCE HER THAT JACK WAS STILL WORKING ON THE STORY INVOLVING CARLY. PHILIP TELLS JENNIFER THAT HE THOUGHT JACK WAS STILL ON THE STORY AS WELL. JENNIFER TELLS PHILIP THAT JACK WOULD NOT LIE TO HER ABOUT THIS.
---
SCENE THREE: AT THE HOUSE, BILLIE IS SIPPING COFFEE WHILE JACK CONTINUES TO PACE.

JO: Miss Reed, could I offer you some cookies?

BILLIE: Well I don't mind if I do Mrs. Johnson.

JACK: I do.

BILLIE: Hmmm, these look good.

JACK: Please, make yourself comfortable.

BILLIE: Oh these are so delicious.

JO: Oh.

BILLIE: Did you make them yourself?

JO: As a matter of fact I did.

BILLIE: How did you get them so moist?

JO: Well you know actually the key is in the baking. You keep the temperature low so that....

JACK: CAN WE HAVE ENOUGH ABOUT THE COOKIES! Now if the bake-off is over, I have come up with the answer.

BILLIE: What, you're going to call your wife?

JACK: No. I'm going to give your friend a pay back with interest. Now at a bank, you can only get 3% interest. But with me, he'll get 10% interest. That's the best deal in America at this time.

BILLIE: You don't get it, do you? You have no idea. This guy works for people who get 300% a week interest. These are dangerous people Jack, dangerous.

JACK: Right, right. I'll think of something else.
---
SCENE FOUR: JACK IS TRYING TO THINK OF SOMETHING, JUST THEN THE PHONE RINGS AND JO ANSWERS IT.

JO: Hello.

JENNIFER: Oh hello Jo, how are you?

JO: Oh hi Jennifer.

BILLIE JUMPS UP.

BILLIE: MRS. DEVERAUX!

JACK GRABS HER AND COVERS HER MOUTH.

JACK: NO, NO!.... NOoooo!

JO: Jack's in the bathroom.

JACK: Tell Jennifer I can't get to phone right now.

JO: Ah, Jennifer, Jack will have to call you back.

JENNIFER: Well you know what Jo, just tell him that I'm going to be a little while. I have a bigger job ahead of me than I thought.

JO: Okay, I'll tell him that. Bye.

JACK IS STILL STRUGGLING WITH BILLIE.

JENNIFER: Oh Jo, what happened with the encyclopedias?

JO: Encyclopedias?

JACK: Encyclopedias, yes, encyclopedias.

JENNIFER: Yes, Jack said you were haggling with some salesman at our door this morning.

JO: Ooooh, right. Well we're still trying to work something out. Jennifer, I really have to go now.

JENNIFER: Oh, you know what, um just tell Jack to bring Abby to the newspaper with him and I'll pick her up from there, okay. Oh, you know what, one more thing. Tell Jack that I love him.

JO: Oh, okay. I'll pass that along. Bye.

BILLIE BITES JACK'S HAND AND HE SCREAMS AS HE LETS HER GO.

JACK: OUUUUUCH!

BILLIE: If you lay a hand on me ever again, I'll kill you.

THE BABY STARTS TO CRY.

JACK: Oh great, you've woken the baby.

JO: No, you know. I'll just take care of that.

JACK: You do. Oh wait a minute.... oh.... what?

JO: Oh Jack, Jennifer wanted me to tell you that she loves you.

JACK: Oh, thanks.

JO RUNS UPSTAIRS.

BILLIE: Well when she finds out what you're up to, she's going to think you're such a rat.

JACK: That's right. It's going to break her heart. And I know that doesn't mean much to you but if you'll stop for one second, just think about my wife and my kid.... please.

BILLIE: Okay, okay, okay. I'll go for now, okay. But only until my friend calls me from Vegas and that could be any day now. So you better be ready or else you're going to lose a lot more than your newspaper.

BILLIE LEAVES AND JACK IS VERY WORRIED.
[Transcribed by Carol Vaughan
added material by Sally A. Wilson]
---
---