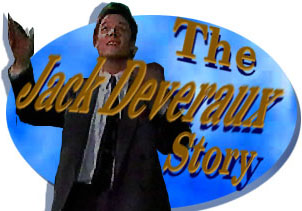 oldEpisode Four-hundred-eighty-nine: Jack
Saves Billie from Tony. Jack and
Billie Agree to Team up to Try and
Raise the Money before Tony Returns.
---
[Air date late February 1993]
SCENE ONE: IT IS THE SAME EVENING AND JENNIFER HAS TAKEN ABBY HOME LEAVING JACK ALONE DRINKING COFFEE AT THE BRADY PUB.

WAITRESS: More coffee?

JACK: Ah, yes, for me.

WAITRESS: Would you.... do you think Mrs. Deveraux would like a refill?

JACK: No, no, she's taken off home avec l'enfant.

WAITRESS: Okay.

AS THE WAITRESS IS LEAVING, JACK TAKES HER ARM TO CHECK HER WATCH.

JACK: Ah, let me look at this here. Is that time right?

WAITRESS: Ah, I think so. You want anything else?

JACK: No, no, thank you.

JACK GOES OVER TO THE PAY PHONE AND FINDS A DIME IN THE CHANGE DRAWER. HE PUTS IT IN AND DIALS BILLIE.

JACK: Come on Billie Reed, where are you? Or more importantly, where's your friend Tony? Whatever's going on, remember I need time to come up with that money.

HE GETS NO ANSWER AND HANGS UP.

JACK: Dammit!
---
SCENE TWO: OUTSIDE BILLIE IS STILL WITH TONY.
---
SCENE THREE: ONSIDE JACK IS GOING OVER HOW TO GET THE MONEY QUICKLY.

JACK: Sell the clothes, sell the car, sell the house. I just have to figure out a way to take care of Jennifer's father eventually but.... what am I saying? I have to get Jennifer's signature for that.

JACK LOOKS OUT THE WINDOW OF THE PUB AND SEES BILLIE WITH A MAN.

JACK: Oh no, no, no, please tell me that is not him.... please.

JACK REALIZES IT MUST BE TONY AND PUTS ON HIS COAT AND GOES OUTSIDE WHERE HE OVERHEARS TONY TELL BILLIE THAT HE IS ACTUALLY ON PAROLE AND SHOULD NOT HAVE LEFT LAS VEGAS. JACK THUMPS TONY ON THE SHOULDER.

JACK: Excuse me. Can I talk to you fellow?

TONY: What the hell do you want pal? (Beat) Like I said, what the hell you want pal?

JACK PUTS HIS HAND ON HIS POCKET AND FLASHES A PASS VERY FAST.

JACK: Detective Horowitz. Salem PD, LPID, LYCC Special Investigation.

TONY: Oh.

BILLIE: Oh yeah. Detective Horowitz, what a surprise. What are you doing here?

TONY: You know this detective?

JACK: Heheheheh. Know me? She should. I've only picked her and arrested her up twice in the last month. Keeping the old nose clean, Bill?

JACK WIPES HIS NOSE WITH HIS FINGER.

BILLIE: Ah yes sir I am. I swear.

JACK: So, what were the two of you discussing so intently?

BILLIE: Nothin'.

TONY: We.... we're old friends. I just got into town.

JACK: Ooooh, old friends from out of town.

BILLIE: Yeah. Huh, huh. So stop hassling us.

JACK: Oh no, no I'm not hassling you. If I hassled you, you'd know it. I'm just checking to make sure there are no.... problems.

TONY: Oh there's no problems. Right Billie?

BILLIE: That's right, yeah.

JACK: No problems. That's good. Very very good. Then I'll be on my way then. Actually, ah, I think I'm going to run by my car and check out the warrants.

TONY: Warrants?

JACK: Oh yeah. Your friend Billie here, she's terrible with those tickets. Never seems to be able them on time. In fact if she has any outstanding tickets at this time I'm going to come back here and haul you in. You know that don't you? I will.

JACK STARTS TO WALK OFF.

BILLIE: He will. He will.

JACK: Oh, oh, oh, And if I don't find any I just want you to know that I'm going to keep my eye on you. If you sneeze or do anything, I want to know about it.

BILLIE: Yes sir.

JACK: Have a good day.
---
SCENE FOUR: AS SOON AS JACK HAS GONE, BILLIE TELLS TONY THAT THE HEAT IS REALLY ON IN SALEM AND THAT HE BETTER GET BACK TO VEGAS AND FAST. HE AGREES BUT SAYS HE WILL BE BACK IN TWO WEEKS FOR THE MONEY. TONY LEAVES.

JACK REAPPEARS.

BILLIE: I cannot believe you did that.

JACK: Neither can I. Not exactly my style.

BILLIE: What did you use for a badge?

JACK: What did I use?

BILLIE: Yes.

JACK: The old Salem Press Pass. Don't leave home without it.

JACK SHOWS HER THE PASS.

BILLIE: Ah, we could have been killed Jack. Are you crazy or what?

JACK: I don't know. I saw you standing there in trouble. I thought maybe I should help since I seem to be the only reason that you got into all this trouble in the first place.

BILLIE: Yeah well you got that right.

JACK: I guess a simple thank you wouldn't suffice.

BILLIE: Hey, just stop kidding around here. Tony is a dangerous guy. What if he had seen that that badge was phony?

JACK: What difference is that going to make? You told me that he's going to kill me anyway when he comes into town and realizes that the money was spent by me.

BILLIE: That's right. So next time let me handle it, okay.

JACK: Ooooh, let you handle it?

BILLIE: Yes.

JACK: Like you were handling it this time. I love the way what you were doing. Getting him to drag you into the alley so that his fists could commune with your face. It was brilliant, brilliant.

BILLIE: Yeah, well, huh!

JACK: I'm sorry. Is there a problem? A little trouble with the comeback. Perhaps a simple thank you would suffice.

BILLIE: Heh.

JACK: Then again perhaps it's been a long time since anyone's ever done a favor for you.

BILLIE: Would you just shut up?

JACK: Sure.

BILLIE: And concentrate how we're going to get out of this mess.

JACK: I'd be glad to. When is he coming back?

BILLIE: I don't know when he's coming back. A couple of weeks, tops. I don't know.

JACK: A couple of weeks. That's it?

BILLIE: Yeah.

JACK: That's all right, that's all right. It's not long but I can work with it. I work well under pressure.

BILLIE: Okay, well then let me know.

JACK: I will.

BILLIE: Do you think you're really going to come up with something?

JACK: I certainly hope I do.

BILLIE: Well maybe I could help you, you know, since we're both in this mess. Maybe, I don't know, two heads are better than one.

JACK: Well it's certainly better than having you go to Tony about me.

BILLIE: Well I just thought that maybe we could both figure this out. But I'm warning you. I'm not going to stick up for you. If Tony comes back here and there's no money, that is it man. You're on your own and you're going to be dead meat.

BILLIE WALKS AWAY.

JACK: Thank you.
[Transcribed by Carol Vaughan
added material by Sally A. Wilson]
---
---