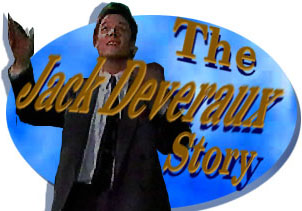 oldEpisode Four-hundred-ninety-two:
Night Sins, Days' Primetime Special:
Everyone Attends the Grand Opening
of Victor's Publishing House, Titans.
---
[Air date mid-February 1993]
SCENE ONE: JACK AND JENNIFER ARRIVE OUTSIDE THE TITAN PUBLISHING BUILDING.

JENNIFER: Will you look at all this? He created quite a monument to himself, don't you think?

JACK: Yes, I'm surprised Victor didn't put his name on it. Hell I'm surprised he didn't put his whole face on it but then if you look at it from a certain angle you can see the old.... stone face himself.

HE LOOKS ACROSS AND SEES BILLIE PULL UP OUTSIDE.

JENNIFER: What's wrong?

JACK: Nothing. Actually I just realized I left the car keys in the car. It's a little chilly out here. Why don't you go in and I'll be in there directly.

JENNIFER: Well I'll meet you inside.

JACK: Yes, I'll be there.

JENNIFER: You better be.

THEY HAVE A QUICK KISS.

JACK: Yes.

JENNIFER GOES INSIDE. JACK GOES OVER TO TALK TO BILLIE.

JACK: What the hell do you think you're doing?

BILLIE: I'm going to a party Jack.

JACK: No, you're not going to a party. You're going for a little walk with me.

BILLIE: Jack if you don't let go of me....

JACK: I'm not going to let go of you.

BILLIE: I'm going to start screaming.

JACK: What are you going to start screaming?

BILLIE: I'll scream that you're a pervert and you're accosting me.

JACK: I am not a pervert. BILLIE!

BILLIE: You're hurting me.

JACK: I'm not.... stop.... if you.... hey wait a minute. What's that under your coat?

BILLIE: None of your business.

JACK: What is it? It's the manuscript, isn't it? It's the one I couldn't find. It's the one that you stole.

BILLIE: I did not steal it. I borrowed it and I'm going to sell it to Victor.

JACK: You are not going to sell it to the man who tried to steal The Spectator from me. You are going to give it to me right now.

BILLIE: Jack if you don't let go of me, you're going to have some explaining to do.

JACK: What are you talking about?

BILLIE: Your wife is right behind us. I'd let go if I was you.

JACK RELUCTANTLY LET'S GO OF BILLIE AND TURNS AROUND.

JACK: Ah, Jennifer....

BILLIE RUNS OFF. JACK REALIZES THAT JENNIFER IS NOWHERE TO BE SEEN. JACK CHASES BILLIE TO THE ENTRANCE OF TITAN.

BILLIE: You stop right there.

BILLIE GOES INSIDE.
---
SCENE TWO: JACK CASUALLY JOINS THE CROWD WALKING TO THE DOOR. AS SOON AS HE CAN, HE PUSHES HIS WAY INSIDE. JACK FINDS JENNIFER AND THEY STROLL AROUND THE ROOM.

JACK: Not as vulgar as I hoped.

JENNIFER: Jack, stop it.

JACK: When somebody has more money than you have, the only satisfaction that you can get is to say that they've got no taste. Obviously Victor can afford to buy someone who has a lot of it.

AS HE IS TALKING, VICTOR WALKS OVER. JENNIFER STOPS JACK FROM SPEAKING.

VICTOR: I can afford to buy a lot of things Jack, including your newspaper.

JACK: I cannot tell you how sick and tired I am of having this con....

JACK SEES BILLIE WITH A TRAY OF DRINKS AND WATCHES HER MOVE AROUND THE ROOM.

JENNIFER: Jack?

JACK: Yes, yes.

VICTOR: You were about to tell us what you were sick and tired of.

JACK: Ah, actually I've been seized by a great and terrible thirst. So if you'll excuse me. Jennifer, ah, a glass of white wine for you and what are you drinking tonight Victor? Type A or type O?

JACK WALKS AWAY AND GOES STRAIGHT OVER TO BILLIE.

JACK: Excuse me.

BILLIE: Oh yes, you're excused.

JACK WALKS OVER TO THE BAR.

WAITER: What can I get for you this evening sir?

JACK: Not what, who. As in who's in charge of the security. I need to see him right away.
---
SCENE THREE: JACK WALKS BACK OVER TO BILLIE WHO IS TRYING TO CHARM ONE OF THE GUESTS.

BILLIE: There you go. Collins straight, a Crown and Seven and just because you're cute, a big smile from me.

JACK: I can't tell you the last time I was so impressed with someone's verbal skills with the exception of Prince Charles' stirring tribute to Camilla's nickers [This was about the time that some of Prince Charles' private and rather explicit remarks to Camilla were taped a publicized].

BILLIE: Will you just shut up? You're the writer here. I'm just here to peddle your purple prose.

JACK: We are talking about a rough manuscript of my novel, not water on the desert. You can peddle it all you like. There is no guarantee that somebody here is going to buy it.

BILLIE: Jack, I know my trashy novels. Trust me, they'll buy this one.

JACK: I want you to give it to me, right now.

BILLIE: Jack, I don't have it. And wherever it is, it has Victor's name on it.

JACK: You're talking about my nemesis in the publishing world. Someone I now hate, loathe and despise.

BILLIE: He's a rich publisher Jack. How many of those do you know?

JACK: I can't really answer that.

BILLIE: Why not, what are you talking about?

JACK: Because I've stalled you long enough, that's why.

BILLIE: Long enough? Long enough for what.

A SECURITY GUARD STEPS UP BEHIND HER.

GUARD: Is this the one?

JACK NODS.

BILLIE: The one. What are you talking about, the one?

JACK: She didn't have what I was looking for unfortunately but get her out of here quickly anyway. She may be armed.
---
SCENE FOUR: JACK GOES BACK TO JENNIFER. THEY BEGIN TO DANCE BUT JACK CANNOT GET HIS MIND OFF BILLIE.
---
SCENE FIVE: BILLY HAS GONE TO THE CHEAT'N'HEART WHERE SHE FINDS THE BARTENDER HAS AN INVITATION. SHE PAYS HIM FOR IT AND RETURNS TO THE PARTY.
---
SCENE SIX: BACK AT THE PARTY.

JACK: Damn her.

JENNIFER: Her who?

JACK: I.... didn't say her at all.

JENNIFER: Yes you did. I heard you. You just said damn her.

JACK: It! Damn it. Dammit, I'm cursing too much. That's all I'm saying and I don't know why. I guess it's just life's little annoyances that do that to you.

BILLIE WALKS BACK INTO THE PARTY AFTER CHANGING INTO A COCKTAIL DRESS.

JACK: The not-so-little ones too.

JACK ONCE AGAIN LEAVES JENNIFER TO FIND BILLIE.

JACK: Excuse us. Thank you.

HE PULLS BILLIE ASIDE.

JACK: Let go of me.

HE PULLS HER TO THE BUFFET TABLE.

BILLIE: Talk about rude.

JACK: All right, where's the manuscript?

BILLIE: I hid it. But don't worry. I'll get it when I get within three feet of Victor Kiriakis.

JACK: No, no. No, no, no, no, no. You're not getting anywhere near Victor Kiriakis, you understand me?

BILLIE: Oh which reminds me. When Victor buys the book and you get your advance, you make sure you get at least $110,000. That's a hundred that you owe me and the rest is interest which I've been compounding daily.

JACK: The manuscript is not for sale.

BILLIE: Oh you'll get it back when you give me the money you owe me.

JACK: The money.... it's.... you have no idea how much I despise you at this moment. I mean it's very obvious that you have no idea what's going on around here. What's at stake. You don't. I despise people of minimal intelligence who show up and....

BILLIE: Oh look who's here. Mrs. Boss.

JENNIFER IS STANDING BEHIND JACK.

JACK: No. I'm not going to turn around this time.

BILLIE: Okay, fine.
JENNIFER TAPS JACK ON THE SHOULDER.

JENNIFER: Jack?

JACK: Ah, Jennifer. I thought you were interviewing the mayor.

JENNIFER: No, he's not very talkative tonight. Billie, I didn't expect to see you here.

BILLIE: Heh, neither did he. Well I'm going to go mingle now. Bye.

BILLIE WALKS AWAY.

JENNIFER: Well?

JACK: Ah, let's just go.

JENNIFER: Go where?

JACK: Aaaah, wherever she's not.

HE TAKES JENNIFER'S ARM.

JACK: Come on.

THEY WALK BACK INTO THE MAIN ROOM.
---
SCENE SEVEN: JACK SEES BILLIE GO OVER AND BEGIN TALKING TO VICTOR. HE CANNOT HEAR WHAT SHE IS SAYING BUT HE CANNOT KEEP HIS EYES OFF HER.

BILLIE: I couldn't help but notice you from across the room. That suit is so handsome. Oooh that material. It's so wonderful, so unique. What do you call it?

VICTOR: Wool.

BILLIE: Oh.... well it suits you. No pun intended.

VICTOR: If you'll excuse me, Miss?

BILLIE: Reed. Billie Reed.

VICTOR: Miss Reed. You know I really hate to waste time so why don't you spare me the smiles and the empty flattery and tell me exactly what it is you want.

BILLIE: I want to sell you a book. It is well written, it's commercial. Women will cry. And you'll make a fortune. I swear to god.

VICTOR: Good pitch. Brief and to the point.

BILLIE: Thank you.

VICTOR: Unfortunately I don't handle acquisitions.

BILLIE: What does that mean?

VICTOR: That means I don't buy books. That's taken care of by my chief editor. Her name's Kate Roberts. Why don't you give her a call?

VICTOR STARTS TO MOVE AWAY BUT BILLIE STOPS HIM.

BILLIE: Well can I tell her that you sent me?

VICTOR: No.

BILLIE: Heh.

VICTOR: There's no way I can recommend a book I haven't read myself. But you're up for it. I'm sure somebody with your chutzpah will find another way to get what you want.

SHE FOLLOWS HIM.

BILLIE: Mr. Kiriakis, I don't mean to bother you again. It was such a thrill for me to talk to you. I was wondering if there was something you could give me to remember it by?

VICTOR: And just what was it you had in mind?

BILLIE: Hahahah. I don't know. Just anything you could spare.... like a business card.

VICTOR SMILES.

VICTOR: Heheh. Sure why not.

HE HANDS HER ONE.

VICTOR: Happy?

VICTOR WALKS AWAY.

BILLIE: You want to see happy baby? You just stand back.

JACK HAS BEEN WATCHING ALL THIS GO ON.
---
SCENE EIGHT: A SHORT WHILE LATER, VICTOR ANNOUNCES THE FACE OF THE 90s CONTEST AND THE COVER GIRL OF HIS MAGAZINE BELLE IS CARRIE BRADY.
---
SCENE NINE: WHILE THIS IS GOING ON, JACK IS TRYING TO SEE BILLIE IN THE CROWD.

JENNIFER: Jack who are you waiting for?

JACK: Ah, I'm just people watching, really. I going to people watch over here a little bit.

HE TURNS AROUND AND SEES BILLIE HAS PULL THE MANUSCRIPT OFF THE BOTTOM OF ONE OF THE WAITER'S TRAY WHERE SHE HAD STUCK IT.

JACK: Godammit, so that's where she hid it.

JENNIFER: What?

JACK: I said if you want the story you better go get it. Down the front. Show people in front. Go on. Go on.

HE PUSHES JENNIFER DOWN THE FRONT AND GOES AFTER BILLIE JACK FINDS HER UPSTAIRS IN KATE'S OFFICE. SHE'S ATTACHING VICTOR'S BUSINESS CARD TO THE MANUSCRIPT ENVELOPE. WHEN SHE HEARS HIM COME IN, SHE HIDES IT UNDER SOME PAPERS.

JACK: Well, well, well. Alone at last.

BILLIE: Yeah.

JACK: Where is it?

BILLIE: Where's what?

JACK: What's on the little card?

BILLIE: I faked a little recommendation from Victor. As soon as Kate Roberts sees this she's going to be calling you with an offer.

JACK: Who's Kate Roberts?

BILLIE: Victor's top editor. We're in her office.

JACK NODS AND WHEN BILLIE MOVES A LITTLE HE MAKES A GRAB FOR THE MANUSCRIPT.

JACK: Not for long.

BILLIE: Put it down, Jack. You'll have to kill me to get by me.

JACK: Why didn't you say so before?

JACK HOLDS THE MANUSCRIPT ABOVE HER HEAD AND WALKS BY HER.

BILLIE: Now Jack, listen Jack, listen. You know what I don't understand?

JACK: What?

BILLIE: I don't understand how such a wonderful emotional sensitive book could written by such an inconsiderate, uptight, sexless snob.

JACK IS VERY SENSITIVE TO THAT LAST COMMENT.


JACK: What do you mean by that? Sexless.

BILLIE LOOKS AT HIM CLOSELY.

BILLIE: Heh, oh my god. You didn't, did you?

JACK: Answer the question. What do you mean by that?

BILLIE: You didn't write this book! Someone else did and you stole it. You thief. You common the....
---
SCENE TEN: THE DOOR OPENS AND JENNIFER WALKS STRAIGHT IN.

JENNIFER: I want to know what's going on in here.

JACK: Jennifer, what are you doing here? I just had to....

SHE RIPS THE MANUSCRIPT OUT OF HIS HAND.

JENNIFER: I guess I could ask the same question but I think I might have the answer. You're stealing from Victor. JACK: I'm what?

JENNIFER READS THE NOTE BILLIE WROTE ON VICTOR'S BUSINESS CARD.

JENNIFER: Kate, this one's a winner. Better snap it up before someone else does. Victor. This is obviously a book that Victor wants to buy. Am I right?

BILLIE: Obviously.

JACK: Wha....

JENNIFER TURNS AROUND AND SEES AN OPEN FILING CABINET DRAWER. SHE PULLS IT OUT, PUTS IN THE MANUSCRIPT, REMOVES THE KEY FROM THE LOCK AND THROWS THAT IT AS WELL, THEN SLAMS THE DRAWER SHUT AND LOCKED.

JACK: Why did you do that?

JENNIFER: I'm just removing temptation. I know you don't appreciate that I just did that but someday you'll thank me.

JACK IS ANGRY AND HURT AND IS TRYING HARD TO CONTROL IT.

JENNIFER: Are you all right?

JACK: All right? I'm fine. I couldn't be better. (Beat) I think we'll be going now.

HE TAKES JENNIFER'S ARM AND GUIDES HER OUTSIDE WITH ONE LAST LOOK AT BILLIE. THEY GET THEIR COATS AND AS THEY WALK OUTSIDE, JENNIFER TRIES TO EXPLAIN. JACK HAS HIS ARM TIGHTLY AROUND HER.

JENNIFER: Jack, just to what I'm saying. You can't go back to your old ways. Why you have come so far from that. (Beat) Are you listening to me?

JACK: (Beat) Do you consider me sexless?

JENNIFER: What kind of insane question is that?

JACK: Insane, yes. Excuse me, I'm going to get the car. You stay right here.

JENNIFER: Wait a minute, Jack. Jack!

SHE HAS NOT ANSWERED HIS QUESTION AND HE WALKS OFF, NOT WANTING TO DISCUSS IT ANYMORE.
---
SCENE ELEVEN: JOHN AND MARLENA MAKE LOVE IN THE BOARDROOM ON ONE OF VICTOR'S DESKS.
---
SCENE TWELVE: CARRIE HAS ACID THROWN ON HER FACE AS SHE LEAVES THE PARTY.
---
SCENE THIRTEEN: BO FIGURES OUT THAT IT WAS NICKY WHO KILLED LISANNE GARDNER. HE MANAGES TO STOP LAWRENCE AND CARLY FROM TAKING HIM OUT OF THE COUNTRY.
[Transcribed by Carol Vaughan
added material by Sally A. Wilson]
---
---