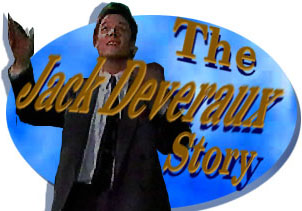 oldEpisode Four-hundred-ninety-three:
Jack Tries to Steal His Manuscript:
from Kate Before Victor Finds It.
Kate Becomes Even More Interested
In Jennifer when she Learns Her Name.
---
[Air date early March, 1993]
SCENE ONE: THE NEXT DAY AND JACK IS AT WORK TRYING TO GET INFORMATION ON KATE ROBERTS SO HE CALLS TITAN.

JACK: Kate Roberts, the new editor-in-chief. (Beat) No, no, I don't want to talk to her. I just want to know if she's there. (Beat) I don't want to leave a message. I just want to....

BILLIE WALKS IN HIS OFFICE.

JACK: I'll call you back.

BILLIE: Hi.

JACK: Billie, Billie, Billie Reed. I don't suppose you're ever going to get out of my life and get on with your own?

BILLIE: Oh believe me. I'll get on with my life as soon as you give me that money plus interest.

JACK: You're not going to get out of my life until you ruin my career, destroy my marriage....

BILLIE: Hey wait. Don't go blaming your marital problems on me.

JACK: Oh but I'm going to. If it wasn't for you, Jennifer wouldn't think that we were working together to steal a novel from Victor Kiriakis. If you hadn't gone into Kate Robert's office with my manuscript we wouldn't be stuck in this situation in the first place.

BILLIE: Don't go blaming me. Your wife is the one that came in and took that manuscript and put it in the drawer and locked it.

JACK: Let's just hope that Kate Roberts never opens it up and reads it because you were right last night. I am a thief.

BILLIE: Heheh.

JACK: A plagiarist is what it's called in the literary world. If the real writer ever comes along, Victor is going to sue me in a New York minute and separate me from The Spectator like that in which case you will never get one red cent.

BILLIE: I don't care about any of this Jack. None of it. I want the money and you can just worry about the rest later.

JENNIFER WALKS IN BEHIND JACK.

JENNIFER: Worry about what later?

JENNIFER HAS JUST COME UPON JACK AND BILLIE.

JACK: Aaaaah, we.... were just talking about.... the afternoon's headlines.

JENNIFER: Billie what are you doing here?

BILLIE: I work here, remember.

JENNIFER: No, of course I know that. I just thought that you would be with your brother after what happened last night.

BILLIE: What do you mean, what happened last night?

JENNIFER: You don't know?

BILLIE: What, I don't know what. What you're talking about?

JENNIFER: I'm sorry. Your brother was hurt. He was knocked unconscious and Carrie was hurt. They're in the hospital. It's been in all the newspapers. It's even in The Spectator.

BILLIE RUSHES OUT THE DOOR.
---
SCENE TWO: JENNIFER SETS ABOUT GETTING SOME INFO ON KATE ROBERTS HERSELF AS SHE'S THINKING OF INTERVIEWING HER ON THE SHOW.

VERN: Jennifer I've got some more clippings on Kate Roberts.

JENNIFER: That's great Vern. Let me take a look at these here. I want to find out everything I can about her before I meet her. VERN: Wasn't she at the big Titan gala?

JENNIFER: No she wasn't actually and I was disappointed because I wanted to make an appoin....

JENNIFER STOPS WHEN SHE SEES KATE'S PICTURE.

JENNIFER: Oh my gosh!

VERN: What?

JENNIFER: Vern, I know Kate Roberts.

VERN: I thought you said you never met her.

JENNIFER: No, I didn't realize. I met her. I met her at Salem Place a few days ago. I talked with her. We had coffee. And I knew that she looked familiar to me but I just couldn't place her.

VERN: Hey, I met her too.

JENNIFER: You have? Where?

VERN: Right here. She came in the office looking for back Salem files. About seventeen years ago to be precise.

JENNIFER: Why seventeen years ago?

VERN: Beats me.

JENNIFER: Well I guess she was doing her homework too.

VERN: Yeah. I also found that this is her first day at Titan.

JENNIFER: Today?

VERN: Hmmm.

JENNIFER: Vern you are the best. You are so wonderful. Thank you for all this. For everything.

VERN: Anytime Jenny girl, anytime.

VERN LEAVES THE OFFICE. JENNIFER CALLS PHILIP AND TELLS HIM THAT IT IS KATE'S FIRST DAY AT TITAN AND THAT SHE IS GOING OVER THERE, AND SHE IS NOT LEAVING UNTIL SHE CONVINCES KATE TO BE A GUEST ON HER SHOW.
---
SCENE THREE: MEANWHILE, JACK GOES TO THE HOSPITAL TO TRY AND GET A STORY ON CARRIE. BILLIE SEES HIM THERE AFTER SHE SEES AUSTIN.

BILLIE: You here to do a story on my brother?

JACK: On Carrie Brady as well. Apparently you know the man who did this to them.

BILLIE: You're going to go to the cops Jack.

JACK: I've been to the cops. They're not telling me anything. I have a feeling you know this man much better than they do.

BILLIE: Well you're not going to get an interview from me. I have enough problems. I don't need Gus Bartoli on my back too.

JACK: Gus Bartoli. Yes that is his name. Now according to the police, he's the perpetrator but they won't confirm that. Now I was hoping you could confirm it for me.

BILLIE: You don't give a damn about my brother. You don't give a damn about Carrie. All you care about is this story selling your damn newspapers.

JACK: It's nothing personal, just business. And let's remember, the more newspapers I sell the sooner I'll be able to pay off your friend Tony.

SHE PULLS JACK AWAY FROM THE NURSE'S STATION WHERE PEOPLE MIGHT HEAR WHAT THEY ARE DISCUSSING.

BILLIE: Do you think you can get enough in a day or two?

JACK: No, not in a day or two, no.

BILLIE: Well then Jack, you gotta get the advance on the book. That's the only way.

JACK: That's not going to happen. I'll tell you what's going to happen. I'm going to get in the office. I'm going to get my manuscript back and I'm going to take it out and I'm going to burn it.

BILLIE: How are you going to get in the office?

JACK: I haven't the foggiest idea. But I'll tell you something, I will come up with a way. I always do.

JACK LEAVES THE HOSPITAL.
---
SCENE FOUR: MEANWHILE JENNIFER HAS ARRIVED AT TITAN. SHE ASKS TO SEE KATE. THE RECEPTIONIST SAYS THAT SHE'S IN A MEETING BUT RIGHT AT THAT MOMENT VICTOR COMES OUT OF KATE'S OFFICE. JENNIFER ASKS HIM IF SHE CAN MEET KATE AND VICTOR THINKS IT IS A GOOD IDEA BECAUSE SHE CAN TELL HER WHERE TO SHOP, ETC. JENNIFER IS ANNOYED BUT IS STILL GLAD THAT SHE WILL GET TO SEE KATE. VICTOR INTRODUCES THEM AND JENNIFER THEN TELLS KATE THAT THEY ALREADY MET AT SALEM PLACE. KATE BRUSHES THAT ASIDE AND JENNIFER ASKS HER TO APPEAR ON HER TALK SHOW. NO MATTER WHAT INCENTIVES JENNIFER OFFERS, KATE REFUSES SO JENNIFER LEAVES HER BUSINESS CARD AND IS ABOUT TO LEAVE WHEN KATE READS THAT HER NAME IS JENNIFER HORTON DEVERAUX. SHE SUDDENLY GETS A KEEN INTEREST IN JENNIFER AND WANTS TO KNOW ABOUT HER FAMILY. SHE DECIDES TO GIVE JENNIFER A TOUR OF TITAN AND USE THAT AS AN INITIAL INTERVIEW. THEY LEAVE.
---
SCENE FIVE: JACK ARRIVES AT TITAN JUST AFTER JENNIFER AND KATE HAVE LEFT.

JACK: Excuse me, is Kate Roberts in?

RECEPTIONIST: You just missed her. But if you'd like to wait, I'm sure she'll be back in a few minutes.

JACK: Oh.

THE RECEPTIONIST IS THEN CALLED AWAY AND JACK SLIPS INTO KATE'S OFFICE. HE GOES STRAIGHT TO THE FILING DRAWER AND IT'S STILL LOCKED.

JACK: Damn! I just have to figure out a way to get to that manuscript.

JACK GOES TO KATE'S DESK AND FINDS THE KEY. HE OPENS THE DRAWER AND THEN HEARS KATE COMING BACK SO HE RUSHES OVER AND PUTS THE KEY BACK. JUST AS HE IS FINISHED, KATE WALKS IN.

KATE: What are you doing in here?

JENNIFER FOLLOWS HER.

JENNIFER: I'd like to know the same thing.
---
[Air date early March, 1993]
SCENE ONE: JACK IS STANDING AT KATE'S DESK.

KATE: Is there something I can do for you?

JACK: I think there's something that we can do for each other. But first introductions are in order. Jennifer.

JENNIFER: I'm so sorry. This is Kate Roberts. This is my husband Jack Deveraux.

JACK EXTENDS HIS HAND TO KATE.

JACK: Kate Roberts, a pleasure to meet you.

KATE: Jack Deveraux, publisher of The Spectator.

JACK: Indeed. What brings you two lovely ladies here this fine afternoon?

KATE: What brings us here?

JENNIFER: This is Kate's office.

JACK: Yes, yes and a lovely one it is. Great, spacious, well lit, a good space indeed.

JENNIFER: You still haven't told us why you're here Jack.

JACK: Why am I here? I'm here to do you a favor Ms Roberts. I'm going to do a story on Belle magazine. I'm sure grabbing a large market share immediately would be a primary goal of yours.

KATE: Of course.

JACK: Of course. So I'm going to do a story on Belle magazine in my Sunday edition.

JENNIFER: The thing is Jack, Kate has already agreed to do an interview with me.

JACK: Really! Well I'll just wait until you're finished.

JENNIFER: She's a very busy woman. Maybe this is something that you should have arranged for in advance.

KATE: Ordinarily that would be advisable but it happens that my schedule is fairly light this afternoon.

JACK: Good. In that case I'll wait until the two of you are finished. In the meantime, I'll just read some literature. Perhaps you have a.... publicity kit that I might peruse?

KATE: As a matter of fact, I do.

AS KATE LEANS DOWN TO FIND THE LITERATURE, JENNIFER GLARES AT JACK AND MOUTHS THE WORD "PERUSE" AT HIM.

KATE: I also have some brochures on Titan Publishing.

KATE GOES OVER AND UNLOCKS THE DRAWER THAT HOLDS JACK'S MANUSCRIPT. SHE HANDS JACK THE BROCHURES AND LEAVES THE DRAWER UNLOCKED.
---
SCENE TWO: JENNIFER BEGINS HER INTERVIEW AS JACK ROAMS AROUND THE ROOM WAITING FOR THE RIGHT TIME TO GET THE MANUSCRIPT.

JENNIFER: Did you come to Salem on spec or did Victor track you down in New York and lure you here with his offer?

KATE: I felt the need for a change. There's so much to see in this world. Why get stuck in one place? Why not explore?

JACK CROUCHES DOWN NEAR THE DRAWER.

JENNIFER: No, I definitely think there is something to that but wonder sometimes....

KATE: Of course, some people are perfectly content to stay in one place especially if they have roots there. I mean you, you've been in Salem most of your life, haven't you?

JENNIFER: Ah yes, yes I have. For the most part.

KATE: As you said, your ancestors practically founded Salem. I mean you must have a deep sense of belonging and I envy that.

JACK TURNS THE KEY IN THE LOCK OF THE DRAWER.

KATE: I assume your parents were born here as well.

JENNIFER HEARS THE KEY RATTLE AND TURNS TO JACK WHO MOVES HIS HAND AWAY IMMEDIATELY.

JENNIFER: Ah yes, my father was actually.

KATE: And he is?

JENNIFER: Bill Horton and my mother is....

KATE'S FACE FREEZES OVER IN SHOCK.

JENNIFER: Wait a minute, who's the interviewee here?

THEY BOTH LAUGH.

KATE: Oh I'm sorry. I guess my interest was aroused by an article I read in the Salem Chronicle.

JACK PULLS THE DRAWER OPEN A LITTLE.

JENNIFER: An article.

KATE: About your grandfather. I understand he's one of the top people at University Hospital

JENNIFER: How did you know that?

KATE: I just told you. I read about him.

JENNIFER: No, how did you know he was my grandfather?

KATE: Oh, well I just assumed.... I guess.

JENNIFER: You know that is such a coincidence because there are so many Hortons in Salem. I mean how did you figure out that I was Dr. Tom Horton's grand daughter?

KATE GETS UP TO POUR SOME WATER WHICH STOPS JACK FROM GOING FURTHER.

KATE: Oh just a lucky guess I suppose.

ONCE KATE HAS TURNED AWAY FROM JACK HE PUTS HIS HAND IN THE DRAWER AND JENNIFER NOTICES.

JENNIFER: Ah, I think that I have taken up enough of our time.

SHE WALKS OVER AND SLAMS THE DRAWER SHUT.

JENNIFER: Maybe we should give Jack a chance.... to speak to you. Go ahead dear, it's your turn.

SHE PUSHES HIM TOWARDS KATE.

JACK: Well if it's my turn, I'm ready to take it. My turn, that is.

THE INTERCOM RINGS AND KATE GOES TO ANSWER IT.
---
SCENE THREE: IN KATE'S OFFICE, JACK AND JENNIFER GET INTO A WHISPERING MATCH, BECAUSE JENNIFER KNOWS THAT JACK IS UP TO SOMETHING..

KATE: Jack?

JACK: Yes.

KATE: I'm sorry I can't continue. My editor has a problem that I really have to attend to. Can we do this some other time? JACK: Yes. How about after you take care of the problem?

KATE: Well I guess that's fine if you don't mind waiting. I don't know how long I'll going to be.

JACK: That's no problem at all. I'll just wait right here in your office.

JENNIFER: You know what, he's going to wait with me at the Brady Pub. We'll have lunch.

JACK: Heh. Brady Pub. Sounds.... lovely.

JENNIFER: He'll get back to you as soon as he can. Come on Jack.

JENNIFER DRAGS HIM TO THE DOOR.

JACK: I can't tell you how lovely it's been....

JENNIFER PULLS HIM OUT AND SHUTS THE DOOR AND KATE WONDERS WHAT ON EARTH THEY WERE ON ABOUT.
---
SCENE FOUR: JACK AND JENNIFER GO TO THE PUB FOR LUNCH AND NATURALLY BEGIN TO ARGUE.

JACK: That is wrong. That is absolutely untrue.

JENNIFER: Jack I am right. I know I am right.

JACK: Here, have yourself a fry.

HE HOLDS UP A LIMP FRY.

JENNIFER: I don't want a fry. I want to know what you were doing in Kate Roberts' office at Titan Publishing?

JACK: WAITRESS!

JENNIFER: Jack!

JACK: I want an exchange on these fries. They are anything but.

JENNIFER: Jack, stop it.

JACK: If you think that I would steal from Victor Kiriakis. That I would actually steal.... Anything.

JENNIFER RAISES HER EYEBROWS AT HIM.

JACK: All right, here's the truth.

JENNIFER: The truth. What a novel concept Jack.

JACK: The truth is.... there is a rumor going round that Victor Kiriakis has in his possession a manuscript that is.... that is not exactly.... his. A manuscript that could spread a shadow and me and The Spectator. Now it's a known fact that Victor would love to get me out of the picture. Would love to get his hands on The Spectator and bring it in to his Titan fold.

JENNIFER: What do you mean this manuscript would spread a shadow over you?

JACK: I don't know exactly what I mean yet. I haven't had a chance to see this manuscript.

JENNIFER: Will you listen to me? Will you just make The Spectator the best newspaper you can and forget about what Victor Kiriakis does, please?

JACK: That's like asking me to go to bed with my shoes on.

JENNIFER: Jack, Victor Kiriakis is a master manipulator. No matter how hard you try you can never compete in his games.

JACK: HUH!

JENNIFER: Look at the people he surrounds himself with. Very powerful people. Look at Kate Roberts. Is she a strange one or what?

JACK: I really couldn't answer that. I was.... not listening to your conversation.

JENNIFER: Well I noticed. You were too busy in the file cabinet.

JACK GIVES HER A LOOK.

JACK: You know I wasn't too busy to realize that she was manipulating the hell out of you. I mean who was the one to go in there asking questions? She ended up asking you all the questions.

JENNIFER: Yes she did and she wasn't subtle about it either. I mean what made me so curious were all of her questions about my parents and my grandparents. I mean why is she so interested in the Horton family?
---
SCENE FIVE: MEANWHILE, BO HAS DISCOVERED THAT NICKY KILLED LISANNE. THE CASE GOES TO COURT AND THE JUDGE DISMISSES THE CASE BECAUSE NICKY HAS NO RECOLLECTION OF WHAT HE DID.
---
SCENE SIX: BACK AT HER OFFICE, KATE IS GOING OVER SOME OLD CLIPPINGS FROM THE SPECTATOR INCLUDING ONE ABOUT A PREGNANT WOMAN WHO WAS FOUND BATTERED ON THE HIGHWAY. SHE GOES TO THE FILING CABINET TO PUT THE CLIPPINGS AWAY AND FINDS JACK'S MANUSCRIPT WITH THE FAKE NOTE FROM VICTOR ATTACHED. SHE PULLS IT OUT AND STARTS TO READ IT.
[Transcribed by Carol Vaughan
added material by Sally A. Wilson]
---
---