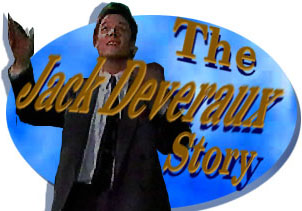 oldEpisode Four-hundred-ninety-five:
Jack Tries to Ge the Manuscript back
Before Victor Sees It. Meanwhile, Billie
Tries to Get to See Kate About Publishing It.
---
[Air date early March, 1993]
SCENE ONE: JACK IS AT ALICE'S RESTAURANT HAVING BREAKFAST AND CALCULATING HOW TO GET THE MONEY FOR BILLIE. HE HAS A PILE OF PAPERS HE IS GOING THROUGH AND A CALCULATOR.

JACK: Okay, eliminate the $40,000 on the color photos.... for this month. Jump on the big ticket items, syndicated columns, and cut the restaurant reviews and the.... theater reviews and.... we have....

HE CRINGES BEFORE HE LOOKS AT THE RESULT ON THE CALCULATOR.

JACK (CONT.): .... one of the most boring newspapers in North America.

JACK HAS NOT NOTICED THAT VICTOR CAME UP UPON HIM.

VICTOR: Still trying to make The Spectator pay, eh Jack? Ah, I wouldn't waste my time if I were you. What the paper needs is competent management and a large infusion of cash. Neither one of which you can supply.

JACK: You know I remember the face but I can't.... I can't get the name. Just give me a second while I give it the old mental file check. Let's just cross check for a second. F for Fortune Five Hundred. C for custom made clothes. Let's see, what do we come up with? (Beat) Ah, Koshogi Adnon, Trump Donald, Windsor Charles.

VICTOR: Don't try Deveraux Jack. That is one name you won't find among the rich and successful.

JACK LAUGHS.

JACK: Hemsley, that's it. Leona, what did they do to you in that prison anyway?

VICTOR: That's all right Jack. When you can't make that last payment, I'll have your newspaper and the last laugh.

VICTOR WALKS AWAY. JACK IS NOT HAPPY. JACK STANDS UP TO LEAVE AND LOOKS FOR HIS WALLET TO PAY THE BILL.

VICTOR: Why don't you let me take care of that for you Jack? I know how tight your budget is these days. You know far be it for me to tell you how to run your life but it seems to me for a man in your position, you're spending an awful lot of time eating in restaurants. Now you may regret that when you get down to your last.... cent.

JACK: I won't as long as I have you around to pay for it. And rest assured Victor, I will die before I allow you to buy The Spectator out from under me.

VICTOR: Well in that case, I'm going to miss you.

VICTOR WALKS BACK TO HIS TABLE.

JACK: Dammit. Damn I have to come up with the money. I have to come up with some more money. As long as I don't get it from Victor or Titan Publishing directly.

AT THAT MOMENT, KATE COMES INTO THE RESTAURANT.

JACK: Ah, Ms Roberts.

KATE: Kate, please.

JACK: Yes, Kate, right. I was hoping that since we couldn't have a full discussion the other evening we could have an interview this afternoon. I have an idea about a story that might be good for the both of us.

KATE IS THERE TO MEET VICTOR BUT FIRST SHE AGREES TO THE INTERVIEW.
---
SCENE TWO: SOMETIME LATER, JACK IS GETTING READY TO LEAVE WHEN BILLIE SEES HIM.

BILLIE: Well hello Mr. Deveraux.

JACK: Hello. You know I was just leaving. If you don't mind waiting, you can follow me back to the office and bother me there.

BILLIE: Are you going to start paying me a salary?

JACK: I'm trying to cut costs at the paper not add to them.

BILLIE: Well for your information, I don't work for nothin'.

JACK: Well perhaps you'll settle for minimum wage.

BILLIE: Well I'll settle for an answer from Kate Roberts on our book.

JACK: Our book. I don't recall you around when I was working on the damn thing.

BILLIE: Well you weren't working on the damn thing. You stole it.

JACK: Yes I did.

BILLIE: You did.

JACK: And after I did that, I reworked what was there and turned it into something that everyone can read.

BILLIE: Oh yeah and that'll.... that'll work in court Jack.

JACK: It won't have to work in court. It's not going to go to court.

BILLIE: What's that supposed to mean?

JACK: Nothing.

BILLIE: Have you talked to Kate Roberts or not?

JACK: Well no. I've had no reason to talk to Kate Roberts. She doesn't know I'm connected to the book so why should she connect with me?

BILLIE: You're right. Why would she talk to you when she thinks the book was written by Miranda Miller? And there is no Miranda Miller.

JACK: Exactly.

BILLIE: Tell me something Jack. How did you pass this off the first time you tried to sell this book? What, did you just pass yourself off as a woman, as Miranda Miller? What did you do?

JACK: No, no. No, I passed myself off as Miranda Miller's agent.

BILLIE: Oh. So what did you do? Did you wear a disguise or.... like glasses, a mustache?

JACK: No, no, no.

BILLIE: I'd like to see it. What, did you like change voice and call up and say.... Hi I'm Miranda Miller's agent?

JACK: Trust me. I'll do whatever I need to do to get what I need and right now I need to get my book back from Victor Kiriakis.

BILLIE: Well the Titan building's crawling with security. You'll never get in.

JACK: Perhaps I won't have to.

BILLIE: Well what are you going to do? Dress up like Captain Kirk and beam yourself inside.

JACK: No.

BILLIE: Well, what are you up to Deveraux?

JACK: I'm up to leaving Ms Reed. I think I've said all I need to. I'm only interested in getting my book back from Victor Kiriakis.

BILLIE: Jack he doesn't know you're connected to the book.

JACK: If he suspects I'm connected the book, he will find out. He has ways. And then he'll get leverage on me and that's the last thing I want.

HE STARTS TO WALK OUT AND SHE FOLLOWS.

BILLIE: What are you going to do?

JACK: You'll find out soon enough.

BILLIE: Jack, we need this money. We need this book published by Miranda Miller.

JACK: There is no Miranda Miller so how is anyone going to buy a book from her?

BILLIE SHRUGS HER SHOULDERS.

JACK: There's no ifs or and or buts about it. There is no Miranda Miller. You can repeat after me if you like. There's no Miranda Miller, no Miranda Miller, no Miranda Miller.

BILLIE: You know what, you make me sick.

JACK: Well you don't do much for my constitution either. Goodaye Ms Reed, goodaye.

BILLIE: JERK! JERK!
AFTER JACK LEAVES BILLIE GETS MADDER AND AFTER A FEW MINUTES COMES UP WITH A BRILLIANT PLAN.
---
SCENE THREE: LATER THAT DAY, VICTOR IS IN TALKING WITH KATE WHEN JACK ARRIVES.

JACK: Excuse me I have a meeting with Ms Roberts. The name is Jack Deveraux. I'm with The Spectator.

RECEPTIONIST: Oh that's right. You're the publisher.

JACK: Yes.

VICTOR: For the moment at any rate. I'm delighted to see you Jack. I can take you on a little tour of the west building. That's where we'll be putting The Spectator when I take it over.

JACK: Heheh. Victor, it's good. Ms Roberts, Kate.

KATE: (To Victor) I'll talk to you later.

VICTOR: You will indeed. Jack.

VICTOR GOES BACK TO HIS OFFICE.

JACK: I appreciate you taking time out of your day to have a meeting with me.

KATE: Tell me now about this article you're writing. What's it about?

JACK WOULD PREFER TO GO IN HER OFFICE BUT SHE SEEMS INTENT ON TALKING OUTSIDE THE DOOR.

JACK: It's.... well it's actually more tha

n just an article. I was hoping for a whole series of articles. I'd like to title it, What Makes a Book a Bestseller. KATE: That's interesting.

JACK: Yes, it will be interesting. I'm going to take a whole series of your bestselling books and serialize them in The Spectator. Just imagine how much that will sell.

KATE: Won't hurt you any either, will it?

JACK: We hope not. Now another important part is to find a book that doesn't sell. I mean a book that will never really work and you know I was just thinking.... there was book.... you were mentioning a manuscript the other night when you were over at my house.... something um.... oh something.... what was the title.... the title was something about time.... something about time.... time was....

KATE: Oh you must mean In the Midnight Hour.

JACK: Yes, by Esmerelda....

KATE: I believe the author was Miller. Miranda Miller.

JACK: Miller, Miller, Miranda Miller, yes.

RECEPTIONIST: Oh excuse me. I just spoke to Miranda Miller.

JACK: You what?

RECEPTIONIST: Yes, she's on her way over. She should be here any minute.

JACK: You said that Miranda.... Miller was on her way over here?

RECEPTIONIST: Yes, that's right.

JACK: That's great. You'll be able to start gathering information right away.

JACK: Ah yes, yes, that will be.... very good. We can start with....

THE ELEVATOR OPENS AND OUT GETS BILLIE ALL DRESSED UP IN A SUIT AND MATCHING SHOES AND BAG. SHE IS ALSO WEARING GLASSES.
---
SCENE FOUR: JACK IS SHOCKED TO SEE THAT BILLIE HAS ARRIVED, DRESSED UP.

BILLIE: Ms Roberts. May I saw what a thrill. What a thrill it is to meet the most famous woman in publishing.

KATE: You're very kind.

BILLIE: Oh no, I've very honest. Oh I don't think we've met. My name is Miller. Miranda Miller.

SHE EXTENDS HER HAND TO JACK WHO GIVES HER A SHOCKED LOOK AND IT IS OBVIOUS HE KNOWS HER.

JACK: I thought your name was Reed. Billie Reed.

BILLIE: Oh that's my other name. I'm actually a writer.

HE BEGINS TO CRINGE AS BILLIE TRIES TO PLAY THE WELL READ AUTHOR.

BILLIE: You know I just simply can't stand those celebrity tell-all books. Just give me James Joyce anyday. I love him, don't you? I really think he's one of our best writers.

KATE: Well I dare say he was one of the best but just not one of our best.

BILLIE: Oh come on now. You just name another writer in this country that even compares to him.

KATE: James Joyce wasn't an American. He was Irish.

BILLIE: I knew that. What I meant to say is so am I. You see my last name isn't really Miller.

JACK: Her real name is Billie O'Reed.

BILLIE: You see that's why he's so shocked. He didn't know I was a writer. I believe that you should have a different name for everything you do. That's what I believe. I believe when I write my name is Miranda. When I paint, Sophia. And when I design dresses my name is Margo.

JACK IS DYING INSIDE AS HE LISTENS TO THIS.

KATE: Well Ms Mill.... Ms Reed, I must say you are different from most of our authors.

BILLIE: Thank you. Now if we could just talk about my book for a minute.

KATE: I'll be happy to know what we think just as soon as our reader's finished with it.

BILLIE: Your reader? I thought you were reading it personally.

KATE: Please, we get hundreds of unsolicited manuscripts in this office very day. I couldn't possibly read all of them. I 'd never accomplish anything else. No I rarely read any titles until they go to publication. Sometimes not even then.

BILLIE: Well I wish somebody would have bothered to tell me that.

KATE: Standard industry procedure. You are green aren't you?

JACK: Perhaps I can explain industry procedure to her downstairs.

BILLIE: Can you tell me when the reader will be finished with the book?

KATE: I have no idea. Why don't you just leave your number here and we'll be in touch.

BILLIE: Oh it is. It's on the manuscript and you can call me anytime of the day or night. Anytime.

KATE: I'll bear that in mind. Goodbye Miss Reed. (To Jack) Goodbye. Good luck.

KATE GOES INTO HER OFFICE.

JACK: Well perhaps we can have that conversation now.

BILLIE: Why?

JACK: Well we'll just go downstairs, have a little talk and only one of us will come back.

BILLIE: Oh Jack, I knew you were going to want to kill me someday.

THE ELEVATOR OPENS AND ALICE ARRIVES AT TITAN.

BILLIE: Oooh but you can't do it today because there goes grandma-in-law.

JACK: Yes, quite right. Quite right!
---
SCENE FIVE: HE TAKES BILLIE OUT OF SIGHT OF ALICE.

JACK: What in the hell is she doing here?

BILLIE: Oh who knows and who cares?

JACK: You're right, who cares. Let's get out of here while we can.

THEY ARE HEADING TO THE ELEVATOR WHEN THEY PASS A WOMAN HOLDING THE MANUSCRIPT.

BILLIE: Wait. That's the manuscript and I bet you that's the reader. You know what that means Jack?

JACK: Yes.

BILLIE: That means our future is in her hands and she can decide whether our book gets published or gets thrown in the garbage can. And you better believe I'm going to wait here and find out which one it is. I'll go find that reader.

JACK: No, no, no, no, no, no.

BILLIE: What are you doing?

JACK: I'll tell you what I'm doing. I'm getting you to calm down. That reader works for Kate Roberts. She's not going to blow her job to tell you about the book.

BILLIE: Well how do you know that?

JACK: I happen to work in publishing. I happen to know a thing or two about it.

BILLIE: No. You're just because I beat you again.

JACK: No. You didn't beat me.

BILLIE: Oh yes I did. Who's number's on that manuscript?

JACK: Aaaah.... um.... ah, you know until you mentioned it I could have sworn that Jo Johnson's phone number was on that manuscript.

BILLIE: HA! Not anymore cause I changed it.

JACK: Hmmm.

BILLIE: And I put Miranda Miller's number on it so when Kate Roberts calls to buy the book she's going to be calling Miranda Miller and she's going to write a check out to Miranda Miller. So guess what Jack, I'm in the driver's seat and you're just along for the ride.

JACK: Well I'm getting out. I've got to stop Victor from getting a hold of that manuscript.

BILLIE: Jack! Listen to me. Why, why if you hate him so much, why don't you just make a lot of money off him? If it were me, I'd take him for a ride man, big time.

JACK: Why Miranda, it is you. You've made quite a point there.

BILLIE: Yes I have.

JACK: You certainly have. Ms. Miller, it's very ironic when you think about it. If your book is a hit Victor will never be able to use it to get back to me. However I will be able to use his money to get back my paper. Quite brilliant when I think about it.

BILLIE: Well what can I say. But in the meantime we just have to be really hopeful that that writer doesn't come back because if she does or he does or whoever it is, we're in big trouble.

JACK: Oh no, no, no, no. Ms Miller you've got nothing to worry about. No plagiarism charges really. Let's remember, that manuscript was lying around in my attic for years. Whoever wrote it probably just forgot all about it.
---
SCENE SIX: MEANWHILE ALICE QUESTIONS KATE ABOUT HER PAST AND SAYS THAT SHE IS SURE KATE LIVED IN JACK AND JENNIFER'S HOUSE. KATE SAYS THAT SHE'S NOT SURE IT WAS THAT EXACT HOUSE. WHEN ALICE LEAVES THE READER TELLS KATE THAT THE MANUSCRIPT IS A GOOD ONE AND IT SHOULD SELL.
[Transcribed by Carol Vaughan
added material by Sally A. Wilson]
---
---