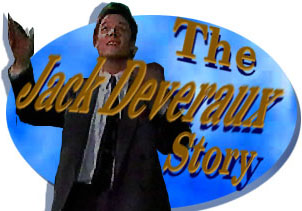 oldEpisode Four-hundred-ninety-eight: Jack
and Billie continue to Try to Figure out
Ways to Get the Money. Jennifer Is
Determined to Revitalize Their Love Life.
---
[Air date late March, 1993]
SCENE ONE: THE NEXT MORNING AND JACK COMES DOWNSTAIRS AND FINDS THE BOOK THAT JENNIFER GOT FROM ALICE.

JACK: When the Romance Dies. A guide to love and marriage in the 90s.

HE OPENS THE BOOK.

JACK: Oh my! I thought they stopped doing that in the 80s.

HE TWISTS THE BOOK FOR A BETTER LOOK.

JACK: I suppose not.

HE HAS A SMIRK ON HIS FACE.

JENNIFER: Good morning.

JACK QUICKLY SHUTS THE BOOK AND PUTS IT DOWN.

JACK: Oh morning, morning.

JENNIFER: Breakfast is ready.

JACK: It smells like it.

JENNIFER GOES OUT TO GET THE PAPER.

JENNIFER: It's a new recipe I found for Belgian waffles. I hope you like them.

JACK: I'm sure I will.

SHE BRINGS IN THE PAPER AND A LARGE ENVELOPE.

JENNIFER: What is this?

JACK: What's what?

JENNIFER: Oh, it's a tape. Philip must have sent it over for me to watch. Oh well, come on. Let's go have breakfast.

JACK: I.... certainly. Belgian waffles you said.

SHE DRAGS HIM TO THE KITCHEN.
---
SCENE TWO: AWHILE LATER, THEY HAVE FINISHED BREAKFAST AND JENNIFER IS DRESSED. SHE PICKS UP THE SPECTATOR TO READ AND SEES THE HEADLINE ON POLICE BRUTALITY. JACK COMES BACK DOWNSTAIRS.

JACK: She's asleep.

JENNIFER: Why didn't your headline read "Drug Dealer Lies about Police Brutality"?

JACK: Why? Well Miss Journalism major, the police haven't been able to prove that this fellow Cash has been lying.

JENNIFER: But you talked to Bo last night. He said that Cash was lying.

JACK: He said, yes and this Salem, true enough, and he is a Brady. But the public needs more than Bo's word. Anyone can lose their temper if provoked. And, we both know that Bo has lost it before.

JENNIFER: Jack, this guy was beat to a pulp. Bo would never do that to anyone and Cash was just trying to get even with Bo for arresting him in the first place.

JACK: Well, hopefully now I'll get to the bottom of it. I'm going down to the headquarters right now to try to get all the details.

JENNIFER: Well just make sure you get all the facts.

JACK: The facts, the facts and nothing but. I am afterall a newsman.

JENNIFER: And the best.

JACK: Thank you. You're not bad yourself.

SHE RAISES HER EYEBROWS AT HIM.

JACK: Um, what are you doing today?

JENNIFER: Oh actually I'm trying to set up an interview with someone.

SHE PICKS UP THE BOOK ON ROMANCE.

JENNIFER: The author of this book actually.

JACK: Really? What's it about?

JENNIFER: Um, sex.

JACK: Any pictures? No really. I mean have you read it?

HE HAS A SILLY GRIN ON HIS FACE.

JENNIFER: I'm in the middle of it.

JACK: Hmmm.

JENNIFER: You know I read that the average married couple, they discuss sex 4.8 times a week.

JACK: 4.8! Well that's something. We don't.

JENNIFER: I know.

JACK: Well I suppose some people have better to talk about. Excuse me, I need to get to work. Wish me luck.

JENNIFER: Good luck Jack.

JACK: Yes.

HE LEAVES AND SHE SITS DOWN TO READ MORE OF THE BOOK WHEN THE PHONE RINGS. IT IS PHILIP AND SHE ASKS HIM OVER.
---
SCENE THREE: WHEN HE ARRIVES SHE TELLS HIM THAT SHE DOES NOT WANT AUSTIN TO BECOME A REGULAR ON HER SHOW.
---
SCENE FOUR: AT THE POLICE STATION, JACK IS AFTER DETAILS FROM ROMAN.

JACK: Come now. I know you want to see this story told in an accurate clear fashion.

ROMAN: I'd just as soon there wasn't any story at all Jack.

JACK: I'm sorry. When one of Salem's finest beats the hell out of an innocent , that is news.

POLICEWOMAN: The guy wasn't innocent. He shot Abe Carver.

JACK: The judge let him go because there wasn't enough evidence. That's innocent till proven guilty. Is that why Bo went after him?

ROMAN: We're not sure that's what happened.

JACK: Look, the story's going to be told whether you co-operate or not. Couldn't you just give me the facts about the beating that your brother allegedly gave Cash?

ROMAN: We don't have all the facts yet.

POLICEWOMAN: It's just the word of a low life against Bo's.

JACK: A low life, exactly. But what was that low life up to? I mean was he in the middle of a drug deal? Was something going down there and Bo walked in on it or was there another reason that Bo was after him?

ROMAN: Jack! I told you we don't have all the facts and until we know exactly what happened, no comment!

JACK BEGINS TO WRITE A NOTE.

JACK: The police refused to give a comment about one of their own and this....

BO WALKS IN.

JACK: Oh the man of the hour. The man I've been waiting to talk to.

ROMAN: Jack will you excuse us? We have business to take care of.

JACK: Just one little question.

BO: Goodbye Jack!

JACK: What were you in the middle of?

BO: Goodbye Jack!

JACK: I don't want to say that you did....

ROMAN PUSHES JACK OUT THE DOOR AS BILLIE COMES IN.

ROMAN: Goodbye.

JACK: (To Billie) I'd love to talk to you later.

OUTSIDE JACK ADDS TO HIS NOTES.

JACK: Bo Brady had no statements at this time. However....

BILLIE COMES OUT TO TALK TO JACK.

BILLIE: What do you want?

JACK: Well I want to know why you're in there with Bo Brady but I'll settle for finding out if you have the check from Titan Publishing?

BILLIE: No I don't have it yet and this is not the place to talk about it. Meet me at my place later.

JACK: Your.... place.

BILLIE: Yes.

JACK: Where is it?

SHE GRABS HIS PAD AND TEARS OFF A PAGE.

JACK: My....

BILLIE: Just....

SHE WRITES DOWN THE ADDRESS AND HANDS HIM BACK THE PAD WITHOUT A WORD. THEN SHE GOES BACK IN TO SEE BO.

JACK: 114.... all right.
---
SCENE FIVE: ACK AT THE HOUSE, JENNIFER PUTS IN THE TAPE AND IT SHOWS BO BEATING UP CASH. ACTUALLY IT IS THE LOOK ALIKE THAT LAWRENCE HAS HIRED. HOWEVER JENNIFER AND PHILIP THINK THAT THEY HAVE A BIG STORY IN FRONT OF THEM.
---
SCENE SIX: LATER JACK TURNS UP AT BILLIE'S.

BILLIE: Who is it?

JACK: Who do you think? Jack.

BILLIE: Good now I don't have to play solitaire.

JACK WALKS INSIDE AND LOOKS AROUND AND NOTICES ALL THE LOCKS SHE HAS ON THE DOOR.

JACK: How about a bagel with those locks?

BILLIE: Haha! Would you like a soda Mr. Deveraux?

JACK: No, no. No time for games I just want the check from Titan.

BILLIE: Sit down. Oh don't get your shorts in a knot. They said they'd send it. They'll send it. Now what do you want to play? Five-card stud? Draw poker?

JACK: How do you know they'll send it?

BILLIE: Because they sent the contracts. They're over there if you'd like to take a look.

JACK: Oh I certainly will.

BILLIE: Here, cut 'em.

JACK: Cut.... excuse me, what?

BILLIE: The cards. Cut them.

JACK CUTS THE CARDS BUT HE IS CONCENTRATING ON THE CONTRACTS. BILLIE DEALS OUT FIVE CARDS EACH.

BILLIE: Okay, how many do you want?

JACK: Eh, what?

BILLIE: Cards! How many do you want?

JACK: I don't.... please. Here, do whatever you're doing.

BILLIE: Jack stop looking at the contract. I've signed it, okay. So let's just play.

JACK: You did?

BILLIE: Yes.

JACK: You didn't write the thing. Why should you sign the contract? You don't know the first thing about contracts.

BILLIE: Jack stop worrying about this and start worrying about how we're going to get the rest of the money.

JACK: Certainly. I know that $25,000 is only a drop in the bucket. I know that.

BILLIE: Yes.

JACK: And Tony's probably going to be coming around sooner or later looking for the hundred thou.

JACK: And Victor Kiriakis is going to be swooping down on The Spectator any day now.

BILLIE: What are we going to do?

THEY SIT THERE AND JACK GETS MORE AND MORE WORRIED.

JACK: Help! I'm the only one here trying to come up with a way to come up with some money. Think! Think!

BILLIE: I'm thinking, I'm thinking. (Beat) I know.

JACK: You know what?

BILLIE: You just rewrite another book and I'll sell it because I'm so good at it.

JACK: Could we try to be serious for a moment?

BILLIE: I am being serious. It's the only way.

JACK: It's going to take entirely too long.

BILLIE: Oh Jack.

JACK: We've got to find a way to get a great deal of money in a very short amount of time. Otherwise we will be in deep deep trouble.

BILLIE: Jack we're already in deep deep trouble. We just need a really good scam.

SHE LOOKS AT HER CARDS.

BILLIE: HA HA HA! Four aces. YES!

JACK IS STARTING TO GET AN IDEA.
[Transcribed by Carol Vaughan
added material by Sally A. Wilson]
---
---