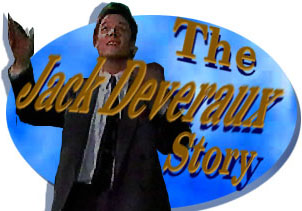 oldEpisode Five-hundred-one: Jo Warns
Jack to Stop Lying to Jennifer. Later
Jo Secretly Sets up a Romantic Dinner
for Jack and Jennifer; but Will Jack Show up.
---
[Air date late March, 1993]
SCENE ONE: IT THE NEXT MORNING AND JACK IS ASLEEP ON THE COUCH WITH HIS SUIT COAT OVER HIS FACE. HE'S SNORING LOUDLY. JENNIFER COMES DOWN WITH ABBY.

JENNIFER: Well I'm glad someone got some sleep last night. What would you like for breakfast this morning honey, some rice cereal?

SHE PICKS UP A CANDLE HOLDER AND BANGS IT NEXT TO JACK'S HEAD.

JENNIFER: Would you like some mashed bananas?

JACK: Aaaaarrrrhhh.... ooooooh! Get the door! Get the door!

JENNIFER: Sorry, did we wake you up?

JACK: No. Yes, yes you did.

JENNIFER: Didn't sleep well last night?

JACK TRIES TO STRETCH BUT HIS BACK AND NECK ARE KILLING HIM.

JACK: Hahahah. No. It's kind of difficult to get a good night's sleep when you have to share the couch with the likes of Big Bird.

HE PULLS ONE OF ABBY'S TOYS OUT FROM UNDER HIM.

JENNIFER: Don't you dare try to make me feel guilty Jack.

JACK: No, no. I am just trying to point out that when one tries to get up to one's bedroom and finds it locked against him, when one has to spend the night on the couch only to be woken by banging in one's ear, one cannot be expected to be a happy camper, can one?

JENNIFER: Oh that's very good. That's very good. You're going to turn this whole thing around and make yourself look like the victim, right Jack?

JACK: But I am the victim. That was just.... aaaargh.... a poker game Jennifer. That's all it was.

JENNIFER: Yeah and you showed me that that was obviously more important to you than spending an evening with your wife.

JACK: No, no, no, no, no. I said I forgot. That's all I said. I meant to say....

JENNIFER: You have nothing to say. You have shown me where your priorities lie and I am at the bottom of the list, Jack.

SHE GOES TO THE KITCHEN AND HE TRIES TO STRETCH AGAIN.

JACK: Oooooh.... damn.

WHEN SHE COMES OUT HE TRIES TO TALK TO HER AGAIN.

JACK: Jennifer, you don't understand. It was a poker game about.... about business.

SHE HANDS HIM THE BABY.

JENNIFER: Oh, oh, I see, okay. It was a power poker game. Oh I guess I should have figured that out.

JACK: Exactly, exactly. The person who put this on.... the man who put this on was a business associate that I've been trying to get money out of for some time.

JENNIFER: Jack, even if that were true, it doesn't matter. You're still putting work ahead of me.

JACK: You don't understand. Your success is my success and my success is most certainly your success. Now knowing that it seems you would be happy when I get something going like this. Not even happy. grateful. JENNIFER: Oh that you were so consumed with work that you forgot to come home? I'm supposed to be grateful, that's what you're telling me?

JACK: No Jennifer, listen....

JENNIFER: You listen to me, all right. You listen to me. In case you have forgotten I also have a career. But as important as my career is to me nothing, nothing, would ever make me forget that my family is the first priority in my life.

JACK: Look....

AT THE MOMENT JO COMES IN THE DOOR.

JO: Hello. Grandma's here so you all can go to work and leave the little angel with me.

THEY BOTH JUST LOOK AT HER.

JO: Oh.... oh. Did I.... come at a bad time?

JACK: Yes.

JENNIFER: No, you didn't come at a bad time. Come here sweetie.

SHE TAKES ABBY FROM JACK AND HANDS HER TO JO.

JENNIFER: Thank you Jo. I'll call you at the studio, all right.

JO: All right.

JENNIFER: Bye sweetie. I'll see you later.

JACK: Not going to say goodbye to me?

JENNIFER: No. You just get out there and you hustle, hustle, hustle Jack, all right. Don't worry I won't wait up for you tonight.

SHE LEAVES.

JO: Jack, what's happened?

HE SIGHS AND SHAKES HIS HEAD. HE GOES UPSTAIRS AND GETS DRESSED.
---
SCENE TWO: A SHORT TIME LATER, JACK COMES BACK DOWN, JO IS CHASING AFTER HIM.

JO: You think you can just carry this whole burden of getting money for the paper by yourself and lying to her about poker games and Billie Reed and everything else.

JACK: Jo, you have to understand something. If Jennifer wasn't Jennifer I would have been out of here, on my ear without my luggage, right after that stock manipulation fiasco. After all that how can I let her know that I'm doing something illegal?

JO: You are doing something illegal and you're hiding it from your wife out of pride. The pride that has been the bane of the Johnson men as long as I can remember.

JACK: But....

JO: Well women won't accept it Jack. Not in the 90s. We want honesty in a relationship, yes, and sharing and equality. We want a right to participate in the decisions that affect the family.

JACK: These women's awareness classes have got to go.

JO: Oh Jack, you just don't take women's issues seriously.

JACK: I most certainly do.

JO: Oh you think your concerns are much more important than Jennifer's. You certainly think your job is more important.

JACK: I try not to think that way.

JO: Oh, you try not to think that way.

JACK: Yes, I try not to and sometimes I fail. But I'm aware of that failure.

JO: So.... does this mean you're going to tell Jennifer what's been going on?

JACK: It means I'm going to be more open, considerate and honest with my wife.

JO: Really? Starting when?

JACK: Starting....

THE PHONE RINGS.

JACK: .... right after this phone call. Excuse me.

HE PICKS UP THE PHONE.

JACK: Jack Deveraux.

BILLIE: Hi, it's me. Big game tonight. Let's meet to plan strategy. Your place or mine?

JACK: Aaaah, I'm still getting ready for work and.... Jennifer's not here. Why don't you come over here? See you later.

HE HANGS UP.

JACK: All right, after tonight I'm going to start getting full control of my life back.
---
SCENE THREE: DOWN AT THE STUDIO, JENNIFER FINDS OUT THAT THE TOPIC OF THE SHOW IS MAKE-OVERS. SHE IS NOT IMPRESSED AND SAYS IT IS A STUPID IDEA. SHE THEN FINDS OUT THAT THE BOOKING FOR THE MODELS HAS BEEN MESSED UP AND SHE HAS TO BE MADE-OVER ON THE SHOW. PHILIP ALSO TELLS HER THAT HE HAS GOT AUSTIN BACK ON THE SHOW EVEN THOUGH SHE DOES NOT LIKE IT. THE MAKE-OVER GUEST PUTS SOME LIPSTICK ON JENNIFER THAT SHE SAYS IS KISS PROOF AND SHE INSISTS THAT JENNIFER TRY IT OUT AND SHE GETS AUSTIN TO KISS JENNIFER.
---
SCENE FOUR: BILLIE COMES OVER AND THEY GO OVER THEIR GAME PLAN. HE IS STILL TALKING TO HER AS SHE LEAVES.

JACK: Now Billie you know you can't always win drawing to an inside straight.

BILLIE: Jack that's how I gutted them last time.

JACK: Yes, yes, once but....

BILLIE: Oh, time. I gotta go. Gotta go get fancy. If we're going to be high rollers, we gotta look like it right? Play the part. Yes we do.

JACK: It's not just look....

BILLIE: Jo, wish me luck.

JO: Yeah, sure.

BILLIE: Goodbye.

JACK: Goodbye.

BILLIE LEAVES.

JO: Jack, how can you do this? How can you risk your entire life on the turn of a card?

JACK: I happen to be a damn good card player Jo. It's just too bad that nobody in this town can know that.

JO: Ooooh.

JACK: Now Billie might be rough around the edges but she's a natural. If I can keep her in line she can't lose and neither can I.

JO: Jack you're going to lose Jennifer if you don't tell her the truth about what's been going on.

JACK: I plan to tell her the truth.

JO: Oh yeah, yeah. You and your plans. Are you also planning to be romantic and attentive and kind and caring? JACK: Yes I plan to. After I get full control of The Spectator. After Vern and I can get a new format going and after....

JO: Why, after? Why is it always after? Why do you have to deal with your marriage after you dealt with the damn newspaper?

JACK: Until I can get this damn newspaper back into shape I won't be worth a damn to anybody including Jennifer and I don't care how many sensitivity classes it takes it won't make a difference.

ABBY GIVES HIM A BIG STARE.

JACK: Goodbye, both of you.

JACK LEAVES.

JO: Ooooh, your daddy is the most stubborn man alive Abby. (Beat) But that doesn't mean his marriage has to suffer, does it? Yeah, okay.

JO PICKS UP THE PHONE AND CALLS THE FLORIST.
---
SCENE FIVE: ON JENNIFER'S SHOW, AUSTIN LEANS OVER AND KISSES JENNIFER AND WHEN HE STEPS BACK, JENNIFER SEES JACK STANDING THERE SMILING AT HER

.

SHE SQUINTS AND SEES JACK AGAIN GIVING HER A VERY ROMANTIC LOOK.

SHE GRABS AUSTIN AND KISSES HIM HARD. THE CREW IS A BIT STUNNED AND THE MAKE-OVER GUEST HAS TO BRING JENNIFER BACK TO REALITY. JENNIFER IS A BIT EMBARRASSED BUT WHEN THEY ALL CLEAR THE SET, SHE TOUCHES HER LIPS.

JENNIFER: Jack.
---
SCENE SIX: LATER JACK AND BILLIE ARRIVE AT BRADY'S PUB.

BILLIE: Yes you were late.

JACK: I believe you told me the wrong hotel.

BILLIE: I know I did.

JACK: It's no matter. We shut out of that game. There'll be plenty more where that came from, right?

BILLIE: That's right and I'm going to find them all.

JACK: We both will.

BILLIE: That's right.

JACK: I have a payment coming up for The Spectator and I have to make it or else.

BILLIE: Oh Jack, quit talking about The Spectator. Tony's coming. We need the hundred thou. Now come on, just forget about it and stop worrying about it.

JACK: I'm afraid I can't do that. The Spectator's the key to everything I hold most dear.
---
SCENE SEVEN: MEANWHILE JENNIFER HAS ARRIVED HOME AND THE WHOLE LIVING ROOM IS SET UP FOR ROMANCE. DINNER IS READY, THE CANDLES ARE LIT AND THE CHAMPAGNE IS CHILLED. SHE SMILES AND READS THE CARD ON THE RED ROSES.

JENNIFER: Jennifer, your beauty haunts me like the scent of roses. With love Jack.

SHE TAKES ONE OF THE BUDS AND INHALES THE SCENT. SHE POURS HERSELF A GLASS OF CHAMPAGNE AND DAYDREAMS ABOUT HER IDEAL JACK. .... HE OPENS THE DOOR AND IS WEARING JEANS, T-SHIRT UNDER PLAID SHIRT AND LEATHER JACKET. HE REMOVES HIS JACKET AND WALKS OVER TO HER

[MATTHEW HAS BEEN QUOTED AS SAYING THESE WERE HIS ACTUAL CLOTHES AND IT WAS VERY ODD THAT JENNIFER'S DREAM WAS ACTUALLY MATTHEW. HE ALSO SAID IT WAS WEIRD TO PLAY JACK IN HIS OWN CLOTHES.]. JACK TAKES THE ROSE FROM HER AND ENCIRCLES HER FACE WITH HIS FINGERS AND CUPS HER CHIN. GENTLY BRUSHING HER HAIR ASIDE, HE KISSES HER GENTLY AND VERY ROMANTICALLY.

HE SITS ON THE COUCH AND GENTLY LAYS HER UNDER HIM AS HE CONTINUES TO KISS HER NECK, LIPS, FACE AND FINGERS....

AS SHE SLOWLY COMES BACK TO REALITY, JACK COMES IN THE DOOR.

JENNIFER: Jack, I am so sorry. How could I have ever doubted you? How could I ever think for one minute that you don't love me and you don't want me.

SHE KISSES HIM ALL OVER HIS FACE.

JACK: Aaaah.... um, excuse me. What was.... was that for?

JENNIFER: What was that for? Are you kidding me? It's for this. It's for all of this Jack. Everything that you did for me.

HE LOOKS AROUND THE ROOM.

JACK: Ah, yes, that was very thoughtful of me, wasn't it?
[Transcribed by Carol Vaughan
added material by Sally A. Wilson]
---
---