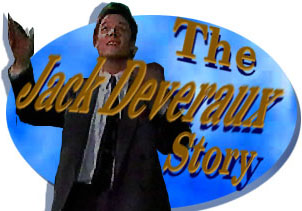 oldEpisode Five-hundred-four:
Jack Is Arrested and the Press Is
There to Report on It. Jennifer
Finds out About the Arrest, the
Tension Between Them Is Increased.
---
[Air date early April, 1993]
SCENE ONE: JENNIFER LEAVES THE PARTY AND GOES TO THE BRADY PUB FOR A COFFEE BEFORE GOING HOME.
---
SCENE TWO: DOWN AT THE POLICE STATION JACK IS HATING IT ALL. BILLIE WILL NT SHUT UP. HE KEEPS WHISPERING TO HER TO SHUT UP.

JACK: Just keep it down, Billie, keep it down.

BILLIE: Hey do you know who this guy is?

JACK: Oh no!

BILLIE: This is Jack Deveraux.

JACK: No!

BILLIE: He's a senator's son and future owner of The Spectator, thank you very much.

THE POLICE BEAT REPORTERS FOR THE CHRONICLE ARE LAPPING IT UP WHILE JACK IS SHAKING HIS HEAD, NOT ABLE TO BELIEVE THAT IT'S ALL COME CRASHING DOWN ON HIM. ALL THE REPORTERS START FIRING QUESTIONS AT HIM.

JACK: Hey I know you guys are enjoying this over there but why don't you get these newshounds out of here. Even a reporter has a right to some privacy every now and then.

THEY TAKE LOTS OF PICTURES OF HIM HANDCUFFED.

JACK: Oh please, just.... I can't stand it.

THE REPORTERS ARE TOLD TO LEAVE AT LAST AND JACK HAS SOME PEACE.

JACK: What the hell do you think you're doing? If you want to kill me, please do it quickly. Just stick the knife in and rotate.

BILLIE: They called us mobsters Jack.

JACK: I don't care what they say about the gamblers generally. I just hated what you said about me in particular.

BILLIE: Well I was just trying to help you. I thought newspaper people stuck together and if they knew who you were they would back off.

JACK: Do you understand what you're saying? That's the com...that's the competition! That's The Chronicle, that's The Globe. Tomorrow morning my face and my name is going to be on the cover of their paper. You know you have done in ten seconds what Victor Kiriakis has been trying to do for months. Now I don't give a damn what they say about me personally, hell with them. But professionally I have been trying to re-establish myself as a.... as a respectable, and even reliable businessman. I can forget about that now because you just told them that I have been involved in a very questionable poker game. What the hell am I going to do? When I wasn't running around with you I was actually trying to get a backer from the bank. I was very close to it but now after this, he's going to back right out. And I'll tell you something, the paper's going to back right out with it.

BILLIE: I'm sorry Jack.

POLICE: Okay you two, let's go.

JACK: Let's go. Let's go where?

POLICE: We're going to book you. Take your pretty little picture and your fingerprints.

JACK: Just like a common criminal.

POLICE: Listen pal, you were arrested for an illegal gambling game. You are a common criminal. This way ma'am.

JACK DOES NO MOVE AND THE COP PUSHES HIM OUT THE DOOR.

JACK: Coming.
---
SCENE THREE: JACK IS PUT IN FRONT OF THE HEIGHT CHART TO HAVE HIS PICTURE TAKEN. THEY TAKE THE FRONT SHOT AND HE TURNS TO THE SIDE BEFORE BEING ASKED.

JACK: Yes.

THEY TAKE JACK OVER TO BE FINGERPRINTED.

JACK: You know you already have these fingerprints on file. I don't know why you don't just pull them up again. As it is I'm going to have ink on my fingers for the next week.

BILLIE: Oh brother, don't worry about the ink on your fingers. Look at this guy, he's got my fortune. He's got my fortune. How am I going to get my money back Jack?

THE OTHER COP IS LOOKING AT ALL THE MONEY AND THE IOU FOR THE BUSINESS THAT SHE GOT FROM ONE OF THE PLAYERS.

JACK: You're not going to get your money back. It's ill gotten gains.

THE GUY PUTS THE IOU BACK IN HER PURSE.

JACK: You were arrested for gambling. You don't understand. We've lost it. I know I have. Lost my reputation, lost my paper, lost everything.

BILLIE: Oh listen to you. You, you, you, you, you. What about me? If you hadn't stolen my money from that barn I wouldn't be in this mess in the first place.

JACK: Wait a minute, wait a minute. Who was it who said, let's get out now? Who was it who said, let's stop while we're ahead?

BILLIE: Well I couldn't leave with that guy there who beat up Cash. I'm sorry.

JACK: Oh yes, your good friend Cash Bowman. We don't even know for sure that that's the guy who beat up Cash Bowman.

BILLIE: Oh come on. He's just a double for Bo.

JACK: You know, your attempt to help your fellow man has certainly backfired. The cop you tried to help is the cop who arrested us.

BILLIE: Hey, my call to Bo did not get us arrested. Taylor came a long time before that.

JACK: You know....

BILLIE: What?

JACK: If you had listened to me, we would have both be home. You would be counting your money. I would have been home, counting my money. Instead we are here with ink on our fingers and....

JACK AND BILLIE: .... egg on our face.

JACK: Yes. And I have to figure out a way to explain all this to Jennifer.

JACK MAKES HIS ONE PHONE CALL TO VERN.

JACK: No Vern, this is my one phone call so don't you feel special. I want you to use your good reputation to save mine because I'm telling you something. If this goes down and I lose my backer, I lose The Spectator and you lose a job. So you get on the phone with your buddy editors from The Globe and The Spectator and you remind them that newspaper people stick together and.... and since I'm involved we're going to drop the whole thing. Kill the whole story. You can beg, borrow or steal. I don't care. Just do it. Thank you.

HE HANGS UP.

BILLIE: Jack, they're not going to kill that story. It's going to get out eventually.

JACK: I'll just do the best I can.
---
SCENE FOUR: MEANWHILE JENNIFER HAS RUN INTO AUSTIN AT THE PUB AND THEY HAVE COFFEE TOGETHER. SHE IS ABOUT TO GO HOME WHEN THE REPORTERS FROM THE POLICE STATION DROP BY AND DELIGHT IN TELLING HER THAT JACK HAS BEEN ARRESTED WITH BILLIE REED. JENNIFER AND AUSTIN BOTH HEAD TO THE POLICE STATION.
---
SCENE FIVE: BILLIE IS TALKING TO BO AT THE STATION.

JACK: Excuse me. We have some forms we're supposed to fill out. There's a few more out there and then we can go. BILLIE: I'm not leaving until I get my money.

BO TELLS HER THAT THERE IS NO WAY THEY GET THE MONEY BACK. HE THEN WALKS OUT ON THEM.

BILLIE: Errrrgh!

JACK: Apart from the grunting, what is this thing between you and Bo Brady?

BILLIE: There's no thing. He makes me crazy. He makes me crazy like you make me crazy. Errrgh!

JACK: Yes but there's no thing between us. It's all right. I have my own problems. I have to figure out some way to get Jennifer....

THE DOOR FLIES OPEN AND JENNIFER AND AUSTIN COME IN.

JENNIFER: Jack! Oh god it's true. You have been arrested.

JACK LOOKS HER IN THE EYE AND HE CAN SEE HOW DISAPPOINTED SHE IS.
---
SCENE FIVE: JENNIFER HAS JUST ARRIVED AT THE POLICE STATION.

JACK: I can explain.

BILLIE: How did you get here?

AUSTIN: Oh some reporters told us what happened.

JACK: Oh great! Great!

JENNIFER: In the car on the way over here I kept saying to myself that there must be some mistake. This can't be true. You weren't working. You were playing poker.

JACK: I can explain. I'm sorry. I can explain.

JENNIFER: I don't want to hear it. I can't believe that you did this Jack. I can't believe that you lied to me again. What was your part in this Billie?

BILLIE: Hey, don't go dumping on me.

JACK: Now wait a minute. Billie Reed is just a passable poker player and I used her to get the money.... I used....

AUSTIN DRAGS BILLIE OUT OF THE ROOM.

JENNIFER: What, did you hire her for your assistant so you could run another scam Jack?

JACK: No, no....

JENNIFER: Try to steal a novel from Victor but that doesn't work so we'll try another scam and we'll see if that works. Right?

JACK: No, no. I understand that this has upset you and embarrassed you and I pray it doesn't do anymore but I can explain the whole thing if you would just....

JENNIFER: I Just want to go home.

JACK: All right we'll go home right now. I just need to find some more papers to fill in.
---
SCENE SIX: JACK AND JENNIFER ARRIVE HOME.

JACK: Some brandy, or coffee?

JENNIFER: I would like to know what you were doing involved in a high stakes poker game when we don't have that kind of money to throw around?

JACK: I kicked a hundred dollars into the initial pot and that was it.

JENNIFER: Which is gone because the police confiscated the money.

JACK: You know something. If I'd got out of that place five minutes sooner we would be having a very different conversation right now. We would be talking about how we're going to pay off the mortgage on this house. How I'd be making payments on The Spectator for months to come.

JENNIFER: If you wanted to risk all our money, why didn't you go to Las Vegas. Why did you have to get involved in an illegal poker game?

JACK: I did it for us.

JENNIFER: Oh I am so tired of hearing that Jack. You say the same thing everytime you do something stupid.

JACK: Wait a minute, it is understood that I don't play poker in this town anymore and I don't. But I happened to run into Billie Reed who's a passable poker player. I thought I could use her to get the money for The Spectator and the house.

JENNIFER: I thought you told me that you were talking to one of the banks.

JACK: I am talking to one of the banks. To a loan officer, actually. He hasn't called and....

HE LOOKS THROUGH THE MAIL.

JACK: .... and he has not written. It seemed getting involved in this poker game would cover my bets. That was an unfortunate choice of words.

JENNIFER: That was a perfect choice of words.

JACK: I understand if I disappoint you.

JENNIFER: You don't understand at all. I am tired of your schemes and I am tired of your lies. How can you ever expect me to believe you when you don't even trust me enough to tell me the truth?

JACK: I'm telling you the truth right now.

JENNIFER: It's too late. I have had it. (Beat) I'm going upstairs and I'm going to check on Abby and I'm going to tell your mother she can go home.

SHE BRUSHES PAST HIM AND GOES UPSTAIRS.
[Transcribed by Carol Vaughan
added material by Sally A. Wilson]
---
---