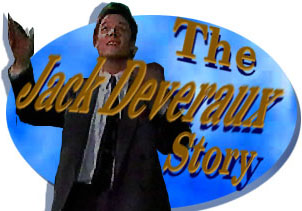 oldEpisode Five-hundred-six: Jack
and Billie Find out that Tony Wants His
Money. Victor Offers to Buy
The Spectator
and Give Jack a Job; Jack Refuses, It Is
His Paper and He Is Determined to Save it.
---
[Air date early April, 1993]
SCENE ONE: IT IS FEW DAYS LATER AND JACK IS MEETING BILLIE AT THE BRADY PUB. HE OPENS THE DOOR AND SMELLS THE FOOD.

JACK: Hmmm, meatballs, garlic.

BILLIE: Hi Jack.

JACK: Well, are we eating for two?

BILLIE: When I'm upset and depressed, I eat.

JACK: You're not the only one who's cornered the market on upset....

HE TRIES TO STEAL A MEATBALL BUT SHE HITS HIS HAND.

JACK: .... and depressed.

BILLIE: Did you talk to our lawyer.... the lawyer to get our money?

JACK: Well our lawyer said forget it Billie. Forget the money.

BILLIE: How can you forget $100,000? Why are you here anyway? Didn't wifey cook you a little breakfast?

JACK: Oh she most certainly did. A wonderful breakfast. I'm just here....

HE TAKES SOME BREAD OFF HER PLATE.

JACK: .... filling in around the edges.

BILLIE: Well, did she forgive you, for the gambling and getting arrested?

JACK: She most certainly did.

BILLIE: Did she really?

JACK: She said, and I quote, that our problems are minor compared to other people's problems and the important thing is that we love each other and that we're together.

BILLIE: The matter of $100,000 being taken from the barn which was my $100,000 is not minor Jack. But she doesn't know about that, does she?

JACK: And you're not going to tell her about it. I know you're not.

BILLIE: I won't. I told you I wouldn't.

JACK: Yes because....

WAITRESS: Billie, phone for you.

BILLIE: Maybe it's Kate Roberts.

JACK: Maybe it is.

SHE GOES TO THE PHONE AND JACK STEALS HER BACON.

HE IS TAKING A BITE WHEN HE HEARS WHO IS ON THE PHONE.

BILLIE: Hello.... Tony. How did you know I was here? Yeah I've got your money.

SHE LOOKS ACROSS AT JACK AND THEY BOTH PANIC.
---
SCENE TWO: OVER AT VICTOR'S HE'S JUST READ ALL ABOUT JACK'S ARREST. HE TELLS KATE THAT HE THINKS THIS IS THE TIME FOR HIM TO GET THE SPECTATOR BECAUSE HE KNOWS THAT JACK'S LOAN HAS BEEN REFUSED. KATE IS EXTREMELY CURIOUS WHY VICTOR WANTS THE SPECTATOR AND HE TELLS HER BECAUSE A MAN CAN NEVER BE TOO RICH OR OWN TOO MANY NEWSPAPERS. SHE LAUGHS BUT THINKS OF AN IDEA. MEANWHILE, VICTOR HAS BEEN INVESTIGATING KATE AND IS SURE THAT SHE LIVED IN SALEM A LONG TIME AGO AND THAT SHE WAS QUITE INVOLVED WITH SOMEBODY IN SALEM. SHE TELLS HIM SHE DID LIVE IN SALEM AND ACTUALLY IN JACK AND JENNIFER'S HOUSE.
---
SCENE THREE: AT THE PUB, BILLIE COMES BACK TO THE TABLE WITH JACK.

BILLIE: So I left this number on my machine because I thought it would be for Kate Roberts to call but Tony got it and I guess he would have found me anyway cause he knows I hang out here. EEEERRRGGGGGHHHH!

JACK: Billie, please, please, calm down. Let's remember one thing.

BILLIE: What?

JACK: Tony Becker is on probation in Las Vegas. He was a fool to come here once. He'd be an absolute fool to try to come here again until probation is up.

BILLIE: Which is in a couple of weeks Jack and he's going to head right back to Salem.

JACK: A couple of weeks.

BILLIE: Yes. If we don't have the hundred grand, we're dead.

JACK: You know the legal system today, it's a mess. I mean this man should be in jail at least until August. I mean probation should at least be until July.

BILLIE: Would you just save this for your editorial?

JACK: Right.

BILLIE: We have a big problem to solve here.

JACK: Our problems would be solved if you'd followed my advice and left that poker game when I suggested. But, we had to help Bo Brady more than we had to help ourselves.

BILLIE: Am I going to have to spend the rest of my life....

JACK: Your short life.

BILLIE: .... listening to you tell me, I told you so?

JACK: You have my apologies. I just lost a major loan. I'm about to lose a major newspaper.

BILLIE: Oh Jack, I don't want to hear it. I don't want to hear it.

JACK: How about this? We could have left the poker game with the money, stopped in the parking lot and waited for that man to come down and tailed him for Bo.

BILLIE: Now you tell me.

JACK: Now I thought of it.

THE WAITRESS POURS THEM MORE COFFEE.

JACK: Thank you.

BILLIE: Do you have $200?

JACK: Two hundred dollars, for what?

BILLIE: I'm going to find a poker game and I'm going to recoup our losses. That's what I'm going to do. JACK: So we can get arrested again.

BILLIE: You don't have to go. I'll go by myself.

JACK: No, no, no, no, no. No, I have to keep an eye on you. We have people watching us now. It's too risky.

BILLIE: Do you have any better ideas?

JACK: No I don't. Yes I do. We're going to get some more money from Victor.

BILLIE: Oh yes. Victor can we please have a hundred grand?

JACK: No, no, no. In a roundabout way. You're going to go to Kate Roberts and try and get another advance on the book.

BILLIE: Jack, we have this step deal, you see and they're not ready to take the next step yet.

JACK: Well you force them to take the next step. Just say, if this book is this good, why not publish it now?

BILLIE: Okay. Well if you want me to play hardball with Ms Roberts then there's no turning back.

JACK: Hmmm.

BILLIE: And if Victor figures out that you plagiarized this book, big trouble.

JACK: No, no, no, no, no. He's not going to figure that out. You see he knows I didn't. He thinks you did.... under the name of Miranda Miller. Now we have nothing to worry about from him. It's the person who wrote it and left it in the attic I wonder about. But I'm sure if they're so careless to leave it in the attic they'd never come back for it. They're probably dead. Heheheh.

HIS PAGER BEEPS.

JACK: Oh excuse me. What the hell does he want?

BILLIE: Who's calling you?

JACK: Someone I don't want to hear from. Excuse me I need to get to the office and take this call.

BILLIE: All right.

JACK: I think you can probably use this.

HE GIVES HER BACK THE TIP SHE LEFT.

BILLIE: Put that back.

JACK: Just looking out for you.

BILLIE: Okay, let's meet back here after I talk to Kate Roberts.

JACK: Sounds like a deal.

IT WAS VICTOR WHO CALLED JACK.
---
SCENE FOUR: A SHORT TIME LATER HE ARRIVES AT VICTOR'S MANSION.

VICTOR: Well good morning Jack. Thank you Henderson. (Beat) I appreciate you responding to my call so quickly.

JACK: You know I almost considered ignoring the whole call but my curiosity got the better of me.

VICTOR: Yes I figured it would.

JACK: So tell me, if you were so intent on getting hold of me why did you not let the secretary put my call through when I first called?

VICTOR: Because I wanted to talk to you here, in private.

JACK: In private. Well we're here, let's talk.

VICTOR: I'm prepared to make you a very fair offer for The Spectator.

JACK SMILES.

JACK: I think that's a little premature Victor. I don't own The Spectator. Not yet. But a few more payments and I will.

VICTOR: My sources tell me the bank is going to turn down your loan because of the negative publicity around your arrest.

JACK: Heheheh. I see what this is about. You just want to gloat over the fact that you're able to engineer my not getting a loan.

VICTOR: Jack I had absolutely nothing to do with your loan being turned down.

JACK: Victor, don't insult my intelligence. I happen to know that you've been on the phone for over a month calling in favors from all your banker friends making sure that they didn't give me a loan. And they didn't. But don't worry. I won't give up. I'll get a loan somewhere and I'll get the paper. All of it.

VICTOR: What if you don't get the money?

JACK: Then you can move in for the kill.

VICTOR: I could do that.... but it wouldn't be very friendly. (Beat) Here's my offer Jack. I will put up the rest of the money for The Spectator. I will reimburse you for whatever money's you have put into it so far. I will give you on top of that a very generous bonus and name you Editor-in-Chief.

THE OFFER MAKES JACK STOP TO THINK ABOUT IT.
---
SCENE FIVE: JACK HAS THOUGHT ABOUT VICTOR'S OFFER.

JACK: So I'm demoted from Publisher to Editor-in-Chief.

VICTOR: I like the way you've been running the paper Jack. You've made it much more attractive to the public and the advertisers. You'll have complete autonomy. The only difference will be that I will own The Spectator outright.

JACK: And I will only be the Editor-in-Chief. That's a very big difference Victor.

VICTOR: I'm prepared to give you a very large salary, year end bonuses....

JACK: Wait a minute, wait a minute, let's back up for a minute. Tell me about this very big salary.

VICTOR: Six figures and a very handsome health and pension package.

JACK KNOWS THAT THIS IS A VERY GOOD OFFER.

VICTOR: Jack, I am sure that you want the best of everything for your wife and your child. You accept my offer and you'll be set financially for the rest of your life.

JACK: Until you turn round and fire me.

VICTOR: I tell you what. Why don't you have your lawyer draw up an iron clad contract that guarantees you at least five years and I'll sign it.

JACK IS SURPRISED AT HOW GOOD A DEAL THIS IS.

VICTOR: Do we have a deal?

JACK DOES NOT SAY ANYTHING. VICTOR THEN SHOWS HIM SOME FIGURES THAT HE HAS PREPARED.

VICTOR: I'll even add a bonus for circulation increases. No matter how you look at it Jack, this is a very impressive set of numbers.

JACK: Yes Victor. I believe I'm going to have to agree with you.

VICTOR: Does that mean you'll accept my offer?

JACK: (Long beat) No! (Beat) Because deep down The Spectator is mine in its heart and soul. It may mean much to you but it means a hell of a lot to me. I took it from being a small middle-of-the-road newspaper to become one the most hard-hitting and best newspapers in this part of the country.

VICTOR: And you can make it an even better newspaper. I told you. You'd have complete autonomy.

JACK: Complete autonomy.... under you. Victor as good as this deal sounds.... I can't accept it because deep down.... I can't trust you. (Beat) Harper trusted you on more than one occasion and he regretted it for the rest of his unhappy life. I can't change history but I can certainly stop it from repeating itself, at least for the rest of the Deveraux clan.

VICTOR: You're not only smarter than your father was, if you don't accept my offer you're going to lose the newspaper anyway.

JACK: Ooooh, we really haven't changed our ways, have we? This is a threat, isn't it?

VICTOR: I'm not threatening you. I'm merely stating facts. You're going to have no job. You're going to have no money in the bank. You're going to have no security. You're going to have nothing. Now we can make this friendly and pleasant or we can make it ugly. It's your choice.

JACK THINKS REALLY HARD FOR A FEW SECONDS.

JACK: I say let's make it ugly.

HE GETS UP AND IS ABOUT TO WALK OUT THE DOOR WHEN HE TURNS FOR ONE MORE THING.

JACK: I understand you and all your friends at Titan Publishing are going to a mountain retreat and there's a big lake up there. I suggest you jump in it.

HE LEAVES.
---
SCENE SIX: MEANWHILE BILLIE GOES TO KATE AND ASKS FOR $100,000 ADVANCE ON THE BOOK. KATE BLUNTLY REFUSES AS SHE HASN'T EVEN READ THE BOOK. BILLIE MAKES HER PROMISE THAT SHE WILL READ IT WHILE SHE IS AWAY WITH VICTOR.
---
SCENE SEVEN: JACK RETURNS TO THE BRADY PUB TO WAIT FOR BILLIE. HE THINKS BACK OVER HIS CONVERSATION WITH VICTOR AND IS TALKING TO HIMSELF.

JACK: Just jump in it. Just jump in it Victor. Just jump. Just go ahead and jump in it.

BILLIE ARRIVES.

BILLIE: Who are you talking to?

JACK: You. Don't tell me. It was a waste of time.

BILLIE: No it wasn't a waste of time. I got Ms Roberts to agree to read the book at least and when she does, she's going to give us the advance. I just know it.

JACK: Well Victor certainly has the money to advance, I tell you that.

BILLIE: Yes, I just wish we could grab some of it.

JACK: Hmmm. Heheh.

HE IS HALF SMILING.

BILLIE: Why do you have that look on your face?

JACK: What look?

BILLIE: That one. What are you hiding from me?

JACK: I'm not hiding anything. Yes I am. Victor offered to buy The Spectator.

BILLIE: For a lot of money?

JACK: Oooh for a lot of money.

BILLIE: No way.

JACK: Yes and he offered to pay me a big salary just to run it.

BILLIE: Jack, why didn't you tell me when I walked in? Now you can give me the money.

JACK: I turned him down Billie.

BILLIE: You didn't?

JACK: I did. I turned him down.

BILLIE: You didn't. Don't tell me that.

JACK: You have to understand one thing. I would rather starve to death than work for Victor Kiriakis.

BILLIE: Or you'd rather see us die.

JACK: No, we're not going to die.

BILLIE: Yes we are or I am. This is the worst day of my life. The worst. No I take that back. The worst day of my life was when I met you.

JACK: Wait where are you going?

BILLIE: Away from you.

JACK: And?

BILLIE: And I'm going to get a beer. That's what I'm going to do. If I have enough money to get a beer, that is. JACK: Allow me to buy you a beer.

BILLIE: I don't want anything from you Jack.

JACK: Except $100,000, yes. Allow me to buy you a beer. Excuse me, could I get this young lady a beer? She is of age. Please sit down.

SHE SITS BACK DOWN WITH HIM.

JACK: Oh yes.
---
SCENE EIGHT: BILLIE LOOKS IN HER BAG AND FINDS THE DEED TO THE BUSINESS THAT THE GUY AT THE POKER GAME GAVE HER AS AN IOU.

BILLIE: Oh my little deed to Compton Enterprises that I won in the poker match.

JACK: Yes and written on that cheap hotel paper. I wonder if there even is a Compton Enterprises? You realize of course that poker players usually carry that sort of thing around with them. You know the card sharks do and they pull them out at the proper moment and they pawn them off on poor saps like you and me.

JACK GETS THE YELLOW PAGES AND GOES LOOKING FOR COMPTON ENTERPRISES.

BILLIE: You really think this deed is a fake?

JACK: Think about it Billie. Who in their right mind would sell their business for $20,000? It's ridiculous.

BILLIE: No it's not. Not if he thought he could win it back the next hand. I bet you I can sell this for a hundred grand.

JACK: Oh. Well we can certainly find that out. I've got the number right here. Let's find out if it's legit.

HE GETS UP WITH THE PHONE BOOK.

JACK: Excuse me, we need the use of your phone. I don't have any change.

BILLIE: Or bills for that matter.

JACK GIVES HER A LOOK.

WAITRESS: Oh sure.

HE TAKES THE PHONE.

JACK: Thank you.

HE DIALS THE NUMBER.

BILLIE: Is it ringing?

JACK: Yes, yes, it's ringing.

BILLIE: Good.

JACK: And ringing.... and ringing.... and.... ringing.

BILLIE: Well....

JACK: No answer.

BILLIE: .... maybe the switchboard is just jammed with calls and she can't get to this call yet. Yeah.

JACK: Or maybe this business is so small they don't have an answering machine. Yes, that's most likely it. It's such a small business they can't afford to have an answering machine.

HE HANGS UP.

BILLIE: Maybe you're right. I was just hoping this was going to be our miracle.

JACK: Hmmm.

BILLIE: I guess the only hope now is that Kate Roberts is going to advance us that money on the book.
---
SCENE NINE: MEANWHILE KATE HAS GONE ON THE RETREAT WITH THE BOARD MEMBERS OF TITAN AND HAS SETTLING INTO HER ROOM TO READ THE MANUSCRIPT.

[Transcribed by Carol Vaughan
added material by Sally A. Wilson]

---

---