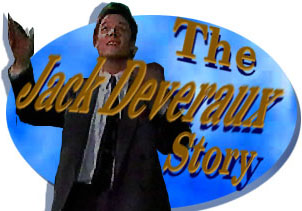 oldEpisode Five-hundred-seven:
Jack Sets up a Romantic Breakfast
for Jennifer, but Is Preoccupied with
the Paper, Angering Her Even More. Later,
He and Billie Check out the Business They Won.
---
[Air date mid-April, 1993]
SCENE ONE: IT THE NEXT DAY AND JENNIFER COMES DOWNSTAIRS DRESSED FOR WORK.

JENNIFER: Jack, are you feeding Abigail?

SHE STOPS AS SHE SEES THE TABLE SET FOR A ROMANTIC BREAKFAST AND CLASSICAL MUSIC PLAYING. JACK COMES OUT OF THE KITCHEN HOLDING A JUG OF FRESHLY SQUEEZED ORANGE JUICE.

JENNIFER: I didn't hear your mother come in.

JACK: Because she didn't come in. This is all my handiwork.

HE POURS A GLASS OF JUICE.

JENNIFER: This is your handiwork?

JACK: Yes. (Beat) Don't act so surprised. I've done this before. It's just been a while. And that's what I intend to make up for. I'm going to concentrate on you this morning and every morning thereafter. Right now the child is over at Jo's and that means we are together....

HE TAKES THE FILES OUT OF HER ARMS.

JACK: .... just you and me. We can forget all about the office if only for a moment and concentrate on each other. This morning I intend to give you everything you should ever want, need or desire.

HE KISSES HER HAND.

JACK: And that's a promise.

JENNIFER IS HAPPY BUT A BIT SUSPICIOUS.
---
SCENE TWO: KATE IS WELL INTO THE MANUSCRIPT. IN FACT SHE HAS BEEN UP ALL NIGHT READING IT. SHE IS FURIOUS AND DECIDES THAT BILLIE WILL NOT GET AWAY WITH PUBLISHING IT.
---
SCENE THREE: MEANWHILE, BILLIE HAS BEEN DOING SOME RESEARCH ON COMPTON ENTERPRISES AND FINDS OUT THAT IT IS A COSMETICS COMPANY.
---
SCENE FOUR: BACK AT THE HOUSE, JACK AND JENNIFER ARE ENJOYING BREAKFAST.

JACK: Oh more orange juice.

JENNIFER: Thank you.

JACK: Certainly.

JENNIFER: You must have been up since five o'clock this morning doing all this.

JACK: Actually I never went to bed.

JENNIFER STARES AT HIM.

JACK: I was kidding. It was a joke. No, actually I just worked it out this morning. Is the music too loud?

JENNIFER: No, no, it's perfect.

JACK: Good.

JENNIFER: Everything's perfect. So when did you come up with this idea?

JACK: I was sitting at my desk. I looked out the window and suddenly it just came to me. (Beat) No, no. Actually it was in the Sunday paper and I decided to use it for my own good or our own good. The title of the article was "50 Ways to Please Your Lover". You've just experienced five of them.

JENNIFER: Well I can't wait to experience the other forty-five.

JACK: Well.... I'm sure that can be arranged....

THE PHONE RINGS.

JACK: Were you expecting a call from Philip?

JENNIFER: No but if it's him just tell him that I'll call him back.

JACK: He probably wasn't expecting you to come into the office late. I'll just tell him we are making time for each other and he'll have to wait. Hello? (Beat) Vern. (Beat) No, Vern.... don't you.... I made those edits to avoid legal action. (Beat) Why didn't they put them into the issue? (Beat) Aaaah.... aaaaah, I'll.... I'll talk to you about this later.

HE HANGS UP AND PICKS UP THE MORNING ISSUE.

JACK: Oh no.... oh no.

JENNIFER: Now Jack what was that you said about leaving work at the office?

JACK: Jennifer you don't.... there is going to be big trouble here.... you're right. You're absolutely right. Leave work and trouble at the office. Relax and enjoy at home.

HE SITS BACK DOWN AT THE TABLE AND GIVES HER A BIG SMILE. THEN HE CANNOT HELP BUT GLANCE BACK AT THE PAPER.

JENNIFER: So, why don't you tell me about those other forty-five ways to please your lover?

JACK: Well if I told you about them then you wouldn't be surprised, would you?

JENNIFER: I could read the article.

JACK: You could but you wouldn't, would you?

JENNIFER: No. Cause I want you to show me.

JACK: Good. (Beat) Melon?

JENNIFER: Sure, thank you.

JACK GLANCES BACK AT THE NEWSPAPER.

JENNIFER: Jack, what are you looking at?

JACK: Ah, I was just.... I was noticing the roses I brought in this morning. Did you notice them?

JENNIFER: Yeah I did. They're.... they're really beautiful. Would you like some more coffee?

JACK: I would love some more coffee.

JENNIFER: Okay, I'll go to the kitchen. I'll be right back.

JACK: Oh it's in the kitchen. Okay.

SHE GOES INTO THE KITCHEN AND JACK GRABS THE PAPER THEN PUTS IT BACK DOWN.

JACK: No, forget it, forget it.

HE CANOT RESIST AND PICKS IT UP AGAIN.

JACK: Dammit.

HE CALLS VERN.

JACK: Vern? Yes, yes, I have read the article. Listen, unless we do something right away we are going to be sued and we cannot afford that at this.... listen I want you to get on the phone. Contact the aggrieved parties and tell them.... promise them that we are going to print a retraction. Then get legal on the phone and appraise them of the situation. I'll be down as soon as I can. I'll call you from the road if I have to.

JENNIFER COMES BACK WITH THE COFFEE.

JACK: Vern, please. I just have to put in a few more minutes here and then everything will be fine. I'll be.... I'll be there in no time. Thank you.

HE HANGS UP.
---
SCENE FIVE: JACK HAS JUST BEEN CAUGHT BY JENNIFER. SHE IS FURIOUS THAT EVEN FOR A MINUTE HE CANNOT STOP THINKING ABOUT WORK.

JENNIFER: You don't have to put in a few more minutes here. You don't have to stay any longer.

JACK: Jennifer, that's not what I meant. I didn't....

JENNIFER: You promised me that you would put your marriage before your career and it has taken you....

SHE CHECKS HER WATCH.

JENNIFER: .... fifteen minutes to break that promise.

SHE WALKS UPSTAIRS LEAVING JACK TO THINK HOW HE IS DISAPPOINTED HER ONCE AGAIN. BEFORE JACK CAN SPEAK TO JENNIFER, VERN CALLS JACK BACK.

JACK: Okay Vern, it sounds like you put out the big fire. I'll take care of the little ones when I get there.

THE DOORBELL RINGS.

JACK: Ye...yes, thank you.

HE HANGS UP AND GOES TO THE DOOR. IT IS BILLIE.

BILLIE: Hi. I just talked to the woman at the Hall of Records and I found out what kind of company I won in the poker game. Guess what kind of company I won?

JACK: I really don't care anymore.

BILLIE: It's a cosmetics company. Do you realize how much money women spend a year on cosmetics? Zillions! And I now own a company that makes the stuff, Jack. Let's go look at it.

JACK: I think we should just forget about that today.

BILLIE: Jack, come on. This could be the ticket to our success finally.

JENNIFER COMES DOWNSTAIRS.

BILLIE: Come on, let's go look at it.

JENNIFER: Well what a surprise? I thought you'd be off playing poker somewhere.

BILLIE: Hi Jennifer. Look I'm really sorry about what happened but this is strictly business. We're working.

JENNIFER: Well I certainly don't doubt that because the only thing that matters to Jack is work.

JACK: Wait a minute. Wait Jennifer, don't just run out like that. We need to talk.... Jennifer we need to talk.

JENNIFER: When sweetheart? Between phone calls to the office?

SHE LEAVES FOR WORK.

JACK IS THINKING OVER HIS LIFE WHILE BILLIE GETS ON THE PHONE.

BILLIE: No message from Kate. I guess she hasn't read the book yet. Come on, let's go see the factory.

JACK: Why are you so insistent on my coming with you to this factory?

BILLIE: Because we're team and if we hit pay dirt then all of your problems will be solved too.

JACK JUST GIVES HER A LOOK.

BILLIE: All right, fine. I'll go by myself.

JACK: No, no, no, no, no. I need a little cheering up after the way my morning has started. I'm going to brush and floss. I'm going to go with you. I want to be there when you see what kind of business you can win in a poker game.

BILLIE: You think you're so smart don't you? You just wait. I am going to be a huge success in the cosmetics industry and you are going to be sorry you ever doubted me.

JACK: Dream, dream, dream.

HE GOES UPSTAIRS.
---
SCENE SIX: WHILE JACK IS UPSTAIRS, BILLIE SEES CASH BOWMAN OUTSIDE THE HOUSE. HE HAS BEEN THREATENING HER OVER HER EVIDENCE AGAINST HIM. HE DISAPPEARS JUST AS JACK COMES BACK DOWN.

JACK: All right, everything's taken care of. Are you all right?

BILLIE: Yeah, fine.

JACK: You don't look all right. You look a little ill. Why are you holding up the door that way?

BILLIE: Oh, oh, I was just doing a little stretching exercise, that's all. But I'm ready. Lets go.
---
SCENE SEVEN: A SHORT TIME LATER, THEY HAVE ARRIVED AT THE WATERFRONT, WHERE THE ADDRESS IS. IT IS A REALLY CRUMMY AREA.

BILLIE: We are going to be millionaires. When I open this door we're going to get our first look at the future.

JACK: Just open the door Billie.

SHE OPENS THE DOOR AND THEY WALK INSIDE.

BILLIE: Oh my god.

JACK: OH MY GOD!
---
SCENE EIGHT: MEANWHILE JENNIFER IS WORKING WITH AUSTIN AND HE IS TEACHING HER TO TANGO JUST LIKE JACK DID ON THE CRUISE. HOWEVER HALFWAY THROUGH THE DANCE SHE IMAGINES THAT SHE IS DANCING WITH JACK. HE IS DRESSED IN A WHITE TUX

AND SHE IS WEARING A RED EVENING GOWN AND THEY ARE DANCING IN A BEAUTIFUL BALLROOM.

SHE SUDDENLY REMEMBERS WHERE SHE IS AND WHO SHE IS WITH AND STOPS DANCING AND TELLS AUSTIN SHE NEEDS TO BE ALONE.
[Transcribed by Carol Vaughan
added material by Sally A. Wilson]
---
---