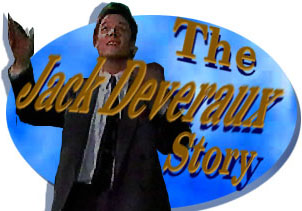 oldEpisode Five-hundred-nine:
Jack and Jennifer Attend a Party at
Titan Publishing
, Jack Tries to
Get Some Backers for the Paper.
---
[Air date mid-April, 1993]
SCENE ONE: IT IS A COUPLE OF DAYS LATER, JACK AND JENNIFER ARRIVE AT THE PENTHOUSE GRILL, THE NEW RESTAURANT ON THE TOP FLOOR OF TITAN PUBLISHING.

JACK: Well here I am in these new duds that you got me and I'm all dressed up and no place to go because I'll tell you something. This joint certainly ain't jumpin'.

JACK IS WEARING A VERY DARK NAVY SUIT WITH A SLATE GRAY SHIRT BUTTONED UP WITH NO TIE.

JENNIFER: Well we must be early.

JACK: Well we must be. We're going to leave now.

JENNIFER: What?

JACK: We'll come back later.

JENNIFER: We cannot leave Jack.

JACK: Look, we have to make an entrance. The Deveraux' are jetsetters. A little over extended perhaps but jetsetters none the less. People have to understand that there are other places that we can go this evening.

JENNIFER: Mr. Jetset we should not even be here. You should be home resting your back.

JACK: We cannot cater to our infirmities especially when there is money to raise for The Spectator and especially when.... Victor Kiriakis is watching from across the room.
---
SCENE TWO: AS THE OTHER GUESTS ARRIVE JACK AND JENNIFER BEGIN EATING THE BUFFET. JENNIFER HAS JUST FILLED HER MOUTH AND JACK IS HOLDING A CELERY STICK WHICH HE USES AS A POINTER.

JACK: What do you say? Do you think we might be able to convince that couple over there to part with a few dollars for The Spectator?

JENNIFER: I don't know Jack but this dip is so good. You have to try it.

JACK: I am not here for the dip. If you'll excuse me I'll go talk to them myself.

JENNIFER: Wait a minute.

HE TRIES TO MOVE FAST AND HURTS HIS BACK AGAIN.

JACK: Ooooh, aaaah, ah, ah, ah.

JENNIFER: My gosh, are you all right? Are you okay?

JACK: Yes, it just, it just, it just.... went again. It just went again.

JENNIFER: You know, I really feel this is my fault. If I didn't pressure you to be romantic....

JACK: You didn't pressure me into anything. You expressed a need and I just tried to fulfill it.

JENNIFER: And did you ever try! I was really touched that you tried so hard.

JACK: But? Please go on.

JENNIFER: I don't know. I wish that we didn't have to try so hard. I think if we both relaxed that maybe something romantic would happen spontaneously, you know.

JACK: Spontaneously. Yes, yes, yes, yes. Well try that next. No we won't try it. We'll do. Just do it, right? That's the idea. JENNIFER: Yeah, yeah, that's the idea.
---
SCENE THREE: WHILE JENNIFER GOES TO SPEAK TO AUSTIN, JACK TRIES TO CONVINCE A COUPLE OF GUESTS THAT THE SPECTATOR IS A GREAT INVESTMENT.

JACK: You see, as an investment, The Spectator, Henry.... may I call you Henry?

HENRY: Look, I....

JACK: Under my new leadership, The Spectator's not only prospering and flourishing but actually....

HENRY: Actually I have to go. Would you excuse me, Josh.

HENRY WALKS AWAY.

JACK: Josh? It's Jack.... it's.... Jack.... Deveraux.... man of rom....

HIS BACK IS REALLY KILLING HIM.

VICTOR: Are you all right Jack?

JACK: Ah, yes, yes. Actually I'm stretching, you know. Kind of gets the blood circulating. Gets that adrenaline flowing.

VICTOR: You're going to need all the adrenaline you can get to work this room.

JACK: I don't know what you mean by that.

VICTOR: Jack, you're desperation is pathetically obvious. You're trying to wheedle perfect strangers into financing The Spectator for you. Who do you think you're kidding?

JACK: I don't think that's any of your business Victor.

VICTOR: Well it will be once you come to your senses and accept my offer.

JACK: Excuse me. I need to find my wife.

VICTOR: I'm still willing to let you keep your job under the new regime Jack.

JACK: The new regime. Why do I dread the sound of that name. Now if you'll excuse me Victor, I think you understand I'd rather sell certain body parts than sell you The Spectator.
---
SCENE FOUR: JACK CANNOT FIND JENNIFER SO HE DECIDES TO TRY FOR MORE INVESTORS.

JACK: Excuse me....

THE COUPLE IGNORE HIM AND WALK AWAY AND KATE COMES OVER TO SPEAK TO HIM.

KATE: Having a good time?

JACK: Yes, yes, lovely time. It's a wonderful party.

KATE: Listen I read your editorial on health care. It was excellent. It was clear, concise, to the point but compassionate. You are an excellent journalist.

JACK: Well thank you. Coming from someone in your position that means a great deal.

KATE: Have you.... have you ever considered writing a novel? I mean most journalists do at some point in their career.

JACK: I.... I have, ah, thought about it but I really haven't made the time.

KATE: Well your assistant had time to write In the Midnight Hour.

JACK: Well I usually go to bed by then.

KATE LAUGHS.

JACK: I.... I really.... I didn't know about that book until after she came to work for me.

KATE: You mean she didn't ask your opinion or for any help?

JACK: No, no, she didn't ask for any help. I found out about it just recently.

KATE: She didn't tell you about it?

JACK: No, no, Billie didn't tell me anything. She takes great pride in that and if I do know anything she makes a point of letting me know she doesn't want my help in it.

KATE: That does sound like the Billie I know.

JACK: Yes. (Beat) So about this book. Are you considering publishing it anytime soon?

KATE: Oh it's too early to predict that yet.

JACK: Hmmm, well that's difficult. I mean I understand but Billie won't. She's rather impatient.

KATE: Aren't we all. Jack I know about the offer that Victor made to buy The Spectator. I think it would be a very good deal for you.

JACK: You may be savvy about some things but you have yet to understand that.... Victor Kiriakis does not make good deals.

THIS SURPRISES KATE AND WORRIES HER.

KATE: Well I just thought that maybe....

JACK: Please, excuse my cynicism but I'm not.... I'm not accustomed to having to accept deals from Victor Kiriakis. I'm a Deveraux you see and until recently.... well in my family Presidential ambition was.... was no stranger. My family used to have a joke that we.... we helped build half of Boston and run half of New York.

KATE: Excuse me, excuse me. Are you by chance the son of Senator Harper Deveraux?

JACK IS RELUCTANT TO ANSWER THIS.

JACK: Yes, one and the same.

KATE: Ooooh I didn't know you were one of those Deverauxes.

JACK: Yes, yes. One of those Deverauxes But not to worry, I don't bite.... much.

KATE GIGGLES.

KATE: I do admire your sense of humor. You know what, you and my son have an awful lot in common. I want to talk to you about him someday.

SHE WALKS AWAY LEAVING JACK WONDERING.
---
SCENE FIVE: MEANWHILE AUSTIN ASKS JENNIFER TO DANCE AND THEY PLAY A TANGO. JACK IS SITTING ALONE AT THE BAR WHEN BILLIE SURPRISES HIM. SHE OVERHEARD WHAT KATE SAID TO HIM ABOUT THE BOOK.

BILLIE: JACK!

HE JUMPS WITH FRIGHT.

BILLIE: What?

JACK: Aaaah.

BILLIE: This is a disaster. This whole thing. She is going to hold onto that book, I think, forever. I mean what if she never prints it. Then what are we going to do?

JACK: Billie, don't over react. I suggest you go find Kate Roberts yourself and just try to pin her down. And I.... aaaarrgh.... excuse me, my back's just a little....

BILLIE GRABS HIM BY HIS SHOULDERS FROM THE BACK AND PULLS THEM TOGETHER.

JACK: Aaaah, what.... what did you just do?

BILLIE: Nothing. You feel better?

JACK: Yes.

BILLIE: You should see what I do for a toothache, heheh.

JACK: Hmmm.

BILLIE: See ya later.

HE SMILES AND SHE WALKS AWAY.

JACK: Yes.
---
SCENE SIX: WITH HIS BACK FIXED, JACK HEADS FOR THE DANCE FLOOR WHERE JENNIFER IS STILL DANCING WITH AUSTIN.

JACK: Mind if I cut in?

AUSTIN: Oh sure Jack, how are you doing? I'll see you Jen.

AUSTIN LEAVES. JACK BEGINS TO DANCE WITH JENNIFER. HE TAKES HER IN HIS ARMS AND LOOKS IN HER EYES.

JACK: Excuse me.

HE HOLDS HER IN A DEEP DIP AND KISSES HER IN THE MIDDLE OF THE DANCE FLOOR WITH EVERYBODY LOOKING ON.
---
SCENE SEVEN: BILLIE CHASES AFTER KATE AND ASKS HER IF SHE IS GOING TO PUBLISH THE BOOK AND KATE SAYS THAT IS HER BUSINESS.
---
SCENE EIGHT: JACK AND JENNIFER CONTINUE TO DANCE AND SWING AROUND THE FLOOR AND BETWEEN EACH SONG, JACK DIPS JENNIFER AND KISSES HER. THE GUESTS BEGIN TO APPLAUD THEM.

JACK: Thank you.

THEY WALK OFF THE FLOOR.

JACK: Thanks for that. I believe we showed them that the name Deveraux does not equate with damaged goods, don't you think? Especially in the financial and physical end.

JENNIFER: I thought you were dancing with me because you wanted to not because you wanted to show Victor Kiriakis. JACK: Ah yes that's very true. But it doesn't hurt to kill two birds with the one stone, does it?

JENNIFER: No, no, of course not.

JACK: Good.

JENNIFER IS STILL A BIT HURT.
[Transcribed by Carol Vaughan
added material by Sally A. Wilson]
---
---