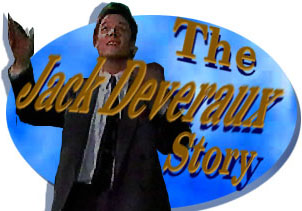 oldEpisode Five-hundred-eleven: Jack
and Jennifer Have Dinner with Kate and
Lucas Roberts, Jack Tries to Discover
Information about Victor Buying
The Spectator
.
---
[Air date late April, 1993]
SCENE ONE: IT IS A COUPLE OF DAYS LATER, JACK AND JENNIFER HAVE ARRIVED AT BRADY'S PUB.

JACK: All right, make mine a double, straight up, two olives. I've got to make a phone call.

JENNIFER: Jack you promised that you would leave business at the office tonight.

JACK: I know. I know what I promised. One little phone call. I swear it will be the last one of the evening but it's very important.

JACK GOES TO THE PHONE AND JENNIFER IS UPSET.

JENNIFER: It's always very important Jack.

JENNIFER ORDERS THE DRINKS FROM SHAWN BRADY.
---
SCENE TWO: JACK IS THROUGH AND RETURNS TO HIS SEAT.

JENNIFER: Oh hi.

JACK: Please let's sit down for a minute.

JENNIFER: Uh, oh, what's wrong?

JACK: It's all over. That's what's wrong. That was my last hope of getting a backer to help me make the next payment on The Spectator.

JENNIFER: I'm very sorry Jack.

SHE TAKES HIS HAND ACROSS THE TABLE.

JENNIFER: Look you tried. I mean you did. You did everything that you possibly could. You know a lesser man would have given up weeks ago.

JACK: Now wait a minute. I'm not talking about giving up. If I can find out how Victor plans to take over The Spectator I can use that to my advantage. The key is the dinner with Kate Roberts tonight.

JENNIFER: Jack, don't. I don't think that's a good idea.

JACK: No, no, no, let's not be negative. If Victor has a plan, Kate will know it. All I have to do is get it out of her.

JENNIFER: Look Jack I hate to put a damper on your enthusiasm, all right, but Kate Roberts is not going to give you any inside information on Victor Kiriakis.

JACK: Try to give me a little bit of credit here. I'm going to be subtle about this. She's never going to know that I'm pumping her for information.

JENNIFER: All right, all right. And then what? She gives you this information. If Victor is already in the process of taking over The Spectator, what are you going to do about it?

JACK: I'm going to take his plan and turn it around and use it on him.

JENNIFER GIVES HIM A LOOK.

JACK: That look is not a look of confidence.

JENNIFER: Okay, from what I've seen, Kate Roberts is a very sharp and ambitious woman. Victor Kiriakis is her bread and butter. There is no way she is going to jeopardize her relationship with him to help you.

JACK: All I'm trying to say is that there is more than one way to slice an onion. She has an Achilles heel. Everyone does. I'm just figuring out where it is.

JENNIFER: All right, so where do I fit in to this whole plan of yours?

JACK: You don't have to worry about fitting in. All you have to do is be your lovely charming Mrs. Deveraux self.

JENNIFER: I thought we were supposed to have a nice night out. A nice social dinner at a glamorous restaurant with a fascinating woman and her son.

JACK: Who said we're not? All you have to be the lovely Mrs. Jack Deveraux and leave the rest to me.

JACK AND JENNIFER GET UP TO LEAVE.

JACK: Goodnight all.

CAROLINE: Have a good time.

JENNIFER: Yes goodnight.

JACK: Yes, certainly. Thank you for the free drinks.

AUSTIN WALKS IN AS THEY ARE LEAVING AND NEEDS TO TALK TO JENNIFER ABOUT THE SHOW.

JACK: We really don't have time. We have an important dinner engagement.

JENNIFER: Austin, can this wait?

AUSTIN: It really can't.

JACK IS ANNOYED.

JACK: All right.

HE TURNS BACK TO THE BAR.

JACK: Straight up.

HE HAS A QUICK DRINK. GOES BACK TO JENNIFER.

JACK: We really need to go.

SHE SAYS GOODBYE TO AUSTIN AND THEY LEAVE.

JACK: What was that all about?

JENNIFER: It was just something about work.

JACK: Work? Well what were you saying about the pot calling the kettle black?

JENNIFER: Very funny, come on.

SHE PULLS HIM OUTSIDE BY HIS TIE.

JACK: Careful. This tie is my good one.
---
SCENE THREE: A SHORT TIME LATER, JACK AND JENNIFER ARRIVE AT THE PENTHOUSE GRILL JUST AFTER LUCAS ARRIVES.

JENNIFER: Hello Kate.

KATE: Hello.

JENNIFER: Lucas, hello. Don't you look nice?

HE IS WEARING HIS WEST POINT UNIFORM.

LUCAS: Thank you Mrs. Deveraux.

KATE: I'm so glad you two could join us.

JACK: Oh we wouldn't have missed it for the world. Lucas.

KATE: Well, shall we?

JACK: Yes, please.

THEY MAKE THEIR WAY TO THE TABLE.

JACK: Ladies. A very impressive inform Lucas.

LUCAS: Thank you sir.

JACK: You realize of course that the history books are filled with young men who went to your school.

LUCAS: Yes sir. Our school is very proud of the men that have come before us.

JENNIFER: So what made you decide on a military career?

LUCAS: Ah, actually I'm considering all kinds of options.

JENNIFER: Really well that's very interesting. What are these other options you are considering?

JACK NOTICES THE FRICTION BETWEEN KATE AND LUCAS WHEN HE SAID THAT AND IS VERY INTRIGUED.
---
SCENE FOUR: THE DINNER PROGRESSES AND JACK AND KATE DANCE. JENNIFER AND LUCAS ARE STILL AT THE TABLE.

LUCAS: So, is your husband into power Mrs. Deveraux?

JENNIFER: What an odd thing to ask.

LUCAS: I just figured he must be if he and my mom have so much to talk about.

JENNIFER: You know your mother must be a really fascinating woman. I mean she's accomplished so much in her life.

LUCAS: She has. She's worked very hard for the things she's done. I admire her for that. But....

JENNIFER: But you wish that she wasn't so successful.

JENNIFER ASKS LUCAS ABOUT HIS FATHER AND HE TELLS HER THAT HE DIED BEFORE HE WAS BORN AND HE KNOWS VERY LITTLE ABOUT HIM.
---
SCENE FIVE: JACK AND KATE ARE WALKING BACK TO THE TABLE WHEN THEY SEE VICTOR HAVING DINNER WITH JOHN AND REBECCA, SHE IS THIS WOMAN THAT JOHN HAS BEEN SEEING.

KATE: Jack, you know I get the distinct impression that you want something from me. Am I right?

JACK: Take a seat.

HE GUIDES HER TO THE BAR.

JACK: I get that same distinct impression from you.

KATE: All right, shall we lay our cards on the table?

JACK: Age before beauty. I go first.

KATE: Please.

JACK: You know I considered subtly pumping you for information about Victor but I realize now that that's beneath you. Beneath both of us. So here are my cards. The Spectator is the most important thing in my life. Victor's trying to take it away. (Beat) I need your help to get it back.

KATE: How?

JACK: Tell me what Victor's planning.

KATE: Oh I'm sorry Jack. That's impossible.

JACK: So what you're really saying is Victor doesn't confide in you.

KATE: No, what I'm really saying is that even if he did, I couldn't betray his confidence. However, I do have a counter offer for you. When Victor buys The Spectator....

JACK: If Victor buys The Spectator.

KATE: When Victor buys The Spectator it will become part of Titan Enterprises. I need an ally at Titan. I'd like it to be you.

JACK: Me?

KATE: Yes. Take the job that Victor offered you. Stay on as editor of the paper.

JACK: You mean go from publisher to editor. No. I told Victor I couldn't do that and I mean it.

KATE: But you'd be working for me. I'm in charge of all Titan's publications. We'd be working together. Who knows what we could accomplish if we set our minds to it.

JACK: And what about Victor?

KATE: What about Victor?

JACK: Well I.... I don't know. You know how he feels about me. How would he feel about you if he knew you were in here right now with me talking about me being an ally?

KATE: He doesn't know though, does he? And I for one am certainly not going to tell him.

JACK: Kate I don't know how to explain this to you. It's an interesting and intriguing idea but, ah, I still feel the Kiriakis noose around my neck.

KATE: Think about it Jack. You've got less than a week to come up with money for The Spectator.

JACK: I still believe it can be done. I intend to win this war against Kiriakis.

KATE: Jack, you're being totally unrealistic. You'll never win at this late date.

JACK: I don't know. Stranger things have happened.

KATE: Good luck. May the best man win. Or should I say woman?

JACK CANNOT QUITE FIGURE KATE OUT.
[Transcribed by Carol Vaughan
added material by Sally A. Wilson]
---
---