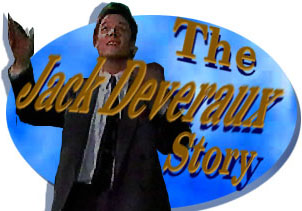 oldEpisode Five-hundred-thirteen:
Jack and Jennifer Get Proposefully
Stuck in an Elevator. Later They Tango.
---
[Air date late April, 1993]
SCENE ONE: LATER THAT NIGHT AND JACK AND JENNIFER ARE GOING TO SHAWN DOUGLAS' BIRTHDAY PARTY AT THE PENTHOUSE GRILL. THEY ARE IN THE ELEVATOR GOING UP AND JENNIFER IS HOLDING THE PRESENT.

JENNIFER: You know as much as I love Carly, I wish we didn't have to go to this party.

JACK: Right, that's it. We're going back down. We....

JENNIFER: No, no, no. We have to make an appearance.

JACK SIGHS.

JENNIFER: But you're going to be good. You're not going to have any business conversations with anybody especially Victor.

JACK: No, no, no, no. I'm not going to talk to anyone about anything.

SHE TURNS TO FACE THE DOOR AND AS HE STANDS BEHIND HER HE LOOKS HER UP AND DOWN AND THEN TAKES HER HAIR AND SMELLS IT.

JACK: However.... I just have to make sure that you're certain, absolutely certain, that we....

HE RUNS HIS FINGER DOWN HER ARM AND THEN WHISPERS IN HER EAR.

JACK: .... that we have to make an appearance here tonight.

JENNIFER: Well we can only stay for a few minutes.

SHE TURNS TO HIM.

JACK: Hmmmm.

JENNIFER: I can't wait to be alone with you.

JACK: Well?

HE KISSES HER PASSIONATELY.

JACK: We're alone right now.

HE TOSSES THE PRESENT ONTO THE FLOOR.

JENNIFER: But we're in the elevator Jack.

JACK: I realize we're in the elevator Jennifer. Excuse me.

HE LAYS HIS COAT ON THE FLOOR.

JACK: Sorry Shawn Douglas.

SHE GIGGLES AS HE KISSES HER.

JENNIFER: Jack.

HE PRESSES THE STOP BUTTON.

JENNIFER: What.... Jack, wait a minute. The elevator's stopped.

JACK: Sssssh.... sssssh.

JENNIFER: It's stopped.

JACK: That was just the world moving.

HE TAKES HER IN HIS ARMS AND KISSES HER MADLY AND PASSIONATELY.
---
SCENE TWO: UP AT THE PENTHOUSE GRILL, TOM AND ALICE ARRIVE AND TELL VICTOR THAT HE IS HAVING PROBLEMS WITH ONE OF THE ELEVATORS. HE GOES OVER TO IT AND LUCAS IS WAITING FOR IT TOO. THEY BOTH PRESS THE BUTTON.
---
SCENE THREE: THE ELEVATOR STILL IS NOT WORK, WHEN SUDDENLY THE DOOR OPENS AND JACK AND JENNIFER ARE IN A PASSIONATE EMBRACE AND THEIR HAIR IS BIT MESSED UP.

JENNIFER: Oh my.

JACK: Ah, excuse us.

THE PRESENT IS SQUASHED FLAT BEHIND JACK AND JENNIFER IS TRYING TO FIX HER HAIR. JACK'S TIE IS AROUND HIS NECK AND HIS SHIRT IS UNDONE.

VICTOR: It looks like the Deverauxes started the party a little early.

JACK: As a matter of fact, we were shut up in the elevator, trying to get up for half an hour.

HE UNTANGLES JENNIFER'S BAG FROM HIS SHOULDER AND PICKS UP HIS COAT.

JACK: It's lucky for you we're not going to sue.

JENNIFER: Excuse me.

JACK: My apologies to Shawn D.

HE HANDS VICTOR THE FLATTENED PRESENT.

LUCAS: Hello Jennifer.

JENNIFER: Hello Lucas, it's....

JACK: Very nice to see you. We've got to go.

VICTOR AND LUCAS LAUGH TO EACH OTHER AS JACK AND JENNIFER GO INTO THE PARTY.
---
SCENE FOUR: JACK AND JENNIFER MINGLE WITH THE OTHERS GUESTS FOR A FEW MINUTES THEN SPEND THE REST OF THE TIME IN A CORNER, KISSING AND CUDDLING. TOM AND ALICE ARE WATCHING THEM.

TOM: Well if I didn't see it with my own eyes, I wouldn't believe that Jack Deveraux could be so romantic.

ALICE: Jennifer told me that the article that Jack wrote about Wendy put them back on the track again.

TOM: Well it just proves what I've always said. When you help others, you help yourself.
---
SCENE FIVE: JACK AND JENNIFER HAVE LEFT THE PARTY. THEY ARE NOW BACK HOME WHERE THEY CONTINUE THE ROMANCE BY DANCING THE TANGO.

JENNIFER: Slow, slow, quick, quick, slow.

JACK: Slow.

JENNIFER: Slow, slow....

JACK: You're sure you're not sorry we left that party early?

JENNIFER: No I'm not sorry and I'm sure Carly will understand. Slow, slow, quick, quick, slow.

JACK: You dance superbly Señorita.

JENNIFER: Gracias but in the tango one is only as good as one's partner.

JACK: Then I dance superbly Señorita.

JENNIFER: AbsolutementŘ. Switch.

THEY DANCE BACK IN THE OTHER DIRECTION.

JACK: If that's absolutementŘ, perhaps we should just run off together, Hennifer. (Pronounced Jennifer as in Spanish)

JENNIFER: I love the way you say my name. But I am not in the habit of running off with strange hombres, Hack (Doing the same with Jack's name)!

JACK: Truer words.

THEY BOTH LAUGH.

JACK: Well perhaps we'll just enjoy a quick glass of....

HE PUTS HER IN A DEEP DIP AND KISSES HER NECK.

JACK: .... champagne and that will change your mind. Down this way.

HE TAKES HER TO THE CHAMPAGNE AND RAISES THE BOTTLE.

JENNIFER: Oooooh, four hours and ten minutes.

JACK: Four hours and ten minutes to what?

JENNIFER: You have not talked about business. You have not even mentioned it.

JACK: I haven't really thought about it either. I mean the fact that The Spectator's deadline is.... tomorrow night, hadn't even entered my mind.

JENNIFER: Great and I had to be the one to bring it up. Brilliant Jennifer, brilliant.

THEY BOTH SIP THEIR CHAMPAGNE.

JACK: Brought what up? I mean I really don't know what you are talking about.

JENNIFER: I don't either. I was talking about what we should do with the rest of the night. You know a little bit more of this champagne and I could be talked into running away with you. Forget the champagne! I'll go!

SHE GIVES HIM A BIG KISS.

JACK: All right, you're on. Get dressed.

JENNIFER: I am dressed.

JACK: Get more dressed. I mean put on something warm.

JENNIFER: Why?

JACK: Because we are going to go away together.

JENNIFER: Go where? What do you mean we're going away?

JACK: You're in for a night that you'll not soon forget.
[Transcribed by Carol Vaughan
added material by Sally A. Wilson]
---
---