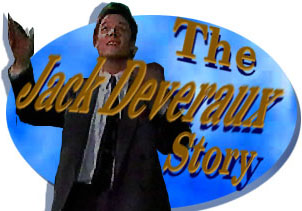 oldEpisode Five-hundred-sixteen: With
the Deadline Drawing Near, Jack Tries
to Convince Robards to Be His Backer.
However, an Unforeseen Event Occurs.
---
[Air date early May, 1993]
SCENE ONE: IT IS THE NEXT MORNING AND JACK IS JUST OUTSIDE THE FRONT DOOR PICKING UP THE NEWSPAPER WHEN THE PHONE STARTS TO RING. JENNIFER RACES DOWNSTAIRS AS JACK RUNS INSIDE. THEY ARE BOTH SCREAMING.

JENNIFER: THE PHONE! THE PHONE!

JACK: I'll GET IT. I'LL GET IT!

JENNIFER: THE PHONE!

JACK: It's Robards! I know. It's Robards! I know.

JACK GETS TO IT FIRST.


JACK: Hello. Hi, Mr. Robards. Yes.... yes Clayton, yes. Well thank you very much. (Beat)You will? (Beat) You do? (Beat) Ah, well certainly. Yes I'll meet you there right away but I'll tell you something. It's my treat. My treat.

HE HANGS UP.

JENNIFER: What did he say?

JACK: He has a couple of questions about the proposal. He just invited me to lunch.

JENNIFER: Oh Jack, that's wonderful. That's wonderful.

JACK: No, no, no. It's not wonderful. It's a miracle! You see if Mr. Robards, Mr. Clayton Robards, puts his money into The Spectator, we're going to make the deadline, tonight!

JENNIFER: It is a miracle. It's a....

JACK PICKS HER UP AND SWINGS HER AROUND AS THEY BOTH SCREAM.

JACK AND JENNIFER TOGETHER: MIRACLE! It's a miracle! We're going to make it. We're going to make it.
---
SCENE TWO: JACK GETS READY FOR THE LUNCH AND BEFORE HE LEAVES, HE AND JENNIFER GO OVER THE PROPOSAL.

JACK: I know that if I can answer all of Robard's questions, I can secure this loan from the man. I know that. In fact let me just check the proposal one more time.

JENNIFER: And The Spectator will be yours finally Jack.

JACK: Finally is right. Because if we don't get it today we're going to lose it tonight and wouldn't Victor Kiriakis laugh about that especially after everything I've been through.

JENNIFER: I know but you have to think positively remember.

JACK: I'm positively thinking that Victor's going to laugh if....

JO COMES DOWNSTAIRS.

JO: Ooooooh all right. Abby fell asleep so everything's fine.

JENNIFER: Well thank you. Thank you so much Jo. Well guess what your son is going to be doing for lunch today?

JO: Okay I'll bite. What?

JENNIFER: He is going to have lunch with a man that might invest in The Spectator which means we might be able to make our last payment by midnight tonight.

JO: Wow! Well I'll keep my fingers crossed for you.

JENNIFER: I'm going to keep my fingers crossed all day.

JACK: You know, I think it would serve better if you came with me with your fingers crossed to the luncheon.

JENNIFER: You want me to meet Mr. Robards with you?

JACK: I most certainly do. You spent all last night with me studying the man. You know him as well as I do. You know that he's a family man. He likes family men. He thinks family men are.... are strong, are stable, are reliable.... are worth taking a risk on. You should come with me.

JENNIFER: If you really want me to.

JACK: I'm begging you. Please come with me.

JENNIFER: All right, all right. I have a meeting at the studio and you know what, I can leave Abby at the day care center while I run over.

JO: Oh no, no, no, you won't. I'll look after Abby. That'll be my contribution to this project.

JENNIFER: Oh Jo you are so wonderful. You are making this so easy. Okay, I'll meet you at the Penthouse Grill, okay?

JACK: Yes, yes, make it quick. I'm getting right over there.

JENNIFER RUSHES OUT. JACK STARTS SEARCHING HIS POCKETS.

JACK: I just remembered I've got to treat this millionaire to lunch and I don't have any cash. I don't have time to make it to the bank either.

JO: Oh I've got some cash.

JACK: No, no. I'll just use my credit card if I haven't pushed it over the limit.

JO: Yeah, yeah, Jack. I'm your mother. Let me do something for you, all right.

SHE GETS OUT SOME MONEY AND SHE'S ABOUT TO GIVE HIM SOME WHEN HE GRABS THE LOT.

JACK: Ah, good idea, very good idea. If things work out, I'll pay you back. But just remember, this small amount of money will take down a millionaire. I don't mean him. I mean Victor Kiriakis. We're going to take him down with this. HAH!

JACK LEAVES AND JO IS WORRIED.
---
SCENE THREE: JACK ARRIVES AT THE PENTHOUSE GRILL AND SEES VICTOR TALKING TO ROBARDS. HE IS VERY UPSET.

JACK: Dammit! Damn, how did Victor get to Robards first? Well there goes my loan. There goes The Spectator.

JACK BEGINS THE LONG WALK ACROSS THE RESTAURANT TO ROBARDS AND VICTOR.

VICTOR: Hello Jack.

JACK: Victor. Mr. Robards, I trust I didn't keep you waiting.

ROBARDS: No I just arrived. Nice to see you again Jack. It's been quite a while.

JACK: Yes sir.

VICTOR: Well I'll leave you two to your lunch. Nice to see you.

ROBARDS: Take care.

VICTOR WALKS AWAY.

JACK: I don't suppose there is any real reason in having lunch, not if you're not really interested in investing in The Spectator.

ROBARDS: Why do you say that?

JACK IS SOMEWHAT ANNOYED WITH HIMSELF FOR SAYING ANYTHING.

JACK: Ah.... um, we have a long standing feud, Victor and I. It goes back to when my father was alive. He seems determined to ruin me. I believe he's finally succeeded.

ROBARDS: Oh I don't know about that. I've dealt with Victor too over the years and quite frankly, I hate the guy's guts. Now why don't we take a look at the menu and see if there's anything on it fit for human consumption, all right?

JACK IS SURPRISED AND DELIGHTED.

JACK: Yeah.

ROBARDS: Your treat.

JACK: Yes

JACK IS COMPLETELY SURPRISED NOW. VICTOR IS WATCHING EVERY MOVE THEY MAKE.
---
SCENE FOUR: THE WAITER COMES OVER AND JACK ORDERS FIRST.

JACK: A burger, with nothing on it. Plain.

ROBARDS: Oh that's not a healthy lunch Jack. I'll just have a large salad. You know, you'll pay for not eating properly in a couple of years when your arteries have hardened and you find you can't climb a flight of stairs.

JACK: Oh I don't order that usually.

ROBARDS: You are what you eat. I mean I've always said that. You know eating healthy has changed my life. I jog ten miles a day. I lift weights. I put in a twelve hour business day and I still have enough time to go out dancing.

JACK: Really? That's terrific.

ROBARDS: Isn't it amazing?

JACK: Yes, yes.

ROBARDS: You know, I think that you should see my nutritionist.

HE GETS OUT A BUSINESS CARD TO GIVE JACK.

ROBARDS: She'll fix you up in a minute. Take the card. You'll find that she'll get you on the right track in a matter of hours. And also she doesn't cost an arm and a leg. Well maybe an arm.

JACK LAUGHS QUIETLY AS JENNIFER ARRIVES.

JACK: That's wonderful, thank you.

JENNIFER: Excuse me, am I very late?

THEY BOTH STAND UP.

JACK: Oh no, not at all, not at all. Mr. Robards, Clayton. This is my wife, Jennifer Deveraux.

JENNIFER: Hello. It's so nice to meet you.

ROBARDS: It's nice to meet you Jennifer. Please.

JACK HOLDS HER CHAIR AS SHE SITS DOWN.

JENNIFER: Thank you.

JACK: Please.

JENNIFER: You know I've heard so many good things about you.

JACK: Yes.

JENNIFER: And my husband and I, we would love to have you over for dinner tonight. I make the most fabulous roast....

JACK: Beets! Roast beets. It's fabulous. On a bed of fern. She's always trying to change my terrible eating habits, aren't you? To tell you the truth, my wife Jennifer is a vegetarian, just like you.

JENNIFER: Are you really? That is so wonderful.

SHE GIVES JACK A QUICK GLANCE.

ROBARDS: Well I can tell that you eat healthy and I would be delighted to come over to dinner tonight and I'll have an answer for you about that loan by then too, Jack.

JACK GIVES JENNIFER A TINY GRIN.
---
[Air date early May, 1993]
SCENE ONE: LATER THAT DAY AND JENNIFER ARRIVES AT THE SPECTATOR TO GO HOME WITH JACK.

JENNIFER: All right Jack, are you about ready to wrap it up here?

JACK IS AT THE FAX MACHINE.

JACK: Just tying up a couple of loose ends here. Believe me I'm not going to be late for this dinner.

JENNIFER: All right.

JACK: Is that everything? We haven't forgotten a thing, have we?

JENNIFER: No. Abby is at Mrs. McGowen's. I just dropped her off.

JACK: Right.

JENNIFER: Dinner is ready. All I have to do is heat it up.

JACK: Right.

JENNIFER: And believe me there is not one vegetable that I left out. Jo gave me the most fabulous recipes.

JACK: Right.

JENNIFER: Jack, listen to me. Clayton Robards is going to give you the money to buy The Spectator. I just know it.

JACK: Absolutely. If Robards come through for us, this will be the luckiest day of our life.

THEY HUG EACH OTHER.

JACK: I'm telling you, if Robards signs the check tonight and if we can make the deadline to pay off The Spectator....

JENNIFER: No, not if, when, Jack.

JACK: When. Right, when Robards signs the check. I'm telling you, this man came to us from heaven. And look at this. Look at all of these.

JENNIFER: Why, what are they?

JACK: Faxes. Hundreds of faxes. I have a friend, an old acquaintance from Yale actually, who knew about this deal I had with Robards. It turns out the man is also a vegetarian and he's been sending me faxes all day about living the vegetarian life.

JENNIFER: Let me take a look at these Jack.

JACK: Go ahead, please.

JENNIFER: I don't want to live like this all the time you know.

JACK: Oh no. Listen, if this gets Robards in our pocket and giving us money, I don't know. Call me Gibbins (He was famous in the 70s for advertising Grape Nuts Cereal, in the comercials he would eat bark). I'll eat roots, bark, dirt, anything. But look at the man. He's healthy. He looks great.

JENNIFER: He does, yes. But look, if for one reason or another he doesn't back you....

JACK: What do you mean, if? What is all this negativity. I thought we weren't going to have negative thoughts today.

JENNIFER: No I'm not trying to be negative. I know that you want the newspaper and I want you to have it because I know it's important. But if it doesn't happen, I want you to know that there are more important things. I mean we have each other. We have Abby.

JACK: Exactly. That's why I need the paper firmly under my control so that I can give you everything you need.

JENNIFER: Jack, I keep telling you I don't want all those things. I don't need them.

THEY BOTH STOP TALKING AS THE FAX BEEPS.
JACK: Oh another fax from my vegetarian friend.

JENNIFER: What does it say?

JACK: Oh he's talking all about that raisin carrot diet that Robards kept touting to me. He.... he said that Robards, it's his favorite dish. Potatoes Anna.... Potatoes Anna. Check this out Jennifer. We'll have Potatoes Anna tonight. Yes, we'll have Potatoes Anna.

JENNIFER IS NOT HAPPY AT ALL ABOUT ANOTHER VEGETARIAN DISH. SHE LEAVES AND GOES TO WINGS WHERE TOM AND ALICE ARE HAVING DINNER WITH MAGGIE AND MICKEY FOR MOTHER'S DAY. SHE ASKS ALICE FOR HER RECIPE FOR POTATOES ANNA.
---
SCENE TWO: MEANWHILE JACK TELLS VERN WHAT IS GOING ON.

JACK: I'm going home early tonight Vern, so you man the helm. I've got to help Jennifer cut up the cruditØ entrØe.

VERN LAUGHS.

JACK: Listen, I know Jo's got you roped into this vegetarian thing. Be honest with me, this.... this raisin carrot diet. I'll do anything to keep Robards happy but this sounds repugnant.

VERN: You will hate it.

JACK: That's what I thou....

VERN: But it's very good for you.

VERN SEES JO COME INTO THE OFFICE.

JO: Hello Jack.

VERN: Hi.

JO: Hi Vern.

JACK: Jo I wanted to thank you for getting those vegetarian recipes over to Jennifer, yes.

JO: Are you ready for your repugnant vegetarian dinner with Mr. Robards?

JACK: Yes as a matter of fact I am, thank you.

JO: Do you want me to keep Abby tonight?

JACK: No, no, Mrs. McGowan's taking care of her.

JO: Oh.

JACK: Well what's the matter? I thought I'd give you the night off.

JO: Yeah. You know anytime you want me to baby-sit my granddaughter all you have to do is ask me.

JACK: Well thank you. I'll keep that in mind.

VERN: Jack.

VERN SIGNALS TOWARDS JO WITH HIS HEAD.

JACK: What's wrong with your neck Vern?

VERN: Aaaah, happy mother's day Jo.

JO: Thank you Vern.

VERN GIVES HER A KISS ON THE CHEEK.

JACK: Oh yes, a happy, happy, happy. I'm sorry, I was just.... I'm wrapped up in this important dinner tonight and otherwise maybe you'll take a rain check.

JO: Of course. If it means your dreams will come true I can wait for my Mother's Day.

JACK: Good.
---
SCENE THREE: MEANWHILE VICTOR AND KATE ARE HAVING DINNER AT WINGS AND VICTOR TELLS HER THAT THERE IS NOTHING HE WANTS MORE IN THE WORLD THAN TO OWN THE SPECTATOR. WHILE THEY ARE THERE, VICTOR GETS A CALL THAT HE TELLS KATE CHANGES EVERYTHING.
---
SCENE FOUR: BACK AT THE SPECTATOR, ONE OF THE COPY BOYS HANDS VERN A WIRE REPORT.

VERN: Oh boy. Jack we're going to have to make space in the early edition for a major obituary.

JACK: You're going to have to handle it Vern. I've got a millions things to do tonight.

VERN: Maybe not.

HE HANDS JACK THE MESSAGE. HE READS IT AND COLLAPSES ONTO A CHAIR.
---
SCENE FIVE: AT WINGS, VICTOR TELLS KATE THE CLAYTON ROBARDS JUST DIED OF A HEART ATTACK. HE LEAVES FOR THE OFFICE TO MAKE PHONE CALLS TO OUTBID ANYONE ELSE INTERESTED IN THE SPECTATOR. LEFT ALONE, KATE DOES SOME THINKING AND MAKES HER OWN CALLS.
---
SCENE SIX: JENNIFER ARRIVES BACK AT THE PAPER TO PICK UP JACK.

JENNIFER: All right, I got the recipe for Potatoes Anna. Jack if we leave now we can make it home in time. I can make it. Jack? What's wrong with Jack?

JO: He hasn't moved since he heard the news about Clayton Robards' death.

JENNIFER: His what?

VERN: He died suddenly, a few hours ago.

JO: Yeah. Oh Jack, I'm so sorry.

VERN: Yeah, me too Jack.

JO: Sweetheart, I'll call you tomorrow.

JACK IS STARING INTO SPACE AND NOT HEARING ANYTHING.

JENNIFER: Bye Jo.

JO: Okay.

JENNIFER STROKES JACK HEAD WHILE JO AND VERN LEAVE.

JENNIFER: Jack let me have this okay.

SHE TAKES THE FAX OUT OF HIS HAND.

JENNIFER: Look I know how horrible you must be feeling right now, okay.

JACK: I fought the good fight Jennifer. It was the best round of my life and I lost.

JENNIFER: No you didn't. You didn't lose anything, all right. We're not just going to give up. We're going to think of something else. We will. We're going to do this. Look as long as we have each other, together we can do anything.

THE FAX BEEPS AGAIN.

JENNIFER: Oh here comes another fax.

JACK: Oh it's probably just another fax from my pal at Yale extolling the virtues of a vegetarian lifestyle.

HE PULLS JENNIFER INTO HIS ARMS.

JACK: A hell of a lot of good it did Robards. Carried out by a bad raisin.

THE FAX FEEDS OUT OF THE MACHINE. IT READS: "I WANT TO HELP YOU BUY THE SPECTATOR I'LL BE YOUR BACKER. YOUR OPTION RUNS OUT AT MIDNIGHT AND I KNOW I'M YOUR ONLY HOPE NOW. DO YOU WANT TO DEAL? MY FAX NUMBER IS 555-7851."
[Transcribed by Carol Vaughan
added material by Sally A. Wilson]
---
---
---