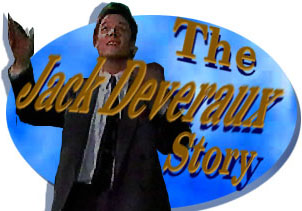 oldEpisode Five-hundred-twenty:
Jack Discovers His Mysterious
Backer is Kate Roberts. She
Assures Him She Is not Working for
Victor. She Is Helping Jack Because
She Wants Him to Help Her Son Lucas.
---
[Air date late May, 1993]
SCENE ONE: JACK GOES BACK TO THE OFFICE. HE IS ON THE PHONE TO JENNIFER.

JACK: I was saying I just got a fax saying the mystery partner was on his way over. I'm finally going to meet the man.

JENNIFER: Well you sound very excited.

JACK: Of course I'm excited. I get to meet the man. I cam find out if he's going to let me run the paper the way I want.

JENNIFER: Jack, that is so wonderful. Jack you know what, tonight I am going to cook us a wonderful dinner and we're going to celebrate.

JACK: That's great. Look let's be positive. You plan the celebration and I'll give you the reason to celebrate.

THERE IS A KNOCK ON JACK'S DOOR.

JACK: He's here. I think he's at the door. I'll talk to you later, all right. Bye.

JACK RUSHES TO THE DOOR.

JACK: Yes, yes, yes, yes.

HE OPENS THE DOOR AND HIS FACE FREEZES.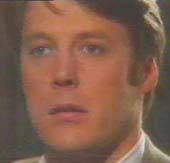 ---
SCENE TWO: JACK IS IN SHOCK, DISCOVERING WHO HIS BACKER IS, KATE ROBERTS.

JACK: Hel.... I'm sorry I was expecting someone else. (Beat) Oh no! Good god, you are the someone else, aren't you?

KATE WALKS SLOWLY INTO THE OFFICE AND JACK SHUTS THE DOOR AND SWALLOWS HARD.

JACK: Kate. This is a joke, right?

KATE: Well I sure wasn't laughing when we were negotiating. You drive a hard bargain.

JACK: You're the one who bought The Spectator.

KATE: Yep. And I think it's an excellent investment.

JACK: I don't believe this. You know the other night, I went to see Victor for him to congratulate me and he told me to my face that he didn't know the first thing about this deal. Well he made a fool out of me, I tell you that. He wanted this newspaper and he got it in the end and he made a fool out of me. And I tell you something else, he made a fool out of you too. I can't believe you allowed him to make a fool out of you and use you like this.

KATE: Calm down Jack.

JACK: I don't have to calm down. I've just been swindled out of my newspaper.

KATE: No one's swindled you out of anything.

JACK: You know Victor never told the truth to Harper. Never once. He lied to him his entire life and I don't know why I thought he would start telling me the truth now.

KATE: Victor didn't lie. He has no idea I'm even here.

JACK: He has no idea. He has no idea you're here, huh?

KATE: He has nothing to do with this deal. He knows nothing about it. Now if you would just sit down and listen I would be happy to explain everything.

JACK: Very well.
---
SCENE THREE: AT HOME JENNIFER IS FINISHING THE TABLE AND LIGHTING THE CANDLES WHEN SHE HEARS THE DOORBELL. IT IS MALCOLM AND AUSTIN THERE TO DISCUSS AN IDEA WITH HER. SHE HAS FORGOTTEN THE CHAMPAGNE AND AUSTIN VOLUNTEERS TO GET SOME FOR HER.
---
SCENE FOUR: BACK AT THE PAPER.

JACK: Let me get this straight. Your friend in New York is going to buy The Spectator for you no strings attached and Victor has nothing to do with it.

KATE: That's what I said Jack. When I learned of Clayton Robards death and that fact that you'd lost your last chance to buy The Spectator, I called this friend of mine in New York and convinced him to put up the money for me.

JACK: Hmmm. My, you certainly do have faith in The Spectator, don't you?

KATE: I told you. I think it's a great investment.

JACK: Well whoop-dee-doo Let me tell you something. Any enemy of Victor's is a friend of mine.

HE EXTENDS HIS HAND TO KATE.

KATE: I did not say I was his enemy.

JACK: Excuse me. We are here plotting behind Victor's back. Good friends don't do that to each other.

KATE: I did not come here to attack Victor. Nor do I want to listen to you attack him. He has been very good to me and to my son.

JACK: Well if that's the case, it's very simple. I'll just settle for my 10% of The Spectator and you can find yourself another editor-in-chief.

KATE: Jack, would you just slow down for a minute. I can't believe you'd give up so easily.

JACK: I will compromise on many issues Kate but when it comes to Victor Kiriakis I will not. Not at all.

KATE: So you're just walk out without putting up a fight. JACK IS REALLY FURIOUS AND STARTS TO YELL.

JACK: I AM NOT A QUITTER! I DO NOT QUIT! But I will not be compromised either.

KATE: You're right. I'm sorry. But you're a damn good editor and despite the animosity between you and Victor, he knows it too.

JACK: All right, all right we all agree. I'm a wonderful editor. Let's just cut to the chase and forget everything else. What about you? What's in it for you? You're getting The Spectator but it's not to take down Victor Kiriakis. So why? What is it that you want?

KATE: I do have a long range plan. And a large part of it involves you. The reasons I wanted to buy The Spectator. A. I expect this paper to be the city's leader in journalism. I have no doubt you can accomplish that now that you have no money worries hanging over your head. You are the only person I want running this paper on a day-to-day basis.

JACK: Thank you Kate. And B?

KATE: B is that in return for my saving your newspaper by keeping the wolf you call Kiriakis away from your front door I need you to do something for me.

JACK: Aaaaah here we go. Let's just hope it's legal. I just got out of the frying pan. I'm hoping to stay out of the fire.

KATE: I can assure you it's perfectly legal.

JACK: Huh, huh.

KATE: I need you to help my son Lucas.

JACK: Lucas? Why would you want me to help Lucas?
---
SCENE FIVE: KATE HAS JUST INFORMED JACK THAT SHE IS HELPING HIM BECAUSE SHE WANTS HIM TO HELP HER WITH HER SON, LUCAS.

KATE: I told you, I have a long range plan.

JACK: Huh, huh.

KATE: That plan includes his future. He's going to college soon, probably West Point. And then I want him to go into politics.

JACK: Politics, of course. Because I'm a survivor. Because I survived Senator Harper Deveraux and all my scandals and I can still pick up a phone and call someone in those halls of power and they'll answer because I'm a Deveraux. Strange as it may seem, I'm more valuable than before and I can open those doors.

KATE: Yes. Now we'll start with a local office of course and then we'll move right on to Congress.

JACK: Oh no, no, no. Why stop at Congress? Why not go straight to the Senate. They have the best lunches.

KATE: Why not indeed. And then the ultimate goal.

JACK: You're serious. You're absolutely serious. I don't believe this. You're planning to go all the way.

KATE: Why not? JFK's father didn't settle for Congressman. Why should I? I can plot and plan better than any man I know. Why shouldn't my son become President?

JACK: Why not? But why should it be Lucas? Why do you have to play Mama Rose to his Gypsy Rose Lee? Eventually someone is going to be President. Since you've got it, why not you?

KATE: I'm afraid that wouldn't be possible for me, for many reasons. Mostly because it's too late. But it's not too late for Lucas. He's young enough. He's smart enough. He's tough enough. He can take the heat and adversity.

JACK: I'd say he'd have to after living with you.

KATE: Let's get down to business here. Something more important, me! What's in it for me? Why should I want to hold Lucas's hand and help him get his foot caught in the door of politics?

KATE: Jack I have the feeling that your ultimate goal is much much more than being the editor of a one branch newspaper. No I think you want much much more. I think your dreams are much much bigger. You want power. Am I right?

JACK: What if I do?

KATE: I can give it to you. Think about it Jack. You can't run for office yourself because of the scandals connected to the Deveraux name but I'm offering you a chance to reach the pinnacles of power through my son. You could become the President's right hand man just as Baker was to Bush. Now you just tell me that doesn't excite you.

JACK: All right, let's cut from the pinnacles of power for a moment. Let's get to something real. Can you tell me beyond the shadow of a doubt that you will not hand this paper over to Victor Kiriakis someday?

KATE: I haven't decided yet.

JACK: Well that's certainly honest enough. I can tell you just as honestly that you cannot count on me until you make up your mind. I will not help your little son Lucas because believe it or not this newspaper's all I care about at the moment.

KATE: I don't believe it.

JACK: Well maybe you're right. Maybe there is something else that's important too.

KATE: Jack, you can have everything. Just hitch your star to mine.

JACK: I tell you something. Waiting at home is an even bigger star waiting to hitch up. So if you'll excuse me.

HE WALKS TO THE DOOR AND HOLDS IT OPEN FOR HER.

JACK: Kate. It's been a very interesting trip down memory lane.

KATE: You will think about it, won't you Jack.

KATE WALKS OUT.
---
SCENE SIX: BACK AT HOME, AUSTIN IS BACK WITH THE CHAMPAGNE AND HE IS HAVING A BEER AND TALKING TO JENNIFER WHEN JACK COMES HOME.

JACK: I'm late. I know I'm late. I'm very sorry but I'm home and I couldn't be happier.

JENNIFER: That's okay. Great, well have a seat.

JACK: It's been a hell of a day.

JENNIFER: I'm very glad you're home. I'm very anxious to talk to you.

JACK COLLAPSES ON THE COUCH AND RUBS HIS HEAD.

JACK: You're a star aren't you? You're my star. Do you mind if I hitch a ride tonight?

HE LOOKS UP INTO HER EYES.

JENNIFER: You're the sweetest there is.

SHE BENDS DOWN AND KISSES HIM. AUSTIN FEELS AWKWARD.

AUSTIN: Well I guess I better get going. Thanks for everything Jen. JENNIFER: Oh sure. I'll see you in the morning. I'll talk to you in the morning. Bye.

AUSTIN LEAVES. JENNIFER RUNS BACK TO SIT NEXT TO JACK.

JENNIFER: All right, tell me. Who is it? Who is our mystery man? Who's our secret investor?

JACK: There is no mystery man. It's a mystery woman and I wish she'd remained a mystery.

JENNIFER: Why, who is it?

JACK: It's Kate Roberts.

JENNIFER: What? (Beat) Is it as bad as it sounds?

JACK: I don't know. That's the problem. I don't know.

JENNIFER: I still cannot believe it's Kate Roberts. I mean she's fronting for Victor Kiriakis.

JACK: She said she's not. She said she has an anonymous backer in New York. Someone who is her silent partner. Someone who will put up the money for the paper.

JENNIFER: Oh you don't believe that do you?

JACK: I don't know what to believe. That's the problem. She's a slick operator. On the surface she's very feminine but underneath she is tough as nails.

JENNIFER: But that's okay. Jack you can handle her because you are tougher.

JACK: I don't know. I don't know. I have to be honest I was looking forward.... so much to just to be able to manage the paper with no strings attached.

JENNIFER: Well what did she say? I mean did she say that she wanted to be involved in actually running the newspaper?

JACK: No she said she wasn't going to be involved but we both know her. We know when she gets there she's going to want to put her hands in the middle of it and she's like me. When it comes to control she's a barracuda.

JENNIFER: I'm sorry. I'm sorry. I know how excited you were about this meeting.

JACK: Yeah. Well c'est la vie, right.

JENNIFER: C'est la vie! You're not going to give up are you?

JACK: Give up. I don't know. All I know I'm just tired of fighting an uphill battle.

JENNIFER: Jack you love this newspaper. You can't give up.

JACK: (Beat) I know. I just don't know. I don't know what I'm going to do.

JENNIFER: Well whatever you do I'm going to be here. I'm going to stand beside you, no matter what.

SHE WRAPS HIS ARM AROUND HER AND HE INHALES THE SCENT OF HER HAIR.

JACK: Thank you. I can't tell you how much I needed to hear that at this moment.

JACK REMAINS ON THE COUCH AND DOES NOT MOVE.

JENNIFER: Are you okay?

JACK: No. I'm not okay. I'm angry. Kate Roberts came to this town with a specific agenda and using me was at the top of that agenda.

JENNIFER: But you know what Jack, you may be right. Do you remember her peculiar interest in us when she first came to town? I mean remember how she pretended that she wanted to do that interview with me and all she did was come here and snoop around our house?

JACK: Well it seems she's known what she's wanted to do with her life for some time. She's known what she wanted to do with her son's life as well.

JENNIFER: Poor Lucas.

JACK: I wouldn't say poor Lucas. He's probably kissing babies and shaking hands as we speak.

JENNIFER: I don't think so Jack. I mean I didn't get the impression that he was so gung ho over a political career when we talked at the Penthouse Grill.

JACK: Well he can talk about whatever he wants. I don't care. I got to go to bed. I'm tired.

JENNIFER: Oh okay. Let me kiss you goodnight.

JACK: Wait a minute, you.... you set up this whole dinner and I'm sorry I just can't. I'm just too tired.

JENNIFER: It's all right. It's okay. We'll have leftovers. It's always better the second day anyway. I love you very much.

JACK: Would you care to come upstairs with me?


JENNIFER SMILES UP AT HIM AND THEY KISS.

JENNIFER: Maybe things will be better in the morning. Come on.

SHE DRAGS A VERY TIRED JACK UPSTAIRS.
[Transcribed by Carol Vaughan
added material by Sally A. Wilson]
---
---