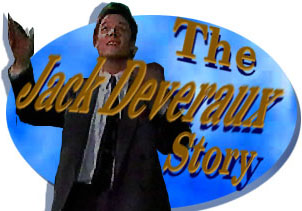 oldEpisode Five-hundred-twenty-one:
Jack and Jennifer Share a
Shower. Jack Turns Kate Down.
---
[Air date late May, 1993]
SCENE ONE: IT IS THE NEXT MORNING AND JENNIFER IS IN THE SHOWER. SHE TURNS ON THE SHOWER RADIO AND THEN CAN'T FIND THE SOAP.

JACK: Drop something?

JENNIFER TURNS TO SEE JACK STANDING BESIDE HER HOLDING THE SOAP.

JACK: Cardinal rule of showering. Never drop the soap.

JENNIFER: This isn't like you Jack.

JACK: This isn't like anything you've ever experienced before Jennifer. May I?

HE STEPS INTO THE SHOWER AND THEY KISS AS SHE PULLS THE SHOWER SCREEN CLOSED. THEY CONTINUE TO KISS.
---
SCENE TWO: JACK AND JENNIFER ARE STILL KISSING, JENNIFER HEARS UNTIL JENNIFER HEARS JACK'S VOICE CALL HER.

JACK: We're out of garbage bags. Hello.

SHE REALIZES THAT SHE WAS DAYDREAMING.

JENNIFER: What did you say?

JACK: I said that we've run out of garbage bags and.... well I'll just pick some up on the way home.

JENNIFER: Aren't you leaving a little too soon for the newspaper?

JACK: Aaaah, I'm not going to the paper.

JENNIFER: Why not?

JACK: I just have some other errands to run. Go.... meet with a headhunter.

JENNIFER: A headhunter. What are you talking about?

JACK: A headhunter. You know an executive headhunter. We're going to talk about a job.

JENNIFER IS STILL IN THE SHOWER WASHING HER HAIR AND JACK IS IN THE BATHROOM CALLING OUT TO HER.

JENNIFER: You have a job.

JACK: Kate Roberts has a job. Kate Roberts has 90% of The Spectator which means Victor Kiriakis is going to be elbow deep in printer's ink ergo I don't really have a job.

JENNIFER: But I thought you told me that Kate told you that Victor didn't know she was involved in this purchase.

JACK: Kate's an employee of Victor's. Anybody who works for Victor Kiriakis will eventually be owned by Victor Kiriakis and I'll be damned if I'm ever going to be owned by Victor.

JENNIFER: Well maybe Kate will be different. Maybe she won't let Victor own her.

SHE TURNS OFF THE SHOWER.

JENNIFER: I'm sorry. I know how much The Spectator means to you Jack.

JACK: My mental health and my dignity means a lot to me too.

SHE STEPS OUT OF THE SHOWER AND GRABS A TOWEL.

JENNIFER: I'm so sorry.

JACK: There's nothing to be sorry about. I mean I can do anything. I can start over. I can run any company in this town if I wanted.

JENNIFER: You can do anything you put your mind to Jack.

JACK: Absolutely.

JENNIFER: You know what, let me finish up here and I'll go run errands with you.

JACK: No, no, I don't think so. I really think I should just go do this on my own.

JENNIFER GIVES HIM A SEXY LOOK.

JACK: Besides it's gets kind of hot in here don't you think? I better go.

JENNIFER: Why don't you take your clothes off and join me.

SHE DROPS THE TOWEL AND STARTS TO PLAY WITH HIS COLLAR.

JACK: I don't think so. I really think I ought to go.

JENNIFER: Forget the clothes, come on.

SHE DRAGS HIM TOWARDS THE SHOWER.


JACK: Jennifer, no, wait a minute. I'm serious.

JENNIFER: In here.

JACK: No, Jennifer.

SHE SCREAMS AND THEN HE SCREAMS AS SHE TURNS ON THE SHOWER.

JACK: NO.... I....

THE SHOWER POURS DOWN ON BOTH OF THEM.
---
SCENE THREE: A WHILE LATER, JACK COMES DOWNSTAIRS IN ANOTHER SUIT. HE OPENS THE DOOR AND A NEWSPAPER HITS HIM IN THE CHEST.

JACK: Thanks kid.

JENNIFER RUNS DOWNSTAIRS ALL DRESSED.

JENNIFER: Well hello there. Would you like some breakfast before you go?

JACK LOOKS HER UP AND DOWN.

JENNIFER: What?

JACK: It's nothing, nothing. I just have a little trouble keeping up with you. One minute you're the wild thing and now you're June Cleaver.

HE SMILES AT HER.

JENNIFER: How wild was I?

JACK: Aaaah, wild, I don't know. Imaginative, creative, everything, the works.

JACK IS STILL SMILING.

JENNIFER: Well I had to be. You know you were the creative one the other night.

JACK: Yes I suppose I was. It's just a little hard to be creative now especially when you realize that one minute.... one minute you have a newspaper and the next minute someone like Kate Roberts comes along and it's all ripped out from under you.

JENNIFER: You know what Jack, I have been thinking about this whole thing.

JACK: Hmmm.

JENNIFER: And I think that there is more to this than we know.

JACK: More.

JENNIFER: Yes, I mean Kate Roberts had to know that what she did made Victor angry, right?

JACK: Kate Roberts said that Victor didn't know the first thing about it.

JENNIFER: But she has no reason to lie.

JACK: She probably just doesn't realize that Victor's in the corner pulling all the strings.

JENNIFER: Oh no, I don't think so. I think she is engineering all of this Jack. I think that she has some grand scheme that she is working on.

JACK: Jennifer you don't....

JO COMES IN THE DOOR.

JO: Am I late?

JENNIFER: No, no, you're right on time.

JO: Okay Jennifer, you are hereby released from your maternal duties. Abby sitter is on the job.

JACK: Well I suppose I can go then also. I have to.... well you know. I have to go.

JACK LEAVES.
---
SCENE FOUR: JENNIFER EXPLAINS TO JO WHAT HAPPENED WITH KATE. THEY ARE WELL INTO THE DISCUSSION WHEN KATE COMES TO THE DOOR. JENNIFER IS COOL TOWARDS HER BUT ASKS HER IN.
---
SCENE FIVE: JENNIFER AND KATE TALK, JENNIFER ASKS HER DIRECTLY WHY SHE HAS WORKED SO HARD TO GET JACK TO WORK FOR HER. KATE TELLS JENNIFER THAT IT IS ONLY TO HELP LUCAS BUT JENNIFER TELLS KATE THAT SHE DOES NOT BELIEVE HER.
---
SCENE SIX: SOME TIME LATER, JACK COMES BACK LOOKING DEPRESSED.

JACK: Jennifer.... Kate what are you doing here?

KATE: I couldn't wait Jack. I had to hear your decision on my offer.

JACK: You want a decision? All right here it is. No, I'm turning you down.

JENNIFER: If you'll excuse me I have some work that I need to do.

JENNIFER GOES UPSTAIRS BUT NOT BEFORE PUTTING HER HAND ON JACK'S CHEST FOR REASSURANCE. HE HOLDS HER HAND FOR A SECOND BEFORE SHE GOES.

KATE: You can't Jack.

JACK: I can't what?

KATE: Turn down my offer.

JACK: I believe I just did.

KATE: Come on Jack, you're a parent now. We want everything in the world for our children, don't we?

JACK: I believe I just made my decision.

KATE: I have good instincts about people Jack and I have good instincts about you. You don't have printer's ink running through your veins. You were born a Deveraux. You learned about power at a very early age from your father and it's as important to you as it was to him. You know it sets you apart from everyone else. It's what drives people like you and me. You can't live without it anymore than I can.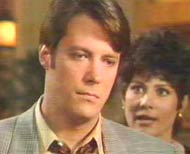 JACK LISTENS TO HER AND HATES THE WAY SHE KNOWS EXACTLY HOW HE FEELS.

KATE: Think very carefully about this decision Jack. My offer's good til the end of the day.
---
SCENE SEVEN: IT IS LATER THAT NIGHT AND JACK, JENNIFER AND ABBY ARE AT THE BRADY PUB. JENNIFER IS ALL DRESSED UP FOR A DANCE. SHE AND AUSTIN ARE COVERING THE SALEM HIGH SCHOOL SPRING FLING.

JACK: Let me get this straight. You never went to a high school dance?

JENNIFER: It's not that I never went. It's just that I never had a good time, that's all. (To Abby) You're not too hungry are you sweetie?

JACK: I always assumed that you always had a plethora of good times at dances and spring flings and such.

JENNIFER: Well it just wasn't in the cards, that's all. I mean that's why I'm looking forward to covering the dance tonight at Titan. You know I can it vicariously, right?

JACK: Hmmm.

JENNIFER: Where is Austin anyway? He's supposed to be here to pick me up.

JACK: Missed out on all that fun and good times, huh?

JENNIFER: Jack it's not a tragedy. I mean we've all missed out on things in life. Why dwell on it? It's in the past.

JACK IS DEEP IN THOUGHT.
---
SCENE EIGHT: AUSTIN ARRIVES A BIT LATER.

JENNIFER: Okay well I guess we better hit the road, huh?

AUSTIN: Yeah, if we want to get to the dance on time.

JENNIFER: All right. Good night sweetheart. See you later okay. You take care of your daddy, okay. Here we go.

SHE HANDS ABBY TO JACK.

JENNIFER: Goodbye daddy.

JACK: Yes, goodbye.

THEY KISS.

JENNIFER: See you later.

JACK: Yes, yes, you will.

JENNIFER: Bye, you'll be okay?

JACK: Huh, huh.

JENNIFER AND AUSTIN LEAVE. JACK IMMEDIATELY GOES TO THE PAY PHONE AND CALLS JO.

JACK: He.... hello Jo. What are you doing? Are you busy? (Beat)Why? I'll tell you why. Because you're babysitting tonight, that's why. (Beat) Look you tell Vern he can wait. No you tell Vern he better get over to The Spectator and cover for me tonight because I have.... I have important business to do. (Beat) very important business.

HE HANGS UP.
[Transcribed by Carol Vaughan
added material by Sally A. Wilson]
---
---