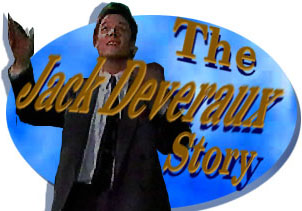 oldEpisode Five-hundred-twenty-four:
Worried about Abby's Health
and Needing Insurance, Jack
Agrees to Work for Kate Roberts.
---
[Air date early June, 1993]
SCENE ONE: THE NEXT MORNING AND JACK HAS RUSHED HOME TO GET THEM BOTH A CHANGE OF CLOTHES.

JACK: All right, look I just grabbed whatever I could find back at the house. I hope it matches.

JENNIFER: Oh Jack.

JACK: But there you go. Any news?

JENNIFER: Oh there's Carly right there. Carly?

JACK: Oh good, good. Hi, I know you didn't want me to stay last night but I did. I couldn't leave Abby but the nurse told me that she's doing a lot better.

CARLY: I'm happy to report she's doing much better. Temperature's stabilized. It's almost normal and she slept soundly all through the night.

JACK SMILES.

JACK: I'm glad someone did.

JENNIFER: I'm so glad that she slept. Can we see her?

CARLY: Sure. As a matter of fact you can take her home today.

JENNIFER: Today?

JACK: Good. That's good. The good news, see? That's very good.

CARLY: There is something we need to talk about.

JENNIFER: What? What is it? Is something wrong?

CARLY: Even when Abby's temperature is almost back to normal, we're still waiting on the results of the tests. We want to be able to find out what caused the fever you know.

JACK: Well I'm certain that we'll find that she was just battling some kind of bug or something.

CARLY: In 99% of these cases that's exactly what it is.

JACK: Yes. So we can safely assume that we'll be giving her medication when we get her home.

CARLY: In a day or two. The important thing here is that you need to give Abby a nice calm environment. Even small babies her age can sense when her parents are tense.

JACK: Well I don't think we'll have a problem there. Everything will be taken care of. We'll be just fine.
---
SCENE TWO: JACK AND JENNIFER HAVING CHANGED INTO THE CLOTHES HE BROUGHT FROM HOME, THEN GO BACK TO SEE CARLY AGAIN.

JENNIFER: She's so quiet. Are you sure that she's all right?

CARLY: She's just sleeping and the medication and the stress that she's been through.

JENNIFER: That's all I keep thinking about is what she's been through and how scared she must be.

JACK: She is fine. You have to understand that a child's memory is something we can't comprehend yet. Very shortly this will be a distant memory especially for her.

CARLY: Look I'm going to go get the paperwork ready for discharge. She'll be ready in about an hour.

JENNIFER: Okay. Oh Carly, thank you. Thank you for everything, really.

JACK: Thank you.

CARLY LEAVES. JACK CHECKS HIS WATCH.

JACK: Oh god I'm late. I didn't realize this was going to go on this long. I have a meeting. Do you think you could....

JENNIFER: With the headhunter?

JACK: Aaaah, no actually. With Kate Roberts.

JENNIFER: Why are you meeting with Kate? I mean are you changing your mind about her offer?

JACK: No I'm just.... I'm just.... I'm just discussing a couple of details with her, that's all.

JENNIFER: Well there are a lot of things about the newspaper that she needs to understand.

JACK: Yes, exactly.

JENNIFER: Jack you don't have to worry. I mean I have my job. We can pay the bills until you find another job. I want what's best for you because we can get through this. We can do anything as long as we have each other.

JACK: You're right, we can. We will.

JENNIFER: Now that's the spirit. Now I'm going to find our daughter and tell her that she's going to be with her mommy and daddy very soon.

THEY KISS.

JACK: Tell her the same from me.

JENNIFER: I will.

JENNIFER LEAVES.
---
SCENE THREE: AFTER JEENIFER LEAVES, JACK REMAINS, HE SIGHS WITH DISAPPOINTMENT ABOUT THE NEWSPAPER. HE FINDS AN OLD SPECTATOR ON THE TABLE AND PICKS IT UP. ALICE SEES HIM AND COMES OVER TO TALK.

ALICE: Oh Jack I just passed Jennifer in the hall and she told me the good news about Abigail.

SHE HUGS JACK.

ALICE: You must be so relieved.

JACK: Relieved isn't quite the word.

ALICE: Until you're a parent you can't understand how a mother and father feel about their children. You'd just do anything to protect them.

JACK: Exactly.... exactly. I have to do whatever's necessary to take care of me and mine.

ALICE: Well I'm going to go see Abigail. I just came on duty so I haven't seen her since last night.

JACK: Yes.... yes.

ALICE LEAVES AND JACK GETS OUT HIS POCKET BOOK TO CHECK A PHONE NUMBER.

JACK: All right, we'll see about that.

HE PICKS UP THE PHONE.

JACK: Hello, Ned Atkins please. This is Jack Deveraux calling. (Beat) Yes, hello Ned.... yes everything's fine. Everything's fine. Couldn't be better. I just wanted to ask you a little bit about the cost of a private comprehensive health care package. (Beat) It's for a family of three. I'll hold. (Beat) Yeah.... hello. It's what? (Beat) That much. (Beat) No I would never pay that kind of money and fortunately I don't have to. You're right. I'm.... I'm very well taken care of right where I am. Thank you.

JACK KNOWS HE IS CAUGHT IN A TRAP. HE PICKS UP THE NEWSPAPER AND LOOKS AT IT ONCE MORE THEN THROWS IT ASIDE AND GOES TO HIS MEETING.
---
SCENE FOUR: MEANWHILE, JENNIFER TELLS CARLY ABOUT KATE'S OFFER AND HOW JACK REFUSED IT.
---
SCENE FIVE: AT TITAN, JACK ARRIVES AT HIS MEETING WITH KATE.

JACK: My child is fine. Thank you for asking.

KATE: I'm so glad she's better. There is nothing more awful than an ill child. Somehow all of the problems seem to pale in comparison.

JACK: Yes they do.

KATE SEEMS UPSET.

JACK: Are you all right?

KATE: Of course I am. Now I must tell you I was very surprised to get your message last night. You've been so adamant about not accepting my offer.

JACK: Are you trying to tell me that the position of editor-in-chief has been filled?

KATE: No but it will be soon. You know I really don't know why I'm standing here discussing my plans for the paper with you.

JACK: I wish to accept your offer.

KATE: What?

JACK: I wish to accept your offer. If the position is still there I wish to accept it.

KATE: Why the sudden change of heart Jack?

JACK: Well I think you should know yourself. After this.... ah, very sobering experience with my child this morning and last night, I have to realize that life's very fragile. To protect that life and to protect my family, unfortunately I require an insurance policy.

KATE: Eeeeerghh Jack. Look I can understand what it mean to make a sacrifice for your child but I'm not sure I want you on those terms. I plan on making The Spectator a major publication but I need a dedicated editor. Somebody who's a little more interested in things than the employee benefit plan.

JACK: Damn you! No one.... no one is as dedicated and committed to making The Spectator a number one newspaper like I am and that includes you.

KATE TURNS TO HIM.

JACK: You know that don't you. You also know another thing. You're very fortunate that I've reconsidered, whatever the reason.

KATE: I have to admit. You're right.

JACK: Well if that's the case.... do I get the job?

KATE: It's yours if you want it.

JACK: All right then, I'll just....

KATE: Aaaah, no, there's something else I need to tell you before you accept. Something that very well may change your mind.

KATE GOES TO POUR SOME COFFEE.

JACK: Thank you. I'm jittery enough about this deal without the additional caffeine but please proceed.

KATE: All right. Even though I put up all the money for The Spectator I haven't decided whether to get Victor involved. It is possible that I might want him to be part of the mix at some point. I just want you to know that going in.

JACK: Thank you. I appreciate your candor at least.

KATE: Well I'm trying to be very upfront here. I don't want any problems later on.

JACK: Yes and problems do have a way of popping up in the most unlikely places, don't they?

KATE LOOKS NERVOUS ABOUT JACK'S REMARK.

KATE: So.... do you want to stay on at The Spectator?

JACK: Do I want The Spectator or to stay on at it as you put it. (Beat) Yes. I will accept your offer. I'm not in a position to turn it down and my reservations about working with Victor Kiriakis have to be put aside at the moment. The needs of me and mine come first.

KATE: Jack I realize this is very difficult for you.... but sometimes we just have to do what we have to do to ensure our family's happiness.

JACK: Thank you for your understanding. But before I sign anything, we have to make one thing crystal clear.

KATE: Hmmm?

JACK: According to our original agreement I was to get a larger and larger stake in The Spectator if I continue to turn a profit.

KATE: That's true.

JACK: Good. And Victor Kiriakis has nothing to do with that. It's between you and me.

KATE: Nothing at all.

JACK: Well.... then I say we have a deal.

JACK EXTENDS HIS HAND AND KATE TAKES IT. JACK THEN TAKES HER HAND IN BOTH OF HIS AND THEY SHAKE.
[Transcribed by Carol Vaughan
added material by Sally A. Wilson]
---
---