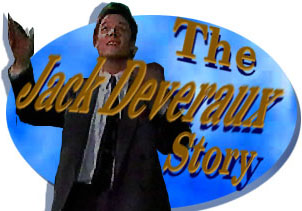 oldEpisode Five-hundred-twenty-seven:
Victor Offers to Buy
The Spectator
from
Kate, Is Jack's Worth Fear Coming True.
---
[Air date mid-June, 1993]
SCENE ONE: IT IS THE NEXT MORNING AND JENNIFER IS FEEDING ABBY WHILE JACK PACES.

JENNIFER: Jack, you're making me very nervous. You're not still worried about Abby are you?

JACK: No, no, as long as there's no fever, everything's going to be just fine.

JENNIFER: You're worried about your official meeting about The Spectator with Kate, aren't you?

JACK: No, I'm not worried about meeting with Kate. Actually where I'm meeting her that disturbs me.

JENNIFER: Where's the meeting?

JACK: I didn't tell you? Titan Publishing of all places. I think she's trying to send a very real message that the real boss is the one man I never thought I'd be working for, Victor Kiriakis.

JENNIFER IS ABOUT TO HAND ABBY TO JACK, WHEN THE DOORBELL RINGS.

JENNIFER: Here we go. Oh there's grandma.

JACK: Yes.

HE TAKES ABBY.

JENNIFER: There daddy. Hold me.

JENNIFER GOES TO THE DOOR.

JENNIFER: Hi Jo, how are you?

JO: Good morning. Oh where's my beautiful grand-daughter?

JACK: She's here and very happy to be up and around. I wish I were.
---
SCENE TWO: JO HAS JUST DROPPED BY. JACK HANDS ABBY TO JO.

JENNIFER: As always.

JO: She's not running a fever again is she?

JENNIFER: No, no, not since we got her home from the hospital.

JO: Good.

JACK: If there's any problems you have our work numbers.

JO: Don't worry honey, I'll take very good care of her.

JENNIFER: Well Abby's not the only one I'm worried about. You see Jack has a very big meeting with Kate Roberts today.

JACK: Jennifer!

JO: Really. Jack are you okay?

JACK: Yes, I'm okay. I'm fine.

JENNIFER: Are you sure? I mean what if Victor Kiriakis walks in on this meeting? Are you going to go crazy?

JACK: I'm not saying what I'm going to do.... Jo please, excuse us.

JO: Oh.

SHE WALKS AWAY WITH ABBY WHILE JACK SPEAKS QUIETLY TO JENNIFER.

JACK: I'm saying what I'm going to do. I'm going to talk to him. I'm going to tell Kate that I'm prepared to work with her but no one else. No one else from Titan.

JENNIFER: Alright. Call me later.

JACK: I certainly will.

HE KISSES HER.

JACK: And believe me, I have got everything under control. Everything.

JENNIFER: Okay, I'll talk to you later.

JACK: Don't worry.

SHE TAKES HIS HAND.

JENNIFER: Bye Abby. Bye Jo, thank you. See you later.

JO: Bye.

JENNIFER LEAVES. JO COMES STRAIGHT OVER TO JACK BECAUSE SHE CAN SEE HE IS STRESSED.

JO: What's all this about? Do you really think Kate is possible going to turn over The Spectator to Victor Kiriakis to run?

JACK: I'm.... I'm thinking that, possible yes.

JO: And you're just going to let her? Jack you can't do that.

JACK GIVES HER LOOK LIKE HE DOES NOT HAVE MUCH CHOICE.

JO: Why did you agree to stay on as editor-in-chief of the paper once you found out your secret benefactor was actually Victor Kiriakis' top executive?

JACK: You know, I'll tell you something. It's called a comprehensive group health plan for me and mine. Don't leave home without it.

JO: Oh yeah right. I understand.

JACK: Good.

JO: Especially when Abby was so sick.

JACK: So there you have it. But I'm not going to pretend for a minute that I'm going to let Kate Roberts just ride all over me. She's not. Especially when I plan to put the game in my court and on my own terms.
---
SCENE THREE: JACK AND JO ARE STILL TALKING. JACK PICKS UP THE PHONE.

JO: What are you doing?

JACK: I'm playing the game on my own terms on my own turf. (Beat) Hello, Kate Roberts please. This is Jack Deveraux calling from The Spectator.

KATE GETS THE CALL IN HER OFFICE.

KATE: Yes.

JACK: Hel.... hello Kate. Look I know this is short notice but I'm really.... I'm really backed up here at work and I thought that it would be a little less inconvenient for me and better for you to come over here at the office at The Spectator and we could meet here.

KATE: You're right, it is short notice and I'm afraid I can't accommodate you. Maybe if you had called earlier I could but as it is I'm swamped.

JACK: Well.... Vern I can't come at the moment.... well you know I'm swamped too.

KATE: I'm sorry Jack but I expect you to be on time.

SHE HANGS UP BEFORE HE CAN REPLY. JACK BANGS DOWN THE PHONE.

JO: So? She didn't bite, huh?

JACK: She didn't bite what I expected, no. Well that's that.

HE PICKS UP HIS BRIEFCASE AND THEN SITS DOWN.

JO: Jack you sound so....

JACK: Depressed, desperate, down in the dumps, disturbed. All of the above.

JO: Defeated. Well I won't have it. You may have been raised a Deveraux but you've got Johnson blood. Do you think your brother Steve would have folded like this?

JACK FROWNS AT HER.

JACK: I don't know what my brother would do but I suppose he wouldn't fold like this.

JO: Right. Oh honey, I know this won't be easy. I know how long there's been bad blood between you and Kiriakis but you've got to show him that you're not afraid of a fight. You've got to meet him head on. You have to demand respect from people like Kiriakis and you'll get it.

JACK: Well.... thank you for that Johnson blood. Thank you very much.

JO: Well you're welcome.

JACK WALKS RIGHT OUT THE DOOR WITHOUT ANOTHER WORD.

JO: Good luck honey.
---
SCENE FOUR: MEANWHILE VICTOR COMES INTO KATE'S OFFICE TO SEE HER AND SHE TELLS HIM THAT SHE WAS THE ONE WHO HELPED JACK BUY THE SPECTATOR. AT FIRST VICTOR IS VERY SURPRISED AND THEN HE STARTS TO LAUGH AND SAYS THAT SHE IS VERY CLEVER BECAUSE SHE IS DEFINITELY GOING TO TURN THE SPECTATOR OVER TO HIM.
---
SCENE FIVE: VICTOR AND KATE ARE STILL TALKING, HE IS ABOUT TO LEAVE TO TAKE A CALL BEFORE SHE CAN GET A WORD IN. JACK ARRIVES A FEW MINUTES LATER.

KATE: Hello Jack. Ooooh, right on time.

JACK CHECKS HIS WATCH.


JACK: Actually two minutes late. But what's two minutes between friends? Shall we begin the meeting? I'm sorry I'm late but really, forcing me to show up here was a power play. Let's at least clear the air and admit it.

KATE: Jack I don't see what the big deal is. It's not like our offices are in two different cities.

JACK: The deal is Victor Kiriakis. I know that you're aware of my concern for him taking over The Spectator so it seems a trifle insensitive to stage this difficult and delicate transition in an office in a building owned by the same. KATE: Jack, I am your financial backer, not Victor. Forget about him.

JACK: You're not Victor's puppet? I asked for your assurance earlier but you couldn't quite give it to me.

VICTOR THEN COMES STRAIGHT INTO THE OFFICE UNAWARE THAT JACK IS THERE.

VICTOR: Alright Kate, let's talk about you turning The Spectator over to m....

JACK TURNS TO FACE VICTOR WITH A VERY ANGRY AND DEPRESSED LOOK ON HIS FACE. HE THEN TURNS BACK TO KATE WITH A KNOWING LOOK.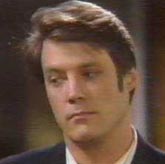 ---
SCENE SIX: JACK, KATE AND VICTOR ARE STILL IN KATE'S OFFICE.

VICTOR: Well hello Jack. I didn't know you were here.

JACK: Victor, would you care to repeat what you just said to Kate?



VICTOR: I said that we had to talk about her turning The Spectator over to me.

JACK: It's no wonder you couldn't give me assurances that Victor wouldn't be involved in the paper because he was going to be involved all along. My compliments on your scam. I bet you're relieved that I finally fell for it.

VICTOR: Well you never were the brightest kid on the block when it came to business.

JACK IS REALLY ANGRY AND SENSITIVE TO THAT COMMENT.

VICTOR: Kate, here is my check for the paper.

HE HANDS KATE A CHECK.
---
SCENE SEVEN: VICTOR HAS JUST HANDED KATE A CHECK FOR THE SPECTATOR, JACK'S WORSE DREAMS SEEMED TO BE COMING TRUE. KATE TURNS AWAY AND DOES NOT TAKE THE CHECK BUT JACK IS SURE IT'S ONLY A MATTER OF TIME.

JACK: You know there is one thing I'd like to know. Did you plan to sell it to Victor all along or is this just a recent development. Really, I would like to know. I do.

VICTOR: How can a supposedly intelligent man be so naive? I mean really Jack, it's shocking.

JACK: Victor, please. Kate and I are in the middle of a business meeting.

VICTOR: Jack, Kate works for me. She knew you would rather give up The Spectator than join into a partnership with me so she purchased the paper as my proxy with every intention of reselling it to me.

JACK: Kiss and tell Kate. Kiss and tell. Is that true?

KATE STILL DOES NOT ANSWER.

VICTOR: It seems very clear to me Jack.

JACK: Everything seems clear to you Victor.

KATE: Gentlemen if you would quit sniping at each another for a few minutes I'd like to say something. Something I don't think either one of you is going to like to hear.

VICTOR AND JACK LOOK AT EACH OTHER.

KATE: There is one thing I'd like to make perfectly clear. Jack works for me and only me. (To Jack) You made a contract with me and I intend to honor that contract. (To Victor) He's my editor-in-chief. Any major decisions made for the newspaper will all have to be cleared through me. Is that understood?

JACK: So you stand by your word? Good. (Beat) If you're planning to tear up Victor's check anytime soon I would enjoy watching you do it. I like to watch.

KATE: Jack you won't have to answer to Victor but I told you from the very beginning that he would be involved in this venture in some way.

JACK: In some way yes but ultimately you'll be in charge of this venture.

KATE: That's right. I told you I am committed to owning The Spectator and turning it into a number one national first class newspaper. My commitment has not changed.

JACK: Then neither has mine.

JACK SHAKES HANDS WITH KATE.


JACK: If you stick by your word I will make this the number one newspaper in a year. (Beat) Excuse me.

HE PICKS UP HIS BRIEFCASE AND WALKS TO THE DOOR WHERE HE PAUSES.

JACK: You know Victor, I've been thinking. You did get the best of the old senator on more than one occasion but I can't remember one occasion when the poor old senator was bested by a woman. No offense. You know you may have just met your match.

HE WALKS OUT WHISTLING.
---
SCENE EIGHT: AFTER JACK HAS LEFT. VICTOR ASKS KATE IF SHE IS GOING TO BANK HIS CHECK. SHE SAYS NO BECAUSE THE PAPER IS HERS AND SHE TRUSTS HER INSTINCTS ABOUT JACK. VICTOR IS NOT HAPPY BUT DECIDES TO LEAVE IT FOR NOW.
[Transcribed by Carol Vaughan
added material by Sally A. Wilson]
---
---