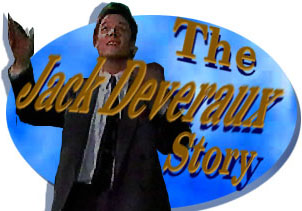 oldEpisode Five-hundred-twenty-eight: Jack
and Kate Go out for Dinner to Talk about
the Paper and Lucas. Later, Alice Tells
Kate She Will not Tell Jack and Jennifer
That Kate Once Lived in Their House.
---
[Air date mid-June, 1993]
SCENE ONE: JACK AND KATE ARE HAVING DINNER AT THE PENTHOUSE GRILL.

KATE: So how do you make your editorial decisions?

JACK: Try rationally and objectively.

KATE: Well I can't ask for much more than that, can I?

JACK NOTICES VICTOR WALKING TOWARDS THEM.

JACK: Yes you can but one can only hope that you won't.

VICTOR: Well good evening.

KATE: Oh Victor, hi.

VICTOR: This is our chef's new entr˙e. How is it?
---
SCENE TWO: JACK AND KATE ARE HAVING DINNER AT THE PENTHOUSE GRILL, VICTOR HAS JUST WALKED UP, THE LAST PERSON JACK WANTED TO SEE. JACK LOOKS AT HIS FORKFUL OF FOOD. EVEN THOUGH VICTOR DESTRUBS HIM, HE DOES NOT WANT TO LET IT SHOW.

JACK: Well let me tell you. Let me see.

HE TASTES IT.

JACK: Hmmm, I'd say it's a little heavy on the garlic but I'd still recommend it.

VICTOR: Well I'm glad to hear that. May I join you?

KATE: Oh I'm sorry Victor but we're discussing The Spectator, after Titan business hours.

VICTOR: Oh well, I guess the news about Lucas will have to wait until the opening of business tomorrow.

KATE: Ah, The Spectator can be set aside for a minute. Why don't you sit down and join us for a drink?

JACK IS ANYTHING BUT HAPPY AS HE LISTENS TO KATE AND VICTOR TALK ABOUT LUCAS AND TITAN.
---
SCENE THREE: JACK HAS BEEN LISTENING TO THEM TALK ABOUT LUCAS AND TITAN, BUT HE HAS NOT SAID A WORD DURING THEIR WHOLE CONVERSATION AND VICTOR ONLY SPEAKS TO HIM AS HE LEAVES.

VICTOR: Nice to see you Jack.

JACK: Hmmm.

VICTOR LEAVES.

JACK: My, my, my, my, my, my, my. How do you do it?

KATE: How do I do what?

JACK: Well in spite of everything you've seen and heard, you still seem quite taken with the man.

KATE: What good would my being rude and unfriendly do? I know you detest the man but as far as I can see it's only in my best interests to befriend him.

JACK: In your interests perhaps. But not in mine or The Spectator's.

KATE: My relationship with Victor has nothing to do with you.

JACK: Unless you're planning to sell me out.

KATE: Ooooh Jack, would you stop being so paranoid? (Beat) Trust me. I promise you, you won't be disappointed.

JACK CONTINUES TO JUST STARE AT HER.

JACK: Kate?

KATE: Hmmm.

JACK: Your plans for Lucas seem to be going off without a hitch. So why the long face? Why aren't you more excited about Lucas's nomination to West Point?

KATE: There's one little problem.

JACK: Huh, uh.

KATE: Lucas has decided he doesn't want to attend West Point.

JACK: Really? And why not?

KATE: I just think he's had his fill of rules and regulations for a while. You know I'm sure once he's considered all the doors that would be opened for him, he'll change his mind.

JACK: Absolutely. I mean other than being a great place to learn now to stand in line, West Point is a stepping stone to a political career IF that's what you still want for the boy.

KATE: Absolutely. I will not waver from my plan.

JACK: Here, here.

KATE: And I hope that you will do everything that you can to help Lucas.

JACK: Oh I certainly will. But we have to remember that it's up to Lucas first. He has to make sure that his background is as clear of blemishes as is possible for any seventeen year old. So tell me, is he a trouble-maker at school?

KATE: No.

JACK: No? No. Has he ever been arrested by the police for any kind of sophomoric pranks?

KATE: No.

JACK: NO?

KATE: No.

JACK: Good. That's a beginning. This is the point. He's got to stay on the straight and narrow without breaking the spirit. His spirit of course. He can have fun as long as it's with the right people.... because he can't have any skeletons come dancing out of his closet at a later date.

KATE: I am certainly aware of the media's need to dig into a politician's past, Jack.

JACK: Oh, it's not just his past Kate. Take it from a member of a political family, your background had better be as clear of skeletons as your sons.

KATE IS VERY UNCOMFORTABLE WITH JACK'S COMMENT.
---
SCENE FOUR: JACK AND KATE HAVE BEEN DISCUSSING LUCAS' FUTURE. IT IS OBVIOUS THAT SHE HAS BEEN HIDING SOMETHING ABOUT HER AND LUCAS' PAST.

JACK: The circulation....

JUST THEN ALICE ALICE AND TOM COME OVER TO THEIR TABLE.

ALICE: Oh hello.

KATE: Hello there.

JACK: Hello.

TOM: Hello indeed.

ALICE: Now, how is Abigail?

JACK STANDS UP.

JACK: Oh.... she's fine. Thank you for asking. Couldn't be better. No fever or anything.

TOM: Well I'm glad to hear that.

JACK: Yes. Jennifer's going to be seeing her in just a little bit. She's working late. That's why I'm taking this opportunity to.... to have a working dinner with Kate.

ALICE: Oh good. We won't interrupt.

JACK: Thank you.

KATE: Oh please don't go. Why don't you join us? I'd love to hear about the Horton Center.

ALICE: Ooooh.

JACK: Ah, Kate, I believe they've already ordered. You've already ordered, haven't you?

ALICE: No. No we haven't ordered. We were just waiting for a table over there at the window.

JACK: Oh well in that case, by all means please.... join us. Please.

JACK GETS AN EXTRA CHAIR FOR TOM WHILE ALICE SITS.

JACK: They don't need this over here. Doctor.

TOM: I went to the Brady's the other day and saw a picture of your son and Sammi at the Spring Fling.

KATE: Oh I hope you ordered me a print of that.

TOM: I must say, that boy's really grown to be something. He's turned out quite well.

KATE: Thank you. I just hope all of the babies I deliver turn out as well.

JACK FROWNS AND LOOKS UP AT KATE.

JACK: Excuse me. You delivered Lucas?

TOM: Yes.

JACK: Well fancy that! You know I heard somewhere that Lucas was born here in Salem but I had no idea that you delivered Kate's baby.

TOM: Oh yes.

JACK: Well Kate, it's just like the song. It is a small world after all. Just out of curiosity doctor, do you know how many babies you've delivered?

TOM: No. Of course not.

JACK: No, imagine that. The coincidence that you were the doctor to deliver Kate's baby. Kate it's a....

TOM: Yes.

ALICE: What were you going to say Jack?

JACK: Nothing.

ALICE: If you'll excuse me, I think I'm going to go to the ladies' room. (To Jack) Darling will you call Abigail and Jennifer, just to see how they are. So you want to go with me Kate.

KATE: Yes, if you'll excuse.

JACK: Certainly.

TOM: You go right ahead.

ALICE AND KATE LEAVE THE TABLE.

JACK: Hmmm.

JACK'S CURIOSITY IS PEAKED.
---
SCENE FIVE: KATE AND ALICE WALK TO THE BATHROOM WHERE ALICE TELLS KATE THAT SHE THOUGHT SHE NEEDED A BREAK FROM JACK'S QUESTIONS. KATE SAYS SHE HAD NO IDEA THAT TOM DELIVERED LUCAS AS SHE LOST CONSCIOUSNESS AFTER LABOR BEGAN. KATE ASKS IF JACK KNOWS EVERYTHING AND ALICE SAYS NO AND THAT JACK AND JENNIFER DO NOT EVEN KNOW THAT KATE WAS LIVING IN THEIR HOUSE BACK THEN. KATE ASKS ALICE IF TOM WILL KEEP THE CONFIDENCE ABOUT HER BACKGROUND AND THE TRUTH ABOUT LUCAS. ALICE ASSURES HER THAT BOTH SHE AND TOM WILL ALWAYS KEEP IT TO THEMSELVES.
---
SCENE SIX: A SHORT WHILE LATER, ALICE AND KATE RETURN TO THE TABLE.

ALICE: Jack?

JACK: Yes.

ALICE: How are Abigail and Jennifer?

JACK: Fine, fine, couldn't be better. On their best.

ALICE: Darling, they have business to talk over so let's you and I go take a spin around the floor.

TOM: My favorite pastime, dancing with my favorite girl. Excuse us.

JACK: Certainly.

TOM AND ALICE GO TO DANCE.

KATE: Your in-laws are very nice people Jack.

JACK: Yes. Isn't it interesting how our little families are so connected?

KATE: Oh, Dr. Horton was the most respected doctor in town. Every woman wanted to have her baby delivered by him.

JACK: Hmmm, Dr. Horton. He's only the tip of the iceberg. Have you met any other Hortons?

KATE: No.

KATE HIDES A FRIGHTENED LOOK BEHIND A GLASS OF WINE.
[Transcribed by Carol Vaughan
added material by Sally A. Wilson]
---
---