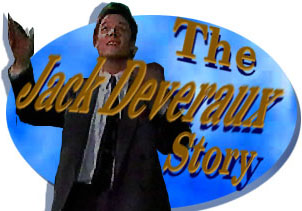 oldEpisode Five-hundred-thirty-three:
Jack and Jennifer Argue over a Story He Is
Doing on Carly Manning Who Is Accused
of Killing off Her Terminally Ill Patients.
---
[Air date early July, 1993]
SCENE ONE: JENNIFER COMES OUT OF THE KITCHEN CARRYING A BREAKFAST TRAY AND WEARING SATIN PAJAMAS.

JENNIFER: Jack, breakfast is ready. Breakfast is ready.

JACK! JACK COMES IN THE FRONT DOOR CARRYING A BUNCH OF HELIUM BALLOONS.

JACK: Special delivery for Mrs. Jennifer Rose Horton Deveraux.

JENNIFER: Balloons for me?

JACK: Yes, yes, it's part of the anniversary special. Champagne and roses last night. Balloons this morning. And tonight.

JENNIFER: Tonight?

JACK: Tonight. Well I think we can just get started on tonight right now.

HE KISSES HER.


JENNIFER: Wait a minute, wait. We can't do this. We can't.

JACK: Why not? We're free, young and...slightly over twenty-one.

JENNIFER: Well some of us more than others.

JACK: Oooooh!

JENNIFER: But I have to get ready for work.

JACK: Perhaps I can help you out of this dress.

JENNIFER: Excuse me.

JACK: Here hold this. The balloons I mean.

HE TIPS HER BACKWARDS ONTO THE COUCH AS HE KISSES HER. SUDDENLY THEY HEAR ABBY CRY ON THE BABY MONITOR AND JENNIFER PUSHES JACK IN A PANIC.

JACK: Jennifer, Jennifer, it's...it's alright. I'll get....

SHE RUNS UPSTAIRS TO ABBY WITHOUT A WORD.

JACK: It's alright.

HE IS STILL IN DENIAL AND DOES NOT WANT TO PANIC LIKE JENNIFER EVEN THOUGH HE IS JUST AS SCARED. JACK FOLLOWS HER UPSTAIRS.
---
SCENE TWO: A SHORT TIME LATER, THEY COME DOWN.

JENNIFER: Thank god Abby was okay.

JACK: Of course she was okay. Everything was okay. There was nothing wrong.

JENNIFER: It sounded like there was bad.

JACK: The sound came from outside. That's why she woke up and she was scared.

JENNIFER: I just wanted to be sure. There's also something I didn't tell you. Um, I went to visit my mother in Chicago yesterday.

JACK: (Beat) I know that. Kate Roberts told me. (Beat) You went to see your mother?

JENNIFER: Yeah. She still isn't responding to anything. She didn't even know that I was in the room.

JACK: I figured that. (Beat) I.... I would have gone, you know. If you had asked, I would have gone.

JENNIFER: Well you think that my trying to link a genetic disorder to Abby's illness is a waste of time so I didn't want to bother you.

JACK: No, I think that trying to link up a serious condition when there is none is a waste of time. That's what I think

JENNIFER: Jack, you know I really hope that you're right.

JACK: She had a fever. It's gone. She's fine. I just think that you're blowing everything out of proportion.

JENNIFER: Believe me, I have never wanted to be more wrong about anything in my life but I can't help thinking about what could happen if Abby's illness is serious.

JACK: Then don't! Because she doesn't have a serious condition. Don't think that way.

JENNIFER: Jack you are scared too.

JACK: I am not scared. I've never been more confident about this, about anything else in my life.

HIS FACE SHOWS THAT HE'S MORE THAN SCARED. HE IS TERRIFIED.

JACK: Excuse me, it's getting a little late. I need to get.... I need to get going. I think that, ah, well we'll just.... we'll.... we'll just pick up where we left off, a little bit later.

HE LEAVES FOR WORK. JENNIFER STILL CANNOT UNDERSTAND WHY HE IS BEHAVING LIKE THIS.
---
SCENE THREE: LATER JENNIFER MEETS ALICE AT THE MALL AND TELLS HER ABOUT JACK'S REACTION. ALICE TELLS JENNIFER THAT IT IS PROBABLY JUST HIS WAY OF DEALING WITH HIS FEARS.
---
SCENE FOUR: MEANWHILE, JACK FINDS KATE AT THE BRADY PUB.

JACK: Oh there she is mixing with the locals.

HE TAKES A SEAT OPPOSITE HER.

KATE: Well Jack, please, have a seat and join me.

JACK: Certainly. I just wanted to explain to you about last night. Why I had to run out on you. I realize it's tantamount to professional suicide to run out on one's boss but I figured that was better than matrimonial suicide which is what I would have experienced if I'd forgotten my anniversary.

KATE: Did you have a nice one?

JACK: Ah yes, it was a very nice one.

KATE: Where did you go?

JACK: To bed.

KATE: You didn't celebrate?

JACK: I don't know Kate. If a gentleman were to offer you champagne and roses, you might find yourself in bed. Believe me it's quite the way to spend the occasion.

KATE: I guess.

JACK: You guess. It doesn't really excite you, the idea of the champagne, the gentleman or the roses? Or are you just too busy for all of the above?

KATE: There's just no one I'm interested in at the moment Jack.

JACK: Well how do you really know that? I mean do you know anyone or anything or are you just too busy for all of it. You do too much work, that's all.

KATE: Who are you, Dr. Ruth?

JACK: No, I'm just someone who knows that being married to the job is not nearly as satisfying as being married to the real thing. Take it from someone who knows.

KATE: Look what works for you Jack may not work for everyone else. Frankly I am exceptionally fulfilled in my life.

JACK: Hmmm.

KATE: I have a job I love, a wonderful son, a beautiful place to live.

JACK: That's it, that's it.

KATE: What?

JACK: That is it. I believe I have just solved the great mystery. It's amazing I didn't figure it out before when it's so clear to me now.
---
SCENE FIVE: JACK AND KATER ARE EATING TOGETHER, JACK HAS JUST FIGURED OUT THAT KATE HAS HER EYES ON VICTOR.

KATE: Excuse me but would you mind letting me in on this conversation since I apparently am the subject.

JACK: Victor. Victor Kiriakis, the reason you are not interested in other men. You've already got your eye on the prize.

KATE: Victor and I are merely business associates.

JACK: Who live in the same house.

KATE: The same thing that he's done for other people who he's brought into the company.

JACK: None of whom were female.

KATE: Victor doesn't discriminate.

JACK: Especially when it comes to a pair of long, good looking legs.

KATE: Excuse me, I'm your boss. Try to remember.

JACK: Try to remember that Victor's your boss. Of course that could all change if you get married to the man.

KATE: Now you've got us married to each other.

JACK: Huh, huh. Let's just think about this for a moment, shall we? You marry Victor Kiriakis. Suddenly all the conversations, all the arguments about Titan Publishing go right out the window because you own Titan Publishing. Ipso facto, through the marriage license, you also own all of the Kiriakis empire and all of those Kiriakis connection. Just cover up a spotted past and you can clear the way for Lucas straight to White House.

KATE: Oh you've got this all laid out for me, haven't you Jack?

JACK: You had it laid out a long time ago.

SHE LOOKS AT HIM AND RAISES HER BROWS. HE LOOKS BACK AND DOES THE SAME.

JACK: I just wish that I'd had it figured out a short time ago. I knew when I came to work for you that you promised that you'd try to stay out of Victor's pocket. I just never figured out that you might end up in his bed instead.

KATE: Contrary to your neanderthal beliefs, a woman can succeed without sleeping her way to the top. That is the way I have played the game and that is the way I will play it in the future. Yes I have big plans but I will call the shots. Lord!

JACK: Amen!

KATE IS REALLY MAD WITH JACK. HE DOES NOT SEEM TO CARE.

KATE: If I didn't know it before I sure know now. Why we get along so well. We think alike.... about most things.

JACK: As long as one of those things is The Spectator.

KATE: Oh Jack, Jack, please. You have nothing to worry about. I know what I'm doing.

JACK: Yeees, you most certainly do.

KATE: I've got to get back to the office. I'll be talking to you.... soon.

KATE LEAVES.

WAITRESS: Excuse me Mr. Deveraux?

JACK: Hmmm?

WAITRESS: You have a phone call from your editor.

JACK: Oh, thank you.

JACK GOES TO THE PHONE AT THE BAR.

JACK: Vern, yes, what.... hmmm more rumors about Carly Manning. (Beat) No, no don't go to presses yet. I think I better gather some more information first.
---
SCENE SIX: MEANWHILE: CARLY HAS BEEN ACCUSED OF MISHANDLING PATIENTS AND PRESCRIBING THE WRONG MEDICINE, ETC. AND EVEN EUTHANASIA. HOWEVER, IN FACT IT IS VIVIAN WHO IS KILLING OFF SOME OF CARLY'S SERIOUSLY ILL PATIENTS, TO FRAME HER.
---
SCENE SEVEN: JACK ARRIVES AT THE STUDIO WHERE JENNIFER IS FIXING HER MAKE-UP.

JACK: Perhaps we could pick up where we left off.

HE KISSES HER CHEEK.

JENNIFER: Gosh, hi there.

JACK: Hello.

JENNIFER: Well, well, well, what are you doing here?

JACK: Well, if you'd really....

JENNIFER: Wait a minute, there's nothing wrong with the baby is there?

JACK: No! No, there is nothing wrong with her. She's playing up a storm with Jo.

JENNIFER: Oh good, then what are you doing here?

JACK: Well actually I'm here to see you. To see your lovely face and to ask you a few questions. Now I realize that you're about to go on duty here but you wouldn't mind giving me an interview would you?

HE GETS OUT HIS PAD AND PENCIL.

JENNIFER: Well no, not when the reporter's as cute as you are.

JACK: Very good answer. Very good.

JENNIFER: Heheheh. What's your question?

JACK: Actually it has to do with your close personal friend, Carly Manning.

JENNIFER: What do you mean?

JACK: Do you know her stand on euthanasia?

JENNIFER: Ah I don't know. I think we've only talked about it maybe once. I think she takes the more European view that the patient should make the decision.

JACK: Do you think under certain circumstances she might.... assist a patient with his or her death?

JENNIFER: Jack, what are you getting at?

JACK: I'm just saying that there are some people who.... who believe she has a certain responsibility in some of her patients' deaths. I'm just trying to get to the bottom of it, find out the truth.

JENNIFER: I will tell you the truth. Carly would never kill anybody for any reason.

JACK GIVES HER A LOOK.


JENNIFER: Wait a minute, you're not considering doing a story.... you can't put this in the newspaper Jack. You don't have any facts. I mean this story would destroy Carly. It would completely destroy her.

JACK: I don't print rumors Jennifer. I print facts. That's what I'm trying to get here.

JENNIFER: Well you will get that and you will see that I'm right.

JACK: Okay, can you tell me if Carly Manning ever told you that she thinks euthanasia is a patient's right?

JENNIFER: Jack, maybe she mentioned it once in a specific case, a very specific case. But she would never help with it.

JACK: Alright, let's not be specific. Let's.... let's be hypothetical. Let's say there's a child.... an infant who's hovering between life and death. Do you think a doctor should be able to pull the plug on life support?

JENNIFER: No I do not.

JACK: Do you think that?

JENNIFER: No I don't and Carly wouldn't do that either unless she had permission.

JACK: Alright, so she has to speak to the patient first. What if it's an infant? What if it's someone who's comatose?

JENNIFER: Jack she wouldn't do anything in any of those cases alright unless she had permission or something else like a living will, I don't know.

JACK: Alright so she has to get permission from someone. She has to talk to them. Or she has to speak to the family. But she has to do it.

JENNIFER: I think there's more to this than just a story to print Jack. I think that you're really worried about Abby.

JACK: Aaaaah, no.

HE STARTS TO WALK AWAY.

JENNIFER: What are you doing? Don't walk away from me. Jack I didn't mean what I said but I realize that....

JACK: Listen to me. The.... the one has nothing to do with the other. But while we're on the subject. If our child gets so much as a sniffle, from here on out Dr. Raines is taking sole responsibility for her. Carly.... Carly will take no responsibility.... until we answer all these questions.

JENNIFER: I don't have any questions about Carly and if it turns out that there is something seriously wrong with our daughter, Carly is going to be the one taking care of her. She is going to be the one on the case.

JACK GIVES HER AN ANGRY LOOK.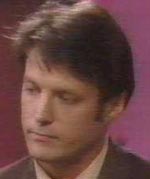 JACK: Thank you.

HE WALKS AWAY.
[Transcribed by Carol Vaughan
added material by Sally A. Wilson]
---
---