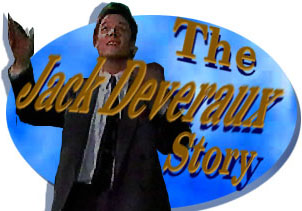 oldEpisode Five-hundred-thirty-nine: Jack
and Jennifer Share a Romantic Evening
Together; Later Jack Talks about Having
Another Child, Jennifer Is Unsure. When
They Return Home, Abigail Is Sick Again.
---
[Air date late August, 1993]
SCENE ONE: IT IS A COUPLE OF DAYS LATER, JACK AND JENNIFER ARE OUT TO DINNER AT A VERY EXPENSIVE RESTAURANT IN TOWN. KATE AND VICTOR ARE ALSO DINING THERE.

WAITER: Mr. and Mrs. Deveraux. It's so nice to have you with us this evening.

JACK: It's nice to be here.

JENNIFER: Thank you.

WAITER: Right this way please.

JACK: Thank you.

THEY WALK PAST VICTOR'S TABLE.

JENNIFER: Hello Kate.

JACK: Good evening.

JENNIFER: Enjoy your dinner

KATE: Thank you.

THEY KEEP WALKING TO THEIR TABLE.

WAITER: Would you care to see the wine list?

JACK: Yes, please. That would be nice.

JENNIFER: What are you looking at?

JACK: I'm looking at Kate Roberts smiling at Victor.

JENNIFER: Maybe he said something very funny.

JACK: No, it's not that kind of a smile. So it does make one ask, what are those two up to?

---
SCENE TWO: THE WAITER BRINGS THE WINE AND WHILE JACK IS SIPPING HIS, HE CONTINUES TO WATCH KATE AND VICTOR.

JENNIFER: What are Kate and Victor doing now?

JACK: Enjoying their meal as far as I can tell.

JENNIFER: He still wants The Spectator back doesn't he?

JACK: Ooooh yes, yes. He's not going to stop until he gets it. Fortunately I was able to put on hold his plans to take over The Chronicle so that bought me some time. But I'm afraid the only person that's going to be able to stop Victor in his tracks is Kate Roberts.

JENNIFER: Jack, I think it's really dangerous to trust her.

JACK: Yes it is. She wants control of The Spectator as much as I do. At least that ensures that she's not going to let Victor take it over anytime soon.
---
SCENE THREE: VICTOR AND KATE GET UP TO DANCE AFTER DINNER AND JACK IS SICK OF WATCHING THEM.

JACK: I was thinking. How would you like to skip dessert?

JENNIFER: Okay, what did you have in mind?

JACK: I had in mind talking about something but talking about it in private.

JENNIFER: Alright, let's get the check.

JACK: It's done.

JACK CLICKS HIS FINGERS FOR THE WAITER.THEY LEAVE THE RESTAURANT.
---
SCENE FOUR: JACK HAS TAKEN JENNIFER TO A CHILDREN'S PLAYGROUND IN THE PARK.

JACK: Actually I'd like to talk to you about the reason I brought you here.

JENNIFER: That's right, the big mystery. Okay?

JACK: Well since we both agree that we did such a good job with our firstborn, I was thinking why not go two for two.

JENNIFER: Are you saying you want to have another child?

JACK SMILES.


JACK: It's up to you. I just thought now's a good time to think about extending the family tree.

JENNIFER: Jack you know that I want to have another baby more than anything in the world.

JACK: But you have to think about your career of course.

JENNIFER: Look you know that I love my career but my family comes first. And we will have more babies. We'll have a ton of them. Just in time, that's all.

JACK WATCHES HER AS SHE TRIES TO THINK UP GOOD REASONS WHY NOT.

JENNIFER: It's just that Abby's still in diapers, you know. And she needs a lot of attention right now. And besides, I want to spoil her for a while and wait until she's a little more independent.

JACK: I'll tell you what I'll do. I'm going to arrange for full-time help. That will take care of everything.

JENNIFER: Under other circumstances you'd agree with me.

JACK: What do you mean, under...under other circumstances? What is that supposed to mean?

JENNIFER: You're worried about Abby. You're worried about what's going to happen to her. That's why you want another baby.

JACK: That is not true. Absolutely untrue. That had nothing to do with it. I just.... I just said I'm making enough money now to be able to give you anything you'd ever want or need. That's all it is. And if.... if you don't want to now, that's fine but whenever you're ready (Beat) whenever you're ready, I'm ready too.

JENNIFER: I love you Jack Deveraux.

JACK: I love you too.

THEY SHARE A TENDER KISS.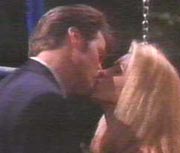 ---
SCENE FIVE: A LITTLE LATER, THEY ARRIVE HOME WHERE JO IS BABYSITTING. THEY COME IN LAUGHING.

JACK: Ssssh.... ssssh.

JO: Hello, how was your evening?

JENNIFER: It was wonderful. How was your evening?

JO: Oh wonderful. You know there's nothing I like better than playing with my grand-daughter. She took her bottle earlier and I put her down. I haven't heard a peep from her since.

JACK IS STANDING BEHIND JENNIFER AND CRADLING HER IN HIS ARMS. HE KISSES HER HAIR OCCASIONALLY.

JACK: Good.

JENNIFER: Oh that sounds good to me. Oh you know we skipped dessert at the restaurant so we thought we would dive into the cake that you brought us.

JACK: Oh you're welcome to dive in with us if you like.

JO: Well alright. Just a little piece.

JENNIFER: Okay I'll go get it. I'll get it.

JACK: Alright.

ABBY BEGINS TO CRY JUST AS JENNIFER STARTS TO RUN TO THE KITCHEN.

JACK: Like radar. She knew we were home.

JENNIFER: You know what she probably needs changing.

JACK: You go.

JENNIFER: It's your turn.

JACK: Your.... turn.

JENNIFER: I'll go.... I'll go upstairs.

JACK: Good.

JENNIFER: Why don't you two go ahead and serve the cake. I'll be right down.

JO: Alright.

JENNIFER GOES UP TO ABBY.
---
SCENE SIX: JACK IS TALKING TO JO, JENNIFER IS UPSTAIRS LOOKING IN ON ABBY.

JACK: I think I married a good one.

JACK SMILES TO HIMSELF.

JO: Yes. Yes you did. She's very special.

JACK: Yes she is.

JO: I'm glad to see you're so happy.

JENNIFER: JACK HURRY. THERE'S SOMETHING WRONG WITH ABBY!

JACK: What.... oh wait a minute.

HE RUSHES UPSTAIRS.
---
SCENE SEVEN: A SHORT TIME LATER, THEY COME BACK DOWN WITH JACK CARRYING ABBY WRAPPED IN A BLANKET.

JO: What's wrong with her?

JENNIFER: Her fever shot up again. Where's the keys?

JACK: On the desk.

JO: She was fine when I put her to bed.

JACK: Alright. Don't worry about it. Don't worry. The important thing is to get her to the hospital. That's all.

JENNIFER: Let's go. Ready?

JACK: Right.

JENNIFER: Come on.

JACK AND JENNIFER RUSH OUT WITH THE BABY.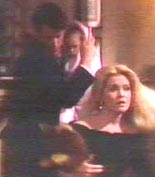 [Transcribed by Carol Vaughan
added material by Sally A. Wilson]
---
---