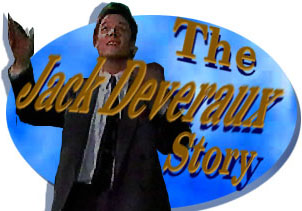 oldEpisode Five-hundred-forty-two:
Jack Feels Unless, He Can Do
Nothing to Help Abby. He Hides
Himself in Work; Jennifer Is Upset
with Him and Wants Him Near Her.
---
[Air date late August, 1993]
SCENE ONE: THE NEXT DAY, JACK AND JENNIFER HAVE JUST BEEN TO SEE ABBY.

JENNIFER: Grandpa, the nurse gave us your message. What's happened?

TOM: Jennifer, I'm sorry if we alarmed you.

JACK: No, no, we're fine. We were just with the child and she was going much better.

JENNIFER: You got the results from the blood tests?

TOM: Yes. You and Alice and I.... well we don't match. None of us can donate bone marrow to Abby's transplant.

JACK: Well as you told us before, it was a long shot that anyone was going to be a match.

TOM: I don't want the two of you to be discouraged. There are other options.

JENNIFER: I know. You told me about the bone marrow registry.

TOM: Yeah. I've already contacted them and they're going to find a matching donor. We should hear this afternoon.

JENNIFER: Okay, thanks.

TOM: Have you heard from your father in Somalia?

JENNIFER: Yes, I talked to dad. He promised that he would be tested. And I talked to Mike in Israel. He's going to be tested too.

JACK: And Jo's coming in this afternoon. Even Vern's coming in. I think Justin and Adrienne are going to be tested as soon as they can too.

JENNIFER: There has to be someone that is going to be a match for Abby. We just have to find them.

JACK: And we will find them. We definitely will.
---
SCENE TWO: A WHILE LATER AUSTIN CALLS JENNIFER AT THE HOSPITAL TO SEE HOW ABBY IS AND SHE TELLS HIM THEY ARE LOOKING FOR A BONE MARROW DONOR. HE OFFERS TO BE TESTED.
---
SCENE THREE: MEANWHILE JACK IS ALONE IN THE LOUNGE. HE TAKES OUT A PICTURE OF ABBY FROM HIS WALLET.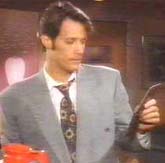 HE BEGINS TO CRY BUT STOPS HIMSELF AS JENNIFER COMES INTO THE ROOM.

JENNIFER: I just talked to Mike in Israel.

JACK: You did, huh. So what's the word?

JENNIFER: He's not a match either.

JACK: I see.

JENNIFER: But he did say that he wanted to come home and be with us. That'd be nice don't you think?

JACK: Yes that would be very nice, very nice. (Beat) I'm sorry about all this, Jennifer.

JENNIFER: What are you talking about? You have nothing to be sorry about.

JACK: I have everything to be sorry about. She's lying in there. She's sick. She's helpless. And there's nothing I can do to help. I may have even hurt her. I may have even been the one who caused this whole thing.

JENNIFER: What are you talking about? That's not true.

JACK: I'm the one with Hodgkins. I may be in remission but I may have passed on some weakened genes to her.

JENNIFER: No. We are going to talk about his right now. Alright, I am not going to let you blame yourself. You had nothing to do with Abby's illness.

JACK: I.... I'm sorry. We've just been cooped up here to long. You're right. Let's just go for a walk. We just need a little....

JENNIFER: No. I want to talk about this right now. Sit down. Sit down right here.

JACK: There is.... there is nothing really to talk about. I'm sorry about that. I'm sure that the right donor's going to come along. We are going to be able to get a transplant and she'll be alright.

JENNIFER: Jack, I pray and I hope everyday that that happens but in the meantime we have to face reality, alright. It could take a very long time to find a match. You heard what my grandfather said. It could take a year. It could take longer than that.

JACK: No. No it'll be sooner than that.

JENNIFER: How do you know that? (Beat) I want us to have another baby.

JACK: You what?

JENNIFER: The doctor said that our best hope for a bone marrow donor would be a brother or sister.

JACK: Huh.... Jen....

JENNIFER: Look we have time. We have plenty of time before her condition is life threatening, right?

JACK: Jennifer this is not the time to be talking about having another baby. This....

JENNIFER: What, what are you talking about? You just told me last week that you wanted to have another baby. What if this is our only hope Jack?

JACK: That was not to have a donor. Jennifer, people do recover from this. People do recover. Our child's going to recover too. You have to believe that.

JENNIFER: Don't do this. Don't go off in this world of denial like you always do, alright. I need you here. I need you here with me right now, alright.

SHE TOUCHES HIS CHEEK.

JACK: Don't you know, I am here. I am here day and night. And while I'm here I watch everybody just go in and out of that room and get themselves tested and I can't do a damn thing about it or help in any way shape or form.

TOM COMES IN THE ROOM.

TOM: Here's the report from the bone marrow registry.

JENNIFER: Oh thank god. Did they find a match for Abby?

TOM: Out of this whole donor list, the preliminary scan shows that there are no perfect matches.

JENNIFER: What does this mean? Does this mean there is no one who can donate to Abby?

TOM: No, not necessarily. It just means there's no perfect match. With further testing we may find some one who is close enough that we can do the transplant.

JENNIFER: Alright, well we're just going to have to hope for the best, right?

JACK: Absolutely.
---
SCENE FOUR: KATE COMES IN WITH MAGGIE.

KATE: Jack, Jennifer, I just heard about Abigail. I am so sorry.

JENNIFER: Thank you Kate.

MAGGIE: Tom is that the bone marrow registry?

TOM: Yes.

MAGGIE: It's pretty short isn't it?

KATE: I thought there were thousands of people on those lists.

MAGGIE: Yes but these are the only possibilities for a match with Abby.

KATE: Well would I be a potential match? I mean I would be happy to be tested.

JACK: That's very kind of you Kate.

KATE: I'm very happy to help. I also have another idea. Why don't we run an article in Bella magazine? We can also put one in The Spectator. We'll just tell people to come in and get tested. Maybe we'll find a match for Abigail that way. I mean the more people that come in, the more chances we have, right?

TOM: Right.

KATE: That's a great idea Kate.

TOM: Yes it's an excellent idea. I don't think people realize how important it is to be donor. How a simple blood test can mean the difference between life and death.

KATE: Well we're going to let them know Dr. Horton. Jennifer, you just keep positive thoughts.

JACK: Thank you, we will.

TOM: We can get your blood sample now if you like.

KATE: Yes, I'd like to do that right away. Excuse me.

KATE LEAVES WITH TOM.
---
SCENE FIVE: A SHORT WHILE LATER, JACK IS ON THE PHONE AS KATE COMES BACK.

JACK: You're sure? That's good. That's very good news. Thank you very much. (Beat) No, no, we don't have a donor yet but believe me we will, very shortly. Yes, thank you very much.

HE HANGS UP AND SIGHS WITH RELIEF.

KATE: Jack.

JACK: Oh Kate, did I thank you before for volunteering to give blood?

KATE: Oh Jack, I'm sure you did. You seem in better spirits now.

JACK: Yes, I am. Actually that was my insurance agent. He was telling me the policy is going to cover all treatment and hospitalization.

KATE: Oh boy I bet that's a relief.

JACK: Oh yes.... it...it certainly is. Yes, especially when you're not sure that anything is going to be covered.

KATE: Jack I think you should take some time off, just for a while. I think you need a break.

JACK: No.... ah, quite the contrary. Actually I think at this point.... I need.... to run The Spectator.... and go in and yell at Vern a little bit. Otherwise I'll just be stuck here thinking the worst thoughts about....

HIS VOICE IS SHAKING.

JACK: I am sure that I need to keep working.

KATE: I can see how important the paper is to you.

JACK: I hope you do. I don't think I ever really thanked you for talking ownership of The Spectator with me. Keeping Victor at bay. If Victor was here right now I don't know what I be doing.

KATE: Jack do you really think he'd destroy the paper?

JACK: He wouldn't destroy it.

JACK (CONT.) He'd bury it under Titan and take away its uniqueness and make it all the same. And that.... that would destroy me. So thank you. I'll talk to you later. I need to see Jennifer.

JACK LEAVES.
---
SCENE SIX: KATE IS VERY GUILTY BECAUSE VICTOR HAS ASKED HER TO MARRY HIM AND THUS HAND OVER THE SPECTATOR TO HIM. KATE HAS NOT MADE UP HER MIND BUT SHE REALLY WANTS THE POWER THAT COMES WITH BEING VICTOR'S WIFE.
---
SCENE SEVEN: LATER, LEAVES FOR WORK. JENNIFER IS NOT HAPPY. JACK NEEDS TO WORKAS A RELEASE FROM THE PRESSURE; IT IS HIS WAY OF DEALING WITH THE PAIN. MAGGIE TRIES TO EXPLAIN THIS TO JENNIFER; HOWEVER, JENNIFER WANTS JACK TO DO WHAT SHE WANTS NOT WHAT HE NEEDS TO DO.
[Transcribed by Carol Vaughan
added material by Sally A. Wilson]
---
---