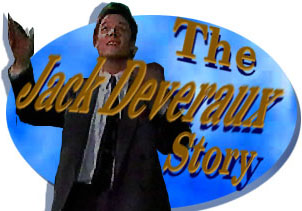 oldEpisode Five-hundred-forty-five:
The Fall of Jack Deveraux Part I:
Vern Tells Jack That He Thinks
There Is a Way to Get Dirt on Victor.
---
[Air date mid-September, 1993]
SCENE ONE: JACK AND JENNIFER ARE AT THE HOSPITAL ONCE MORE.

JENNIFER: You know this book that Austin gave me on aplastic anemia has taught me so much Jack. I mean did you know that as recently as the 60s there was no hope for aplastic anemia victims?

JACK: No, no, I didn't know that.

JENNIFER: I didn't know that either and it wasn't until the 70s that bone marrow transplantations even came into the picture. And you know what, if the transplant is successful it could be a permanent cure. (Beat) Didn't you hear what I said? Don't you find that interesting?

JACK: Yes, yes, I do find it interesting. However I am more interested in getting our child well than talking about her illness.

JENNIFER: I am too but the more we know the better prepared we're going to be to help her especially after we find out what caused her to get sick, right. And Austin's going to help us do that.

JACK: Wait a minute, wait a minute. Don't get me wrong. I appreciate everything Austin is doing. I mean being a marrow donor and all. I just think it's a little odd that he's suddenly devoting his entire life to our child's illness.

JENNIFER LOOKS AWAY AND TRIES TO IGNORE JACK'S COMMENTS.
---
SCENE TWO: AUSTIN COMES UP AT THAT EXACT MOMENT.

AUSTIN: Hey you two.

JENNIFER: Austin, hi.

AUSTIN: I just came back from seeing your beautiful daughter. She was sleeping so we didn't have much of a conversation. How are you doing Jack?

JACK: Fine.

AUSTIN: I brought these books for you. A few more.

JENNIFER: Oh my gosh. Austin you didn't have to do this. You didn't have to come all this way to bring me these.

AUSTIN: No I came over to see Abby and I also had to do some preliminary tests before the bone marrow transplant. So how are you doing?

JENNIFER: We are great. We are holding on and we are very hopeful that the transplant is going to cure Abby permanently.

AUSTIN: Well it's got to be hard seeing someone you love going through this but....

JACK IS OBSERVING AUSTIN CLOSELY BUT AUSTIN WALKS OVER TO CARRIE WHO IS COMING OUT OF SURGERY FOR HER FACE.
---
SCENE THREE: JACK IS STILL HOPING TO GET SOMETHING ON VICTOR AND HE GOES TO THE PHONE.

JACK: I've been concerned about Victor getting the upper hand on The Spectator for some time now so I'm trying to get the goods on the man. (Beat) Well he's very slippery so I keep coming up empty. (Beat) Really! Are you certain that this source is reliable? (Beat) Okay, okay, you find out what you can and you call me back here. I'm going to be right here so just have me paged.

JACK HANGS UP. HE GOES BACK TO JENNIFER.

JENNIFER: We'll let Abby sleep another half an hour longer then wake her up.

JACK: What? Wake her up? Why?

JENNIFER: Jack you know if she naps too long she'll never sleep tonight.

JACK: Yeah but I think as long as she's....

NURSE: Excuse me, Mr. Deveraux, there's a call for you.

JACK: A call.... oh.... I'll take it in the lounge if that's alright. I'll be right back.

HE GOES TO THE NURSE'S LOUNGE AND TAKES THE CALL.

JACK: Vern?

VERN: Yeah it's me.

JACK: Good.

VERN: Look I finally got my contact in Paul Jamieson's office.

JACK: Victor's lawyer, yes.

VERN: Now look, this may be hot Jack but we shouldn't talk about it over the phone. I'm going to come to the hospital okay. I'll act like I'm there to see Abby.

JACK: Okay. Meet me by the third floor elevator. That's pretty inconspicuous.

VERN: Oh you're going to love this Jack. ARRRGH! I think we may have just found a way to finally get the goods on Victor.

JACK: Good, good, I'll see you then.
---
SCENE FOUR: MEANWHILE VICTOR HAS PROPOSED TO KATE AGAIN AND SHE HAS ACCEPTED ON THE CONDITION THEY GET MARRIED THAT NIGHT. KATE TRIES TO CALL JACK BUT CANNOT REACH HIM.
---
SCENE FIVE: SOME TIME LATER, VERN HAS ARRIVED TO SEE JACK.

VERN: You know this friend of mine, you know the one that works in Victor's lawyer's office.

JACK: Yeah, right, right.

VERN: Well he told me that there was a lot of big time hoopty doo going on over there. Now nobody knows exactly what it is but it smacks of a cover-up.

JACK: How though? How? I mean what kind of a whoopdy doo are we talking about here?

VERN: Like boxes of stuff being taken down to the incinerator to be destroyed.

JACK: Stuff, huh. I think we have to get our hands on some of this stuff. At least as much as we can without arousing suspicion. Yeah I think it's time to get to the bottom of this with Victor. Come on let's go.

VERN: Yeah, let's do it.
---
SCENE SIX: MEANWHILE, KATE IS ON THE PHONE OUTSIDE TRYING TO REACH JACK. SHE SEES HIM AT THE ELEVATOR.

KATE: Jack, no wonder I can't get hold of you.

JACK: Kate.

KATE: Listen I have something very important to talk to you about. We've got to talk.

JACK: We're really in a big rush Kate. We can't talk.

KATE: No it's important Jack, please.

JACK: I tell you something we are following an big lead. It could be a major expos˙ and if this pans out I'll have something important to tell you too. I'll tell you when I'm sure.

HE JUMPS IN THE ELEVATOR AND THE DOOR CLOSES.
---
SCENE SEVEN: A SHORT WHILE LATER, JACK AND VERN ARE IN VICTOR'S BASEMENT GOING THROUGH OLD FILES AND DISKS.

JACK: Computer disks, huh. So you're telling me we can't just pop them in the trusty old computer?

VERN: No the computer guys upstairs said all this stuff is scrambled and coded.

JACK: Alright, I'll tell you what we're going to do. You're going to go to the computer guys upstairs. You're going to tell them upstairs. You tell them that we want to know how we can decode them ourselves. No one is going to see these computer disks except you and me. This is obviously very sensitive material Vern. If Victor's lawyers are throwing away files it's obviously something that Victor doesn't want anyone else to know.
[Transcribed by Carol Vaughan
added material by Sally A. Wilson]
---
---