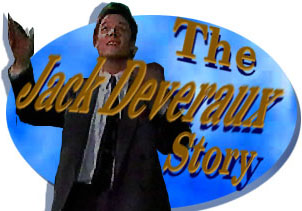 oldEpisode Five-hundred-forty-six: The
Fall of Jack Deveraux Part II: Jack and
Vern Try to Break the Code of the Diskettes
to Finally Destory Victor. Later, Jack and
Jennifer See Victor and Kate's Wedding, and See
Kate Sign over the Paper to Victor; Jack Is Crushed.
---
[Air date mid-September, 1993]
SCENE ONE: JACK AND VERN ARE WORKING IN JACK'S OFFICE SURROUNDED BY VICTOR'S STUFF WHEN JENNIFER AND AUSTIN COME IN.

JACK: Vern!

JENNIFER: Hey there.

JACK: Jennifer.

JENNIFER: It doesn't look like you're ready to go to dinner.

JACK: Dinner. Yes dinner. Austin.

AUSTIN: How are you doing Jack?

JENNIFER: What's going on? What is all this?

JACK: Ah well Vern got a tip that Victor's up to some very suspicious activities and we're just in the process of proving it.

JENNIFER: That's his stuff? All of that is his?

JACK: Well it was, yes.

JENNIFER: Where did you get it?

JACK: Well I can't reveal my sources and I hope the two of you won't reveal that these are in my possession.

AUSTIN: I didn't see anything.

JACK: Good.

JENNIFER: Wait a minute. What do you think he's up to Jack?

JACK: Heh, whatever it is, he's going to great lengths to cover it up. My plan is to find out what it is and to expose it in The Spectator.

JENNIFER: Does Kate know you're doing this?

JACK: No, no, I thought it was best not to tell Kate until I figure out what I've got here. I'd like to see the look on her face when she sees I'm really prepared to take down Victor Kiriakis.
---
SCENE TWO: MEANWHILE KATE IS GETTING READY FOR THE WEDDING WHICH IS TO TAKE PLACE AT THE PENTHOUSE GRILL.
---
SCENE THREE: BACK AT THE OFFICE.

JENNIFER: Jack, come over here please. Can you get arrested if Victor finds out that you have all of his stuff.

JACK: Well he's not going to find out. He ordered for those disks to be destroyed and for all intents and purposes they are. Gone. Now all I'm trying to do is put together a case to nail Victor. To keep his hands so tied up that he won't have time to even go after The Spectator again. In the meantime Kate is going to have to spend all her time working on Titan and that will leave The Spectator to me. That would make me very happy and I'm sure it would make us happy too. Vern, how's it going?

VERN: Jack I can't break this damn secret code. Are you sure we're following the instructions the computer guys gave us?

JACK: Vern I gave you the instructions. I'm sorry if it's not working.

JENNIFER: You know we do have dinner plans tonight, remember?

AUSTIN: We could do it another time.

JACK: No, no, we'll do it tonight. Just give me another couple of minutes.

AUSTIN: No we can do it after the transplant. It's no problem.

JACK: No we'll go.

JENNIFER: Vern, Vern, go back. Go back.

VERN: Where?

JENNIFER: Look, look at that. It says Spectator. Right there, look.

JACK: What?

JENNIFER: Yes.

JACK: Wait a minute, right there. Every other letter. Jennifer I think you're onto something. That indeed says Spectator. That might be the key. That could be the reason that Victor is so desperate to get his hands on The Spectator. I think you did it. You're a genius. Oh YES!

VERN: Well let's not start celebrating until we get access to the file okay.

JACK: You're right Vern. You break that code and you give us a call over at the Penthouse Grill.

AUSTIN: Bye Mr. Scofield.

VERN: Will do. Oh Jack?

JACK: What?

VERN: Listen you haven't returned any of Kate's calls. Maybe now's the time.

JACK: No, no, no. I'll just give her a call from the Penthouse Grill. This news should make her night

JENNIFER: Goodnight Vern.

VERN: Goodnight.
---
SCENE FOUR: AT THE PENTHOUSE GRILL, THE WEDDING OF KATE AND VICTOR HAS BEEN UNDERWAY.
---
SCENE FIVE: JACK, JENNIFER AND AUSTIN ARE IN THE ELEVATOR.

JACK: It's just that Victor is up to his neck in something illegal. The question is, how deep is he in. Now if.... I'm sorry. I'm sorry. We're here going on a thank you dinner and here I am just talking about Victor.

JENNIFER: Yes, can we not talk about Victor until after dinner?

JACK: Certainly, certainly. You have my word.

JENNIFER: Thank you.

JACK: Yeah.

THE ELEVATOR REACHES THE GRILL.

JACK: There he is. Hello.

WAITER: I'm sorry the restaurant's closed this evening.

JENNIFER: Closed?

JACK: I don't think you understand. We made the reservation yesterday.

WAITER: We tried notifying everyone with reservations. If you weren't informed, I'm sorry.

JACK: Well why is it closed?

WAITER: A private wedding ceremony. I am sorry for the inconvenience.

JENNIFER: No that's alright. We'll come back another time. Thank you.

JACK: Huh, I wonder who's getting married. It's hard to believe that Victor would close down the restaurant for just anyone.

JENNIFER: Well it must be a very close friend. So where do you want to go now?

AUSTIN: Looks like Jack wants to get back to the office.

JACK: No, no, no. I'd.... I'd actually like to see what's going on in there.

JENNIFER: You can't go in there. The man said it's a private affair.

JACK: Oh please Jennifer, the bride and groom aren't going to mind if we take a little look.

JENNIFER: Jack!

JACK: Come on, where's your sense of adventure?

HE GOES THROUGH THE CURTAIN WITH JENNIFER AND AUSTIN. JACK'S MOUTH FALLS OPEN AS HE HEARS THE FINAL ANNOUNCEMENT.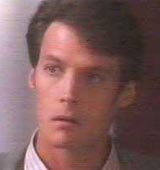 ---
SCENE SIX: JACK HAS JUST DISCOVERED THAT KATE HAS MARRIED VICTOR. HE IS SHOCKED, ANGRY, AND HURT, KNOWING THE FULL IMPLICATIONS, THAT THROUGH THE MARRIAGE HE HAS JUST LOST THE SPECTATOR TO VICTOR.

JACK: Well this makes sense. This really makes sense.

JENNIFER: Why don't we just go home?

JACK: She married him. She doesn't know. He married her to get The Spectator. That's why he did it. All this work, all this effort that we put in to try and hold this thing and in the end Victor finally gets his hands on it after all.

JENNIFER: We don't know that. Kate doesn't have to give him the newspaper. She doesn't even have to share it with him.

JENNIFER: I think you're getting all worked up over nothing. Now come on Jack let's go. Jack.

JACK: I really have to find out. Excuse me. I need to talk to Kate about this first. Excuse me.

HE GOES LOOKING FOR KATE AND VICTOR AND FINDS THEM IN KATE'S OFFICE.
---
SCENE SEVEN: MEANWHILE, IN A BACK ROOM, KATE IS SIGNING OVER THE NEWSPAPER TO VICTOR.
---
SCENE EIGHT: KATE HAS JUST SIGNED THE PAPER OVER TO VICTOR.

VICTOR: The deed to The Spectator.

KATE: You're now the new owner of the paper.


JACK WALKS IN THE DOOR.

JACK: How could you do it Kate? Just tell me, how could you do it? (Beat) Perhaps someone can tell me in ten words or less what's really been going on all this time.

VICTOR HAS A SMUG GRIN ON HIS FACE.

KATE: Jack my marriage to Victor will not affect your job.

JACK: THE HELL IT WON'T AFFECT THE JOB. YOU'VE JUST GIVEN THE MAN CONTROLLING INTEREST IN THE PAPER. IT'S GOING TO AFFECT IT.

KATE: Jack you can remain on as editor as long as you want the job.

JACK: Excuse me Victor. Kate.

HE PULLS HER ASIDE SO THAT VICTOR CANNOT HEAR WHAT THEY ARE SAYING.


JACK: Listen I can't tell you how many times I've tried to explain this to you. How many times have we talked about Victor? How many times have I tried to tell you the man is not to be trusted? I am this close to proving it. I am this close to proving it. I am this close to proving how desperate he is to get his hands on The Spectator.

KATE: What are you talking about?

JACK: He's using you Kate. He's using you to get The Spectator. Now you have to trust me. I am very close to something that could bring Victor down. You could work with me and we could bring him down together. Kate?

KATE: Jack, Victor is my husband. I will not work against him with you or anybody else.

VICTOR COMES OVER.

VICTOR: Jack, I understand the pressure that you're feeling.

JACK: YOU DON'T UNDERSTAND ANYTHING. You started this with Harper. I am just finishing it. You may have won this battle but I tell you something, we'll see about the war!

JACK STORMS OUT.

KATE: Jack!

VICTOR: I own The Spectator now. I'll deal with Jack Deveraux.

KATE REALIZES THEN WHAT SHE HAS DONE.
---
SCENE NINE: JACK GOES BACK DOWN TO JENNIFER WHERE HE GETS HIMSELF A GLASS OF CHAMPAGNE.

JACK: So it finally came to pass. I gave Kate enough rope and she hung me.

JENNIFER: Jack.

JACK: She gave the paper to Victor and she hung me. Which essentially means it's over. It's basically over here.

HE LOOKS AT HIS EMPTY GLASS.

JENNIFER: Jack?

JACK: Huh?

THEY LOOK ACROSS AND SEE KATE AND VICTOR COME BACK INTO THE ROOM.

JENNIFER: I think that we should go. Let's go.

JACK: Certainly. I'll get another one on the way out.

SHE PULLS HIM TO THE ELEVATOR.
[Transcribed by Carol Vaughan
added material by Sally A. Wilson]
---
---