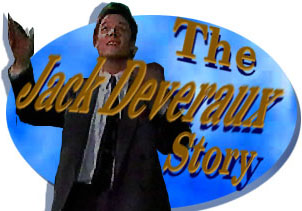 oldEpisode Five-hundred-fifty-one:
The Fall of Jack Deveraux Part VII:
Jack Has Been Fired, Victor and Kate
Tell Jack That He Cares Noting about His
Family, but Is Pathetic and Self-Centered.
---
[Air early October, 1993]
SCENE ONE: LATER THAT DAY, JACK IS BACK AT HIS OFFICE PACKING UP HIS THINGS.

VERN: This is just what I was afraid of.

JACK: I need another carton Vern.

VERN: You don't mess around with guys like Kiriakis, Jack. What did he do, walk in on you while you were snooping around in his file room?

JACK: Elementary my dear Watson. I was set up by Victor Kiriakis with a phony disk. There were no original copies left at Titan Publishing. Just the same the man caught me snooping around as you put it so aptly, threatened to have me arrested, but out of the goodness of his heart, fired me instead.

VERN: Fired you, just like that? I mean what did he say?

JACK: He said.... you're fired!

VERN: Oh what are you going to do? How are you going to tell Jennifer?

JACK: To answer the first question, I am going to enjoy my unemployment insurance and collect on my 10% on my stock. And to answer the second question, as far as what I'm going to tell Jennifer? I haven't worked that out yet.
---
SCENE TWO: VICTOR WALKS IN.

VICTOR: It's amazing how much junk we can accumulate in a short period of time, isn't it? Your final check Jack. Personnel is putting together your paperwork. You can pick it up anytime.

HE HANDS JACK THE CHECK.

VERN: I'll take care of that for you Jack.

JACK: Don't be such a help next time, Benedict Arnold.

VICTOR: I will need your press pass and your credentials as well. I do hope you haven't packed them away by mistake.

JACK: No I don't believe I have. There we go. Press pass, credentials, secret decoder ring and 90% of The Spectator. All yours Victor.

VICTOR: Yes indeed it's all mine and you have no one to blame but yourself.

KATE WALKS IN THE OFFICE.

KATE: No one to blame for what? What's going on here? Jack, answer me. One of you answer me. Why is he packing?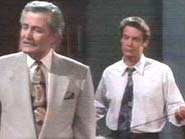 VICTOR: Jack has been released of his duties here. He's no longer working for The Spectator.

KATE: What Victor? You promised me his job was secure.

VICTOR: It was, until he got caught trying to steal some confidential files from my attorney's office. And then he continued snooping trying or find some evidence he could use against me.

KATE: Oh my god.

VICTOR: It's a shame isn't it? A man as intelligent and sophisticated as Jack could commit such a monumental blunder. I'll see you at home Kate.

VICTOR LEAVES.
---
SCENE THREE: JACK GETS BACK TO PACKING UP.

JACK: Excuse me while I wax dramatic but I vont to be alone (Imitating Greta Garbo in Grand Hotel).

KATE: Not until you explain to me what happened.

JACK: I think Victor explained it very well, very eloquently. I was caught snooping, as he put it, and fired for it. A rather simple concept if you think about it.

KATE: I don't know what to think.

JACK: Kate, now is not the time to be shocked. We've all made our little mistakes especially if we want to classify marrying Victor as a mistake or would monumental disaster be closer to the mark.

KATE: We're not talking about me, dammit!

JACK: Well perhaps we should. I mean I'm old news here but you, you, you are a whole new ball of wax. I mean it's really fascinating to think about you. All these mood swings and these secrets and everything like that. One minute you're a kind compassionate feminine young lady and then you turn around and you turn into a little dictator, a tyrant, making absolutely Napoleonic demands.

KATE: I only made demands on you because I believed in you. I stuck my neck out for you. You never appreciated it, did you?

JACK: I'm sorry if you actually feel that way Kate.

KATE: Jack I can't believe you would throw all this away. What were you thinking?

JACK: I'm thinking, best just stick with the packing.

KATE: That's the whole point, isn't it? You weren't thinking. You weren't thinking of your wife, you weren't thinking of your daughter. No this whole story is all about you, isn't it? Poor deluded Jack and how he must have revenge on Victor. To hell with his self respect. To hell with his family. HEH! He only wants to get back at the man that he imagines is at the root of his problems.

JACK: (Singing) Oh it's just my imagination....

KATE: Jack! The fact is you are responsible and no one else. You know instead of trying to succeed in your own right, you took all the energy and you put it into trying to destroy some one else.

JACK: I.... I.... you know I'm starting to have trouble understanding how you can judge me. You. When you really don't know the first thing about me. You don't know me and you certainly don't know what's best for me or my family because if you did, you wouldn't have gone to so much trouble to separate me from them when we all needed to be together. Now I think it would be more important if you put your energy into trying to get to know your new husband Victor. Trying to get to know all the wonderful things that he's done for the people of Salem, just to further his own needs. Now you condemn my ambition. I know you do. And yet you actually think people can't see it in you and that they can't see the reason why you married Victor. They can't see your own greed and ambition and that strong desire to control young Lucas's life. Now I hope at this point we can at least drop this facade and stop trying to act like innocent victims. Please!

KATE: You have taken chances with your family. You have been totally irresponsible. You took chances and put their own happiness at risk all for your own selfish purposed. I find that despicable. Unforgivable! I don't understand why you would hurt the people that rely on you like that. Make them suffer. I don't understand.

JACK: I don't understand what we're talking about here because I know we're not talking about me or my family. Or are we talking about yours Kate?

KATE: No.

JACK: No?

KATE: No, we're not.

JACK: No, I beg to differ. I think perhaps we are. So what is this all about Kate? Where is all this rage coming from really?

KATE: I'm sorry. Just forget it. I'm sorry I said anything. (Beat) Now the first thing we have to do is figure out how to save your job.
---
SCENE FOUR: KATE HAS JUST TOLD JACK THEY NEED TO FIGURE OUT HOW TO SAVE HIS JOB. AFTER ALL SHE DID JACK CANNOT BELIEVE WHAT SHE SAYS. IGNORING HER, HE CONTINUES TO PACK.

JACK: That's about it, you know.

KATE: Jack you can't give up on this yet.

JACK: Oh, what do you propose we do?

KATE: Why don't you come home with me and talk to Victor? Explain to him that this was an aberration. It will never happen again. Give him your word.

JACK: I doubt if my word would mean much to Victor at this point in time.

VERN: Jack, I, oh, hi Ms Roberts.

JACK: Hmmm.

VERN: Oh I'm sorry. Mrs. Kiriakis. Jack, here's the forms from Personnel.

JACK: Oh here's your hat, what's your hurry.

KATE: Jack, if this newspaper means as much to you as you say it does, you won't just throw it away like this. I mean you have to fight and do whatever you have to do to get your job back. All I'm asking you to do is talk to the man. You don't have to plead. Just explain things to him. Let him see what kind of a man you really are. Please, do it for me alright. Just come by the house. And try.

JACK: Well when you put it that way. I suppose I will.

KATE: Good. I'll expect to see you just as soon as you've finished with all this.

JACK: Alright.

KATE: Vern.

VERN: Bye.

KATE LEAVES.

VERN: So, you'll try to get your job back?

JACK: Not at this time, no.

VERN: Well what was all that stuff with Kate?

JACK: Vern, I have just been invited into Victor's home. Into Victor's home. You know what that means? Inside the man's castle is a safe. Harper told me about it once. A safe somewhere in his study where he keeps his valuable things. You know, stocks, bonds, papers, files that he wants to keep safe.

VERN: You can't be serious.

JACK: Unfortunately Vern, I am. At this point in time this is the only thing that can be done. The only chance I have to slow down Victor at some rate. I don't want to have to do this but I am because I have no other choice.

VERN: You always lash out at the wrong thing.

JACK: Lash out at the wrong time.

VERN: You never care anything about the consequences, the effect on you or the people who love you.

JACK: Listen to me. My family's already been affected by this. The firing is just piece de resistance. But I'm not going to let Victor just roll back over us....

VERN: Oh Jack, don't make it any worse.

JACK: At this point worse.... what could be worse than this Vern? We have to do everything we can to get the paper back. Once more unto the breeches. Keep packing would you?

JACK LEAVES TO GO SEE VICTOR.
---
SCENE FIVE: MEANWHILE AT VICTOR'S, KATE IS TRYING TO CONVINCE VICTOR TO LISTEN TO JACK. VICTOR, HOWEVER, SAYS THAT HE'S GIVEN JACK ENOUGH CHANCES AND HE IS NOT INTERESTED IN GIVING HIM ANOTHER CHANCE.
---
SCENE SIX: JACK ARRIVES TO SEE VICTOR.

JACK: Mr. Kiriakis is home I trust.

HENDERSON: Mrs. Kiriakis told me to have you wait here.

HE LEAVES JACK IN THE STUDY.

JACK: In the study, certainly. I'll wait right here.

JACK IMMEDIATELY STARTS SEARCHING FOR VICTOR'S SAFE. HE MANAGES TO OPEN A LOCKED DRAWER AND IN IT HE FINDS SOME OLD NEWSPAPER REPORTS ON A WOMAN BEING BEATEN AND A COPY OF IN THE MIDNIGHT HOUR.

JACK: Oh come on, come on. Yes. Let's see what we have here. Ah a blast from the past.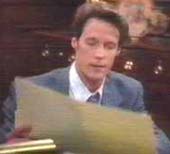 HE BEGINS TO TAKE NOTES WHEN HE HEARS VICTOR AND KATE OUTSIDE.
---
SCENE SEVEN: HE MANAGES TO GET THE STUFF BACK IN THE DRAWER AND BE SITTING WHEN VICTOR AND KATE COME IN.

KATE: I hope we didn't keep you waiting long.

JACK: Oh no, no, no problem at all.

VICTOR: I don't know why you bothered to come here Jack but in case it was to beg for your job back why don't we just cut to the chase. You will never ever work for me again as long as you live and you will ever set foot in The Spectator's offices again.

JACK: Well I suppose getting my secret decoder ring back is out of the question. Devastating prospect to be sure.

VICTOR: You think you're so damn clever. You're nothing but a devious underhanded fool. You're the mirror image of your father.

KATE: Victor, don't you think Jack's been through enough?

VICTOR: Don't even try to defend him. Stop beating your head against the wall Jack. It's over. It's not going to work this time.

JACK: A lot of things won't work this time Victor.

VICTOR: What are you talking about? Why don't you stop trying to be so damn cryptic and come out and say what you mean for a change?

JACK: I am saying what I mean. It's not over yet. Not by a long shot.

VICTOR: No? Are you going to continue to try to take revenge on me for your failures Jack? For your inability to make anything but a mess out of everything you set out to do? When are you going to start taking responsibility for your own mistakes? When are you going to start acting like a man?

JACK: I don't know. It doesn't take much of a man to dance on another man's misfortune Victor. But I wouldn't worry about me. I may just be around to see you brought back down to earth.

VICTOR: You know you're plans for revenge are what cost you your job. How much more are you willing to risk Jack?

JACK: To see brought back down to earth? Everything.... EVERYTHING.

VICTOR: That's tragic really. You're so consumed by revenge that you can't take even care of your wife and your child. Pathetic. Give it up Jack. You're no match for me.

VICTOR WALKS OUT.

JACK: I suppose we'll find out Victor. We will find out.

KATE: Why couldn't you fight for your job?

JACK: Would it have make a difference? I think not.

KATE: How do you know? You didn't even try.

JACK: Kate I wouldn't worry about me. I may be back on top one day before you know it.

KATE: How? How could you get back on top?

JACK: Yours is not to wonder why. Yours is just to merely sit here and try to figure out who your husband really is.

JACK IS ABOUT TO LEAVE.


JACK: Oh, oh, one thing I was wondering. That little BMW out there. Is that what you got young Lucas for his.... 18th birthday?

KATE: Yes, why?

JACK: No reason. Just curious.
---
SCENE EIGHT: OUTSIDE JACK CALLS FOR VERN, WHO HAS BEEN HIDING IN THE BUSHES.

JACK: Alright Vern, come on out of the bushes.

VERN: Hey, hey what happened? Did you get your job back?

JACK: You know I forgot to ask Vern.

VERN: I thought that was the only reason we came here to see this gorilla.

JACK: Now Vern, tell me something. What would a man like Victor Kiriakis keep locked up under lock and key?

VERN: What kind of question is that? Ah.... important things. Things he doesn't want other people to see.

JACK TAKES OUT THE NOTES HE TOOK DOWN IN VICTOR'S STUDY.

JACK: Huh, uh. Huh, uh. Very good, very good, very good Vern. You're.... you're right up there with the best of them. Now tell me something. If I was born in 1975, how old would I be?

VERN: Oh 93 minus 75.... ah 18!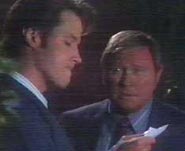 JACK: Eighteen years old. Very good Vern. You're on a roll.

VERN: Jack what the hell are you up to now?
[Transcribed by Carol Vaughan
added material by Sally A. Wilson]
---
---