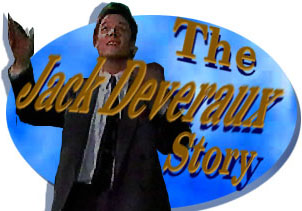 oldEpisode Five-hundred-two: The
Fall of Jack Deveraux Part VIII: Jack Is
Determined to Continue to Investigate
Victor. Also, He Wants Revenge on Kate,
Whom He Discovered Was the Basis
of the Diary He Found in Their Attic.
---
[Air date , 1993]
SCENE ONE: IT IS THE NEXT DAY AND JENNIFER AND AUSTIN ARE WORKING AT HOME ON TOXIC DUMPING. THE DOORBELL RINGS AND JACK ANSWERS IT.

JACK: I'll get it. I'll get it.

JENNIFER: Thanks Jack.

JO: Jack I just heard the news from Vern. I had to rush over....

JACK SIGNALS JO TO BE QUIET.

JACK: Ssssssh.

JO: Oh it's Austin. Wait, it's not Austin you're worried about. It's Jennifer isn't it? You haven't told Jennifer that you lost your job!

JACK: Not yet, no.

THEY GO OUTSIDE.

JO: Why haven't you told Jennifer yet?

JACK: I just haven't Jo.

JO: Being fired is not something a man keeps from his wife.

JACK: Jo, try to understand something. They have been working day and night in there trying to find the cause of my child's illness. To drop something like that on her now would totally incapacitate her. She wouldn't be able to continue.

JO: Well yes. She would be upset but she's a lot stronger than you're willing to admit. She doesn't want your protection. She wants your trust. And you told her that you wouldn't keep going after Victor but according to Vern you're still at it. Even though you're fired, you're not giving up.

JACK: To get back on staff at The Spectator will give my wife and my child everything that they need. One day when I'm fully successful and own The Spectator again we will never have to crawl to a Victor Kiriakis or an insurance company or anything else like that ever again.

JO: That's part of the reason but you also want to win. No in spite of everything you are still Harper Deveraux's son.

JACK: In spite of everything. I never had illusions of being anything but.

JO: Haven't you learned anything from this dreadful experience?

JACK: Heh, never underestimate a Victor Kiriakis. In the future I hope I don't.

JO: Jack, just give it up.

JACK: No Jo you don't seem to understand. Victor struck a blow with my family. To protect them I have to get back....

JENNIFER COMES TO THE DOOR.
---
SCENE TWO: JENNIFER HAS JUST COME IN ON JACK AND JO TALKING ABOUT VICTOR. UNDER THE CIRCUMSTANCES JACK DEFINITELY DOES NOT WANT JENNIFER TO KNOW WHAT HE IS DOING, AND THAT HE HAS BEEN FIRED.

JENNIFER: What, get who back? What are you talking about?

JACK: Jennifer.

JO: Hi Jo, what are you doing standing out here?

JACK: I was trying to make Jo understand that I didn't want her to disturb all the work going on inside.

JENNIFER: Don't be silly. Come on in.

JO: Okay.

JO AND JACK GO BACK IN WITH JENNIFER.

JENNIFER: Jack when are you going to the newspaper?

JACK: Why do you ask?

JENNIFER: Will you lock up?

JACK: Certainly.

JENNIFER: We need to go to the hospital. We need to see Dr. Galway.

JACK: Good.

JO: What, what? Is something wrong with Abby?

JENNIFER: No.

JACK: No, Galway is head of hematology at the hospital. He's helping us find out what's wrong with all of these children.

JENNIFER: Right, so I'm not sure what time I'll be back okay.

JACK: Okay, I'll be right here.

JENNIFER: I'll see ya.

THEY KISS.

JACK: Bye. Take care.

JENNIFER AND AUSTIN LEAVE.

JACK: Alright let me show you something. Perhaps this will quiet you down.

JO: Jack as soon as she gets back you have got to tell her the truth.

JACK: I'll tell her in my own way. Now look at this. Vern found this in the morgue at The Spectator.

JO: What is this?

JACK: These are identical copies to the copied clippings that I found in Victor's desk.

JO: You went through Victor's desk?

JACK: Yes, yes. You'd be surprised what else I found.

JO: I'm afraid to ask.

JACK: I'm afraid to tell you. The final draft of that tired old manuscript In the Midnight Hour.

JO: You mean that book you wrote based on that old journal you found in the attic?

JACK: Interesting coincidence don't you think?

JO: Well maybe it was in Victor's desk because he knows you plagiarized it.

JACK: No, no. I think these clippings had more to do with it. I think maybe these clippings are the only way out of this mess. Maybe the only Achilles heel Victor has. His new wife Kate.

JACK GOES UPSTAIRS TO GET SOME MORE INFORMATION.
---
SCENE THREE: A SHORT TIME LATER, JACK COMES BACK DOWNSTAIRS.

JACK: I've got the original journal here. Here's some excerpts I put into the book. Chapter seven as I recall. The heroine is eight months pregnant and is abandoned on the roadside after she's been beaten by her husband. She almost dies. It's so melodramatic, it's got to be true. At that point she goes into labor and delivers.

JO: So?

JACK: So it is my conclusion that that is how Kate Roberts delivered young Lucas.

JO: Wait, wait a minute. Slow down Jack. I mean just because you found these clippings and you found that manuscript in Victor's desk does not mean that it's Kate Robert's story.

JACK: Consider this for a moment. This journal was found upstairs in this attic. Not too long after Kate Roberts shows up in town. She says she's lived in Salem before but she keeps coming back to this house time and again to look around. In the meantime I take this journal, turn it into book form. Billie Reed steals it from me and goes to Kate Roberts to try to get it published. Kate does everything in her power to keep it from being published. I think it's Kate's life story.

JO: Maybe it's just a coincidence.

JACK: No. There's too many instances in here that lead me.... wait a minute.

JO: What?

JACK: There's a couple of little things written here on the side.

JO: It's a note in the margin.

JACK: Yes.

JO: So?

JACK: Yes, so. Let's see. I've got a memo from Kate and I'll will see if that memo is iden.... huh, uh, huh, uh. We have a match. We have a match. We have a match between the journal and Kate Robert's writing. It's one and the same. Kate Roberts wrote this journal. It's Kate's life story.

JO: So it's Kate's book. What difference does that make?

JACK: I don't know. You read the ending. As I recall you said it knocked your socks off. Perhaps you'd like to refresh your memory.

JO: And the day came that I feared the most. The day when the secret I had held in my heart would finally be a secret no more. There was no way to prepare anyone for the shock.

JACK: Huh, uh.

JO: All I could do was brace myself for the explosion of anger and disbelief that I knew would follow.

JACK: Hmmm.

JO: Jack if this is true!

JACK: Hmmm. Small wonder that Kate went to such trouble to keep it out of print.

JO: Small wonder.

JACK: The interesting thing is this. Those clippings and my final draft were found in Victor's desk. I wonder if Kate knows that Victor knows about this.

JO: What if she doesn't know? How could that affect you?

JACK: I don't know. But I suppose I'll find out soon enough. I only hope that Kate and Victor don't know that I know about this yet. I know they'll find out soon enough and when they do I certainly hope I have Victor where I want him. From the depths to the heights with the turn of a key. Isn't that interesting Jo?

JO: Yes. Well you didn't turn a key. You picked a lock.

JACK: Just so. Now I have to pick a way to spring this on Victor.

JO: You know hurting Victor is one thing but he's not the only one involved here. Kate Roberts rescued you when you needed somebody to buy the paper.

JACK: Yes. And sold me for the price of one over-sized wedding ring.

JO: Oh come on Jack. According to Vern, she defended you. She tried to save your job. It's not right to hurt her.

JACK: I tell you something Jo. This certainly wouldn't have been my first choice but I have a wife and child to think about. Kate was not thinking about my wife and child when she tried to keep me away from them. Now this seems to be the only way to get to Victor and although I don't want to do it, I have to think about my wife and child and their future. So like it or not, it's something I have to do.
---
SCENE FOUR: JACK HAS BEEN WORKING, JO BRINGS HIM A SNACK.

JACK: There's another incident in here I was just looking at....

JO: Jack, Jack, I've read the book.

JACK: Yes.

JO: It's intriguing but why don't you must put it away and forget it?

JACK: Jo I told you I can't. I can only hope that it will bring out the desired response in Victor. Can you imagine what his response is going to be when he finds out that I was the one who turned Kate's manuscript into a novella form in the first place?

JO: Yes.... I can!

JACK: Yes. Nobody knows Kate's life like I do. With the exception of Kate of course. I am pinning everything on the hope that Victor and Kate will not want that final chapter published and will reinstate me at The Spectator in exchange for my silence.

JO: I hate hearing you talk like this. Nothing good ever comes of it. Two wrongs don't make a right.

JACK: Consider this for a second. If Victor was sitting here right now would he do the same thing to me or to you or to anyone?

JO: You're not Victor Kiriakis.

JACK: No I'm not. I'm Jack Deveraux and I'm just doing what I have to do.

JO: Isn't there some other way to get at Victor? What about those computer disks that you and Vern were trying to decode?

JACK: Heheheh, Vern and I are still trying to decode them. But that will take months unfortunately and unfortunately this journal/manuscript is the only way we can get desired results immediately. For my wife and child. For my family, this seems to be the only way I can get to Victor at this time. So like it or not I have to do it. JO: You're playing with fire. I hope you're not the one who gets burned.

JACK: I hope so too Jo. I hope so too.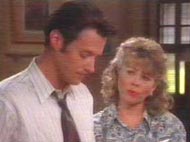 [Transcribed by Carol Vaughan
added material by Sally A. Wilson]
---
---