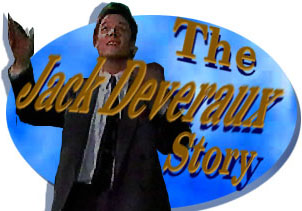 oldEpisode Five-hundred-Fifty-three: The Fall
of Jack Deveraux Part IX: Jack Blackmails
Kate. Abby Has no Insurance. Jennifer
and Austin Are Investigating a Toxic Site,
Which They Believe Is Behind Abby's Illness.
---
[Air date , 1993]
SCENE ONE: JENNIFER AND AUSTIN ARE OUT AT THE TOXIC DUMPING SITE, TRACT 5, TRYING TO GET SOIL SAMPLES. VICTOR OWNS TRACT 5 AND HIS FOREMAN INFORMS VICTOR THAT PEOPLE ARE THERE INVESTIGATING.
---
SCENE TWO: MEANWHILE KATE HAS FOUND THAT VICTOR'S DESK HAS BEEN TAMPERED WITH AND SHE ALSO KNOW WHAT IS IN THAT DRAWER AND THAT IT COULD DESTROY HER LIFE. SHE REALIZES THAT JACK WAS IN THE ROOM ALONE A FEW NIGHTS AGO AND THAT IT MUST BE HIM WHO BROKE THE LOCK.
---
SCENE THREE: AT HOME JACK CONTINUES TO WORK.

JO: Jack what are you doing?

JACK: I'm looking for passages that might be of interest to Victor as well as Kate. Like this surprise ending here.

JO: If that secret about Kate Roberts ever gets out....

JACK: Correction, if that secret about Kate Kiriakis ever gets out.

JO: It would cause quite a scandal.

JACK: Oh we can only hope. And we can only hope that Victor will think so, so he'll pay through the nose to make sure that Kate's secrets don't hit the street.

JO: Jack don't do it. It's too dangerous.

JACK: When it comes to taking care of my family, I can't be concerned with that. I have to risk the hazard.

JO: If you and Vern could just break the codes on those computer disks and get into Victor's secret files you could put the man in jail for a hundred years.

JACK: Jo I thought I had explained it to you. We have worked on those disks, we are working on the disks, we will continue to work on the disks but it's going to take us months. In the meantime this journal/manuscript seems to be the only thing we have to work with that will make Victor play ball.

THE DOORBELL RINGS.

JO: Who's that?
---
SCENE FOUR: KATE IS AT THE DOOR.

KATE: Hello Jo, is Jack here?

JO: Kate.

JACK HIDES THE JOURNAL.

JACK: Mrs. Kiriakis, how do you do?

KATE: Jack I was wondering if I could have a word with you?

JACK: I think you and your husband had a word with me. You're fired! Actually it's two words but I think you get my meaning.

KATE: Jack, I pleaded with Victor to give you a second chance at The Spectator. If you just hadn't been so arrogant.

JACK: Unfortunately you are confusing lack of desire to be subservient with arrogance. Or is that Victor's take on the situation?

KATE: Oh there's no point in rehashing this. I just came by to see how things are going.

JACK: Oh they're going. Although I think it's a little late to be inquiring after my health and welfare.

KATE: Well, I'm also concerned about Abigail.

JACK: I'm not surprised. I'm finding it a little difficult to pay those hospital bills since my insurance was suddenly and inexplicably canceled.

KATE: I'm sorry about that.

JACK: I'm sure you are. But there's nothing to worry about. I'm sure I can come up with some way to take care of her.

JO: Speaking of Abby, I was just going over to the hospital to see her. Jack do you want to come with me?

JACK: No actually there's a couple of things I'd like to take care of here. Why don't you just run along?

JO: Okay, bye.

JACK: Hmmm.

KATE: Bye Jo.

JACK: You know I would ask you to sit down, have a cup of coffee and talk but since we don't really work together anymore there's nothing to talk about.

KATE: Jack you're in a very vulnerable position right now. You don't have a job. You're daughter's in the hospital.

JACK: Thank you for reminding me.

KATE: Take me advice. Whatever plans you have for revenge, forget them. You'll only make matters worse for yourself.

JACK: I thank you again for your concern but really there is nothing to worry about. I'll take care of every

thing. KATE: Jack I know broke into Victor's desk.

JACK: So, what if I did?

KATE: You don't deny it?

JACK: Well there's no point in denying it. That's what you get by leaving an investigative reporter around a locked desk. But there's nothing to worry about. I didn't find anything interesting anyway.

KATE: You didn't?

JACK: No, no, just a couple of.... couple of old newspaper clippings and a manuscript. Some woman's novel. Women's fiction doesn't really appeal to me. I'm more interested in facts if I'm going to get Victor's attention and try to appeal to his kinder, gentler nature.

KATE: You had no right to come into my home and snoop around. You do it again and I'll have you arrested. I'm sorry it's come to this but you brought it on yourself. (Beat) What are you going to do about the health insurance?

JACK: Kate, please don't ask that again. It's starting to wear thin. Now I assure you, everything's going to be just fine.

KATE: Jack just be careful. Victor and I make two formidable foes.

KATE LEAVES. JACK GETS OUT THE JOURNAL AGAIN.

JACK: That you do Kate. That you do.

JACK THEN GOES TO SEE ABBY
---
SCENE FIVE: AFTER VISITING ABBY, JACK GOES TO BRADY'S PUB WITH JO.

JO: Abby seemed better today didn't she?

JACK: Yes, she did.

JO: Oh she'll be home soon. You'll see.

JACK: I wonder. I wonder what would happen if the hospital found out that the insurance policy is suddenly and inexplicably canceled? Would they throw her out on the street?

JO: Jack, they won't do that.

JACK: No they won't because I'm going to get it reinstated before that happens.

JO: You have to tell Jennifer about losing your job.

JACK: No not yet. She's got too much on her plate at this time to worry about.

JO: She's bound to find out that you don't have any insurance once the bills start coming in.

JACK: Well we'll see about that. At this point I'm the one handling the insurance papers. Hopefully she'll never have to know.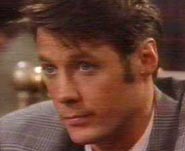 ---
SCENE SIX: MEANWHILE JENNIFER HAS ARRIVED HOME AND GOT THE MAIL. IT INCLUDES A SECOND REQUEST FROM THE HOSPITAL ABOUT INSURANCE DETAILS. SHE FIGURES THAT JACK IS TOO BUSY SO SHE DECIDES TO TAKE CARE OF IT HERSELF.
---
SCENE SEVEN: BACK AT BRADY'S.

JO: Jack, please don't use that information you've got about Kate Roberts against her. She seems like a nice woman.

JACK: Heheheheh.

JO: She's very concerned about Abby. I mean she ran those articles in Bella and The Spectator about aplastic anemia and asking for donors.

JACK: Look, if I could have dirt on someone else I'd really prefer it but at this point this is the only choice I have. The only immediate chance I have to get back to work at The Spectator, to get my benefits back, to get my family taken care of and to get Victor to back down from this whole mess.

JO: And what if he doesn't?

JACK: Well if he doesn't, I'm going to be forced to start releasing excerpts from Kate's journal to the press. And I'll have to start revealing everyone of her secrets one by one.
[Transcribed by Carol Vaughan
added material by Sally A. Wilson]
---
---