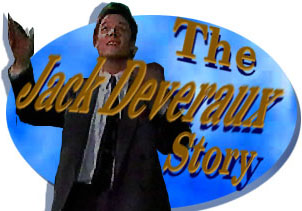 oldEpisode Five-hundred-fifty-four: The
Fall of Jack Deveraux Part X: Jack and
Vern Try to Figure out What Tract 5 Has
To Do with What Victor Is Trying to Hide
Meanwhile, Jennifer and Austin Are Also on
the Trail of Tract 5 and The Toxic Dumping.
---
[Air date early October, 1993]
SCENE ONE: THE NEXT DAY, JACK, VERN, AND JO ARE IN THE HOSPITAL LOUNGE TRYING TO WORK WHILE STAYING CLOSE TO ABBY. VICTOR WALKS IN THEY INSTANTLY START HIDING PAPERS.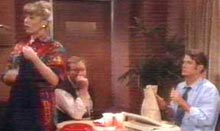 VICTOR: Well, this is a real cozy little scene.

JACK: We do try. Well what brings you here Victor?

VICTOR: Well I'm here for a board meeting. You seem to have set up shop here Jack.

JACK: This? Well yes we have. But, ah, really I don't see it as any of your business.

VICTOR: No, unfortunately for you it isn't. You made a big mistake when you tried to take me on Jack. You'd still be running The Spectator if you hadn't. But then I'm not surprised. It was a real loser's move. Jo, Vern.

VICTOR LEAVES.

JACK: Perhaps, perhaps. But we'll see won't we when we finally figure out what's on these disks. These secret confidential disks. We'll find out who's the real winner and who's the real loser.

JO: Oh Jack! Just stop it please. Getting revenge against Victor Kiriakis isn't going to make you happy.

JACK: No, it's not. But getting my job back at The Spectator and getting insurance for my child will.

VERN: Oh boy, oh boy.

HE GRABS ALL THE STUFF JACK IS HOLDING. JENNIFER HAS JUST WALKED INTO THE ROOM.
---
SCENE TWO: JACK HAS NOT NOTICED THAT JENNIFER HAS JUST COME IN, VERN IS TRYING TO CLUE HIM IN, SO HE CAN HIDE WHAT THEY HAVE BEEN DOING.

JACK: Vern.

VERN: Jennifer, Jennifer.

JACK: Oh this is like Grand Central Station here.

JO: Jack you have got to tell her that you....

JENNIFER: Well here you are. Hi Jo, hi Vern.

JACK: Jennifer, what's going on?

JENNIFER: Austin and I are going to collect some more water and oil samples and I want you to come with us.

JACK: You know I wish I could. I will help in anyway I can but at this moment I'm working on something that is very important.

JENNIFER: Jack if you're so busy working, how come you're never in your office?

JACK: Excuse me?

JENNIFER: Well I called the office three or four times today and Vern told me you weren't there. Where have you been?

JACK SAYS NOTHING. JACK IS THROWN BY HER QUESTION. WITH ALL THAT HAS HAPPENED HE DOES NOT WANT HER TO KNOW UNTIL HE CAN FIX THE PROBLEMS AND GET VICTOR.
---
SCENE THERE: JACK TRIES TO AVOID HER QUESTION.

JENNIFER: You haven't answered my question. Where have you been?

JACK: I've been right here. I've been working and looking in on our child everytime I can while she's in isolation.

JENNIFER: That's very sweet of you Jack. But what is this story that you are working on?

JACK: Let me tell you something, you're going to hear all about this story when it comes to fruition. Until that time all you can know is that it's very important.

JENNIFER: Alright, is it more important than finding out what caused our baby to get sick?

JACK: No, it's never more important than that.

JENNIFER: Jack can't you understand? I just want you with us. If you could see what Austin and I saw with these trucks driving in and out of this place all night long and these drivers are wearing these coveralls and these big gloves. I mean the kind the kind of gloves that you would wear if you were handling hazardous materials.

JACK: Really?

JENNIFER: Yes.

VERN: Jenny girl, I don't think this sounds like a safe thing for you to be involved in.

JENNIFER: Vern, we're fine really but I'm telling you right now that Austin and I are onto something very big.

JO: Jennifer your cheeks look a little flushed. Are you sure you're alright?

JENNIFER: Jo, I'm fine. I have a little cold. That's why they won't let me see Abby but I'm fine.

JENNIFER LEAVES.
---
SCENE FOUR: JACK CONTINUES TO WORK.

JACK: Maybe like this.

VERN: What?

JACK: If the decoder we are using is right, this is an L and if we match it up as it goes across the page.... we have the word "lawsuit ."

VERN: Let me see it.

JACK: Right here.

VERN: You're right.

JACK: L-a-w and s-u-i-t.

VERN: You're right.

JACK: Lawsuit. Do you understand what that means Vern? Lawsuit. We can only hope it's a major lawsuit. We're close. I'm telling you right now we are so close I can smell it.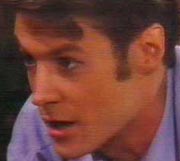 ---
SCENE FIVE: MEANWHILE OUT AT TRACT 5, A STORM HAS BROKEN OUT, JENNIFER AND AUSTIN ARE SOAKING WET. JENNIFER'S COLD HAS TURNED TO THE FLU.
---
SCENE SIX: BACK AT THE HOSPITAL.

JACK: That's the last one Vern. That word is.... "Tract"? Does that fit?

VERN: I don't know. Let's see, let's see. Tract 5 problem. It fits. It fits.

JACK: Okay let's just look at the whole thing.

VERN: Alright.

JACK: Okay, "Regarding".... okay this is a memo alright. A memo. "Regarding".... "Regarding whole memo.... of previous discussion...."

VERN: Is that political or public?

JACK: "Situation"....

VERN: "Publicity."

JACK: Publicity! That's it Vern, that's it, publicity. Publicity.... "problems.... cause lawsuits. Lawsuits. Recommend...."

VERN: "Recommend."

JACK: "Recommend we move to eliminate...." right....

VERN: "Tract 5 problem."

JACK: "Eliminate the Tract 5 problem."

VERN: Is that the whole message?

JACK: That's about as close as we've got so far. So the question remains.... what the hell is Tract 5?
[Transcribed by Carol Vaughan
added material by Sally A. Wilson]
---
---