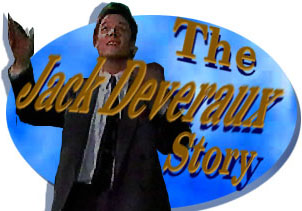 oldEpisode Five-hundred-fifty-five: The
Fall of Jack Deveraux Part XI: Jack's
Vendetta against Victor Calls Tensions
Between Him and Jennifer; Jo Worries
That His Family Will Fall Apart. Jennifer
Discovers That Abby no Longer Has Insurance.
---
[Air date early October, 1993]
SCENE ONE: IT IS THE NEXT DAY AND JACK, VERN AND JO ARE NOW WORKING AT THE HOUSE.

JACK: I don't know. Vern, I don't know. I mean we can't seem to find Tract 5 anywhere. It doesn't seem to be anywhere in any of these papers.

JO: Tract 5! Why do you keep looking for this Tract 5?

VERN: Oh it's from one of Victor's authentic confidential disks. We decoded some of it.

JACK: Finally.

VERN: Listen, I'll read it to you. The situation could lead to major lawsuits. I recommend we move with all possible speed to eliminate the Tract 5 problem.

JACK: Yes but where is Tract 5? That's our problem. If we could find it then I'm sure we could get Victor to play ball with us. But we can't find it. So the question remains, where the hell is Tract 5?
---
SCENE TWO:MEANWHILE JENNIFER AND AUSTIN HAVE BEEN OUT AT TRACT 5 FOR MOST OF THE NIGHT.
---
SCENE THREE: THEY THEN WENT BACK TO THE STUDIO TO EDIT THE FOOTAGE THEY TOOK.
---
SCENE FOUR: AT THE HOUSE.

JACK: Tract 5, Tract 5, Tract 5. Where the hell is Tract 5?

VERN: You know Jack, I've got this nagging feeling I've heard that name before.

JACK: Of course you've heard that name before. I've said it a million times. Vern don't pull my leg. Don't play with me right now. Think!

VERN: That's now what I meant. I have been thinking.... I just can't place it that's all.

JACK: Please just think for a minute about Tract 5....

JO: Oh you two guys are DRIVING ME CRAZY with this Tract 5 business. Now for heavens sake, why don't you just give it up and get a life!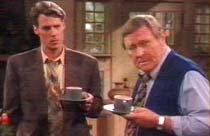 JACK AND VERN BOTH TURN TO LOOK AT JO.

JACK: I beg your pardon?

JO: Jack, I just hate to see you wasting all this precious time and energy trying to get revenge against a man who's too powerful to bring down in the first place. And even if you did succeed in bringing him down, who's to say he wouldn't take out revenge on you in spades. Did you ever think about that Jack? Do you ever think about the consequences of anything that you do?

JACK: My whole life has been one long consequence Jo. And still I try. I always try. The alternative is to go and tell Jennifer that I have lost my job. Not only that but I've lost my health benefits for my child. Now if you'll excuse us, Vern and I need to find a way to hold onto those health benefits.

JO: Jack, why does this have to be the way?

JACK: Vern I want you to go down to the courthouse. I want you to talk to somebody who does title searches. Find out if there's anyone there who knows enough about Victor's property that they might know something about a piece of property referred to as Tract 5. If no one knows anything, get the whole list of Victor's property and just go down the list.

VERN: That could take a whole day. I mean to check it all out it might take a week.

JACK: Very good point. As a wise man once said, many hands make light the load. I tell you what, I'll go with you.

VERN: No.

JACK: We'll go together.

VERN: No, no.

JACK: We'll go together.

VERN: No, no, Jack, it's okay. I'll take care of it.

JACK: You sure?

VERN: I'm sure.

JACK: Vern, I'll help.

VERN: No.

JO: Bye Vern.

JACK: Thank you Vern.

VERN LEAVES.
---
SCENE FIVE: VERN HAS LEFT TO CHECK ON TRACT 5, JO REMAINED. SHE IS DESPERATELY WORRIED ABOUT JACK'S OBSESSION TO GET VICTOR.

JO: So where's Jennifer? Shouldn't she be here soon?

JACK: Jennifer left early this morning. She's working on some editing. She left me a note.

JO: So did she get those water and soil samples she wanted?

JACK: I don't know. She didn't leave that in her note. I was dead asleep when she came in last night.

JO: Jack, you should have gone with her last night to that site instead of obsessing about Victor Kiriakis.

JACK: You know I'm beginning to think it would be best if you focused on getting your own life rather than obsessing about mine.

JO: You're my son and I am worried about you. Or is that NOT ALRIGHT with you?

JACK: NOTHING is alright at this time.

JO STARTS TO CRY.

JACK: I'm so sorry.

JO: Yeah well I'm sorry too but what I'm most sorry about is the way you are pushing your wife away from you. How could you not tell her you were fired? How can you keep something like that from her?

JACK: Jo, I'm sorry. I can't explain that. I can't explain half the things I do. But I'll tell you something, when I tell Jennifer that I was fired, and I will tell her, hopefully it will just be a moot point. Because by that time, hopefully, I will have won my job and my health benefits back.

JO: NO, you won't. I know that for a fact!

JACK: So.... I'm not going to win through and carry the day.

JO: See I had this dream. Well it was more like a nightmare. I'm in the supermarket and I'm pushing this cart of groceries down the aisle and I'm about to reach for a six pack of soda only that it's high so I really have to stretch and just as I'm about to get it the whole shelf of soda cans comes crashing down on me. (Beat) Don't you see what this means?

JACK: Perhaps it means.... you're too short and you should have waited for the manager.

JO: Oh Jack, cut it out. It's not a joke. It means my family is headed for disaster. I am just so worried. I am so worried about my son and his family. I am just so scared.

JO STARTS TO CRY AGAIN.

JACK: Listen.... er.... I.... I believe if we really try....

HE RESTS HIS HANDS ON HER SHOULDERS.

JACK: .... and if we pull.... pull together as a family, everything will be alright.

JO: Not unless you stop this vendetta against Victor Kiriakis. Please, please, please, you have to stop.

JACK: Jo, you have to listen to me know. I.... I don't pretend to know exactly what's going to happen. If something does come tumbling down, be it cans or the sky or whatever, you have to understand one thing. You have to trust that I've got a sense of what's going on. And we've got to.... we've got to hope.... I mean I know I can't control everything but we've got to hope that Victor can't control it too.

HE HOLDS JO TIGHT.

JACK: That's all we've got to hope. (Beat) Just hope.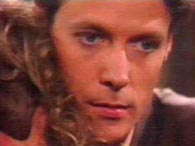 ---
SCENE SIX: MEANWHILE JENNIFER GOES TO SEE ABBY AND GETS NEWS THAT SHE WILL BE RELEASED THE NEXT DAY.
---
SCENE SEVEN: AUSTIN ARRIVES TO FIND OUT ABOUT THE SOIL AND WATER SAMPLES THEY COLLECTED AND JACK GETS OUT OF THE ELEVATOR AT THE SAME TIME.

AUSTIN: Jack.

JACK: Austin.

AUSTIN: Where you been?

JACK: Well why do you ask?

AUSTIN: Jennifer is my friend. She needs you to be there for her and you're not there and it's breaking her heart. I don't want to see her hurt like that.

JACK: So you've taken it upon yourself to tell me how she feels and tell me what to do about it.

AUSTIN: No I'm telling you this because it's too damn important not to tell you. She's driving herself crazy trying to figure out what caused Abby to get sick and in the process she's making herself sick.

JACK: So what are you telling me?

AUSTIN: She had a high fever last night Jack. She passed out last night.

JACK: Passed out. Well where is she? How.... how....

AUSTIN: She's okay now. But if she keeps this up she's going to have a relapse.

JACK: Great.

AUSTIN: Hang on a sec. Jack, hang on a sec. There is nothing that I wouldn't do for Jennifer and I am as committed as she is to finding out what made Abby sick.

JACK: Yes, yes, I appreciate your help Austin but please get to the point.

AUSTIN: You need to do this with her. Not me. You, her husband. All she did last night was say your name, okay. Please, don't let her down.

JACK: (By his tone it is obvious Jack does not like Austin.) I won't Mr. Reed. You can count on that. I won't.

JACK RUSHES TO SEE JENNIFER.
---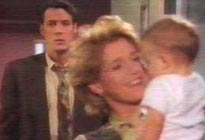 SCENE EIGHT: JACK FINDS JENNIFER IN ABBY'S HOSPITAL ROOM.

JACK: Jennifer?

JENNIFER: Oh. Hi, hi there. There's your daddy. Say hi daddy.

JACK WALKS OVER AND BRUSHES JENNIFER'S CHEEK. HE THEN KISSES THE TOP OF ABBY'S HEAD BEFORE GIVING JENNIFER A VERY PASSIONATE AND INTENSE KISS.

JACK: I'm going to take care of her. (To Abby) You understand? You don't understand. Hopefully your mama will. I'm going to take care of you too. I'm trying to do everything in my power to protect you from anything that hurts, past, present or future. I hope you believe that.

JENNIFER: I do Jack.

HE IS STROKING HER FACE.

JACK: Are you alright? I just heard that you fainted.

JENNIFER: Oh why don't we talk outside? I'll let Abby lay down and get some rest.

JACK: Alright.

JENNIFER: Come here sweetheart.

JACK: Alright.

THEY PUT HER BACK IN THE HOSPITAL CRIB.

JACK: We'll be right back.

THEY BOTH GO OUTSIDE.

JENNIFER: Well I'm fine and I think I may have found the site Jack. So my search might be over for finding the contamination source.

JACK: Really? Well that's wonderful. That's great. That means all this work hasn't been for naught. You're still an investigative reporter. I'm very proud of you.

JENNIFER: Yes, and all of my complaining, I just want to apologize. I mean I know that you've been very busy at the paper working night and day.

JACK LOOKS GUILTY.

JACK: I have been busy working, that's for sure. Between that and being here, it's been rather time consuming.

JENNIFER: Well let me tell you, as soon as Austin and I get the results that we want I am going to help you with your work at the newspaper. I am going to help you with anything that I can do.

JACK: Well that will be wonderful but....

JENNIFER: But nothing. We worked together once before. We're going to work together again. In fact, why don't we take the work to the cabin? I forgot to tell you. Grandpa and Grandma said we could use the cabin for a few days to rest.

JACK: You mean the cabin as in right now, the cabin?

JENNIFER: Yes, we'll go right now and if you need your work we'll take it with us. We'll take the computer and I'll help you work up there.

JACK: Ah.... ah, this sounds wonderful but not yet. Not quite yet.

JENNIFER: What do you mean? Why not? Why can't you share your work with me Jack?

JACK: Jennifer, I...it's going to be difficult to share anything with you if you're fainting on me.

JENNIFER: Jack, I am not going to faint again. I already explained that to you. And I also told you that when we find the cause....

JACK: I understand, yes, yes. As soon as we establish the cause of our child's illness, you're going to be free as a bird but we both know that's not true. I mean all the time that you've been running around collecting soil samples, there's been a little someone in there missing you. So you're going to have to be focusing on her first before you focus on me.

JENNIFER: Why can't I focus on both of you? Don't you see that we have been going in complete opposite directions? We need to come together, for Abby's sake, for our sake. Don't shut me out like this.

JACK: No, no, that's not what's going on here. I tell you what we're going to do. Right now we're going to set a time where we can.... we can go on a vacation to Hawaii. Just the three of us. We can just go off and relax. We'll take a long slow boat to Hawaii.

JENNIFER: What are you talking about? I don't want to go to Hawaii and I don't want to wait. I want us to be together right now.

JACK: Jennifer, I tell you what, we are together right now but you have trust me.

HE HOLDS HE TIGHT.

JACK (CONT.): Trust that I'm going to take care of everything, please. It's going to be alright.

VERN WALKS UP.
---
SCENE NINE: VERN HAS JUST WALKED UP AND INTERRUPTED A TENSE MOMENT BETWEEN JACK AND JENNIFER.

JENNIFER: Hi Vern.

VERN: Listen I didn't want to interrupt anything. You two having this little family talk and everything.

JENNIFER: It's alright Vern. You're not interrupting anything.

VERN: I just thought I'd come over and see how little Abby's doing.

JENNIFER: Oh Abby, she's doing just fine. It's the rest of the family that needs to be healed.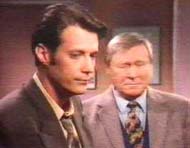 SHE WALKS AWAY FROM JACK. JACK IS OBVIOUS HURT BY HER REMARKS.

JACK: I don't like the sound of that Vern.

VERN: Then why don't you drop everything and go to her Jack and be with your wife?

JACK: That's a capital idea my good man, a capital idea. Soon. The three of us are going to be on that slow boat to Hawaii. My family. I just have to make sure that there is something good waiting for us when we get back. And to that end, did you find out anything about Victor Kiriakis at the courthouse. Anything about the whereabouts of Tract 5?

VERN SHAKES HIS HEAD.

JACK: Are you telling me that there is nothing at all on Tract 5?

VERN: Yes, there's nothing and I couldn't find any record of Victor's properties either.

JACK: Okay this is what we do. We go to the index. We find the proper conveyance books and we.... Vern we just copy the whole thing down ourselves.

VERN: The index we need has disappeared along with the books we need and there are no records of Victor's properties. I'm sorry partner.

JACK LOOKS THROUGH THE DOOR AT ABBY.

JACK: Doesn't that just beat all. This little two-faced town and they call me crooked. I'll tell you something partner, if we ever get The Spectator back, we are going to write some editorials that are going to knock these self-satisfied citizens right out of their seats. They'll be out of their jobs so fast they'll think they hit some major eject button. In the meantime we have got to find something on these decoded disks. There's got to be something in here to tell us about Tract 5. (Beat) My family's counting on me and they're all I've got. They're depending on me.

VERN: Jack?

JACK: What?

VERN: It just hit me like a full blown rose. I know now where I heard about Tract 5.

JACK: Wait a minute, what, where?

VERN: Over at The Spectator. I heard these corporate honchos talking about how the paper had acquired Tract 5 a few years ago. That was before you joined the team.

JACK: No, no, this is ridiculous. I would never know that I owned that land? (Beat) Wait a minute. Victor would know. Victor. Victor knew all along that The Spectator owned that land. And I'm sure that he had a hand in keeping it buried in some phony files and that Vern I'm sure is only the beginning of the story.

VERN: What story?

JACK: I don't know but I'm sure we're going to find out and when we do we're going to start solving our problems one by one. And then when I go to Jennifer and tell her about this firing business, I'll be back to work at The Spectator.
---
SCENE TEN: MEANWHILE, ALICE IS TALKING TO JENNIFER. ONE OF THE NURSES ASKED ALICE IF JACK AND JENNIFER HAD PRIVATE HEALTH INSURANCE TO PAY ABBY'S BILLS. ALICE TOLD HER NO AND THE NURSE THEN SAID THAT JACK'S INSURANCE HAD BEEN CANCELED BY THE SPECTATOR BECAUSE HE HAD BEEN FIRED. JENNIFER IS SHOCKED AND DOES NOT REALLY BELIEVE IT AT FIRST.

JENNIFER: Jack would never lie to me about something that important.... or would he?
[Transcribed by Carol Vaughan
added material by Sally A. Wilson]
---
---