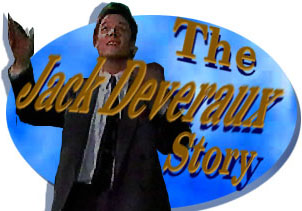 oldEpisode Five-hundred-fifty-six: The
Fall of Jack Deveraux Part XII: Jennifer
Discovers Jack Lost His Job, She Accuses
Him of Caring More about His Ego Than
His Family. Jack Confronts Victor with
the Information He Has on Tract 5.
---
[Air date early October, 1993]
SCENE ONE: IT IS THE SAME DAY. JENNIFER RUNS AND GETS A PAPER AND CHECKS TO SEE IF JACK'S NAME IS ON THE EDITORIAL PAGE. WHEN IT IS NOT SHE KNOWS THAT HE REALLY WAS FIRED.
---
SCENE TWO: JENNIFER IS IN THE LOUNGE TALKING TO AUSTIN ABOUT IT WHEN JACK RUSHES IN.

JACK: Oh great you're here. Good. Come over here, we're going to make a phone call that is going to make a radical change in our lives.

JENNIFER: STOP LYING TO ME JACK. I AM SO TIRED OF YOUR LIES.

JACK PUTS THE PHONE DOWN.

JACK: I beg your pardon.

AUSTIN: I'll leave you guys to talk.

JACK: I think that would be wise.

JENNIFER: Why didn't you tell me you were fired?

JACK: I think we'd better sit down.

JENNIFER: I don't want to sit down. I don't want to sit down. I read it in this newspaper. Your name is not in here. Why didn't you tell me?

JACK: I was hoping my name would be back on here by the time we talked about this and we'd be laughing about it after the fact. Unfortunately it's still before the fact but if you'd like to come over here we can make this phone call together and we could together get my job at The Spectator back.

JENNIFER: It's because of Victor, isn't it? You insisted on going up against him even after I begged you not to. That's why you lost your job, isn't it? Isn't it Jack? (Beat) Just tell me the truth Jack. You did it because of Victor, right?

JACK: Do you care to understand the reason why I continue to dig up information on him?

JENNIFER: Yes I would love to understand. I am listening to you.

JACK: He's wanted me out for some time because I know who he is, what he's about. He hates me for that and I think he hates my family as well. I don't know. Maybe it's the Johnson side of me finally coming out but when he threatened my ability to take care of my family, I fought back.

JENNIFER: So he fired you?

JACK: Temporarily we hope, yes.

JENNIFER: Jack do you hear yourself? WE CAN'T PAY ABBY'S HOSPITAL BILLS. You lost your health insurance because you had to go up against Victor. How could you do that?

JACK: I had no choice at the time.

JENNIFER: WHAT DO YOU MEAN YOU HAD NO CHOICE? We are grown up people. We are able to make choices. You could have chosen to keep your job for the sake of your family.

JACK: My job. My job. Which I could have been out of next week, next month, most likely next year. No Jennifer, I had no choice. I did it to take care of my family.

JENNIFER: YOU DIDN'T DO IT. YOU DID IT FOR YOURSELF. EVERYTHING YOU DO IS FOR YOURSELF BECAUSE YOU HAVE A SICK NEED TO WIN. AND I DON'T WANT TO HEAR IT ANYMORE. I AM TIRED OF ALL OF YOUR EXCUSES.

JACK: I'm sorry you feel that way. I'm sure if the shoe was on the other foot I'd feel the same way myself but I don't think you understand that you.... the two of you are the only family I have. And I will do whatever I can to take care of my family. I will.

JENNIFER: How do you expect me to believe that? How do you expect me to believe in you?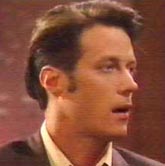 JACK: I hope you don't really feel that way Jennifer not after all this. I hope you don't feel that way.

JENNIFER DOES NOT SAY A THING.
---
SCENE THREE: JENNIFER CONTINUES NOT TO ANSWER. JACK IS DEVESTATED, AFTER ALL THIS NOW JENNIFER .

JACK: You look like....

JENNIFER: Look like what? How am I supposed to look at you? You put your ego before your wife and your child. You would rather lose your health insurance than lose face to Victor Kiriakis.

JACK: That's not true. You know that's not true. I'm not quitting. It's dark now. It's very dark but it is not over. I am not a quitter. I know that I can get my job and my health benefits back if we can just....

JENNIFER: What? What? Why is everything that I'm hearing from you is you? Everything you say is about you. What you're going to get. What you you're going to have. What you need to do. Everything is about you Jack.

JACK: No, alright, alright, I'll tell you what we can do. We can find out together. Is everything on this piece of paper true? The decoded information from Victor's secret disks that I've been tracking down all this time. Is it true that Victor is involved in illegal activities that he can't get out of. We can find that out together. We can find out.

JENNIFER: It doesn't matter what I say because no matter how hard I try to get through to you, you're just worried about proving how right you are.

JACK: You know something? Whether I'm right or wrong it ultimately doesn't matter. It does matter however if you stand by me because I need you.

JENNIFER: You don't need me Jack. You don't need anybody but yourself.

JACK: You really believe that?

JENNIFER: Can I just ask you one thing? Do you have any idea what Austin and I have been going through to prove what caused Abby's illness? We've been crawling through mud. We were held at gunpoint by a security guard. We barely got out of this place in one piece. We have been collecting water and soil samples and getting literature about everything. Tract 5 is full of pollution and we have been crawling through mud....

JACK: Wait a minute, wait a minute. I'm sorry, what did you just say?

JENNIFER: I said we've been crawling through the mud getting water and soil samples.

JACK: No, I don't want to hear about the mud. Tell me what did you say about Tract 5? Have you been there?

JENNIFER: Yes there is a stream that runs through the property on Tract 5. We needed proof to find out if it was polluted and if the pollution....

JACK: Do you have the proof?

JENNIFER: I don't have proof yet but we're getting results from the lab and I know that I am on the right track with this.

JACK: We are both on the right track. Victor knew. He knew all along. That's why he covered it up. He knew. He knew the reason that she developed aplastic anemia. He knew.

JENNIFER: What are you talking about? Jack, what?

JACK: I'm sorry. I'm sorry. I just realized something. If you'll excuse me, I'll will....

JENNIFER: Jack where are you going? JACK!

JACK RUNS OUT AND GOES TO SEE VICTOR.
---
SCENE FOUR: MEANWHILE, VICTOR HAS JUST FOUND OUT THAT JACK BROKE INTO HIS DESK.
---
SCENE FIVE: JACK ARRIVES AT VICTOR'S.

JACK: VICTOR, Victor. My journalistic instincts paid off. I know who you are and I saw what you did. VICTOR: Convenient of you to drop by Jack. It saves me the trouble of having you picked up for breaking and entering. People go to jail for that you know. It's against the law.

JACK: Tract 5, Victor. The reason you were so desperate to get your hands on The Spectator.

VICTOR: Forgive me Jack. I'm at a loss.

JACK: Tract 5, Victor. You used to own Tract 5. I don't know if you were trying to make some extra money or cut some corners but you dumped toxic waste. It got into the soil. It got into the water. Then you tried to dump the land. Somebody at The Spectator picked it up foolishly not knowing that the land was contaminated.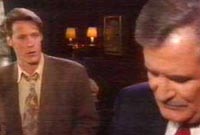 JACK (CONT.):Not so long ago somebody was investigating contamination. That made you nervous. You didn't want people knowing about your less-than-tree-hugging activities. So you did what you had to do. You married Kate Roberts to get your hands on The Spectator and Tract 5 so you could hide the evidence.

VICTOR: Jack, are you drunk or are you just crazy?

JACK: Oooh Victor. Sober and certifiably sane. You tried to cover it up. I understand that but it was too late. People had already gotten sick.... and ironically my child was one of them.

VICTOR: I know you're distraught Jack and I'm sorry that Abigail's been sick but you can hardly blame me for that. You know I'm afraid you're not very smart Jack. In fact you've been incredibly foolish. You came over here to bring me down and you're the one who's going to fall. Flat on your face.

JACK: Victor believe it or not I really think I've got you on this one.

VICTOR: So you say.

JACK: Yes, yes, so I say. Now I realize that you've got politicians and officials in your pocket. I know that whole game. But think about this. What's going to happen when they or more importantly their election constituents find out what you've done. You're going to be as poisonous to them as Tract 5 is to the people of this city.

VICTOR: Just what is it that you think you're going to do Jack?

JACK: Well unless you reinstate me at The Spectator with full benefits I'm going to expose you Victor. If you fight me, I'll be forced to expose Kate Roberts as well. Yes, I know all about Kate's past. I have nothing personal against Kate but I'll use her past if I have to.

VICTOR: I really don't think you want to do that Jack.

JACK: No I don't. I think we both know how much Kate values her good name. I think we both know her instinct for survival. So to spare myself and yourself a lot of trouble perhaps you'd like to give in on this point.

VICTOR: And you really expect I'd do that without a fight?

JACK: No, never. I don't think you're going to go to jail either. The big ones never do. But I know that you'd hate to see me standing at the window of The Spectator writing this story as you're being driven out of town.

VICTOR: You know you're starting to give me a headache Jack so I think I'm going to spare myself anymore of your verbose editorializing. Not only are you not going to be the winner here but you'll probably remember this as one of the worst days of your life.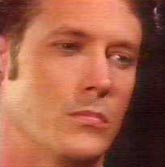 JACK: Would you care to explain that somewhat cryptic warning?

VICTOR: Why I'd be happy to. You gambled. You lost.

JACK: How do you figure that?

VICTOR: Well you opened Pandora's box Jack and now it's too late to close it.

JACK: What are you talking about?

VICTOR: I warned you not to threaten me. So now you're the one that's going to get run out of town, not me. Now I'll be glad to explain that to you but I think you may want to sit down first.
[Transcribed by Carol Vaughan
added material by Sally A. Wilson]
---
---