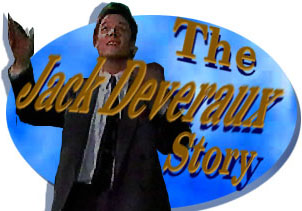 oldEpisode Five-hundred-fifty-seven: The Fall
of Jack Deveraux Part XIII: "Fortune's Fool,"
Jack Discovers
He
not Victor Was Responsible
for Tract 5, and Hence Abby's Illness. He
Also, Victor Shows Him a Shocking Secret,
Who Lucas' Father Really Is, Bill Horton.
---
[Air date October 8th, 1993]
SCENE ONE: JACK HAS CONFRONTED VICTOR WITH HIS ACCUSATIONS AND VICTOR IS ABOUT TO TELL JACK WHY HE'S BEEN DESTROYED.

JACK: Please Victor proceed. Tell me why I'm going to be run out of town instead of you.

JACK TAKES A SEAT.

VICTOR: First of all I admit that I own the land known at Tract 5. And yes it was used as a toxic waste dump.

JACK: Alright then. You admit you're the reason that my child has developed aplastic anemia.

VICTOR: Well there's more to the story than that Jack.

JACK: Huh, uh.

VICTOR: And unfortunately for you, the whole town is going to know that very soon.

JACK: Unfortunately for me? Why do you say that? It has nothing to do with me.

VICTOR: Oh on the contrary Jack, it's got everything to do with you. Everything.

JACK: I'm not quite sure what this is Victor. A last minute tactic to keep me from returning to The Spectator?

VICTOR: You're such a child Jack. You still think this is a game and that's it's all about winning and losing.

JACK: No Victor. I know we're both losers. My child's health has been failing all this time. I hope she recovers fully. I believe she will. At the same time your business ventures will begin to be failing very soon. We're both losers. Big time.

VICTOR: Why don't you grow up Jack? This is real life and in real life our actions have consequences. Harper understood that. We just disagreed on how to handle it.

JACK: I don't understand the point of bringing Harper into this. We were talking about land that was deliberately polluted.

VICTOR: That's right. The Spectator acquired Tract 5 several years ago in a routine business deal. It was open land that might be developed one day. Now the people that made that deal knew that there was a manufacturing plant operating on land nearby a few years before that. What they didn't know was that the chemicals used in that plant were dumped on Tract 5. Hundreds of drums of chemicals. Now they are leaking into the soil and water and contaminating it.

JACK: But you knew. You knew all along and you didn't do a thing about it.

VICTOR: On the contrary, I've been working like a madman to clean it up. You see I felt responsible because I was one of the owners of that plant. That's why I was so anxious to get my hands on The Spectator so I could get Tract 5 back and clean it up.

JACK: Oh, no, you don't have explain cleaning up toxic dumps to me. I know all about that. But to a jury this might sound like a cover-up.

VICTOR: I admit I wasn't too anxious to get into a media circus led by the environmentalists groups.

JACK: Well that's understandable too. So really it was to avoid bad publicity not guilt.

VICTOR: No I didn't have any guilt about it. You see I had a partner in this enterprise and he's the one that actually ran the company. Now he knew all those chemicals were toxic and still he disposed of them illegally.

JACK: I see. Try the old blame someone else. That doesn't exactly work in this sort of case, believe me. I wanted to try it on mine but it didn't. So I was able to clear myself. No I'd say Victor that you are in hot toxic water and there is not a thing you can do about it.

JACK IS ABOUT TO LEAVE.

VICTOR: Just for the record Jack, the name of my partner was Deveraux. Harper Deveraux.

JACK STOPS AND TURNS TO VICTOR.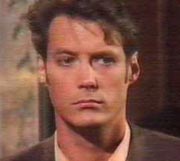 ---
SCENE TWO: VICTOR HAS BEEN TELLING JACK ABOUT THE HISTORY OF TRACT 5. JACK WAS ABOUT TO LEAVE, BUT VICTOR MENTIONED THAT HARPER HAD BEEN HIS PARTNER.

VICTOR: You've always wondered why I broke my ties with the senator. That was the reason. You see I was his secret partner in those days. I used to funnel huge sums of money into his campaign through our business ventures. And then I found out that he was dumping on Tract 5.

JACK: When was this?

VICTOR: 1975. Even then we knew it was harmful. But if you spread enough money around you could avoid the law and that's exactly what Harper did.

JACK: Of course you tried to talk him out of it.

VICTOR: I did. And when he wouldn't listen to me I backed out of the deal and he just brought somebody else in to replace me. On paper anyway.

JACK: And what do you mean by that?

VICTOR: I mean that Harper was still calling the shots. This other person just flew in once a month and rubber-stamped everything that Harper told him to. Signed a bunch of papers so that Harper's name wouldn't appear on any memos or legal documents. You see this young man was young and his sole interest in the plant was as a source of money to support his playboy lifestyle.

VICTOR REACHES FOR SOME PAPERS.

VICTOR: He knew all about the dumping but he turned a blind eye to it. He really didn't care you see. He'd sign anything they put in front of him.

JACK IS STANDING PERFECTLY STILL STARING AT THE PAPERS IN VICTORS HANDS.

VICTOR: He thought that's what the president of Valley Woods Manufacturing was supposed to do.

JACK: That's right. He did.

VICTOR: You were that young man Jack. These are the authorizations to dump on Tract 5. Each and everyone of them signed by you.

JACK LOOKS DOWN AT THE PAPERS AND HE KNOWS HE IS BEATEN.JACKS EXPRESSION CHANGES FOR SMUG TRIUMPH TO TOTAL DISAPPEAR AND DEFEAT.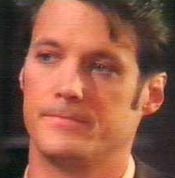 ---
SCENE THREE: MEANWHILE JENNIFER IS ABLE TO TAKE ABBY HOME. JO HAS MADE A BIG WELCOME HOME SIGN. AUSTIN IS THERE TOO.
---
SCENE FOUR: BACK AT VICTOR'S.

JACK: Yes, I was young Victor. (Beat) I was nothing more than a kid. Harper said it would look good on my.... r¯sum¯ to say that I'd run a business. He thought it was a good way to write off the school expenses as business losses. It didn't seem like a big idea.... at the time.

VICTOR: It does now though, doesn't it? It's ironic isn't it Jack. You came raging in here determined to nail me to a cross for something you did. You don't look too sanctimonious now.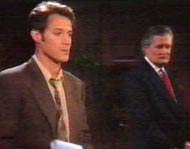 JACK: No, no. Actually I was just.... I was just thinking that Jennifer.... she wouldn't really understand this big cosmic joke.

VICTOR: Well it's got to come out. You should have listened to me Jack. I tried to warn you but you were so hell bent on destroying me that you wouldn't listen to anything. Well now you've gone too far. There's no turning back. Somebody's going to come down alright but it's not going to be me. It's going to be you Jack.

JACK: You know Victor there's still a chance that I.... I could release those excerpts from Kate's journal and put it on one of those news tabloids that you love so well. And if that didn't work I could always drop in on Jennifer's local talk show and make some not so subtle hints that the lead character in that story is none other than your wife.

VICTOR: You're not going to do that Jack. Not unless you want to hurt Jennifer even more.

JACK: Hurt Jennifer?

VICTOR: That's right. You see I've got one more ace up my sleeve.

JACK: Jennifer had nothing to do with Kate's journal or Kate's past. She won't be happy if I have to reveal Kate's secrets but she will understand that it's necessary.

VICTOR: Well I'd be damn sure if I was you before I took any action. Although you rewrote Kate's journal the paragraph that I've marked here is in her own words. Read it.

VICTOR HANDS JACK THE MANUSCRIPT.

JACK: And the day came that I feared most. The day when the secret that I had held in my heart for so long would finally be a secret no more. There was no way to prepare anyone for the shock. All I could do was brace myself for the explosion, the anger, the disbelief. Blah, blah, blah, blah. The fear of pain was not for myself. It was for.... him, this kind gentle man. My heart ached with intensity that burned my soul. There was nothing I could do to protect him.... this is melodrama. It's melodrama at its highest. It has nothing to do with Jennifer.

VICTOR: Let me show you who this character is based on.

VICTOR TAKES OUT AN ENVELOPE FROM HIS DESK AND REMOVES A PICTURE FROM IT. HE HANDS IT TO JACK.

JACK: Noooo! (Beat) Oh noooo!

JACK LAUGHS AT THE IRONY OF IT ALL.


JACK: That's who Kate was involved with.

VICTOR: That's right. It took me quite a while to figure it out but that's the man.

JACK: All this is.... this is sick. This is perverse. It's something Jennifer would never understand.

JACK LEAVES IN TOTAL DEPRESSION AND GOES HOME TO JENNIFER.
---
SCENE FIVE: HE WALKS IN THE DOOR AND AUSTIN IS SITTING WITH JENNIFER ON THE SOFA.

JACK: She's home!

JENNIFER: Hi.

JACK: Hi. She's home, huh?

JENNIFER: Yeah she's home. She's upstairs. Jo's just putting her down for a nap but I'm sure you can catch her before she goes to sleep.

JACK: I will in a minute but first I'd like to share something with you.

JENNIFER: Jack what's wrong with you?

AUSTIN: I'm going to go up and check on Abby with Jo. Remember what I said.

AUSTIN GOES UPSTAIRS.

JACK: What did he say this time?

JENNIFER: He told me that I shouldn't give up on you. And I've been thinking about it a lot and I still have a lot of anger inside but I have to believe that we can regain the trust that we had. I mean if we work really hard. If we are just completely honest with each other I think we can do it.

JACK: Honest.... yes. Um.... which brings me to what I want to say. Um.... about the.... that pollution that made our child ill.

JENNIFER: Do you know something about it? Jack, what do you know? Austin, come here. AUSTIN!

JACK: No please, just between us.

JENNIFER: I can't tell you what I'd like to do to those people.

JACK: For once, not Austin.

JENNIFER: Prison is not good enough, let me tell you right now. AUSTIN!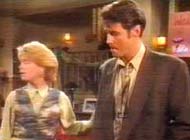 JACK: Not Austin.

AUSTIN COMES DOWNSTAIRS AND JACK KNOWS THAT HE CANNOT TELL JENNIFER THE TRUTH.

AUSTIN: What's up?

JENNIFER: Jack knows something about the pollution at Tract 5. What is it Jack? What do you want to tell us?
[Transcribed by Carol Vaughan
added material by Sally A. Wilson]
---
---