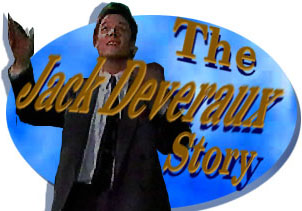 oldEpisode Five-hundred-fifty-nine: The
Fall of Jack Deveraux Part XIV: Jack Tries
to Deal with the Guilt,
He
Is Responsible
for His Daughter's Illness, and All the
Pain that His Family Has Been Suffering.
---
[Air date October 10th, 1993]
SCENE ONE: JACK WAS ABOUT TO TELL JENNIFER ABOUT TRACT 5 BUT NOW THAT AUSTIN IS THERE HE KNOWS THAT HE CANNOT.

JENNIFER: Well Jack what is it? You said you had something to tell us about the people who polluted that stream.

JACK: To tell you.... yes I'd like to tell you something.

AUSTIN: There you see Jen. I told you Jack was working on something to help us.

JENNIFER: Please tell us. Who are these people? They need to be punished. They have to be reported for what they did.

JACK: There are certain considerations however.

JENNIFER: What considerations? They don't deserve consideration. Now if you know something about who's done this, tell me right now Jack.

JACK: You know we thought we'd found a company or an individual who was connected with the pollution.

JENNIFER: Right, who's the company? What is the name of the company Jack?
---
SCENE TWO: WITH AUSTIN THERE, JACK CANNOT TELL JENNIFER THAT HE IS THE ONE TO BLAME FOR THE DUMPING AND THUS ABBY'S ILLNESS.

JACK: (Beat) I don't know.

JENNIFER: You don't know?

JACK: We were wrong. I'm sorry.

JENNIFER: You just said that you found something out.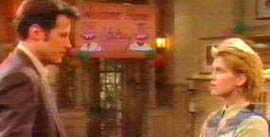 JACK: All we found out is that it was a dead end. It was a dead end I assure you. That's all I know.

AUSTIN: Look maybe I better go. You guys haven't had a chance to talk in a while. I'll get out of your way.

JENNIFER: Austin I just want to thank you for being here. You've been a wonderful friend, thanks.

AUSTIN: I'll check on you and Abby later, okay.

JENNIFER: Yeah, thanks.

AUSTIN: See ya Jack.

JACK: Yeah. (To himself) I'll see you in the funny papers Austin.


AUSTIN LEAVES.

JENNIFER: Well?

JACK: Well what?

JENNIFER: You told me earlier that you knew something about the people that hurt our baby, Jack.

JACK: Well I'm sorry I led you to believe I knew something when I really know nothing at all. It seems to be my tragic character flaw.

JENNIFER: You want these people punished as much as I do, don't you?

JACK: Forgive me if I play devil's advocate for a moment but what if the perpetrators were ignorant? What if they caused this pollution without really realizing the consequences of....

JENNIFER: Are you kidding me? I can't believe you're defending these people.

JACK: It's.... this is as much an indictment as a defense. I assure you. I'm just trying to offer a different perspective, that's all.

JENNIFER: I don't think that I will ever understand you Jack.

JACK: It's.... it's not a matter of understanding Jennifer. It's not a....

JENNIFER: I'm going to check on the baby.

JACK: It's not a matter of....

SHE GOES UPSTAIRS.

JACK: It's a matter of forgiving. It's a matter of forgiving me for almost killing our child.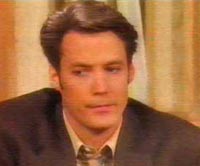 JACK GOES UP TO SEE ABBY TOO
---
SCENE THREE: A SHORT TIME LATER, JACK COMES BACK DOWN WITH JENNIFER.

JENNIFER: Thank god for Jo. She hasn't left Abby's side since she got sick.

JACK: Yes, she's kind of a nosy old bird but she does seem to have that mothering instinct down.

THEY SIT APART ON THE SOFA.

JACK: So do you Jennifer.

JENNIFER: I love my daughter and I am going to do everything that I have to get to the bottom of this.

JACK: You know I was just thinking when we were up there. She looks so good now and so healthy and she looks like she's going to be fine. She's going to grow up and be healthy and strong.

JENNIFER: What are you saying?

JACK: Why don't we just appreciate.... why don't we just appreciate that and be grateful and just move on with our lives?

JENNIFER: Are you suggesting that we just forget about finding who is responsible for all of this?

JACK: I am. I think.... what have people been telling me for the last two months. Forget about revenge. Don't go after people. It's not right. It weakens you. It tears you apart. It...it...it...it just makes you.... it makes you just forget about... blind to the realities of life.

JENNIFER: Reality. You want to talk about reality. I will show you reality.

DO YOU SEE THESE HOSPITAL BILLS?

JACK: No Jennifer, that's not what I meant.

JENNIFER: THIS IS REALITY JACK.

JACK: That is not what I was talking about.

JENNIFER: Yes, the hospital said we can pay these bills off in installments.

JACK: I didn't mean that when I was talking about the realities.

JENNIFER: But it will strip us of every penny for years and you want to forget about it.

JACK: I don't want to forget about anything, I was....

JENNIFER: THAT IS REALITY JACK.

JO: Jennifer! Quiet. You're going to wake up the baby. Now look, you're tired. You've been through a lot. Let's just put this conversation on hold till you've had some rest. Okay I hate to have you say things, hurtful things, that you can't take back.

JACK GLARES AT JO FOR INTERFERING.


JO: Okay! I think I hear the baby crying.

SHE GOES BACK UPSTAIRS.

JACK: Nosy old bird, right. (Beat) Alright, maybe this isn't a good time to talk about this. (Beat) Maybe I should go upstairs for a couple of minutes and check and see on how things are going and why don't you get ready to come up and get some rest.

JENNIFER PULLS AWAY FROM HIM.

JACK: I love you.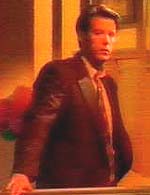 HE GOES UPSTAIRS AND STRAIGHT IN TO SEE ABBY.
---
SCENE FOUR: JO IS SITTING BY HER CRIB WHICH THEY HAVE MOVED INTO THEIR BEDROOM.

JACK: And so it continues. The sins of the father are visited upon the son.... or daughter.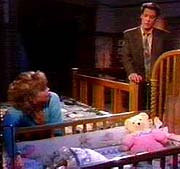 JACK (CONT.) I wonder. (Beat) Have I caused you much pain? If I did.... if you could.... would you tell me. I wonder.

JO: Jack, what are you talking about?

JACK: Nothing. Nothing.... you know we all blame ourselves for the hurts that our children suffer. I know I do. I do. What kind of a father or husband would I be if I didn't.

JO: Oh you're a wonderful father and husband.


JACK: You're not.... you're not a bad mother yourself. You know I've never really been able to show this but.... I do realize how hard you've worked to be a mother.

JO IS CRYING.

JACK: And I...I...ah, I do appreciate it, Jo.... mother.

JO CRIES EVEN MORE.

JACK: I appreciate it mother, more than I can say. And I really want you to remember that someday.

JO: What on earth are you talking about? You're scaring me Jack.

JACK: Oh Harper, Duke, Oedipus Rex. Oh the sins of the father are visited upon the son or the daughter.

JO: What are you talking about? What are you up to? What are you going to do?

JACK: I don't know. I honestly don't know.
[Transcribed by Carol Vaughan
added material by Sally A. Wilson]
---
---